And there I was… sitting at my hotel room balcony, looking at the beautiful, dramatic, dark green Madeira shore and listening to the equally mesmerizing music of the ocean…
Somehow, I hadn't had a chance to visit Porto da Cruz during my previous 5 visits to Madeira, so this part of the island remained an enticing mystery… This mysterious part of the island was calling my name until finally, a chance appeared and I ended up spending two beautiful nights at the Costa Linda Hotel in Porto da Cruz.
Costa Linda Hotel in Porto da Cruz
The hotel is located in Porto da Cruz, a small town between Machico and Santana, on the beautiful northeastern coast of Madeira Island, 15 min from the airport and just 25 min from Funchal.
"Costa Linda" means in Portuguese "a beautiful coast". The name is definitely well-earned: the northern coast of Madeira is impressive. Porto da Cruz is located just next to a beautiful and so emblematic Penha d´Águia, a well-known rock of Madeira Island, seen from many mountain tops and walking routes.
I ended up staying at the Costa Linda hotel because this hotel was a part of a "surprise hike" which I did in September 2019… It was one of the most unforgettable walks of my life… In one day, I walked from the beach in Machico to the beach in Porto da Cruz, via Boca do Risco. It was the famous Vereda do Larano, but with some beautiful detours. It was quite an accomplishment which I will soon describe on my blog but for now, I would like to share with you our photo/video review of the Costa Linda Hotel.
This small hotel won't probably be on the first page of your tour operator's brochure, but I think it deserves some attention on my blog. Especially, because I believe this hotel can be a great choice for some particular groups of visitors… Which group do I have in mind? I will gladly tell you later on in the post…
Costa Linda – A small family hotel
Costa Linda will be a perfect choice for all budget travellers and everyone, who prefers small hotels in beautiful areas, as far away as possible from big hotel districts in the south of Madeira. It is a family hotel and it feels so: There are only 17 rooms in the building.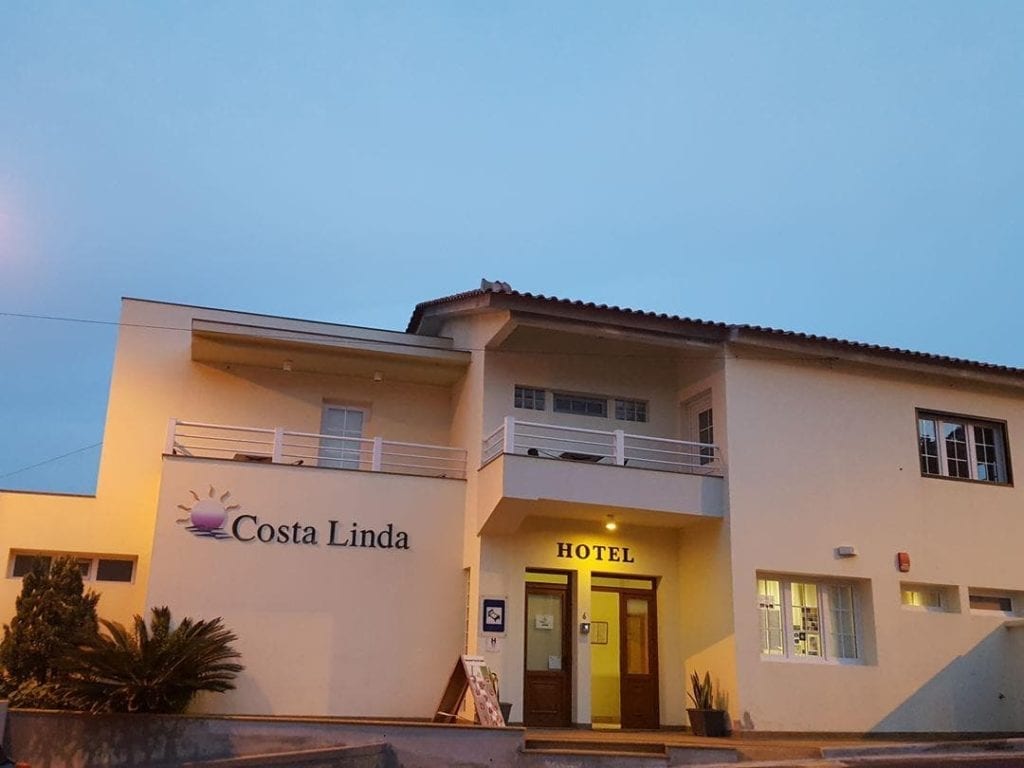 "2-star hotel with a 5-star service"
.. is what I have been told when I arrived, and I can not disagree. We met professional personnel, speaking multiple languages, but also friendly at the same time. Personally, I would also add to it a…
5-star Location
Right by the ocean. The views from most hotel rooms and the restaurant are magnificent, and the sound of waves which will only stop once you decide to close your hotel balcony doors.
The hotel is located just by the beach in Porto da Cruz and the landscape or Porto da Cruz is really unique.
This is the sunrise view on Ponta de São Lourenço from my balcony…
Hotel preserving history in an interesting way
The building where Costa Linda hotel and belonging to it Praça do Engenho restaurant are located used to be… and old factory. Sugar cane and wicker, two traditional Madeira products were processed here. The building used to be a ruin but was renovated in a way to preserve all beautiful elements of history. It kept most of its old-time feel, mostly thanks to the solid basaltic rock walls and calçada (Portuguese style pavements). In the restaurant, you will be able to see interesting elements of old mills and factory.
I had an interesting chat with the hotel owner, ex- environmental engineer – who would like to make sure that his hotel is environmentally friendly. The hotel puts much attention to recycling, they have a water-saving system in place. The 5 solar panels on the roof are sufficient to warm up the tap water in all rooms. Breakfast is also served at the table: they opted for a menu-breakfast instead of a buffet-style in order to avoid food waste.
Costa Linda – Rooms
Hotel Costa Linda offers 6 double bedrooms, 6 twin bedrooms and an apartment-type bedroom, all equipped with double-glass windows. Here are some pictures of our room and our bathroom: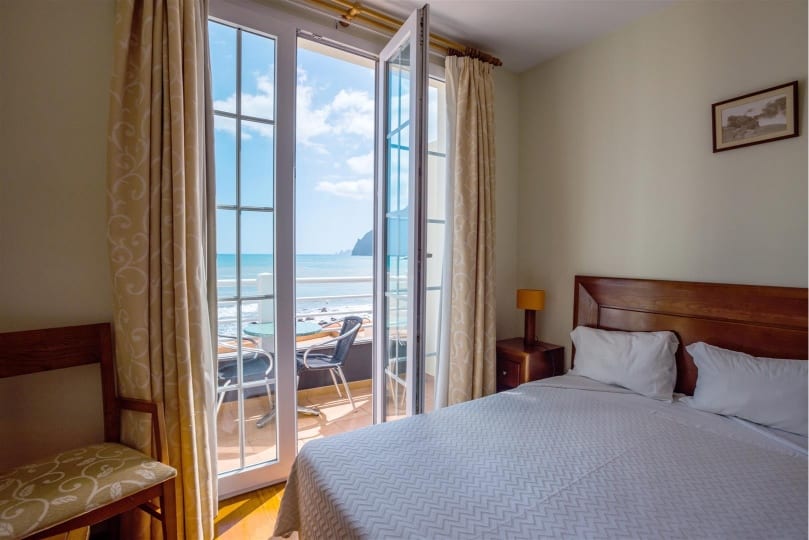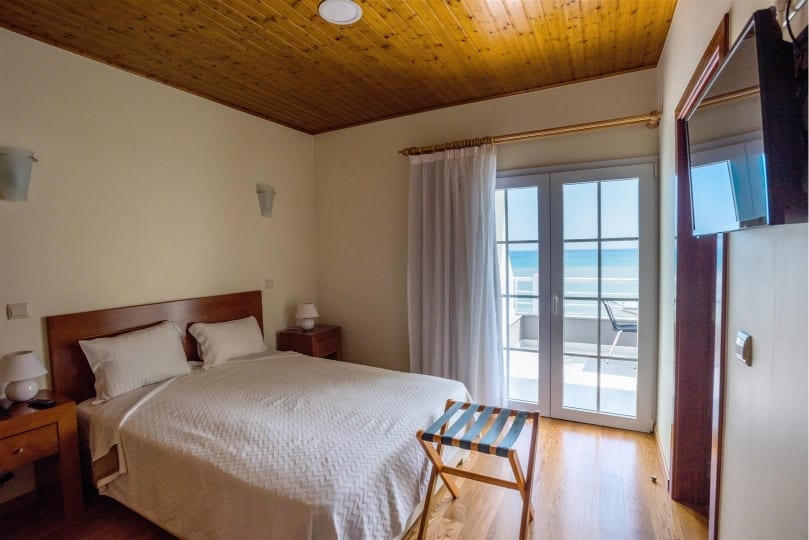 and here is a video of the best room in the hotel:
From the two balconies this room has, you have a great view of both the Penha d´Águia rock and the ocean.
Costa Linda – Wheelchair/stroller accessibility
Madeira can be a tricky destination for all tourists travelling with reduced mobility or parents with strollers. What sets Costa Linda hotel apart is that it is the only hotel in the area of the island suitable for wheelchair travellers. There is a wheelchair accessible room on the first floor. There is a lift and a special ramp letting guests on wheelchairs move between their rooms and the reception/restaurant/restaurant patio.
I found it a fantastic solution, as I believe that tourists travelling with reduced mobility might feel like they are limited to staying only at big and expensive hotels in touristic areas, usually in and around Funchal.
I liked that aspect of Costa Linda so much, that I requested the hotel to let me record the way from the wheelchair accessible room all the way to the restaurant patio outside. I hope that the video will come in handy:
At the moment of making the video, no guests on wheelchairs were present in the hotel. You might not see a wheelchair ramp between the indoor and outdoor part of the restaurant, but it is definitely something that the hotel can arrange if needed. The tables in the restaurant will also be set up differently in order to make more space.
The hotel put a lot of effort into making adjustments to better serve reduced mobility guests. Wheelchair users are very welcome in their small family hotel, and according to the staff, if a guest with special needs contacts them beforehand, they will add additional solutions as needed.
You also see that the balcony doors have a small barrier at the bottom, but this is already a modification planned for the next renovation project.
You will find some pictures of the wheelchair accessible room and bathroom in our [FB GALLERY].
The hotel restaurant called Praça do Engenho is one of those restaurants which really does have a great view. You are able to see as far as Ponta de São Lourenço.
It serves a lot of traditional fish and meat dishes but also has some vegetarian options. The menu is multilingual (Portuguese, English, French, German.. and even Polish).
Good morning Yoga
The second day I was pleasantly surprised when I went outside and saw an aerial yoga lesson taking place on the hotel's square. Doing yoga to the sound of strong waves must be really amazing.
The owner also organizes Kung-Fu / Wu-Shu / Chi Kung / Qi-Gong & Taichi workshops, both indoor as scenic sessions by the ocean. The school's name is "The Dragon Dance". For more information, please contact the reception or send Mr Nelson Goncalves an e-mail.
Meanwhile… back to the Costa Linda hotel review.
Costa Linda – Summary & Review
If I could create a profile of a tourist for whom the hotel would be a perfect choice, it would probably be someone discovering Madeira by car, loving hiking, nature and great views. It is a great stop during a drive around vacation, where tourists stay at a couple of different hotels in various areas of the island, however, the hotel is also suitable for longer stays and has visitors, who always return there every time they are in Madeira.
It will the best option for people travelling with someone who is on a wheelchair and looking to discover "the real Madeira".
It is suitable for yoga fans and surfers. It will also be recommended to all hiking lovers, as it is located close to two rather demanding trails categorized as "hard". Vereda da Penha de Águia is just right by. It is also the finish point of the Vereda do Larano, which I strongly recommend.
It is still a 2-star hotel, so the entire review is made keeping that in mind. This is, however, a strong 2-star hotel, which is actually is closer to 3-stars than 2.
In short, Hotel Costa Linda is recommended especially for budget travellers, hikers and everyone who loves nature and will enjoy a view on the beautifully untamed, rich green coast of Madeira.
Costa Linda – Pictures
Would you like to see more 2019 pictures of the hotel and its surroundings? Please go to our [FB GALLERY].
Costa Linda – Contact
Would you like to book a stay at Costa Linda? Check their rates:
We would like to thank hotel Costa Linda for inviting us and offering us a complimentary stay in order to make this review for you.
Are you interested in Madeira & Porto Santo as a place for your next vacation, hiking trip, honeymoon or a destination wedding?
Follow us!