Funchal Attractions: Farmers' Market (Mercado dos Lavradores)
Our site has existed for almost two years, and I haven't yet described such a basic attraction of Funchal as the Mercado dos Lavradores market. Why? Today I will tell you all about it…
It is about time, however, to mention also this important attraction, which just 5 days ago celebrated its anniversary. Here are some objective, practical information, photos and… a warning.
Mercado dos Lavradores – Where and what?
Farmers' Market, or: Mercado dos Lavradores is located in the very center of Funchal, on the corner of Rua Brigadeiro Oudinot & Rua Hospital Velho. 
Mercado dos Lavradores – literally translated from the Portuguese – means nothing else than "Farmers Market". It is a fruit, vegetable, flower and fish market that is located in a historic building opened on November 25, 1940. There is a lift available. 
On the walls of the Mercado building we will find the famous Portuguese tiles – azulejos – by João Rodrigues, depicting the lives of local residents. 
If you enter the market building through the main door, the first thing you will see are flowers, seeds and bulb stands. Flowers are sold by local florists, and some of them have been working there for 50 years!
On the main square there are usually fruit and vegetable stands. In the side rooms there are several cafes and a large shop with regional alcohol and several souvenir stands.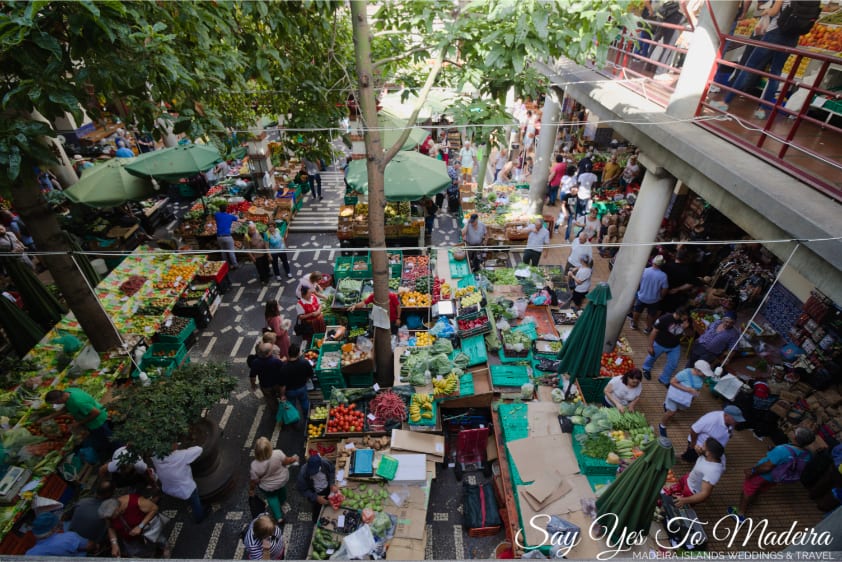 Passing the square to the other side of the building you will reach the famous fish and seafood market. It does not smell good, of course, but it is worth visiting. On the market walls, you will find interesting illustrations with the names of different fish species.
It will be the best opportunity to take a picture of the famous for its ugliness & great taste black scabbardfish.
On the second floor, you will find mostly exotic fruit, dried fruit, herbs and cork products. 
There is also a big terrace where you take a break from the crowds in two large cafés.
SEE ALSO: How to order coffee in Portugal & Madeira
The area around the market is always vibrant and busy, especially on weekday mornings and above all on the night preceding Christmas Eve. On the night of December 23-24, Noite do Mercado (Market Night) is celebrated in Funchal. In the evening, the Farmer's Market area turns into an open party with concerts, street stands and attractions.
For more information about this event, including information about closed roads in Funchal, please visit our post: CHRISTMAS IN MADEIRA
Mercado dos Lavradores – Opening hours
Mercado dos Lavradores is open on:
Workdays: 7 am to 7 pm
Saturdays: 7 am to 2 pm
The market is closed on Sundays.
Mercado dos Lavradores – other attractions nearby
So what to combine a visit to the Farmers' Market with?
Mercado dos Lavradores is located between the center of Funchal and the Old Town, so the visit can be easily combined with many other attractions, for example with visiting:
– The Old Town of Funchal with its colorful doors and beautiful street art. See post: Zona Velha Funchal
– A 17th-century fortress built to protect Madeira against pirates: São Tiago Fort
– An interactive museum of Madeira's history with a rooftop viewpoint & a restaurant. See post: Madeira Story Center
– Colorful art gallery & café – Caravel Art Centre
It can also be a quick stop before catching the famous Monte Cable Car (taking you to the famous botanical park Monte Palace Madeira), which starts near the market.
These are just a few of my favorite suggestions, for a whole list of attractions nearby, please visit TRIPADVISOR.
And last but not least – let me tell you why, although I visited the place over 100 times, I don't really like it and sometimes hesitate to recommend it to visitors?
Mercado dos Lavradores – Funchal's worst tourist trap…?
I don't like intrusive and tricky salesmen who bother tourists. Especially on the second floor of the building, we will be attacked by fruit sellers who often do not understand the words "Thank you, I am not interested". This is the only such an unpleasant place in Madeira. Local people are usually nice and helpful, but some of the Mercado dos Lavradores sellers are a small exception… 
Not only the selling (tricking) methods, but also the prices are shocking. In many cases, it is a broad daylight robbery.  I do not recommend buying exotic fruit there, but if you really want to do it – always ask for prices before you try anything and… negotiate. A lot. The tactic of many sellers is to "enchant" tourists, let them try out fruit samples with added sugar and start packing products into bags before the tourists even ask for the price or have a chance to realize how crazy the price actually is…
Mercado dos Lavradores – Final thoughts
Mercado dos Lavradores is one of the most popular attractions in Funchal, so you should pay a short visit. However, be aware that it is, in a way, a tourist trap, so avoid any bad purchases and do not let pushy sellers intimidate you.