Agata and Mariusz visited Madeira in the same period as me, last December. We might have even crossed our paths somewhere on the winding roads of Madeira without even knowing it… If I knew they were on Madeira, I would definitely invite them for a delicious Poncha and I would look closely at all passing … motorcycles and scooters, because that's how Agata and Mariusz decided to explore the island…
Today, an interesting interview with Agata, creator of the polish blog Okiemplecaczka.pl, who will tell us about their trip to Madeira in December, staying at hotel Dorisol and give some tips for, among others, renting motorcycles and scooters in Madeira.
SYTM: Tell us about your trip – when did you visit Madeira?
I visited Madeira with my husband during the Christmas and New Year period 2018. Our plan was to spend Christmas Eve with the family, and for the next 7 days take a trip to a motorcycle-friendly place. Analyzing the available options and destinations I mainly considered the date, location of the hotel and things to see. Initially, we wanted to organize everything on our own, but in the end, we decided on a holiday package offered by the tour operator TUI. 
SYTM: Do you often travel abroad on a motorcycle?
Motorcycles are our passion and we frequently explore the world this way. We own for example a Triumph Tiger 1200, and on this motorcycle, we visited an entire Romania.
However, Madeira is the third island that we visited on a rented motorbike. The same way we already had explored Palma de Mallorca and Lanzarote. We love to spend our holidays this way, sunbathing all holidays is not for us, we would probably die from boredom.
SYTM: Taking your own motorbike to Madeira is not an option in the off-season since the ferry from Portugal to Madeira does not operate in winter months. Are there a lot of local motorcycle rental companies in Madeira?
Planning our motorcycle travels, the first step is always locating the motorcycle rental companies online. Only then we focus on choosing the hotel, never the other way around. The hotel's vicinity to the rental company is a priority, I could not imagine choosing a hotel located on the other coast.
Before arriving in Madeira I found a couple of booking websites; sort of booking engines where you book and pay a deposit, but never receive the address of the actual company. Once we arrived, we found only two rental companies offering motorcycle rentals in Funchal. Renting scooters is a different story, they are much more popular and it is easy to find one.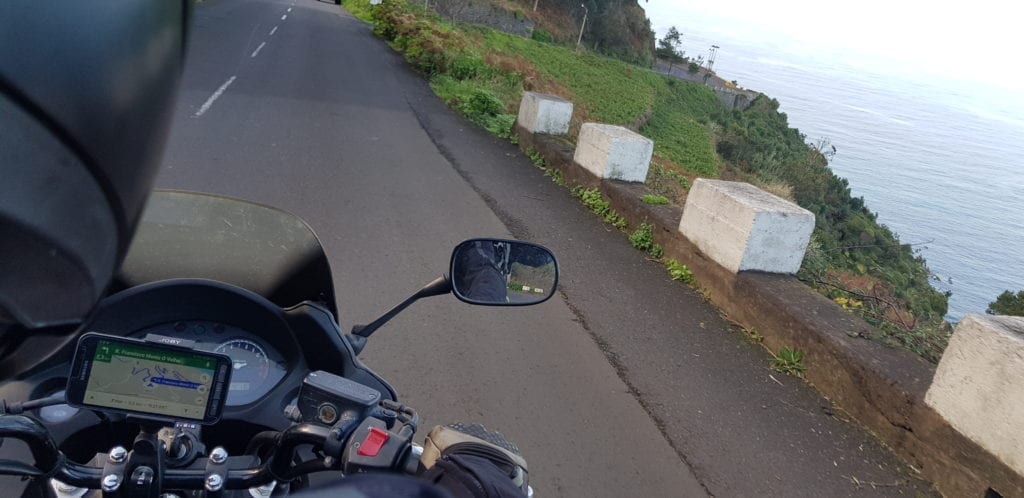 SYTM: How do you rate their offer? Their prices? Which company would you recommend to others? 
Based on our own experience with renting motorcycles, it is better to book after arriving and seeing the actual offering, as the website and reality are usually two different worlds… Although it was clearly stated on the website that the motorcycle has a top case (which was crucial for us, not only for storing the helmets while we visit the attractions, but also to serve as a support/backrest for the passenger) Unfortunately, in reality, not even one motorbike had it. In addition, most of the advertised motorcycles were not available. True, you can book it on one of the websites, but I do not trust any company that does not respond to our questions by e-mail. 
Prices for renting motorcycles are unfortunately much higher than renting a car. They depend mainly on the capacity and the duration of the lease, but on average it is around 50 euro per day. In addition, a refundable deposit must be paid in cash or by card (I recommend cash because sometimes it takes a couple of days to have the funds deposited back on your credit card).
SYTM:  Which vehicles did you rent in Madeira?
We initially wanted to rent at Rent a Scooter Funchal as we liked their options, especially the Honda NC750X. Unfortunately, it was closed for Christmas when we arrived… In our hotel room, we found a brochure from ESPAÇO MILÉNIO. One Honda CBF600 was available to rent, are we decided to go for it. We rented it for three days.     
Later on, we rented, for two days, a scooter  –  Sym Symphony ST 125cc from Rent a Scooter Funchal.
SYTM: How would you describe roads in Madeira? Would you recommend renting a motorcycle to those who aren't yet very experienced motorcycle drivers? 
The quality of roads in Madeira is very good. However, they are very demanding: winding, sometimes very steep and located very close to the edge. 
The scooter is great for moving within and around the city, but unfortunately, in my opinion, won't be sufficient to discover the entire island. It is simply too weak and won't go uphill and believe me, there are many steep roads in Madeira.
Discovering Madeira on a good motorcycle is another story. Madeira will be a perfect destination for experienced motorcycle lovers… driving on beautiful mountain roads on Madeira will be a great experience… Unexperienced drivers, however, might find it a bit challenging. 
The most challenging, but also stunningly beautiful route we took was the route to Pico do Arieiro. At first, we drove through the fog with poor visibility (fog, narrow road, wet surface and cold – a bit gloomy like in a horror movie..) but once we found ourselves above the cloud level, it is just jaw dropping… You feel like you are driving in heaven… 
SYTM: So to sum up; which tips for renting motorcycles and scooters on Madeira would you give others? 
When choosing a motorcycle, focus on the overall technical condition and especially the condition of the tyres. In order to prevent any problems with getting back your deposit, it is always a good idea to take a lot of pictures of the vehicle during the handover. You should take pictures of all the scratches and defects, even small ones. This tip is useful for renting all kind of vehicles, not only motorcycles. 
Some motorcycle rental companies offer also helmets in the price of the vehicle. Since safety and comfort are vital for us, but the choice of rental helmets limited, we always take our own helmet with us. It is important to have a good helmet, which would not only fit and be comfortable but protect us during an accident. 
We always pack our full motorcycle outfit; Our shoes, pants, jacket take an entire suitcase, but it does not matter. As I say, safety and comfort first. We used to pack also our helmets, but since it got damaged by the airline after our Lanzarote trip, we now take it as our hand luggage. It was allowed to take it on board, but we checked that with the airline beforehand.
SYTM: You stayed at the Dorisol Florasol Hotel in Funchal; How would you rate this hotel?
Very good. This is a 3-star hotel located in the Lido district. We stayed on the 3rd floor in a studio room. From the room balcony, you had (partially) a view of the ocean. The room renovated, the kitchenette was fully equipped (there was even a corkscrew). Breakfasts were tasty, hotel parking was available. There were no evening animations,  but it did not bother us, because we spent the evenings in the centre of Funchal. I recommend for everyone whose main purpose is to have active holidays in Madeira. 
SYTM: So… Did Madeira meet your expectations? 
I read a lot about the island and I prepared an itinerary. However, reality exceeded my expectations. Madeira offers beautiful views, and if you like hiking, two weeks is, in my opinion, the absolute minimum. We stayed on Madeira for seven days, it was very active, and we did not visit everything we planned. In summary – the island is great, I am truly enchanted. 
SYTM: What did you like the most? What would you recommend to other tourists? Could you name your TOP 3 attractions of Madeira? 
It's really difficult to choose only 3. Everything is worth a visit. For me, the Toboggan ride from Monte was something special (it's probably the only place in the world where a tourist can take a sleigh ride on streets with no snow).
The Ponta de Sao Lourenco ( St Lawrence Peninsula ) enchanted me with colours and wildness (especially during the sunrise), and the New Year's fireworks display was one of the most beautiful moments of my life (I really recommend spending New Year's Eve in Madeira).
SYTM: An the other way around: What did not impress you at all, what would you advise others to skip? 
Somehow I was not convinced by the Chinese and Japanese elements mixed with the landscape of Madeira. I found the Jardim Botânico to be a much more pleasant place. More peaceful, quiet, less crowded…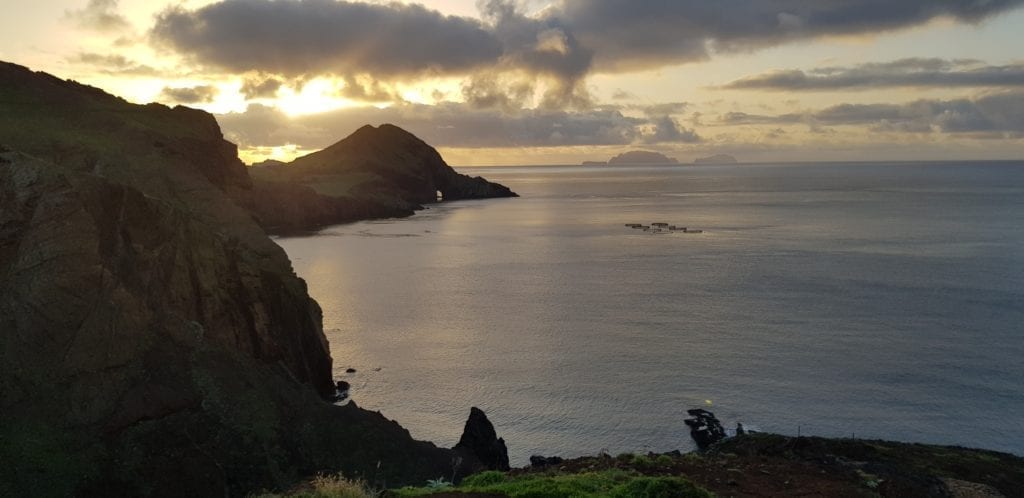 SYTM: You favourite Madeira food and drinks…? 
I love seafood. Grilled Octopus was the best main course I've had on Madeira. Lapas (limpets) served in shells, baked with garlic butter and sprinkled with lemon, are an excellent appetizer. I liked Poncha, no matter which tastes. However, we did not like the taste of Madeira wine.
SYTM: Did you have any funny moments on Madeira, any interesting encounters with the locals?
A friend recommended us Bar o Avo in Funchal, which owner collects beers and scarves of football teams from around the world (this is the largest collection in Europe – currently about 1,800 pieces). We handed the owner a scarf from a local team (GKS Tychy) brought from Poland.
To thank us, the restaurant owner showed us around the premises, in particular, all the "exhibits" from our country, he treated us with dinner and local drinks… Such a nice memory, it was nice to make someone happy with such a small gift. 
SYTM: If you could summarize your trip with just one sentence…..?
Christmas/NYE Madeira Island – aka – The Island of eternal spring on a motorcycle!
Here a video from Agata and Mariusz's motorcycle tour of Madeira:
Be sure to check out Okiemplecaczka.pl  for more tips on discovering Poland and Europe on a motorcycle.
For more Madeira Island Tips, be sure to follow us: