Hiking is one of the best ways to spend time in Madeira. But what if someone does not have a car and, instead, a very limited budget? There are several trails and levada walks on Madeira Island that are easily reachable by public transport. One of these hikes is the route lying just north of Funchal: Levada dos Tornos
For all the budget travelers: Do not forget to check also our series MADEIRA ON A BUDGET and our post about the NATURE FESTIVAL to see how you can get two free tickets for a bunch of awesome outdoor activities and tours on Madeira Island.
Monte – Levada dos Tornos: GoPro video
Here is a video-summary of our entire walk:
Monte – Levada dos Tornos: getting there & back
Starting at: Monte
Officially, the hike Monte – Levada dos Tornos starts right by the cable car station in Monte, and ends in Palheiro. Both of these places are easily reachable by bus.
The easiest way to get to Monte from the Old Town of Funchal is by the cable car, however, it is not as cheap as the bus. A one-way ticket for the Monte Cable Car costs 11 € (children 7-14 years old: 5.5 €). This levada walk can also be combined with a visit inside the beautiful botanical garden Monte Palace Madeira.
The approximate locations:
I walked this route at the end of September 2019. On the official app and website, I saw a warning that this hike used to start at Babosas, Monte, next to the cable car, however, "due interruptions an alternative and temporary beginning at Choupana has been proposed".
So, I was ready to catch the city bus # 29 from downtown Funchal to Choupana when I accidentally looked at user comments confirming that the route from Monte had been open for some time and very well maintained.
This information has not been updated for a long time and many people certainly missed the opportunity and started to levada by skipping the part from Monte. It is July 2020, and this information is still on the site, despite the fact that I am living proof that the route was open.
Here are photos from the Monte to Choupana part, where you enter the levada:
This is also a part of another hike called Monte – Bom Sucesso.
Starting at: Choupana
You can, of course, start the hike at Choupana. You will miss the views I have just shown you and you will enter the Levada dos Tornos directly.
GoogleMaps does not show the starting point correctly. You enter the levada right by the bus stop called CAM Curral Romeiros D3A (ID: 367). You can get there with bus #29 Horarios do Funchal.
After finishing the levada walk, you can get back to Funchal with Horarios do Funchal busses #36 or #47 .
SEE ALSO: PUBLIC TRANSPORT IN MADEIRA
Bus 36 passes by the finish of Levada dos Tornos, and there are a couple of bus stops nearby. An even better option is walking down the ER102 road for 5 minutes, where we will find the below bus stop, where also line #47 stops. The name of this stop is Saída CAM Pretos (ID: 380) and here we have a high chance of catching one of these two buses back to Funchal rather fast.
Both bus lines take us through Funchal, all the way to the Old Town.
Levada dos Tornos – Pictures
How does Levada dos Tornos look like? Here are a couple of pictures: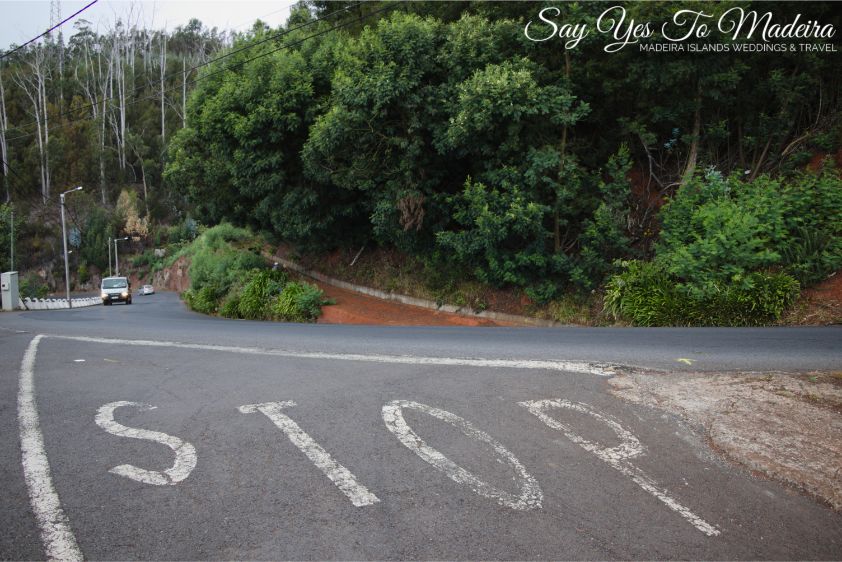 Monte – Levada dos Tornos: Difficulty
Levada dos Tornos is a 4.7 km, point-to-point route. It is officially classified as easy, and that about right. There are no significant altitude differences. The hardest part are the stairs between Monte and Choupana, seen on the pictures above. The Levada dos Tornos itself will take you 1-2 hours. Add another hour if you want are planning to start at Monte.
Monte – Levada dos Tornos: Review
Do not expect it to be an unforgettable levada with fantastic waterfalls, lagoons and tunnels. It is not a typical jungle-like levada. This is definitely a "city levada", from which we will have a beautiful view of the bay of Funchal. When you hike, you cross public roads several times. You also pass by the Estádio da Madeira football stadium. You will walk right by private houses and next to private gardens, which makes this levada different from the more popular levadas in the north of the island. Some of the buildings are in a very bad condition, due to the infamous fires of 2016.
So if you are looking for an easy "urban" type levada, easily reachable by public transport, Levada dos Tornos will be a good choice. It is not, however, a good representation of a typical Laurisilva forest levada. Levada dos Tornos is a nice levada walk, but should not be the only levada you will walk during your Madeira holidays.
as well as OTHER HIKE REVIEWS
Pico do Arieiro is a breathtaking place and the famous trail PR1 Vereda do Areeiro definitely deserves its fame and…