There are places on Madeira that simply leave you speechless. One of them is Fajã da Rocha do Navio.
After a short walk on the fajã, my feelings were a mix of astonishment for its uniqueness and beauty, admiration for people who constructed houses, farm and the cable car, trying to tame this natural beauty.. and bliss.
This is our quick 60-seconds impression of the place, which we visited in the autumn of 2019:
Fajã da Rocha do Navio is a place that is hard to describe in one sentence. The Portuguese term Fajã… does not have an English equivalent, but it describes a secluded piece of land located at the bottom on a high cliff or shore. Because the land on fajã's is fertile and flat, which is so scarce on Madeira, it is attractive for agriculture.
It is not the only place like this on Madeira, see also our post about another fajã with tourist infrastructure, where you can even organize a unique destination wedding ceremony & dinner: FAJA DOS PADRES
Nowadays Fajã da Rocha do Navio is mostly a tourist attraction and I do recommend taking the teleferico (cable car) and visiting this hidden jewel.
Although the thought about staying there for the night makes me quite anxious, it is a perfect place for a couple of hours: to be amazed, to discover and to feel the tranquillity.
There was something magnificent about the place. I visited it entirely on my own, so the only person I spoke to on the fajã was the cable car operator.
I left the cable car station and followed the path west. I walked through banana gardens and wineries listening to the waves of the ocean. The height of the brown cliff was impressive. Except me and one German couple, there was literally no one there, although the smoke coming out of one of the house's chimneys indicated, that someone was inside.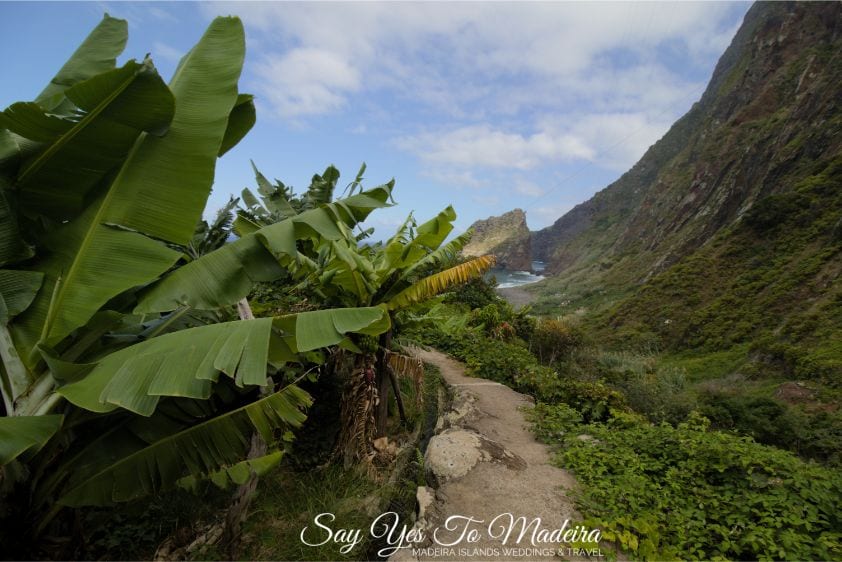 When I looked up to see the cable car in operation, I saw two beautiful waterfalls. Many times you passed small streams or levadas bringing the waterfall water to the ocean. Many times you climbed little stairs under grapevines.  For that one hour, I literally felt I was in another dimension.
When I kept walking I saw more and more cute and quirky things about the place, but what was waiting for me at the end of the path amazed me even more.  I had no idea I would find it there: an old wine press inside a rock..
I could stay there longer, but unfortunately, my busy agenda reminded me that I had to get back "to civilization".
I enjoyed one more stunning, but also entirely smooth cable car ride up and unfortunately had to say goodbye to this gem. No, not goodbye, but "see you later" because I will definitely visit the place again.
Fajã da Rocha do Navio is located in Santana area, which is a popular city in the north-east of Madeira. Santana is frequently visited by tourists and known for the traditional triangle houses. You can combine the visit at Fajã da Rocha do Navio with visiting the outdoor theme park Parque Tematico da Madeira.
Although, if you have no time to explore Santana, but you would love to take pictures in front of the traditional Madeira houses, do not worry – you will be able to do that on Fajã da Rocha do Navio!
You can reach the actual fajã on the bottom of the cliff by a cable car… and walking. although climbing would be a better word since it is quite an exercise. 
The easiest way to get to the cable car station is by car, but a public bus is also an option. The closest bus stop is approx. 15 min walking from the station and you can get there with busses 103 and 138 from Funchal.
If you somehow heard about this place and you are standing at the observation point, wondering if it is worth to buy the cable car tickets down – in my humble opinion – it is. The cable car ride is an unforgettable adventure, and Fajã da Rocha do Navio is interesting, unique and serene.
I hope you visited the place and you liked it as much as I did, please feel free to tag us #sayyestomadeira
And last but not least, for those who wonder, a video of the entire cable car ride:
Do not miss our new travel and wedding posts – follow us!
Would you like to organize a destination wedding on beautiful Madeira or Porto Santo? Feel free to contact us!