Ordering a cup of coffee in Madeira – it shouldn't be that hard, right? 
Well, to be sure that you will get exactly what you feel like drinking, it is worth learning a couple of new names that locals use to order their coffee. We will also tell you if the names for coffee are the same in Madeira as in the rest of Portugal, and mention a couple of popular local & Portuguese pastries and recommended café's on the island.
But first, we will teach you a simple, but useful phrase for ordering coffee in Portuguese…
How to order coffee in Portuguese?
This short phrase "Good morning, xxx please" is more than fine: 
"Bom dia (morning) / Boa tarde (afternoon) / Boa noite (evening). Um/uma xxx, por favor"
The word "and" in Portuguese is: " e ", so:
"Good morning, one espresso and two coffees with milk" will be:
"Bom dia, uma bica e duas chinesas, por favor." 
 1- um / uma    2 – dois /duas    3 – três    4-  quatro    5 –  cinco
Hereby a short cheat sheet: 
Coffee names in Madeira
When it comes to names for coffee in Madeira, things get a bit more complicated. 
This type of coffee is very similar to the famous Italian espresso and is served in the same small espresso cup. However, it is slightly larger than its Italian brother and has a milder taste. It's served without milk.
In English, "bica" means "a tap". The term "bica" is also used in the mainland Portugal, although I have heard that in the north of the country the term "Café ou Cimbalino" is used instead of "bica".
Bica cheia
It is a variant of the "bica", only bigger. It contains more water, fills the entire espresso cup (similar to "long espresso"). It's served without milk.
"Bica cheia" means "full bica" and it is also used in the rest of Portugal.
Italiana / Bica curta
And the other way round – smaller than "bica", similar to "short espresso". It's served without milk.
This term is also used in the continental part of Portugal.
Chino
Still without milk, but with more water than "bica". You can compare it to "Americano" coffee. It is served in a larger tea cup.
Chino means nothing else than a "Chinese man."
Is this name also used in the other parts of Portugal? I'm not sure about that, so please help me out and leave your comments!
And then we also have coffee with milk…
Garoto
Translated as… "A little boy". In Madeira, this word is used to describe a small coffee with milk and served in a small espresso cup (an essential piece of information!).
This term is also used in other regions of Portugal.
Chinesa
Nothing else than a "Chinese woman" – typical coffee with milk. "chinesa" is similar to "garoto", but "garoto" is served in an espresso cup, while Chinesa is twice as large and served in a larger teacup.
This term is not used in other parts of Portugal, the continental equivalent of "Chinesa" is: "Meia de leite".
Galão
Similar to "café au lait" or "caffè latte", meaning a weak coffee with a lot of frothed milk, served in a tall glass. Usually drunk in the mornings.
The literal meaning is "a gallon". The term is also used in the continental part of Portugal.
Cappuccino
Phew, finally something that sounds familiar! Cappuccino is… just a cappuccino, but of course it can not be too easy: we can still get asked "Espuma o Chantilly?" meaning "frothed milk or whipped cream?".
And all the rest …
Of course, knowing the names listed above will help you a lot in small local cafés and bars. More and more places, however, adjust their menus (and with them of course, the coffee prices…) to tourists. In many modern or well-located cafés, you can buy Italian, frozen and flavoured coffees, for prices similar to prices charged in Western Europe or the US.
One of the coffeehouse chains we like to eat at is Penha D'Aguia. We like their large selection of sandwiches, however, when it comes to getting a nice coffee, we normally go to small, local cafés, where a "bica" costs close to nothing – about 60-80 cents. It is worth checking the prices of coffee before you decide to order because prices in tourist places are twice or three times as high.
What to get with your coffee in Madeira? Local & Portuguese pastries
What do people normally get with their coffees? Usually, they order a simple toast with cheese or ham, a small and delicious pastry with a cheese called requeijão (the pastry is called "Queijada") or a typical Portuguese treat with vanilla cream "Pastel de Nata".
Various passion fruit desserts, cakes and pastries are also popular (and highly recommended)…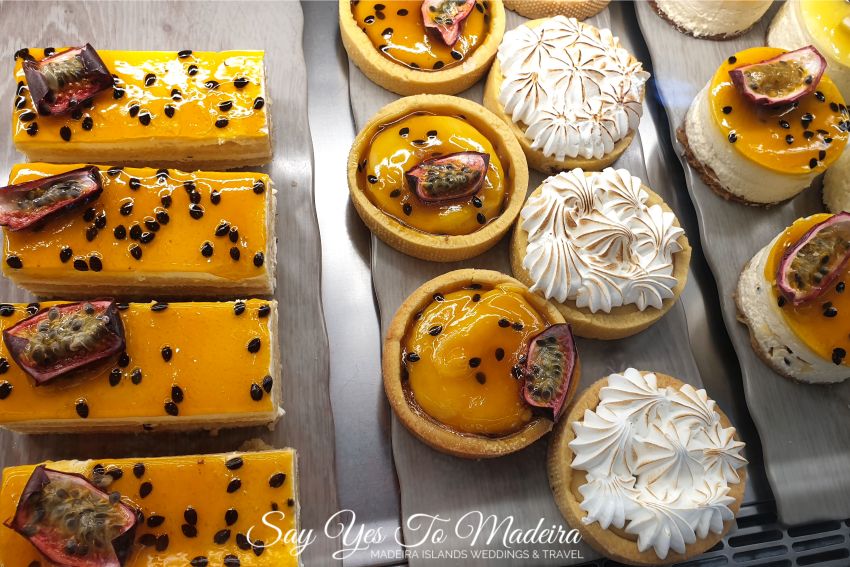 … and in the Valley of the Nuns (Curral das Freiras) you have a chance to also try out some chestnut pastries.
Madeira Island café's
What about recommended cafés in Madeira? On the island, and especially in Funchal, you will find many of great places to enjoy your coffee, from affordable local cafés and more elegant, touristic ones. There are also several popular coffee shop chains, and the two most popular in Funchal are Penha d'Aguia and A Confeitaria.  You will certainly find enough places to enjoy a delicious cup of coffee in Madeira.
One of them is a unique and instagrammable flamingo-themed rooftop café Se Boutique Cafe. The garden café at the Universo de Memorias Museum is a quiet and charming spot with a great view.
A nice surprise were also two garden cafés which you can enter directly from… a levada. Following the Levada dos Tornos in the North of Funchal, you can stop at Hortensia Gardens Tea House or Jasmin Tea House.
It is impossible to list all recommended café's as especially the centre of Funchal is full of great places. See instead:
I hope this post was useful. Enjoy your coffee times in Madeira guys!
Are you in love with Madeira Island? We are too! Do not miss our new travel and wedding posts – follow us:
Would you like to organize a photo shoot or a destination wedding on beautiful Madeira or Porto Santo? Contact us!