I am a big fan of Fajã dos Padres. Description of this gem and its history was one of the first blog posts ever published. I often recommend this place to tourists and couples looking for a setting for an intimate and unique wedding in Madeira …
Today we focus on Fajã dos Padres as a nice place for swimming & snorkeling on Madeira.
When visiting Fajã dos Padres, definitely take your action cam and a snorkeling set. Here is our one-minute report from the last September visit:
1. Fajã dos Padres Pier & Beach – Video
2. Fajã dos Padres Pier & Beach – Pictures
3. Fajã dos Padres Pier & Beach – What's it like?
The previous time we visited Fajã dos Padres, we swam in the ocean from the pebble beach, but as pebble beaches are not my thing, I was not very impressed. When visiting Fajã dos Padres, it is much nicer to sunbathe, swim, snorkel & dive from the big concrete pier located next to the restaurant. Water around this area is extremely clear.
All pictures from this post were taken during our latest visit on a sunny, September Sunday afternoon. The pier was full of locals and the place had a really great & welcoming vibe. Especially, when the sun started to set and the entire Fajã dos Padres as well as the brown cliff began to sparkle…
4. Fajã dos Padres Pier & Beach – Location
Fajã dos Padres pier is located 20 minutes from Funchal, between the colorful fishing village of Câmara de Lobos and the village of Campanario, where we can find another, even more secluded and unusual bathing spot called Calhau da Lapa. There, in turn, we need to be in shape. Why? There is no cable car, only a hiking path with way too many steps. We will describe the amazing Calhau da Lapa beach soon on our blog.
The Fajã dos Padres bathing pool has a shower, bathrooms and a delicious restaurant. It is a perfect place for a relaxing day with family or friends. There was only one thing I did not like, and it was the fact that the last cable car leaves far too early.
5. Fajã dos Padres Pier & Beach – By Car + Cable Car
The cable car stops operating at 19.00. It means that you have to leave the pier about 15-20 minutes earlier. A lot of people want to make the most of the golden hour and stay as long as it is possible, so it might get busy around the cable car station.
It was so difficult to leave this beautiful place before the sunset, but we had no choice…
6. Fajã dos Padres Pier & Beach – By Boat & Overnight Stays
So if you would like to observe the sunset on Fajã dos Padres, you might have to arrive by boat or… stay there overnight. Yes, it is an option. A couple of these secluded houses are for rent and staying there will be quite an adventure:
And here you will find both the secluded huts below the cliff as well as other accommodation on top of the cliff:
With the departure of the last cable car, Fajã dos Padres becomes a very, very secluded and charming place … Would you dare to stay there overnight? If you have already spent the night at Fajã dos Padres – what are your impressions?
SEE ALSO
FAJÃ DOS PADRES ON TRIPADVISOR
FAJÃ DOS PADRES RESTAURANT ON TRIPADVISOR
Weddings or photo shoots on Madeira? Contact
Do not miss our new posts – follow us: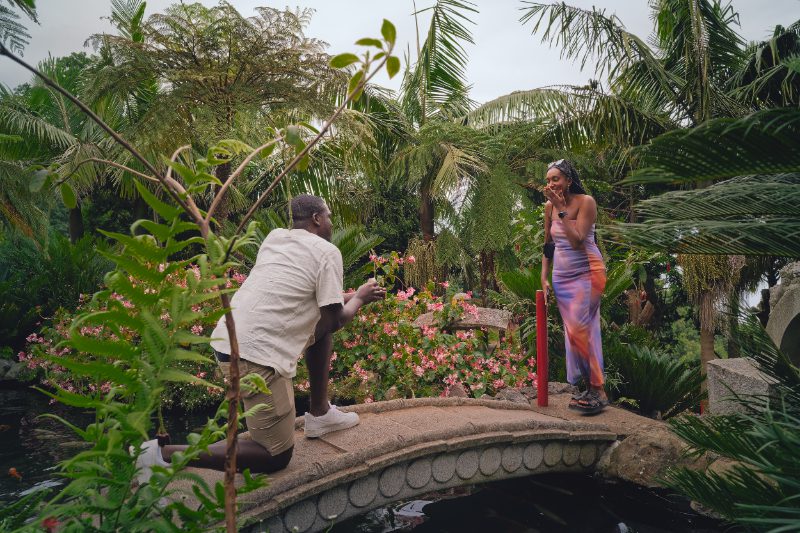 "He wasn't even supposed to be in Portugal!" – a beautiful story of a surprise…