Fajã… a Portuguese term which does not have an English equivalent. It describes a piece of flat, fertile land, created by flowing lava, which is located at the bottom of the cliff, cut off on one side by the cliff, on the other by water. It is a beautiful and unique place, which is definitely worth discovering during your Madeira Island holidays.
Fajã dos Padres – Video impression
Here are two of our GoPro videos recorded in autumn 2019:
The area of Fajã dos Padres is relatively small. There are paths, but no roads; there are small golf carts, but no cars. There is a beach, several houses (which were once inhabited by farmers and today can be rented out by tourists), gardens full of banana trees, herbs, vegetables and exotic fruit (oh my beloved avocado trees!), one restaurant with the same name and… wonderful silence. It is a secluded and truly wonderful place to relax.
GO TO: Fajã dos Padres Restaurant
GO TO: Fajã dos Padres Rentals
The cable car ride downhill itself gives us the opportunity to admire the magnificent views from the panoramic windows of the cable car. It takes only about 2.5 minutes to get to Fajã. A short stroll through the gardens will take us to the restaurant with a concrete pier, from which you can go on a boat, go fishing or snorkel, swim and sunbathe.
Fajã dos Padres – Location & how to get there
You can only get to Fajã dos Padres by water: by boat / kayak, or by a special cable car, which you can board on the 300-meter high cliff.
Fajã dos Padres owns a 10-seater boat "Malvasia", which runs daily between Funchal and the famous colourful fishing village Câmara de Lobos. If you want to get to Fajã dos Padres by this boat, you need to book it in advance on their [OFFICIAL WEBSITE].
The price of a one-way ticket from Câmara de Lobos is €10 and from Funchal €15. Children under 2 years travel for free.
So if we have a car, getting there by boat will cost you more than the cable car. And if you travel by taxi, an interesting option may be a ride down with the cable car and return by boat.
SEE ALSO POST: CAMARA DE LOBOS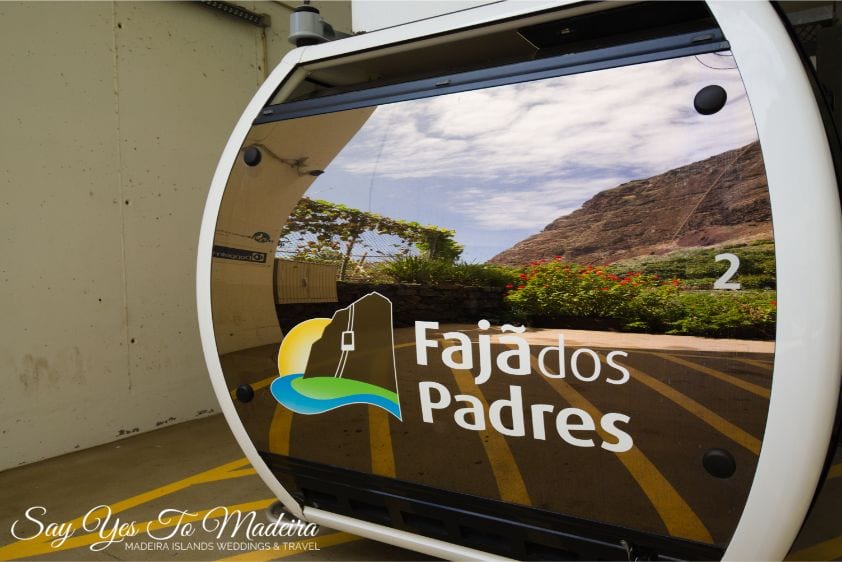 Fajã dos Padres – Cable car & parking
The cable car station can be reached by car, which can be left on the (free) parking lot at the top of the cliff. Getting there by taxi is not a crazy option – Fajã dos Padres is located about 10 km west of Funchal.
Cable car tickets can be bought at the ticket office next to the station; they cost €10 per person (both ways). There is free admission for children under 11 years old.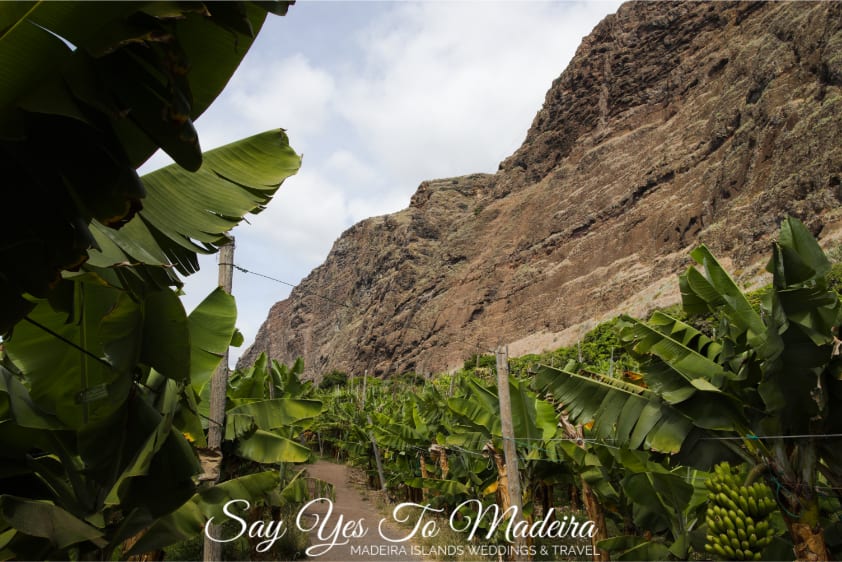 The Fajã dos Padres cable car is not only used to transport people but also products. Here are some boxes of freshly picked fruit that arrived at the top of the cliff from the Fajã farm, ready to be delivered to local restaurants and bars:
Fajã dos Padres – History
Fajã dos Padres ("Fajã of the Fathers"), which has its own microclimate, was inhabited and cultivated since Madeira started being populated; as we read on the official site, there are countless records and references made to its owners, its crops and inhabitants, as far back as the 15th century.
This area once belonged to the priests of the Company of Jesus for over 150 years, hence the name "Fajã of the Fathers". They left a remarkable legacy, esp. the introduction of the malmsey wine, a wine whose reputation expanded the borders of Portugal. Despite the isolation, Fajã was inhabited by about 50 people – settlers and Jesuits. In addition to agricultural activities, it is believed that Fajã was also used as priests' summer escape.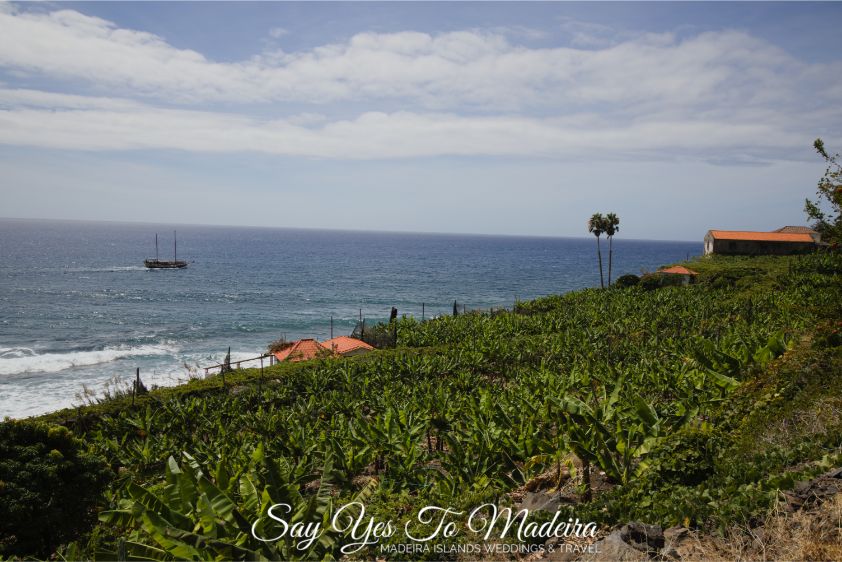 In the past, grapes and sugar cane were cultivated there. After the Second World War, for around 30 years, it was replaced almost entirely by banana trees. In the beginning of the 1980s the property was widely restructured. Some mechanical methods were introduced as well as automatic irrigation systems and new cultures were introduced in addition to the banana production. Today we can see the wine yards, mango, avocado and banana trees, as well as many other vegetables and exotic fruits such as araca, figs, tabaio and passion fruits.
Fajã dos Padres – Beach
The beach on Fajã is unfortunately like almost all natural beaches of Madeira – a pebble beach. There is, however, a pier which is great for sunbathing and diving.  Fajã dos Padres is also a nice place to snorkel. Access to the beach is free, there is also an outdoor shower and toilets next to the restaurant.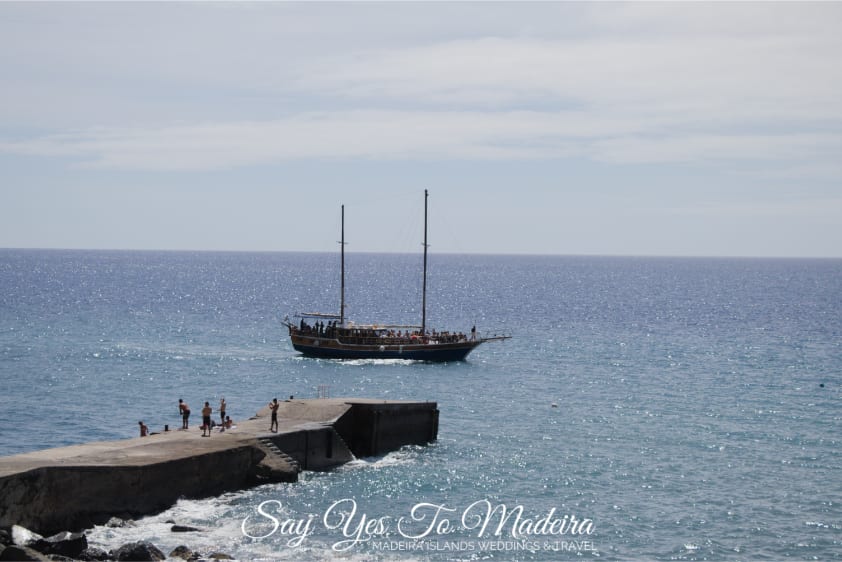 GO TO POST: BEACHES IN MADEIRA
Fajã dos Padres – Restaurant
Imagine eating a fresh-caught fish dish in a serene, quiet place, just by the beach, watching and listening to the ocean… The restaurant at Fajã dos Padres serves mostly fresh fish and seafood and is not at all overpriced. A great place for a lunch with the entire family.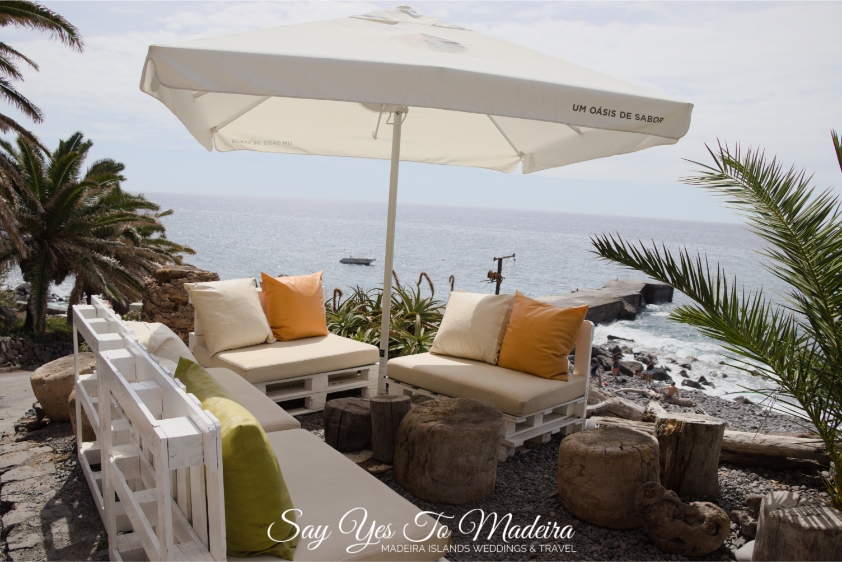 Fajã dos Padres – Unique Wedding Venue
Fajã dos Padres is also a great setting for a destination wedding in Portugal. Suitable especially for couples looking for an intimate totally off-the-beaten-path ceremony, in an unusual and secluded place. 
Interested in organizing your wedding or event there? Go to our post: Weddings at Fajã dos Padres or send your wedding inquiry. 
Fajã dos Padres – My brother's adventure
Writing about Fajã dos Padres, I could not help but describe a funny family story. My beloved brother is its main hero, and it all happened during the famous wedding visit of my family in Madeira in 2017. 
My brother must have been simply really fascinated with the high cliff because he… hurt his ankle walking while staring up. At that time, there were no vehicles at Fajã dos Padres, and our own car remained on top of the cliff… so – what to do? 
After half an hour of looking for help, my brother was already sitting… in a shovel of a small garden dumpster truck, the only vehicle on wheels available in Fajã. A compassionate local Portuguese gardener transported him up to the cable car station. My brother and his foot, of course, became a tourist attraction, and his royal journey in a shovel among banana trees was vastly photographed by other tourists.
This sort of situation won't happen to you, so do not worry. Why? We noticed, that nowadays, there are small golf carts which can be used to transport people with mobility problems. My brother wasn't lucky that day, but at least he had an adventure he will never forget.
Fajã dos Padres – Final Thoughts
So to sum up, I do not know anyone who wouldn't enjoy Fajã dos Padres. The cable car ride will for sure be an adventure. To properly explore the entire Fajã dos Padres and relax a bit, reserve at least a couple of hours. It is a great attraction for the entire family, including families with small kids and definitely a great option for a relaxed, sunny afternoon. 
We highly encourage to discover this, and other Fajã's of Madeira Island.
Are interested in Madeira & Porto Santo? Do not miss our new posts – follow us!