Finally, our great holiday-wedding trip to Madeira has arrived!
When reserving the plane tickets, we gave ourselves a few days to organise the wedding suppliers and formalities, so that we could have everything ready before the arrival of the first guests, most of whom landed on Madeira three days before the big day.
What was the first thing after getting to Funchal and dropping the suitcases in our room..? Devouring two big portions of delicious and long-awaited lapas!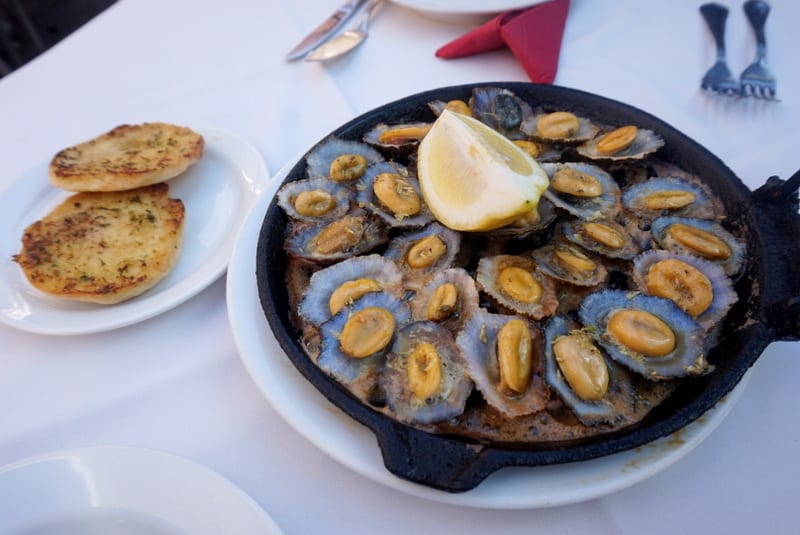 Then we spent our days on meetings with the florist, cellist, hotel, bakery… We bought wedding favours for our guests (small bottles of Madeira wine and a piece of a regional cake) and we arranged formalities in the Portuguese registry office. Everything was under control, so we had a few days to spend with loved ones.
Wednesday was a very much awaited day for me… Almost as much as the day of my wedding. That was the day when on one afternoon most of my relatives from all parts of the globe arrived. The first relatives arriving were a cousin from London along with her Indian husband and their sweet, sweet 2-year-old daughter. A few hours after them, my bridesmaid Anna joined us from South Africa, and soon after that I could finally hug my closest family from Poland – my brother, my parents, and my 8-year-old niece.  My godparents from New York were arriving next day in the morning. They decided to use this opportunity to stop for a couple of days in Lisbon, before catching the connection to Madeira. 
Thursday before the wedding, we went all together for a dolphin watching catamaran tour. A great adventure, great weather, and wonderful moments spent with my beloved ones – knowing that a moment like that will never happen again, I appreciated every second of that day.
The catamaran tour was a hit – all of us, aged 2 to 60 years old, enjoyed the trip a lot!
Due to a hairdresser appointment, I could not join them on Friday, so I had to let them explore Madeira without me… I booked my family a minivan tour around the island. It is, by the way, a great option for large groups and families – the trip is personalized, and with a large group the prices per person are better than the official tours from the tour operators.
The evenings could not have been better – spent together with our family and friends… While enjoying delicious dinners in restaurants and… strong local Poncha drunk in local bars on little charming alleys of the old town until late night hours… Another precious and unforgettable moments…
On Friday evening the groom was kidnapped by the male half of the guest brigade for a Poncha Pub Crawl. Before that, however, we had a moment to enjoy some of our hotel's facilities, especially the nice spa and the outside infinity pools.
A day later, on the same platform between the pools, we were to say our "I DO's" …
Would you like to start planning your wedding in Madeira or Porto Santo? Do you have any wedding-related questions? Feel free to contact us!
[E-MAIL]    [WEDDING INQUIRY FORM]
Do not miss our new travel and/or wedding posts – follow us!