The day of our wedding…
Finally, the calendar showed 21.10.17 – the date of our wedding in Funchal, Madeira, which we had been waiting on for so many months.
Of course, it was one of the most beautiful days of my life… Not everything was perfect, but it was still perfect for us…
Together with my fabulous female entourage, we started the day at the beauty salon in the centre of Funchal, where we were taken good care of by a team of make-up artists and hairdressers.
In fact, we did not have too many duties during the day… Most things were delegated or dealt with earlier. After returning to the hotel, we took care of packing wedding favours, setting up the flowers and decorations and… Looking at the sky… Unfortunately, the weather in October is quite risky, and our ceremony was to take place outdoors, on a deck between two infinity pools. Although the whole week was hot and sunny, on the day of our wedding the sky looked very suspicious…
The hotel explained that in case of any signs of rain, the chairs will be moved back to the main hall, which unfortunately is not as attractive as a ceremony setting. Of course, it is good to have a rescue option, but still, it would be a great shame to give up the beautiful sea view location, which was the main reason for choosing this hotel.
In the meantime, it was already lunchtime, and the white chairs were still on the deck… We crossed our fingers!
Everything else was ready. We were ready… And surprisingly calm. We returned to our room and used this opportunity to grab each other's hands, summarize our entire path up to this very day, this very moment, exchange a few important words… appreciate each other, and look with a wide smile on our faces towards our amazing future together.
The white chairs were still on the deck…
At 4.00 it began! Our hotel room was full of people, including a photographer trying to catch some preparatory shots in this crazy tornado.
A quarter of an hour before the ceremony, when I looked down and saw our guests slowly arriving at the deck, I started to feel very anxious. My husband-to-be went down to greet them.

I stayed in the room together with my bridesmaid, my dad who was supposed walk me down the aisle, my mom, and my eight-year-old niece Anielka who got the task of a ring bearer.
Now we were all very stressed. We were all pacing back and forth… and waiting anxiously. I observed my eight-year-old niece and saw how she was trying to organize thoughts in her head about everything what was going on around her and how important is the task she got…
I saw the fear on her little face as she clutched the wedding rings box in her tiny hands. To this day I am grateful to my beloved niece, for more courage than her aunt at her age, for overcoming the fear… and walking so bravely in front of us, in a place she did not know very well, being watched by dozens of unfamiliar faces while being talked to in a language she barely speaks. 

She is my little, great hero …
Time for our wedding!
Suddenly, we heard a knock on the door. My bridesmaid opened it, and we saw a representative of the hotel announcing loudly and briefly:
"It's time!"
The way to the ceremony place from our room on the tenth floor seemed to last forever, and I do not remember the last time in my life I felt so weak at the knees!
Entering the white carpet leading to the ceremony place, where 40 dearest guests waited for me. That moment, that look on my husband's face, that respectful kiss on the hand from my father giving my hand away to my husband… These are the truly unforgettable moments, which will stay engraved in my memory forever.
With each passing minute, the stress slowly began to go away. The ceremony was conducted by a representative of the local registry office in Portuguese, along with the interpreter (who was our wedding planner) translating everything into English. Unfortunately, the clerk turned out not to be the most enthusiastic person I ever met, but our wedding planner/interpreter did everything she could to add some warmth, feelings, and humour to the ceremony… 
Talking about humour… Of course, we did not avoid funny mistakes during the vow exchange … And guess who committed it? Let me give you a tip- not my lovely spouse.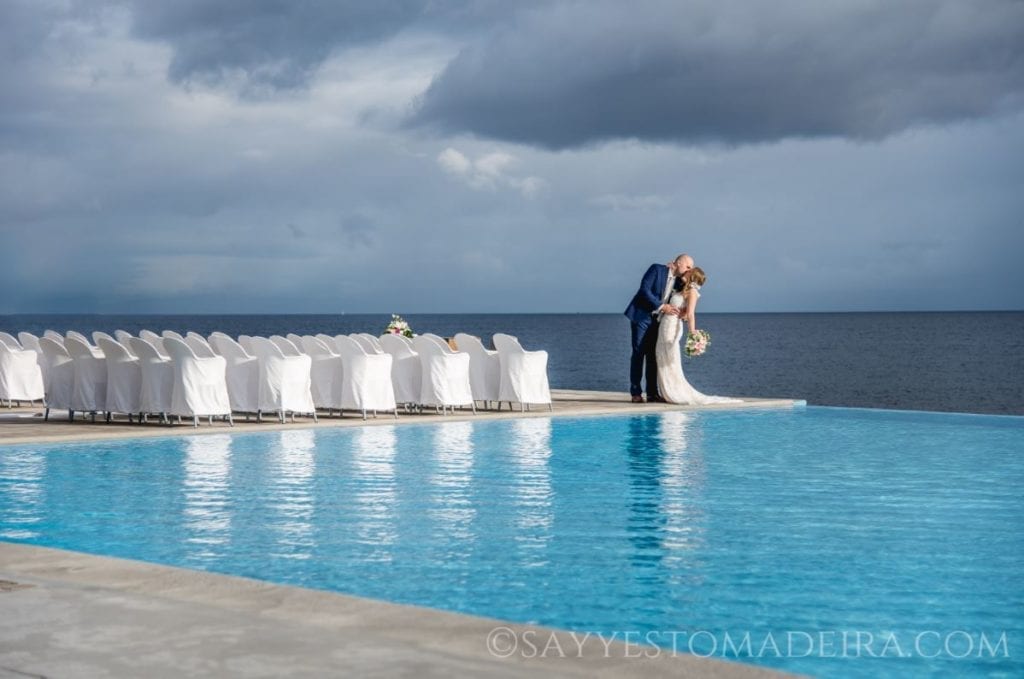 After the surprisingly short ceremony it was time for congratulations, hugs, and photos, photos, photos. Then a cocktail hour in a beautiful garden on the upper floor, during which a few symbolic drops of rain blessed us for good luck, followed by a beautiful rainbow.
After the photo session and a cocktail hour, we could finally head to the restaurant to enjoy a nice, 6-course dinner. I really enjoyed how small the wedding was. In between meals, I was able to move from table to table and chat with all my 43 guests and enjoy the moment with them.
One of the last points of the wedding dinner was cutting the cake and making a toast with champagne on the same ocean deck where we exchanged vows a few hours earlier. The cake was beautifully prepared at the very end of the deck, and to get to it, we had to go through a luminous tunnel created by our beloved guests standing on both sides with lit artificial fires in their hands. It was a nice touch and the moment was beautifully captured in the pictures.
After the cake, around 11 pm, the bar was opened, and it remained open until the guests decided that they had tasted enough of the Madeira drinks… And even though, apart from the music from the speakers, there was no DJ or a band, the wedding dinner ended around three o'clock in the morning.
Would you like to start planning your wedding in Madeira or Porto Santo? Do you have any wedding-related questions? Feel free to contact us!
[E-MAIL]    [WEDDING INQUIRY FORM]
Do not miss our new travel and/or wedding posts – follow us!