Photoshoot in the Old Town of Funchal
Imagine the waiter's face when he noticed that the lady at the table he was serving was joined by a groom and a bride in her wedding dress…
I invited my beloved bridesmaid, Anna, to the day-after wedding photoshoot. On Sunday, we met in the Old Town of Funchal (Zona Velha) with the photographer, where we took a couple of shots in our favourite spots: our favourite Poncha bar, and in front of colourful doors and art murals. On the way we passed a lot of curious tourists, some of whom came up to us, congratulating us, giving compliments and wishing all the best. Very nice gestures during a very positive afternoon.
Scenic photoshoot – Pico do Ariero
Then, we headed to the mountains, to the Pico do Ariero peak [1.818 m] where we were very blessed by the skies with perfect weather conditions. When we broke through the fog and clouds, we had in front of our eyes only a white carpet made of clouds – something you normally see only through an airplane window.
The peak on a Sunday afternoon was not as crowded as I used to see it… There were no buses full of tourists, and the only thing that could be heard was the wonderful silence… as well as our voices of admiration, and commands of the photographer. "Go there, give him a kiss, look at each other" or "Go there and run towards me holding hands". We had so, so much fun.
We were not the first couple which Miguel took to this place. Miguel knows the most beautiful, sometimes secret places on the island, and that is where he takes his clients. Several of his photos taken on Pico do Ariero are top of the charts and are printed in the wedding press in various countries.
Even without having a great photographer, photos on Pico do Ariero during good weather, cannot go wrong. It is a wonderful setting for an engagement or wedding photo session.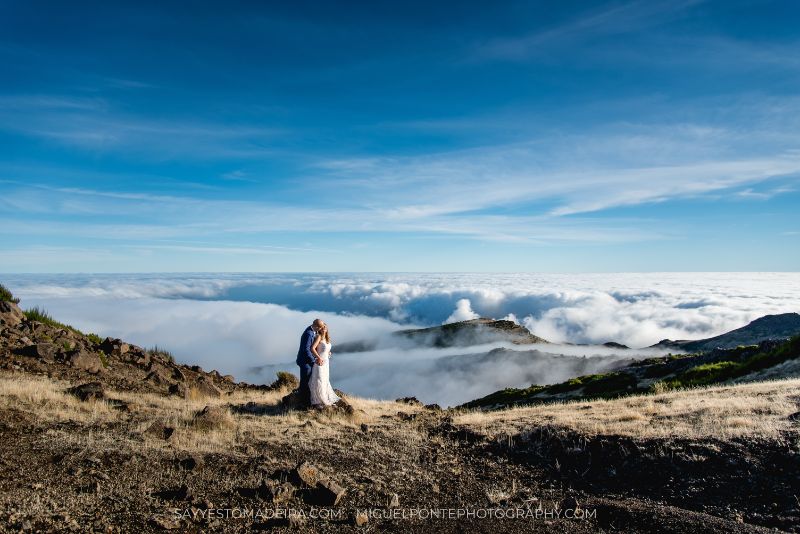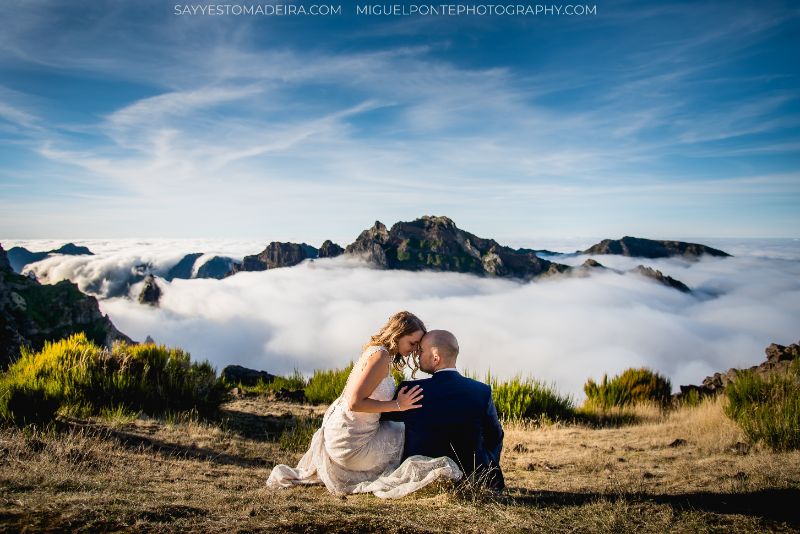 And yes, suddenly it was over! We were married!
Still, we were in Madeira, we still had our relatives with us, we still tried to squeeze the most out of these days and enjoy this time as much as possible…
We returned home happy – It was worth the efforts.
We loved it. Our guests also enjoyed it, even my parents whose first reaction about not getting married back home was not extremely positive. However, even they were impressed by the island and had a great time. The presence of my parents and family and support from all of them were extremely important to me.
We came home three days after the wedding. We did not have to wait for the marriage certificates to be issued. Our wedding planner picked these up from the registry office and shipped them to us by post. The same week we could contact our consulates and a local town hall to register the marriage in the countries we come from and the country we are residents of.
One thing we know for sure: It was worth it.
Would you like to organize a wedding on Madeira Island or Porto Santo?
Do not miss our latest posts, follow us: