Madeira on a budget – transport
For all those visiting Madeira on a budget, I have prepared a series of three posts about cheap, cheaper or free options for meals, accommodation and transport in Madeira. Today, a couple of ideas for affordable transport in Madeira.
SEE ALSO:
PART I- BUDGET MEALS & PART II- BUDGET (OR FREE) ACCOMMODATION
Public buses – Public transportation system in Madeira
Public transport on Madeira Island isn't perfect. There are multiple public transport companies and for each one of them, we need different tickets. Four (of five, if you count also Servico Interurbano) different companies for such a small island as Madeira, are, in my opinion, a few too many.
On some routes, buses do not operate very frequently. To some places, we can get with more than one company, but there are also top tourist attractions, where no buses go (such as Pico do Arieiro peak or the magical Fanal Forest). The timetables are sometimes hard to decipher, so it is much easier to ask a local or check the journey suggestions on Google Maps.
Apart from that, bus ticket prices in Madeira are cheap, and it is definitely a good option for budget transfers between some of the places on the island.
Not all bus drivers speak English. Would you like to learn some basic Portuguese words & phrases related to travelling bye bus? Check out this online Portuguese lesson.
You can recognize the companies by the color of their buses:
Funchal (the biggest city on Madeira) city buses are all yellow, while suburban buses have only a yellow stripe. SAM's buses are green. Watch out for companies Rodoeste & EACL, because both of them operate with buses with red stripes on them.
The bus stations are also scattered among different areas of Funchal, but luckily, most buses pass by one of the main streets of Funchal – Avenida do Mar.
1. AEROBUS – Airport buses on Madeira
Public buses to and from the Madeira Airport are operated by the company SAM. With these cheap buses, we will reach most of the hotels in Funchal located in or around the city center and the hotel district.
A single ticket costs only 5 euro, and a return ticket (valid for an entire year) – 8 euro. Child ticket (6 to 11 years) costs only 2,5 euro, and younger kids travel for free. Tickets can be purchased inside the bus.
How to find the stop of the airport bus in Madeira? No worries, you can not miss it. The bus stop is located just in front of the Arrivals exit. To be exact, on the right of the taxi stands, and just next to the famous Cristiano Ronaldo monument (see pictures below).
There is also a useful and highly rated mobile app, where you can check the routes, schedule and find the closest bus stops.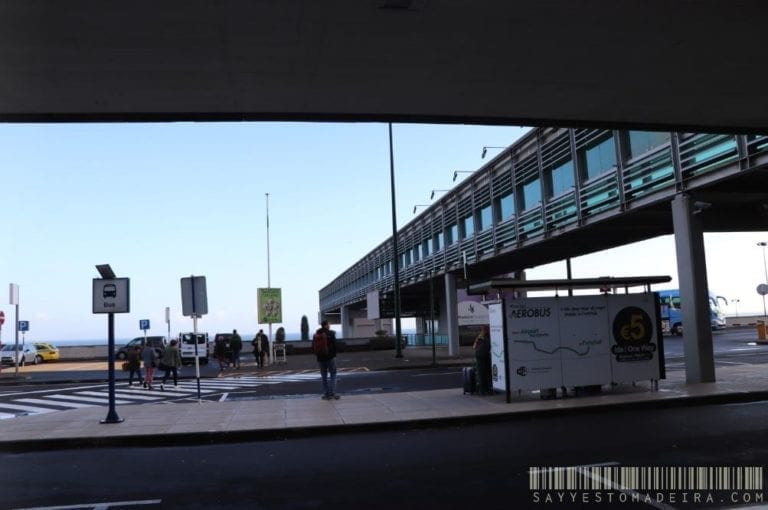 2. SAM
Besides the AEROBUS line between Funchal and the airport, SAM operates also between the below towns: Caniço, Caniçal, Santa Cruz, Porto da Cruz, Machico, Santo da Serra & Faial. [SEE MAP|
The main bus station of SAM is located at Av. Calouste Gulbenkian Edifício 2000, nº 8, Funchal.
The remaining public transport companies in Madeira are:
3. Funchal City buses "Horários do Funchal"
The transport company Horários do Funchal operates two types of services – Urban – within Funchal area and Interurban.
The timetables can be found here: 
3.1. Horários do Funchal – Urban Network
A single ticket can be bought in the bus, but a better investment might be rechargeable cards, on which you load between 2 and 31 travel credits. There are also 1,3,5 or 7-day tickets (free rides on the Urban network buses). GIRO 24 Card allows us to use all Urban and Interurban line for 24 hours.
3.2. Horários do Funchal – Interurban
Interurban service connects Funchal with places such as: Camacha, Caniço, Santo da Serra, Curral das Freiras, Poiso, Ribeiro Frio, Faial, Santana, São Jorge, Arco de São Jorge. It also connects Camacha with Santa Cruz and Santana with Porto da Cruz.
Tickets can be bought with cash inside the bus. The price depends on the distance. Please bear in mind that Urban Network tickets are not valid on Interurban lines (with exception to GIRO 24 Card of course).
4. RODOESTE
Rodoeste offers services mostly in the northern and western part of Madeira.
From Funchal, we will be able to use Rodoeste to reach these popular tourist places:
As well as:
Madalena do Mar, Ribeira Brava, Jardim do Mar, Paúl do Mar, Ponta Delgada.
5. EACL – Empresa dos Autocarros do Caniço
As the name indicates, this operator offers routes in the area of Funchal & Caniço, where most of the hotels are located.
USEFUL:
|HERE| on page 81 you will find a useful map of all bus stations & bus stops of all the bus companies mentioned above
Hitchhiking in Madeira Island
Hitchhiking in Madeira is legal. It is not very popular, but definitely an option. The Portuguese term for hitchhiking is: Boleias
I have never tried this option in Madeira, but some time ago posted an interesting interview with a couple of adventurous travelers and experienced backpackers – Wnuczykije.pl. They discovered the island almost entirely hitchhiking. Be sure to read their story if you are looking for more information on hitchhiking and free campsites in Madeira.
So, if you use a mix of public transport with occasional hitchhiking & self-guided transfers, you will be able to visit most of the popular attractions on a budget.
Travelling with other tourists
You can save a lot by simply finding co-travelers with a similar itinerary.
There are a couple of nice & active Facebook groups, such as for example [Madeira Island Cheap Travels], where you can often see posts from travelers about sharing rides. Events are frequently created for different day tours, where tourists get together to lower the costs. Not only is it more fun, but also helps you save – tours offered there are half cheaper than the tours offered by most tour operators. The routes are also more flexible, and you see more in a day than you would see during an organized tour.
BlaBlaCar, Bolt & UBER in Madeira
Uber in Madeira … comes and goes. It worked great for an extended period, but currently (October 2021), it is not available again. A popular alternative to Uber in Madeira are two other apps: Bolt or Taxiin Madeira.
The Bolt app service is no different from how Uber works. We have used it many times in Funchal, and it worked great. While it can be difficult to catch a Bolt outside of Funchal, it works great in Funchal. The journey between the hotel district and the center of Funchal should cost you only a few euros.
When creating a Bolt account, be sure to use my discount code to receive 5 euro credit (sufficient for even two short trips in Funchal).
Using MadeiraNow card at the rental company
MadeiraNow discount card also includes some nice discounts to different rental companies. For more info, go to post: MADEIRA DISCOUNT CARDS
And what are your tips regarding affordable transport in Madeira Island? Help others, and let us know in the comments.
SEE ALSO:
PART I- BUDGET MEALS & PART II- BUDGET (OR FREE) ACCOMMODATION
AS WELL AS:
TRAVELLING BY BUS TO THE NUN'S VALLEY