Looking for self-guided tours in Madeira? Easiest ways to reach the most popular (and unreachable by public transport) hikes on Madeira? Or, would you like to learn more about what self-guided really means? We will answer all your questions.
THIS POST CONTAINS AFFILIATE PROMO CODE – DO NOT MISS IT!
1. What are self-guided tours? + Video
Since the moment we heard that Madeira introduced self-guided tours, I was into trying out the concept. It seemed like a perfect combination – a tour where you have a lot of freedom, but at the same time, the comfort of a transfer to & from – all that for a much more competitive price.
A company offering self-guided hikes on Madeira is: Do It Madeira
I joined Do It Madeira on one of their PR1 Pico do Areeiro – Pico Ruivo hikes in December 2022. The Pico do Areeiro – Pico Ruivo – Achada do Teixeira hike is one of the best, popular and highly rated hikes on the island. Yes, it is also where the insta-famous "Stairs to heaven" are located.
So, how it does a self-guided PR1 hike look exactly?
Here's the video of our hike:
If you book a self-guided tour with Do It Madeira you may expect that: 
1 – Day(s) prior to the hike, you will receive all important information from the tour organizers (In English). They will send you clear instructions on pick-up times and how to prepare. Feel free to ask questions.
2 – On the day of the hike, you will be picked up at your accommodation in Funchal/Caniço area. We chose a sunrise tour, so we were picked up while it was still dark.
3- On the way to the first peak, which takes around 30–40 minutes, the guide will tell you interesting stories and share a lot of information about the hike & the island.
4 – Once you arrive at the starting point (Pico do Areeiro), your guide will take around 15 minutes, to explain the group the trail, the tips, the schedule and safety requirements. He will also show you where should you wait to have the best view of the sunrise.
Although the instructions are very clear, you will still have a chance to ask questions – any questions. 
5 – Once everything is clear, everyone is free to start the hike at his/her own pace. You are free to stop whenever you feel like. The only thing you need to keep in mind, is arriving at the pick-up spot by the agreed deadline. You are the owner of your own time.
Any time during the hike, you can contact the organizer by phone or WhatsApp.
6 – You will meet your guide at the end of the hike – at the big parking lot by the Achada do Teixeira Mountain Spot Café. If you arrive earlier, feel free to get a snack or enjoy a nice coffee in a lovely setting.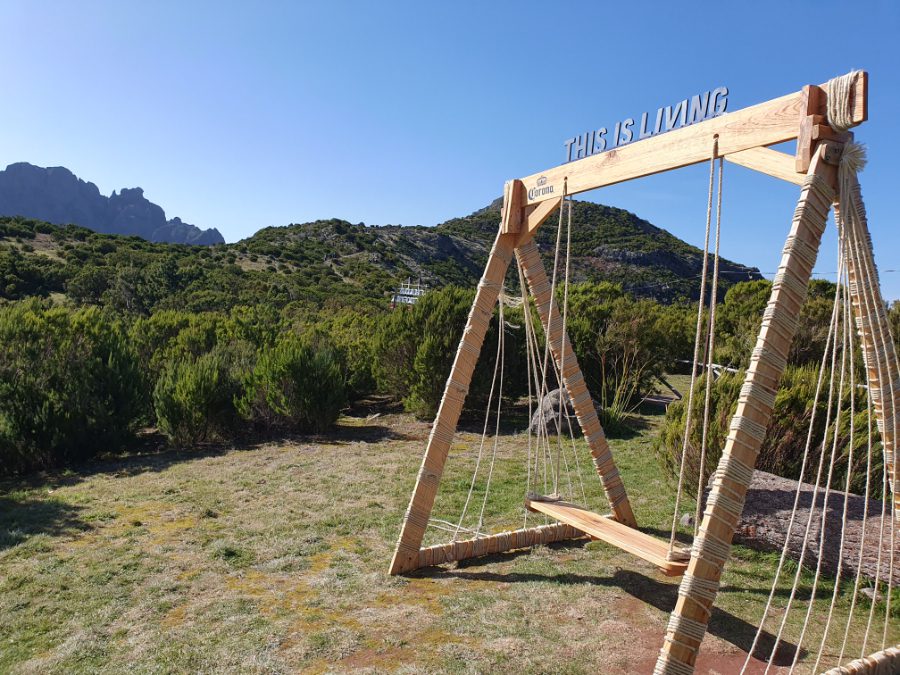 As the parking lot can get pretty busy, remember to take a picture or note down the license place of the van that brought you to the hike in the morning.
7 – On the way back, if time allows, the guide might suggest a quick stop in Santana – a touristic village. Do it, as he will show you the authentic way people used to live on the island years back.
8- You will be taken back to your accommodation around 4 in the afternoon. On the way back, your guide will continue giving you amazing tips and sharing stories about the island. Feel free to ask him any questions, as he has many great stories!
After the hike, do not forget to share some awesome pictures on social media and tag @doit.madeira
2. Advantages of self-guided tours.
Self-guided tours are a perfect compromise. The biggest advantage of self-guided tours is the freedom it offers. You are allowed to stop any time, take pictures or videos wherever you want. You decide on the schedule and the pace.
Self-guided tours are also comfortable. Some of the best Madeira hikes are not reachable by public transport, and the price of such a tour can be cheaper than renting a car for a day. 
In case of Trail PR1, even if you have a car, you will still need to decide whether:
1) Your condition & health will allow you to walk this difficult hike both ways, to return the parked car
2) If you are not able to do the hike both ways, you will need to arrange a transfer/taxi back to your car from point B (Achada do Teixeira) to point A (Pico do Areeiro), which can be very pricey
Self-guided tours offer easy pick up and drop off in Funchal and Caniço area, which means your day is organized for you and totally stress free. You can focus fully on enjoying the beautiful walk.
Self-guided tours are a perfect choice for independent travelers who appreciate their freedom, and content creators. They are a perfect choice if you have already taken some guided tours in the past and do not feel like "hearing the same stories again".
3. Disadvantages of self-guided tours.
I personally do not see any in case of active experienced hikers, independent travelers knowing Madeira, content creators & people who already took many similar other guided tours.
It may not be the best option for you, only if:
1) If you want to learn as much as you can about Madeira and are really inquisitive. In this case, try one guided hike / tour, before trying a self-guided one.
2) You are not sure of your health and condition and would feel more secure having a professional guide next to you throughout the entire hike.
Self-guided tours complement guided tours, do not necessarily replace them. 
4. How big are the groups?
There were 8 people during our hike, and the transfer group is never bigger than 8 people. But of course, you are not obliged to stay close to them during the entire hike. You can, but do not need to walk together. (For safety reasons, it is advised for solo travelers).
5. Are self-guided tours in Madeira safe?
DoIt Madeira carefully chooses which hikes are most suitable for self-guided tours.
Hike PR1 it very well signalized and well-maintained. The path is really very well marked, so do not worry about getting lost. The entire hike and safety precautions are explained to you before the start.
Self Guiding concept means that you always have an assistance contact available at any time, and you can also share your location with your guide.
However, no matter what kind of tour you have booked (with a guide or without), you should always pay attention to safety precautions and avoid risks such as leaving the official trail, climbing on rocks & safety barriers and walking while taking pictures. Even the presence of a licensed guide throughout the entire hike will not prevent you from accidents, if you break the basic safety rules.
6. What if I get delayed?
You are given 5 hours to complete all hikes.
Before the hike, the guide explains the route very clearly, gives tips on timing and makes sure everyone knows the pick-up time. Sometimes, the return may be delayed. As soon as you know you will be delayed, contact your guide. Usually, out of respect to other guests, their time tolerance is 20–30 minutes at the finish and 5 minutes at the accommodation, but please contact them as soon as you can to discuss your plan.
7. Which hikes can I join?
Currently, Do It Madeira offer two, most popular hikes:
Pico do Areeiro to Pico Ruivo (Sunrise or Morning)
Levada Hike 25 Fontes and Risco
Both take 5 hours.
8. Will there be more self-guided hikes on Madeira in the future?
Yes, Do It Madeira is working on expanding their offer of hikes, so stay tuned!
Please feel free to share the news and mention @doit.madeira on your social media to help them grow faster!
9. How much do self-guided hike tours cost??
At this moment (2023) the price are:
Sunrise Hike from Pico do Areeiro to Pico Ruivo – € 30.00
Morning Hike from Pico do Areeiro to Pico Ruivo – € 28.00
Levada Hike 25 Fontes and Risco – € 35.00
Please consult their OFFICIAL WEBSITE to check if the prices have not changed.
10. Where can we get a discount for self-guided hikes in Madeira?
Go to Do It Madeira's OFFICIAL WEBSITE to book any of their self-guided tours on Madeira with a 5% discount using our affiliate promo code:
SYTM5
If you use that code during check out, you will receive 5% off your entire booking.
Enjoy your tours, guys!
Related posts:
Spectacular Sunrise Hike to Pico Ruivo (PR1.2)
Sunrise we were blessed with on our way from Achada do Teixeira to Pico Ruivo (Trail PR1.2). Best spots for watching the sunrise on Madeira…
Pico do Arieiro & Trail PR1 – Vereda do Areeiro [2020]
Pico do Arieiro is a breathtaking place and the famous trail PR1 Vereda do Areeiro definitely deserves its fame and recommendations. Visit it while the weather is good to have an unforgettable walk in the clouds…