Madeira is a great European destination for all canyoning lovers. Are you a beginner? No problem! 
Here is my canyoning-for-beginners story…
Canyoning wasn't the first thing which came to my mind when looking for things to do in Madeira. I did not know what I was missing because it is a great way to spend time on the island. You are able to expand your comfort zone and see some places which are inaccessible to others…
I was invited by Discovery Island Madeira to try out this completely new for me activity. If just like me you are a beginner, but thinking about giving it a shot and wondering how a canyoning session with Discovery Island Madeira looks like – this post is for you.
What is canyoning?
What is actually canyoning? The official definition of canyoning (or: canyoneering) is: "an outdoor activity, consisting of travelling in canyons using a variety of techniques that may include walking, climbing, jumping, abseiling (rappelling), and swimming".
Which is pretty much accurate… Except for the fact that the canyoning tour a'la Discovery Island Madeira included also such "techniques" as sliding off a small and narrow waterfall head down… So… 
Canyoning I – video impression
It will be easier if I just show you… Here is my GoPro video impression of our September tour:
There a couple of levels of difficulty when it comes to canyoning tours in Madeira, and we obviously took Canyoning level I. 
As always, you are being picked up at your hotel. On this trip, there are two instructors. Sandro and Diogo were our instructors for the day.
We drove up north of Funchal to Ribeira das Cales close to the Parque Ecológico do Funchal where the beginner canyoning session was taking place.
Then came the worst part of the tour, putting on wetsuits!
There was a small shack with toilets where participants could change and prepare. 
Once everyone was ready, we headed to the stream, where Sandro and Diogo gave us an introduction about the safety rules and basics of canyoning.
After a short walk down the stream, we arrived at the first waterfall.
I would lie if I said I was not scared, but the fear was gone after the first couple of seconds…
And so, for the next 4 hours or so, we walked, we jumped, we descended waterfalls in a couple of creative ways… 
It seems that not only the participants had a lot of fun… Sometimes I wonder who enjoyed the tour more…
It was the first time I used my new GoPro in action, so this was a double adventure for me…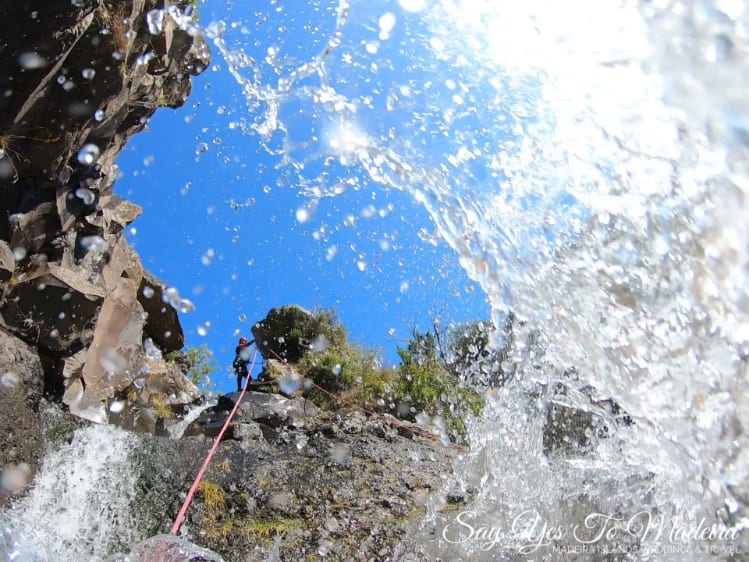 If you have no GoPro, no worries. Discovery Island Madeira instructors bring two action cameras with them and always share the pictures with participants after the tour… and yes – expect a full-on paparazzi mode…
Besides the canyoning part, it was also great to simply explore the hard-to-reach areas of Madeira we would not see otherwise. 
After successfully passing a couple of beautiful waterfalls, we reached the finish point. We walked the last 20 minutes or so through the Madeira forest until we reached our van.
It was amazing! My GoPro battery did not make it until the end of the tour, but me, on the other hand, regretted when it was actually over.
Is everyone encouraged to try canyoning?
If you are healthy, reasonably fit and do not suffer from vertigo  – give it a try I would say.
In my opinion, this activity is a bit risky to all people having ankle problems and recent contusions, as it involves walking on wet stones, also underwater. 
What if you chicken out?
First of all – do not. The first decline is always scary, and it is normal. The adventure starts where your comfort zone ends. You are in good hands, so give it your best try and you will do great.
In the worst-case canyoning turns out not to be your cup of tea  – do not worry – this beginner trail/stream was chosen on purpose. There is a path next to this stream, so if you decide not to participate, you can decide to walk down the stream.
Canyoning I with Discovery Island Madeira – How to prepare?
It is advised to wear a swimsuit under your regular clothes, it will make it easier to change into wetsuits. There is no need to bring anything else with you, the crew of Discovery Island Madeira will take care of everything, starting from the wetsuits and towels to GoPro cameras.
Canyoning I with Discovery Island Madeira – Final thoughts and review
Awesome. All about the adventure was awesome, well maybe except for the moment of putting on the damn wetsuits, which are a bit tighter than wetsuits used for other sports- a part of many activities which I truly have no patience for.
As you probably noticed on my video, Sandro and Diogo are great instructors. We had a lot of fun.
I did not expect anything less than a great tour – Discovery Island Madeira has a 5/5 star rating on TripAdvisor and at this moment is the second-best of 130 Outdoor Activities in Funchal!
What I disliked: Getting into wetsuits!
What I liked / big thumbs up for: Attention to safety – at all stages & the team's attitude, good energy, fun, fun, fun. 
Discovery Island Madeira – Contact
Interested in trying out canyoning? Feel free to contact Discovery Island Madeira:
Of course, canyoning tours are not the only activities they offer. Check out their climbing, coasteering, mountain bike and jeep tours. 
Many thanks to Discovery Island Madeira for inviting us for this complimentary try-out lesson which made this post possible. 
Have you tried out this tour thanks to my post or my video? We would love to hear from you – please do not forget to tag us – #sayyestomadeira!
Enjoy canyoning guys!