As many people, as many views on the island. Everyone visited Madeira with different expectations, for a different purpose, and with a different travel itinerary… And that is why to present the readers with different perspectives on the island, I am starting a new series called "Your Madeira Story", where we share stories from other travelers...  
Today's guest is Nicola from Nicole's Travel Journal blog, who came to Madeira with TUI and stayed at Dom Pedro Garajau. She can tell us more about the weather in Madeira in March, the exotic fruits of Madeira, and staying at Dom Pedro Garajau.  
SYTM: Tell us about your trip; When did you visit Madeira, how long was your trip and with whom did you travel? Was it an organized tour or did you organize everything yourself?
I spent a week in Madeira, in March this year [2018]. I went there with my parents, and that trip was actually my birthday gift. They booked the hotel (Dom Pedro Garajau) and flights via TUI.
We also bought two organized tours in our native language from the tour operator's local resident. We also took a lot of other trips by ourselves. We did not rent a car, so the organized tours were a very convenient option. The advantage of these was that the bus took us to many places in a short time. It also included lunches and tastings of traditional food and drinks. I think it would be hard to tour the island using only public transport, neither you would be able to try the traditional alcoholic drinks such as Poncha if you rented a car. On the other hand, the tours were rather intensive, there was not enough time to really discover some places (such as Ponta de São Lourenço), but all in all, l think that they were quite well organized. We stayed in a small town in on the East of Funchal- Garajau.
SYTM: How is Garajau? Would you recommend Garajau to other tourists?
Garajau is a small and quiet place. There are some well-stocked grocery stores, many restaurants, where you can eat lunches and dinners at affordable prices, which for us was a big plus because we chose the breakfast-only option.
What surprised us the most was that in many places, food portions were enormous. A portion for one person consisted of three large dishes, so I recommend ordering moderately, or dining at the Neptuno bar on the main street, where the portions were just right. The service there was also good, and the food very tasty and home-made. In addition, they also served good local fish – Espada. I do not recommend ordering soups in Madeira. I tried many different positions, in many different places, and all of them seemed tasteless and badly seasoned.
In Garajau, there was also a large cafe, with a great selection of cakes and pastries at very affordable prices (coffee at a price of about 1.2 euro). You could also buy bread, sandwiches, juice and tea there. We also managed to order fresh sandwiches for the road (we ordered them in the morning, then picked them up later that day, just before departure).
Garajau was a good place to stay and located very close to the capital of the island, Funchal. We could get there by bus in just about 15 minutes.
There was also a nice place to hike and take short walks, as there are a couple of nice paths leading to the ocean or a hill/cliff with a view on the Statue of Jesus and the Beach in Garajau. You could get to the beach in Garajau by foot or cable car.
SYTM:  Back to your trip: Why did you choose Madeira? What was the main goal of your visit?
A trip to Madeira was a great surprise and an 18th birthday gift from my parents. They chose the destination. Why Madeira? That I do not know, but I think that it had to do with the low prices at that time of the year and reasonably good weather which we all missed so much.
SYTM: What were your expectations? What were you most excited to do / see?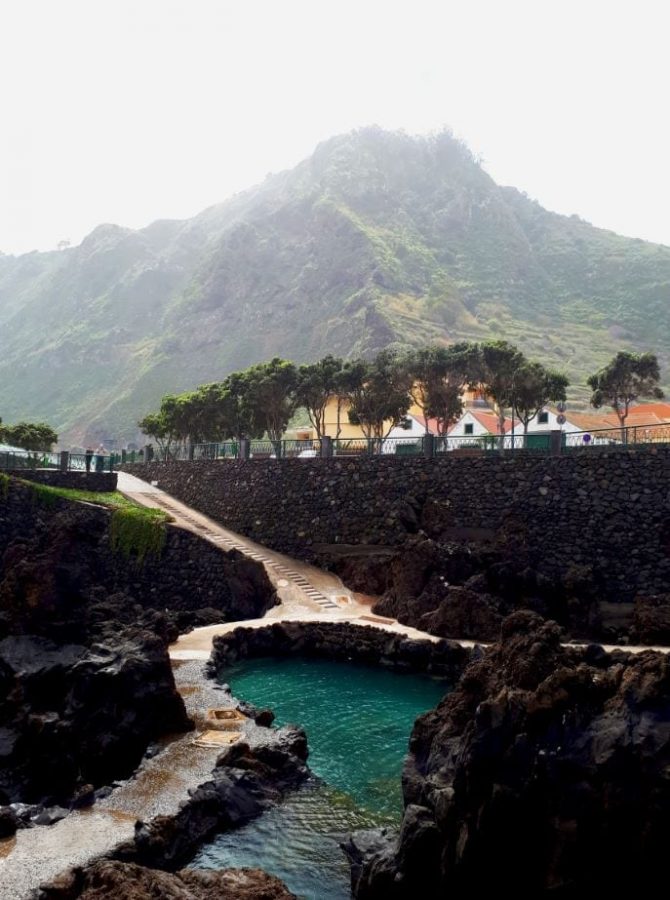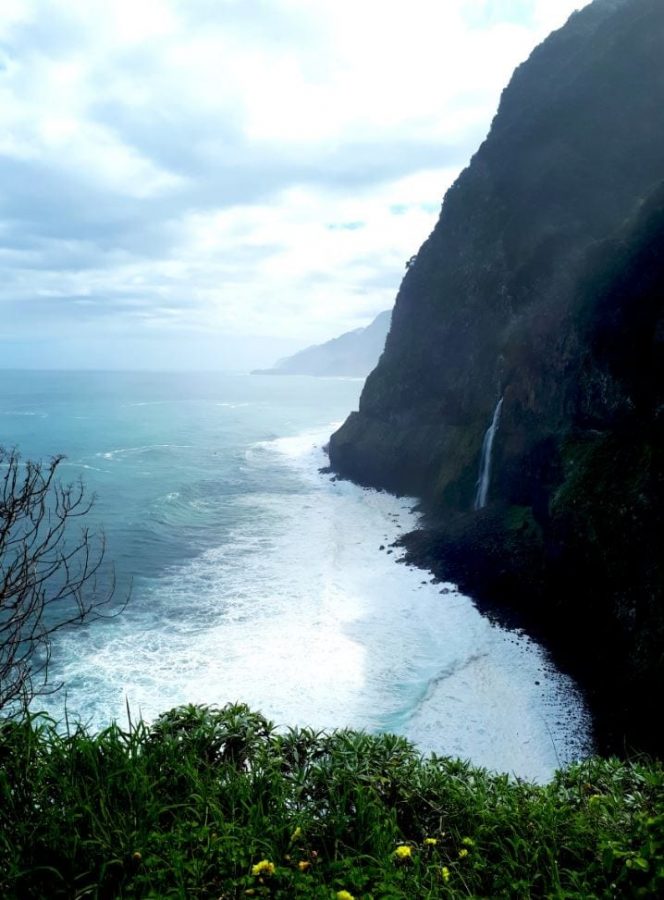 SYTM: And – did Madeira Island meet your expectations? 
I liked Madeira. I was delighted with the Art of the Open Doors, the waves in Porto Moniz, St. Lawrence Peninsula… The views were breathtaking, but at the same time, I had the feeling that something was missing…

Unfortunately, the weather in Madeira in March was not as beautiful as we had hoped. The flowers were not yet fully blossomed and the evenings were cold. We had to deal with fog, rain and wind when visiting Cabo Girao and Pico do Arieiro… At Pico do Arieiro [1,818] I was literally shivering from cold.
Luckily for us, it was possible to escape the bad weather. It was enough to just get on the bus and go to the next neighbouring town, to see the sun again (and a couple of degrees more on thermometers!). The island is full of diverse microclimates and the weather in Madeira really depends on where you are located..
The weather and bus timetables were two things we were not able to decipher during the whole trip and a true surprise to me. The weather really changed every five minutes and every thousand meters.
SYTM: What did you like the most about Madeira? What do you think are the three most beautiful places and things on Madeira? Could you name three things on your personal "Best of Madeira" list?
If I can choose only three things to see in Madeira, I would definitely recommend visiting: Funchal, Porto Moniz and the Ponta de São Lourenço, which is one of the most beautiful places I have ever seen in my life.
I would definitely try the local Espada fish- perfect for both lunch and dinner and "bolo de caco" garlic bread. For dessert, I would recommend any of the various local cafes where the prices are very affordable and the selection of cakes and pastries amazing.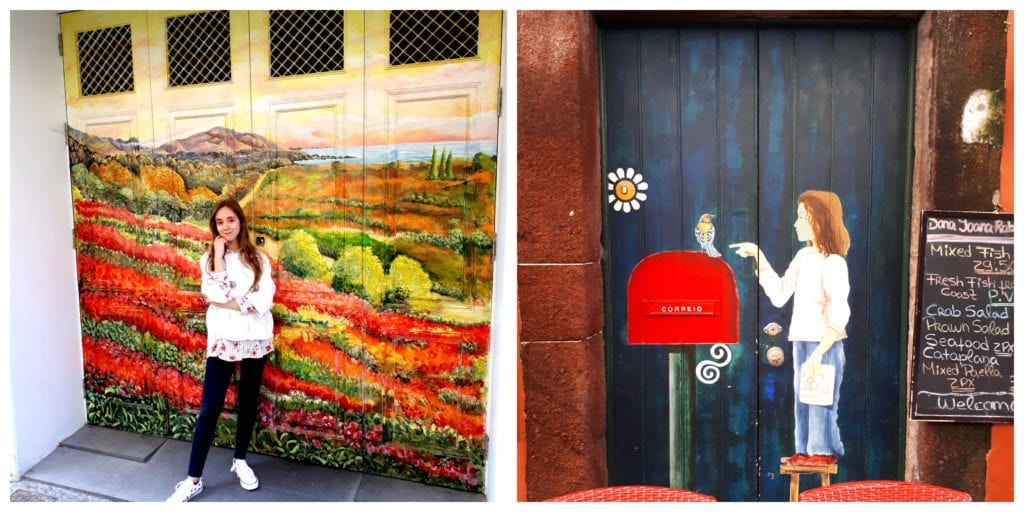 SYTM: What did you like the least about Madeira; what disappointed you? What do you advise tourists to avoid (any tourist attractions they should rather skip?)
I was personally not impressed by the levadas, probably because of the bad weather. I also had mixed feelings about Santana, in which you can see the charming, but also quite tacky looking, triangular houses.
I wouldn't also recommend the paid botanical gardens around Funchal in the off-season. They were on my list of places to see, especially Monte Palace Tropical Garden, but once we were there, it turned out that the prices were quite high, while the garden from the outside did not look too interesting.
We decided not to enter. Later, we had a chance to talk with a couple of tourists, who decided to visit after all, and… they were not impressed… That only confirmed, that these parks can be skipped in March or off season.
SYTM: What about Madeira's food and drinks? Is there something you can not wait to eat again?
We ate out a lot, in different places across Madeira, in various restaurants. Most of the dishes that I ordered were delicious, but they were not always typical dishes from Madeira. I miss the "Bolo do Caco" garlic bread, and my parents probably the delicious "Pastel de Nata" pastry.
As I already mentioned, I would not recommend any soups in Madeira and I should warn about the size of the portions because sometimes the portion for one person looked like a serving for at least three.
It is definitely worth trying fruits with strange names and appearance – the famous pineapple-bananas, tomato passion fruits and others. The biggest selection of these can be found at the Farmer's Market [Mercado dos Lavradores] in Funchal. Some of the rare fruits we saw at Mercado dos Lavradores, were not sold in supermarkets or grocery stores.
SYTM: How did you like the exotic fruits in Madeira? Where would you recommend others to buy fruits?
Pineapple-bananas tasted in my opinion as a combination of banana and kiwi. They did not impress me and they were not easy to open and eat, but they are certainly one of the most interesting ones in Madeira, so it's worth trying them anyway. Tomato maracujas (actually – tamarillos) were probably the least tasty. It is the different types of maracuja (e.g. lemon maracuja, but also the classic maracuja) what I found to be the most delicious in Madeira, and these are the ones I would recommend the most.
It was possible to taste all the different sorts of fruit at the local market, before buying any. The sellers at Mercado de Lavoradores were handing out disposable spoons with small pieces of fruit on it, or they handed out small samples so that we could taste them. Be careful, however, as some of the sellers can be very pushy. I also heard that some sellers tend to add sugar to samples to make them sweeter. Whether it was true, I do not know, as we did not notice the difference between the samples and the fruits we bought.
The prices at Mercado de Lavoradores varied from stand to stand and the price differences were sometimes quite significant, so it is worth checking all stands (both downstairs as upstairs) to avoid overpaying. I think it is also worth to mention, that at Mercado de Lavoradores the largest selection can be found on Saturdays and Sundays, but these days are also the most crowded.
SYTM:  Have you brought any souvenirs from Madeira? 
We brought some small gifts for our relatives (mainly sweets, and local drinks) as well as exotic fruits from "Mercado dos Lavradores" in Funchal. The avocado and maracuja ripened after we came back and we ate it 3 days after our trip. The monstera fruit ripened the quickest.
SYTM: So, if you could summarize your trip, what would it be?
"Madeira – a green island, where I had a chance to experience four seasons in just seven days…"
Nicola has published a couple of posts on Madeira, be sure to check out her blog! 
Here is her short birthday trip video from Madeira: