Today we are hosting Corina from Packed Again blog, on which she shares her adventures and trips together with her husband and their 3-year-old twins. 
I have always been interested in the subject of travelling to Madeira with toddlers, so I am very glad that Corina agreed to share her story and tips with us…
SYTM: When did you visit Madeira, how long was your trip and with whom did you travel? Was it an organized tour or did you organize everything yourself?
We visited Madeira last November [2017] to escape the cold and wet weather in Switzerland. It was only a one-week trip due to the direct flight connections from Geneva. Two weeks would have been just a bit too long for us at this time of the year. I travelled with my husband and our toddler twins, who were almost 2.5 years old at that time. 
We never travel with an organized tour, for us one of the fun parts of travelling is the whole pre-travel organization, the unknown and discovery when you arrive at the destination.
This time we Calheta, in an amazing self-catered villa up on the cliffs with uninterrupted views.
SYTM: Do you always travel with your children? 
Since they are with us – Yes! It is all about connecting and bonding with the family. I would not want to discover a new place without our kids.
SYTM: I have heard comments that Madeira is not a destination for tourists with kids. What is your opinion?
Oh no, this is so wrong. Yes, the hikes are not suitable for young kids, but there are so many other activities for the whole family to discover and explore.
SYTM: Which kid friendly attractions have you visited? What are in your opinion the top things to do with kids in Madeira? 
We have not been to special kids activities such as theme-parks or the water park in Madeira, simply because our kids were just under  2 ½ at the time of travel. They loved simple activities: being at the waterfront and throwing stones into the ocean.. or having a picnic on some of the many great viewpoints and enjoying the fantastic ice creams. On the whole, they did not need special kids' activities, but in Calheta, there was an amazing playground that they loved.
SYTM: Exactly… Where will we find the nicest playgrounds in Madeira?
We loved the pirate ship in Calheta. The playground even has a separate section for the little ones. The views from this play area are amazing. Another great playground in Madeira is the one in Porto Moniz. The whole family can enjoy this one as it also has gym equipment.
SYTM: Which tips would you give to parents planning their trip to Madeira with their kids? Something you learnt while being there, something you wish you had known? 
Madeira is such an easy destination for families, that there is not really a key-point to be aware of. "Rent a car for the entire stay" is probably the only tip I can give.
SYTM: Do you think you will come back to Madeira again, but this time without your kids, or once they are a bit older?
We will definitely come back one day when the kids are older, as we would like to discover the many hikes Madeira offers.
SYTM:  Back to your latest trip: Why did you choose Madeira? What was the main goal of your visit?
Honestly, I did not know anything about Madeira before our 1st visit.
We checked the map to see possible destinations for our November escape. It needed to be somewhere warmer than Switzerland, not requiring a long flight and within the budget. The little dot on the map caught my attention, we researched a bit, loved what we discovered and best of it all, the flights from Geneva to Madeira were so cheap we simply had to book them.
SYTM: What were your expectations? What were you most excited to do/see?
We did not have too many expectations, but as soon as we landed on the island and started to drive to the accommodation, we quickly realized, that Madeira is an amazingly beautiful island offering some of the most scenic drives and viewpoints.
Our trip was an absolute success, and we loved every aspect of it. We could retire on the island without any hesitation 🙂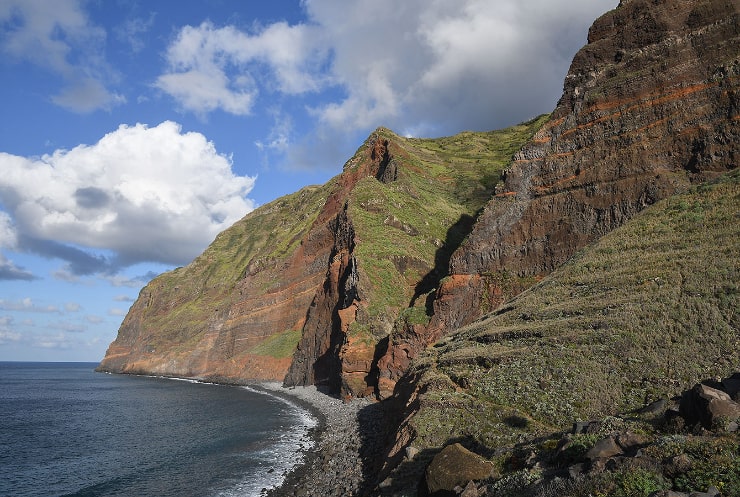 SYTM: What did you like the most about Madeira? What do you think are the best things tourists should visit, do or try? Could you name three things on your personal "Best of Madeira" list?
As we already mentioned: Fajã da Achadas da Cruz. It is one of the most scenic spots on Madeira.
Ponta de São Lourenço , located in the eastern part of the island. This place put a smile on our faces when we arrived. Nature at its best: A fantastic combination of rocks, sea and nature created one of Mother Nature's masterpieces.
The Pico do Arieiro viewpoint also should be on everyone's list.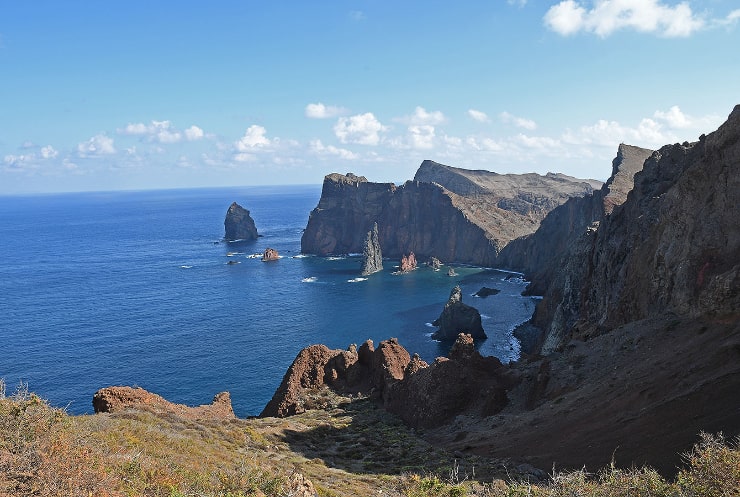 SYTM: What did you like the least about Madeira; what disappointed you? What do you advise tourists to avoid (any tourist attractions they should rather skip?)
In November everything was fine and we had nothing to complain about, but I could imagine that in the high season Funchal can be quite packed.  If there are cruise ships in the Port of Funchal, you can expect bus loads of tourists at all major attractions. Therefore, if possible, try to get where you plan to go either early, or later in the afternoon if you want to avoid the crowds.
SYTM: What about Madeira's food and drinks? Is there something you can not wait to eat again?
SYTM: Did you have any funny and memorable situations? Any interesting stories heard from the locals? Any funny stories to share?
No stories to share, but we found residents of Madeira to be friendly and welcoming.
SYTM: So, if you could give a short title to your interview, which would summarize your trip, what would it be?
Would you like to get married on Madeira & Porto Santo – contact us!
Are you interested in Madeira & Porto Santo as a place for your destination wedding, honeymoon and simply your next trip?
Do not miss our new posts – follow us!