For all of you, fulfilling your dream of visiting Madeira Island, but with a very limited budget, I have prepared a new series of posts about budget options for meals, accommodation and transport in Madeira. 
Today, some great tips for cheaper or cheap meals in Madeira.
1. How much will you spend food on Madeira Island?
The age-old question of most tourists: are restaurants in Madeira expensive? Where to find cheap eats in Madeira?
In Madeira, you will find something for every budget. In most restaurants, prices range between 10 and 20 EUR per dish/ per person, excluding drinks. In addition to expensive and moderate restaurants in hotels and touristic places, you will also find smaller and cheaper restaurants and bars, where locals eat. These are usually located outside the city centre, but even in Funchal, you will find bars serving well-priced dishes and sandwiches.
The same applies to coffee in Madeira. In touristic places, especially around in the hotel district and close to the Funchal Marina, a cup of coffee can cost a couple of euros, while in small local bars you can pay as low as 80 cents. Take a quick look at the menu before sitting down.
2. "Prego" sandwiches, Madeira hamburgers and other cheap options
Warm sandwiches called "Prego" are very popular on Madeira. They are steak sandwiches served with the beloved local garlic bread called "Bolo do Caco". A plain "Prego" sandwich includes only the steak, but the most popular is the "Prego Especial" sandwich containing typically, besides a piece of beef, also ham, cheese and vegetables. In many places, for just a couple of euros, you will be able to get a garlic bread, either plain or filled with chicken meat, tuna or salmon (+-3 EUR) or simple toasts with cheese, ham (+-2 EUR). Some bars also serve "simplified" burgers – small burger kind of sandwiches served in ordinary bread or garlic "Bolo de Caco" bread.
In touristic places, especially in the Old Town of Funchal, where on one small street more than 10 restaurants are fighting for clients, you can see "Tourist Menu" options including three-course dinners as little as 10-12 euros. What to expect from such a menu? When choosing a "Tourist Menu", you will get smaller portions of popular local dishes. You are not likely to save a lot, but it is a good option for those who would like to try many local dishes in a short time.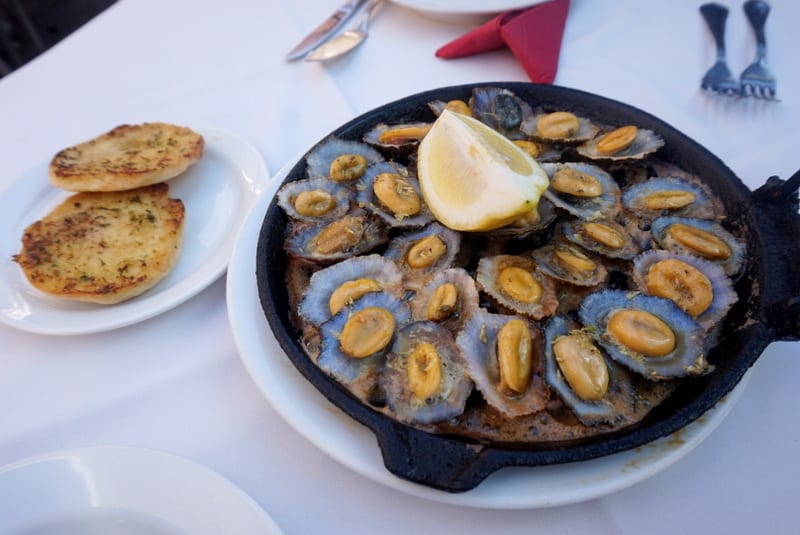 4. Cheap bars/buffets in Pingo Doce supermarkets
If you travel to Madeira on a budget, I recommend that you also check out the Pingo Doce supermarket buffets.
Pingo Doce is the most popular supermarket chain on the island. Inside some of these supermarkets, there are buffet restaurants, where you pay only 10.59 euro per kilogram during lunch, or 8.99 euros after 5pm. The economic menu costs 5.49 euros per kg and grilled chicken costs as little as 5.29 euros. There are also some other cheap options to choose from.
Here is a list and a map of five Pingo Doce supermarkets where these buffets are present:
1.  PINGO DOCE MONUMENTAL 
ESTRADA MONUMENTAL 318, 9000-100 FUNCHAL
2.  PINGO DOCE – INSIDE ANADIA SHOPPING CENTRE
RUA DO RIBEIRINHO 90, 50-020 FUNCHAL
3. PINGO DOCE – INSIDE MADEIRA FORUM SHOPPING CENRE
ESTRADA MONUMENTAL 390, 9000-693 FUNCHAL
4. PINGO DOCE  – INSIDE LA VIE SHOPPING CENTRE
 BRITO CAMARA, 9000-039 FUNCHAL
5. PINGO DOCE  IN CANICO
ESTRADA DA GARAJAU 9125-067, CANIÇO (close to Cristo Rei Statue)
5. Cheaper restaurant meals with The Fork
THE FORK–  a website and an app linked to the most popular tourist guide in the world – Trip Advisor  – often offering good discounts to recommended restaurants. We noticed this app quite late. Initially, we were sceptical, but when we received a bill discounted by 40%, we already knew that this app would be a hit during all our holidays. We really regretted noticing it so late, as the night before, we missed a 40% discount in a great restaurant, where a day earlier, with a large group of wedding guests we spent over 400 EUR… And it was not at all a bad "tourist trap" restaurant, but one of our favourite and recommended ones in Funchal, serving great espetada.
With the same app, since then, we have discovered several nice restaurants in Spain and Portugal.
As always, when choosing a place, you should check the restaurant's ratings also in other sources. Nevertheless, I recommend it.
6. Cheaper restaurant meals thanks to discount apps such as The Fork with MadeiraNow
We also tried out and highly recommend an awesome discount cart MadeiraNow which helps you save a lot not only on restaurants but also on services and attractions.
GO TO POST: MADEIRA NOW DISCOUNT CARD
What are your tips? Help others and leave a comment below!
Do not miss our new posts – follow us!