LANGUAGES / ZMIEŃ JĘZYK: POLSKI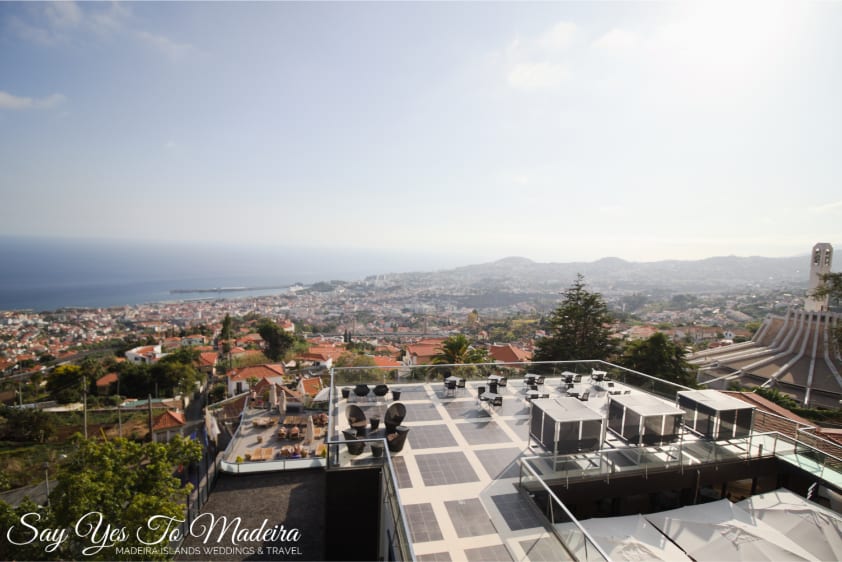 Quinta Mirabela in Funchal is a modern quinta-style hotel, offering guests beautiful panoramic views, which makes it one of the best hotels for watching firework shows. Its location is also very, very unique…
Quinta Mirabela's spacious, modern terrace can be a great wedding ceremony setting, but we cover the wedding/event potential of this hotel in another post: Weddings at the Quinta Mirabela. Today, we will focus on staying at the Quinta Mirabela and the hotel in general. I will tell you more about the design, hotel rooms, its great terrace overviewing the entire Bay of Funchal… And about one more interesting fact that makes this place pretty unique.
GO TO: OFFICIAL WEBSITE I TRIPADVISOR RATES & RATINGS
This modern, beautifully furnished and comfortable 5-star hotel in the north of Funchal offers its guests a lot of privacy and stunning, panoramic views. These are probably the reasons why from all Madeira locations, it was Quinta Mirabela which Ronaldo chose in 2012/2013 to celebrate his mother's birthday and see the NYE fireworks.
SEE ALSO: 2019/2020 NEW YEAR'S EVE SHOW IN FUNCHAL
13 X CR7 – PLACES ASSOCIATED WITH RONALDO ON MADEIRA
Quinta Mirabela – Location
This hotel is located on Caminho do Monte street in Funchal, which is somewhere halfway between the centre of Madeira's biggest city -Funchal – and the Monte Hill. The address is Caminho do Monte 105, 9050-288 Funchal.
There is one fun fact about Quinta Mirabela and that is that it is located on the route of famous Madeira Toboggans. For those who do not know yet what Madeira or Monte Toboggans are – they are sleds made or wicker, and they were used since the 1850s as a means of downhill public transportation in Funchal. Nowadays, Toboggans (also called Carros de Cesto or Carreiros do Monte) are one of Funchal's biggest tourist attractions. Would you dare to try it?
BOOK A WICKER SLED RIDE ON TRIPADVISOR
I had a lot of fun observing the scared faces of people being driven down the hill and passing by below the hotel's balcony… You can see the sleds also through a big window in the hotel's gym.
Quinta Mirabela – Video
You can also see hotel balcony views & the passing by Toboggan sleds in our short video:
Quinta Mirabela – The terrace
Are you coming to Madeira to watch the New Year's Eve or Atlantic Festival firework shows and looking for a hotel with great views – Quinta Mirabela will be an amazing choice. The hotel's terraces simply make it a perfect hotel for watching one of the many firework shows on Madeira.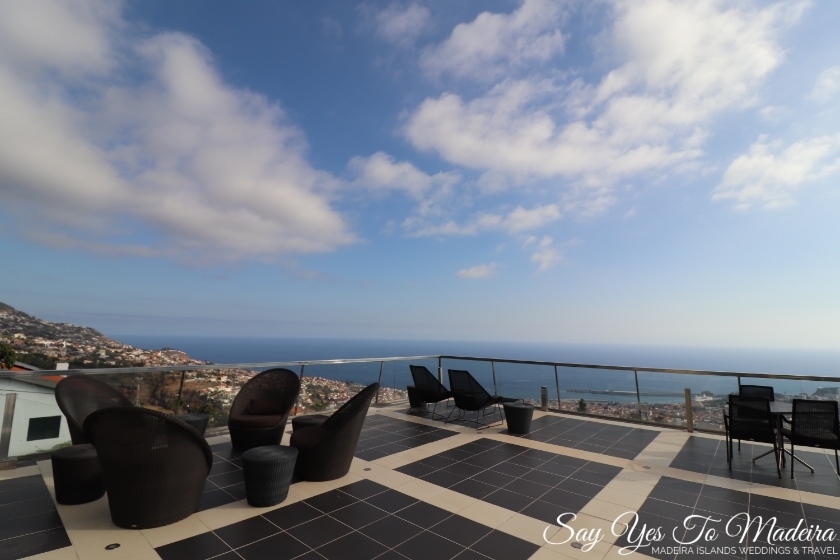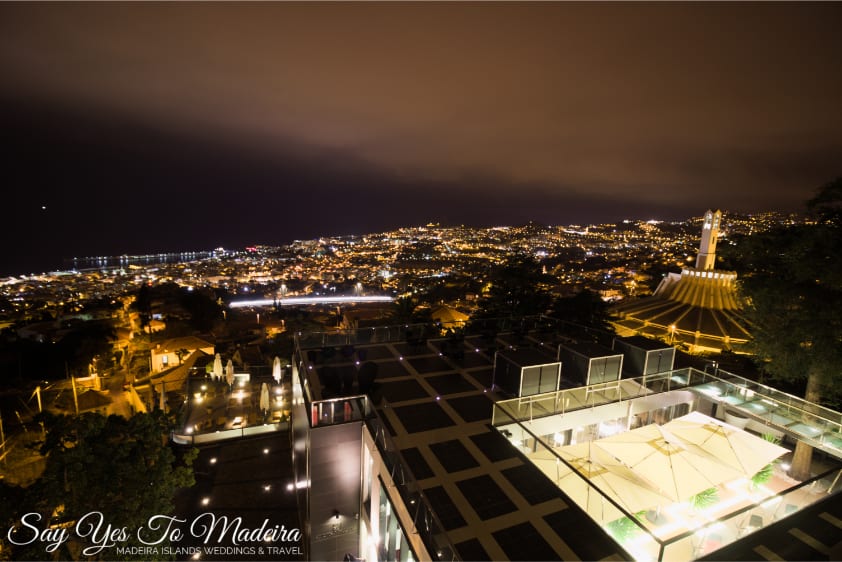 Quinta Mirabela – Design
The hotel itself is furnished in a very modern, but warm and comfortable way.
In the heart of the building, you will find the O Refúgio do Monte restaurant serving Madeiran and international cuisine. The restaurant also has a cute outdoor patio.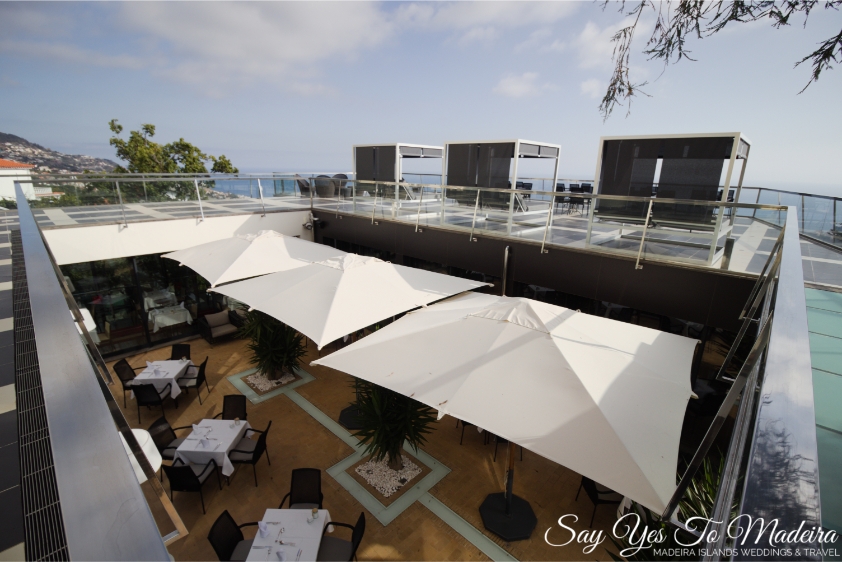 Quinta Mirabela – Rooms
You can choose between Double Bay View Rooms (max 2ppl and choice of 2 single beds or 1 double bed) or Superior Single Rooms (max 2ppl and a choice of 2 single beds or 1 double bed) that have either a balcony or direct access to the panoramic terrace. I was staying at the Superior Single Room:
Quinta Mirabela rooms are air-conditioned, include satellite TV, a minibar and a safe. The modern and convenient marble bathrooms have bathrobes and hairdryers: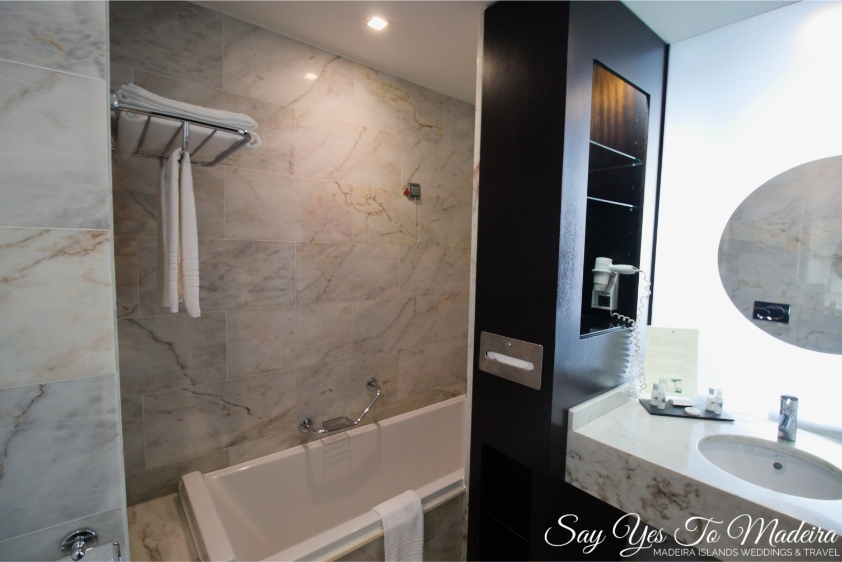 Quinta Mirabela – Breakfast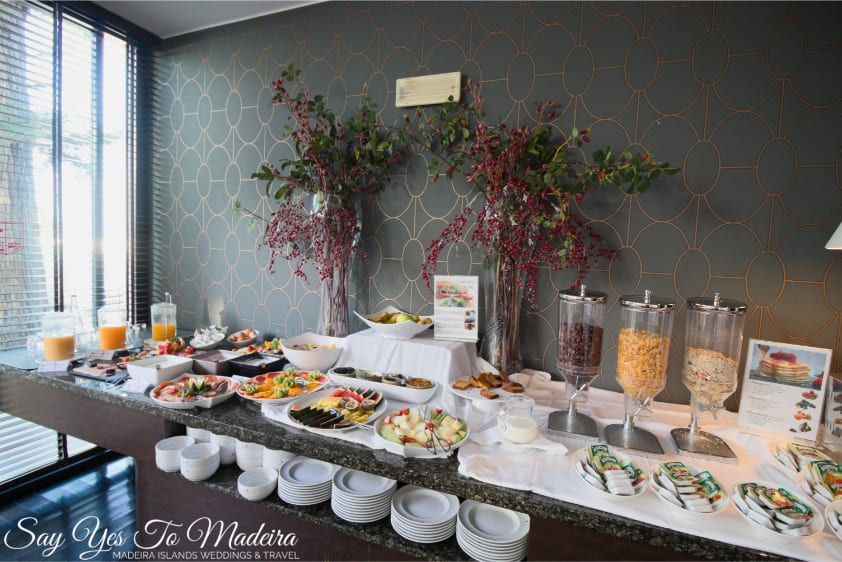 Quinta Mirabela – Outdoor Pool
At Quinta Mirabela there is a 75m2 outdoor pool and an indoor spa with a hot tub, sauna & hammam (Turkish bath).
There is also a gym, with cardio equipment and free weights. The funniest part about the gyms that while you work out, you will be able to see tourists going down the road in wicker sleds 🙂
Further, there is a laundry service and a 24-hour reception in the hotel, a playroom, a bar/lounge. There is free parking across the road and the hotel offers city centre transfers as well.
Quinta Mirabela – Packages
Coming to Madeira with your better half? Check out also Quinta Mirabela's Special package deals such as the Romantic Package including 7 nights accommodation in a Superior Double Room, including dinners and breakfasts (also served in the room), a romantic welcome gift (champagne, strawberries with chocolate and roses), airport transfers, 1 private body massage per person and one private candlelight dinner arrangement.
You also have a Vacation Package in a Superior Double Room, including a car (Renault Clio) for 4 Days. It also includes a continental breakfast, airport transfers, a bottle of water, and seasonal fruit in the room upon arrival and 3 Dinners (3-course menu) at O Refúgio do Monte restaurant (drinks not included).
Quinta Mirabela – Final Review
Quinta Mirabela is definitely a unique Funchal hotel. It is a hotel that will appeal especially to fans of panoramic views and modern, comfortable interiors.
It is located in a quiet district, surrounded mostly by private houses, and not other chain hotels. The fact it is located on a wicker sled (Toboggan) route gives it a very interesting angle.
It is definitely an interesting and modern option for a stay in Funchal, with mesmerizing terrace/hotel room views and it will be a good base for exploring the island. A rental car will definitely come in handy while staying at the Quinta Mirabela. In order to book, please go to:
OFFICIAL WEBSITE I TRIPADVISOR RATES & RATINGS
I hope that this photo-review gave you a better impression of the hotel's vibe and facilities.
Do not forget to explore our free guide with 20 awesome things to do in Madeira for all first-time visitors:

Weddings or photo shoots on Madeira? Contact
Do not miss our new posts – follow us: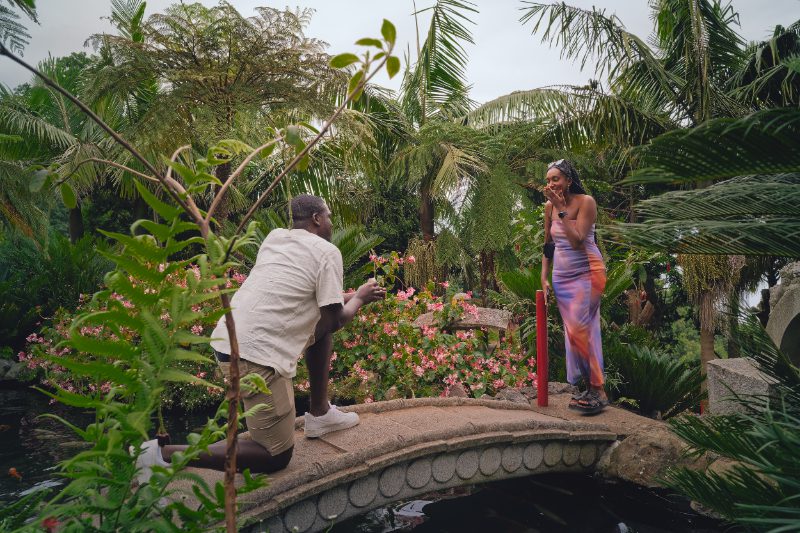 "He wasn't even supposed to be in Portugal!" – a beautiful story of a surprise engagement captured…