After Beaches in Madeira (part I), and Lava pools, bathing complexes & a water park (part II) in Madeira, it is time for part III and last – our ranking of the best hotel pools in Madeira.
I hope that my pictures, videos & descriptions will help you choose the best hotel for your stay. I will also reveal my TOP 3 favorites in various categories. Feel free to share your tips and comments on Madeira's hotel pools in the comments below the post. Ready?
In my opinion, the most beautiful, most interesting, or noteworthy swimming outdoor hotel pools in Madeira are:
Hotels with the best swimming pools in Madeira
1 Pestana Grand
We are starting off with the swimming pools at the Pestana Grand Hotel as one of the largest outdoor pools in Madeira.
Pestana Grand hotel does not, however, direct access to the sea. Luckily, the hotel is conveniently located next to the Doca de Cavacas Swimming Complex.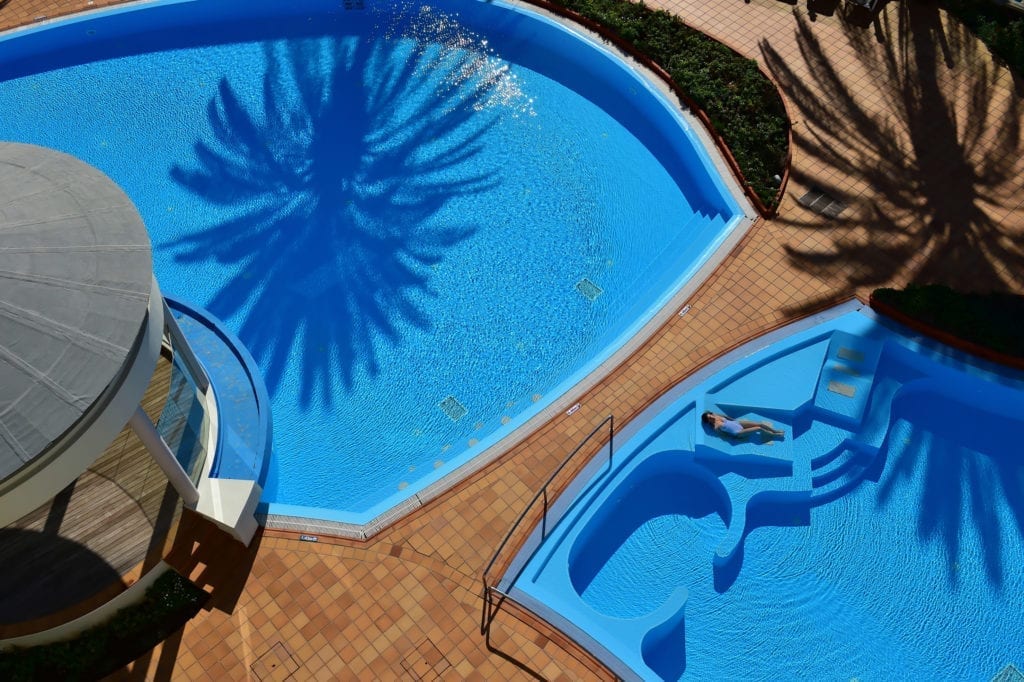 2 Estalagem Da Ponta Do Sol 
A four-star hotel located on a cliff in Ponta do Sol. It has a small, but beautiful outdoor infinity pool with a beautiful view of the ocean.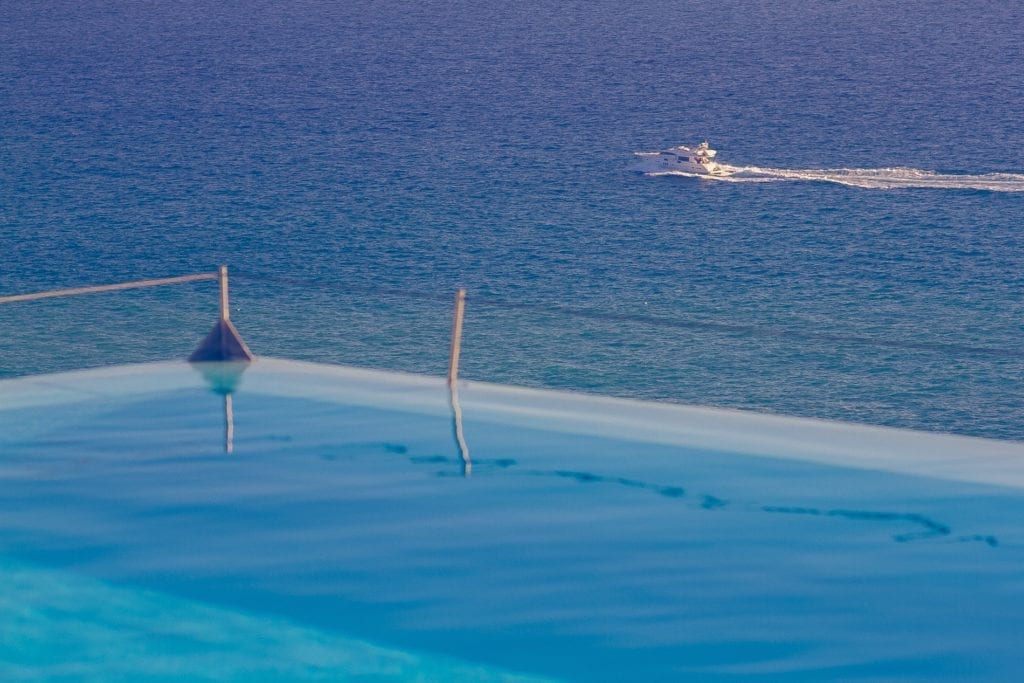 3 Vidamar
Vidamar Resort is a great 5-star hotel in Funchal, with very large infinity pools. Swimming in them is an amazing experience. 
For us, this place has a special meaning – that's exactly where we exchanged our vows…
Most of the presented in this ranking hotels will be happy to help you organize your wedding ceremony and/or a wedding reception on their premises. Some of these hotels specialize in weddings and do a really, really great job. For more information, go to: Best wedding venues Madeira or Contact Us.
A five-star hotel located right next to the airport.
The pool on the top of the cliff is fine…
…but the true superstar is the bigger one of TWO spectacular white-colored pools merging with ocean, located below the cliff:
5 The Vine Funchal
A modern, five-star hotel located in the centre of Funchal.
The outdoor pool in this hotel is slightly different from other pools mentioned in this post, because it is located on the roof of the building in the very centre of the city:
If you prefer such roof pools, I have some good news. There is also another (very similar & and offering a similar view on the old town of Funchal), but a slightly cheaper hotel, located nearby. It is called Castanheiro Boutique Hotel.
6 Saccharum
The top deck pool of this hotel located in Calheta is truly something else. We reviewed it in detail [HERE].
There are a couple of pools at Saccharum, the most beautiful of which is the sunset-facing infinity pool. From this infinity pool, you have an amazing view of the blue ocean and green banana field cliffs. During the sunset hour, both change into a stunning mix of gold & red, which makes it a perfect romantic hotel for couples.
7 Belmond Reid's Palace
The most charming pool at this hotel is the small pool on the sea level.
Belmond Reid's Palace is a hotel with a rich history, which hosted many famous people. You can read more about it and see interesting pictures of people bathing in the same pools in 1950 [HERE].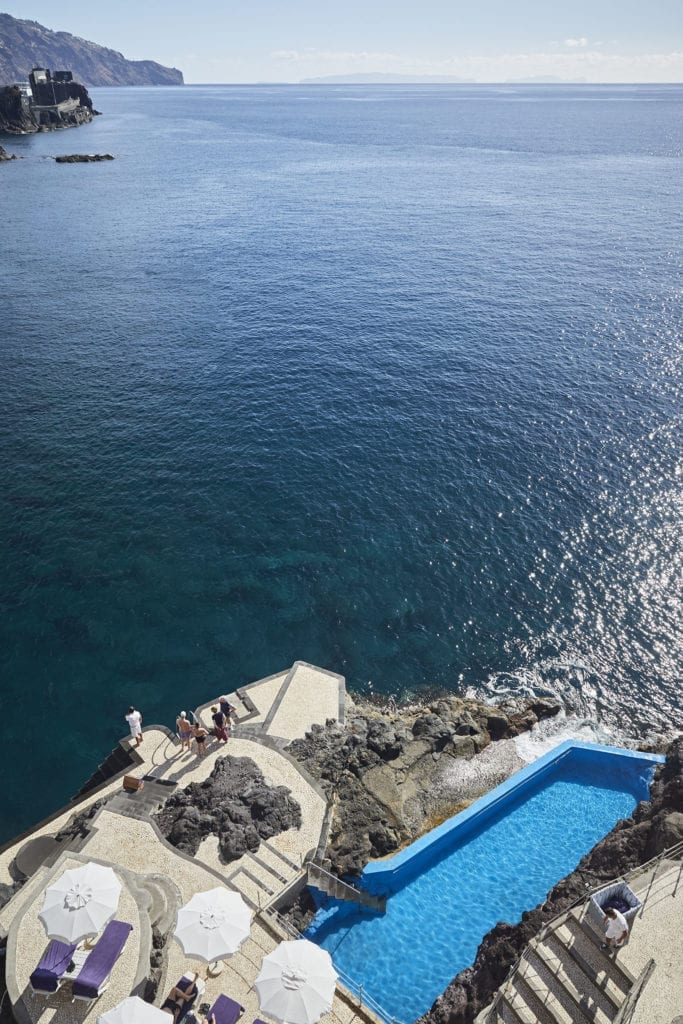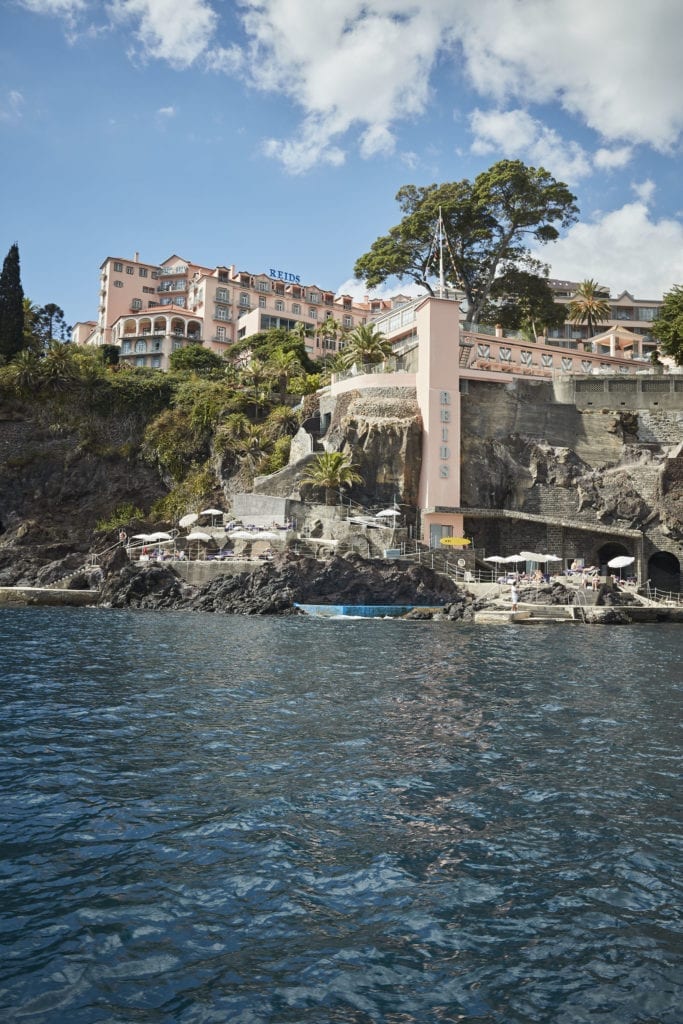 8 Pestana Carlton Madeira
Big outdoor saltwater swimming pool with direct ocean access. Pestana Carlton itself is very conveniently located hotel in Funchal.
9 Pestana Casino Hotel
Another beautiful infinity pool in a perfectly located hotel in the centre or Funchal:
10 Madeira Panoramico
When it comes to more affordable hotels, The Madeira Panoramico Hotel is worth mentioning.
It offers a beautiful view of the Funchal hills, especially at night. Choosing such a view, however, means we need to sacrifice a more central location and direct access to the ocean.
11 Savoy Palace 
Finally, the youngest resort in Madeira – Savoy Palace – opened in June 2019. Savoy Palace is the first hotel in Madeira belonging to the prestigious group Leading Hotels of the World.
The hotel has several swimming pools: a large outdoor garden pool, a heated indoor pool, a children's pool, a separate adult-only pool on the roof of the hotel, with a wonderful view of the Funchal harbor and a private infinity pool for guests who have purchased a "Premium" stay.
You might not be a fan of big resorts, but you have to admit that the pool design is very unique. Instead of the standard light blue color, the architect, inspired by the colors of Madeira's nature, chose tiles in different shades of brown and green mixed with elements of gold. The effect is stunning, no matter what time of the day.
I was honestly impressed by the beauty of this pool. Here is our video of the main pool recorded on a sunny autumn day of 2019:
Here are some pictures of the hotel's roof pools:
12 The Cliff Bay
At this five-star hotel you will find a couple of pools; one outdoor saltwater pool, one freshwater pool, an indoor pool, and a smaller children's pool. The hotel also has convenient and direct ocean access.
We have already reviewed this hotel on our blog, see Staying at the Cliff Bay for more information. 

What makes swimming and sunbathing at this hotel special is its beautiful sundeck areas integrated into the volcanic cliffs with magnificent views, and very good access to the ocean for Madeira.
Here's our video shot at the Cliff Bay hotel right after the 2019 summer season:
13 Porto Mare
Another Funchal hotel that should not be missed in this ranking is Porto Mare. I am more familiar with this hotel as a great wedding venue, but I haven't had the opportunity to swim in its pools yet. The pools however look incredibly inviting. The azure and blue of the pools are nicely blended into the green of the gardens and palm trees, creating a rather exotic vibe.
& my 3 personal favourites are…
So, out of all the mentioned options, which ones do I recommend the most?
As for the beauty of the pool itself…  Savoy Palace hotel is definitely a winner. I still remember the hotel pool's tiny tiles made of different colors glistening with different shades of brown, green, and gold… 
As for the entire pool area, spa, and solarium, I was positively surprised by the Cliff Bay Hotel. Such a nicely designed and comfortable swimming and sunbathing area with ocean access is not something common on Madeira. Not only is it a large, multi-story area, but also beautifully and comfortably integrated into volcanic rocks. It offers great views of the ocean, which you can even enjoy sitting in an outdoor jacuzzi. Guests can choose from many areas and have a lot of privacy. 
When it comes to evening and golden hour swims – Saccharum Hotel in Calheta will be the best option. This pool is ideally located, so when the sun starts to set, the pool does not get empty – quite the opposite. We can admire the beautiful, red, and gold sunset spectacle from the comfort of the infinity pool.
I am sure that the bottom pools of the Albatroz Hotel might also be a strong contender, but as I have not stayed at this hotel so far, I am not able to recommend them just yet. When it comes to all the top3 hotels mentioned above, I have stayed at all of them, all stays were great, and do recommend them all without hesitation.
And what is your private ranking of hotel pools in Madeira? Which hotels would you recommend to all pool lovers?