Interestingly enough, it is not the most expensive hotels which offer the nicest hotel pools.
Check out my list of 12 Most Beautiful Hotel Pools in Madeira and let me know your rankings in the comments below. 
9 Hotels with the best swimming pools in Madeira
9.1 Pestana Grand 
We are opening the list with the swimming pools at Pestana Grand Hotel as one of the largest outdoor pools in Madeira.
Pestana Grand hotel does not, however, direct access to the sea. Luckily, the hotel is conveniently located next to the Doca de Cavacas Swimming Complex.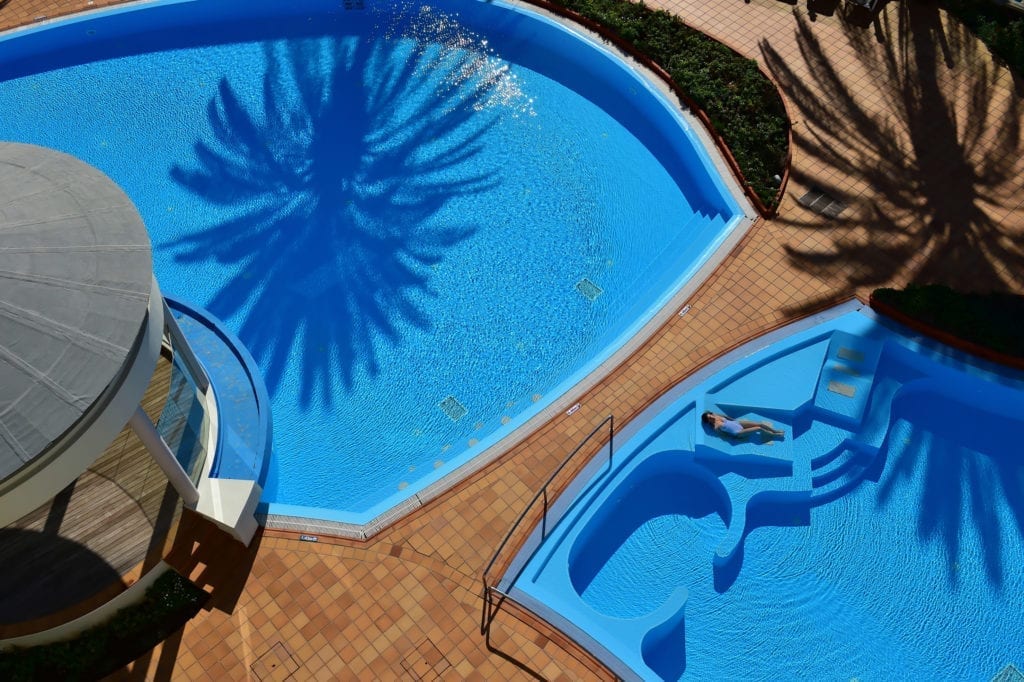 9.2 Estalagem Da Ponta Do Sol
A four star hotel located on a cliff in Ponta do Sol. It has a beautiful outdoor infinity pool with a beautiful view of the ocean and banana fields on the nearby hills: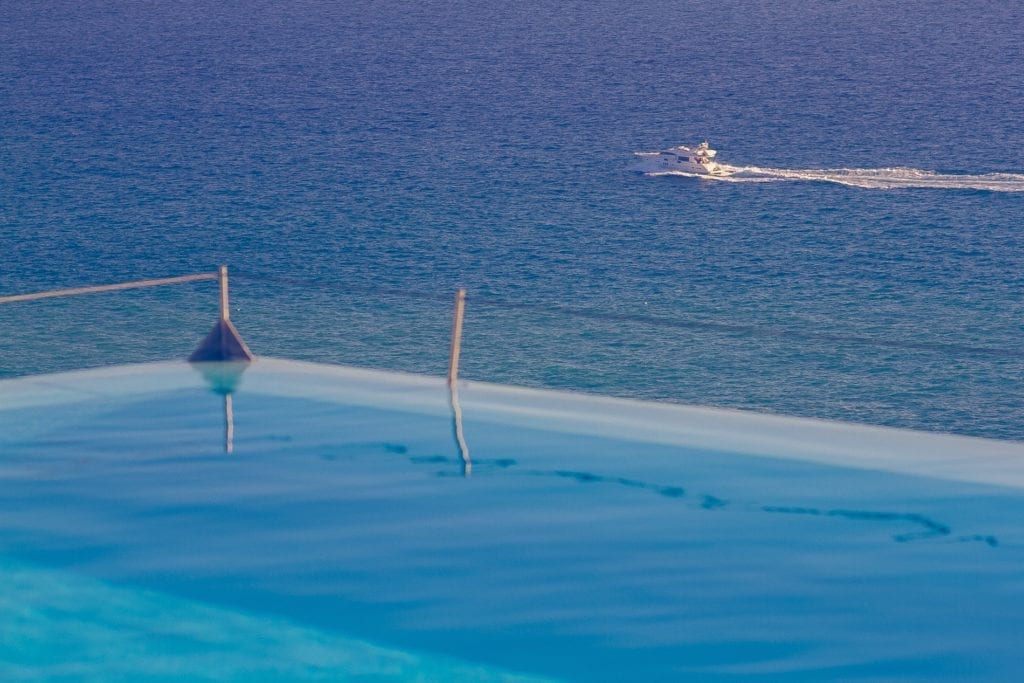 9.3 Vidamar
Vidamar is a great 5-star hotel in Funchal, with very large infinity pools pools merging with the ocean.
Swimming there is an amazing experience.
For us, this place has a special meaning – that's exactly where we exchanged our vows…
Most of the presented hotels will be happy to allow you to organize your wedding ceremony and/or a wedding reception on their premises. Some of these hotels specialize in weddings and do a really, really great job. For more information, please visit the weddings part of my blog "Say Yes in Madeira".
9.4 Albatroz Beach & Yacht Club
A five-star hotel located right next to the airport.
The pool on the top of the cliff is fine…
…but the true superstar is the bigger one of TWO spectacular white-colored pools merging with ocean, located below the cliff:
It's probably my favourite hotel pool in Madeira, nicer than many twice and three times more expensive hotels in Funchal.
More pictures, prices and availability of Albatroz Hotel can be found [ HERE ]
9.5 The Vine Funchal
A modern, five-star hotel located in the center of Funchal.
The outdoor pool in this hotel is slightly different than other pools mentioned in this post, because it is located on the roof of the building in the very center of the city:
More pictures, prices and availability of The Vine Hotel can be found here [ HERE ]
If someone prefers such pools on the roof of a hotel, I have some good news. There is also another (very similar & and offering a similar view on the old town of Funchal), but slightly cheaper hotel located nearby. It is called [Castanheiro Boutique Hotel] 
9.6 Savoy Saccharum
Located in the town of Calheta Savoy Saccharum hotel is one of our favourite hotels in Madeira and we reviewed it [HERE].
There are a couple of pools at Saccharum, the most beautiful of which is the sunset-facing infinity pool. From this infinity pool, you have an amazing view of the blue ocean and green banana field cliffs. During the sunset hour, both change into stunning mix of gold & red.
This hotel is recommended especially to all couples looking for a romantic, but also comfortable and modern hotel in Madeira. 
More pictures, prices and availability of Savoy Saccharum can be found [ HERE ]
9.7 Royal Savoy
Beautiful, large outdoor pools and comfortable and easy access to the ocean:
9.8 Belmond Reid's Palace
The main pools are nothing unusual, but I find the smaller pool merging with the ocean a very charming one. 
Belmond Reid's Palace is a truly luxurious hotel, inaccessible to the average tourist. It is a hotel with a rich history, which hosted many famous people. You can read more about it and see interesting pictures of people bathing in the same pools in 1950 [HERE].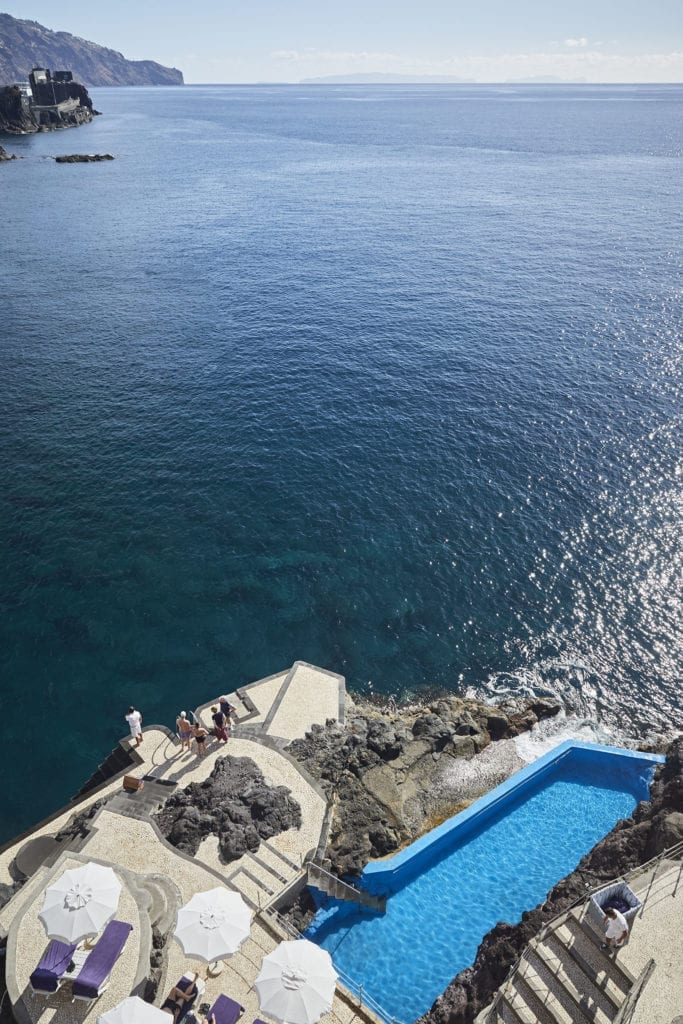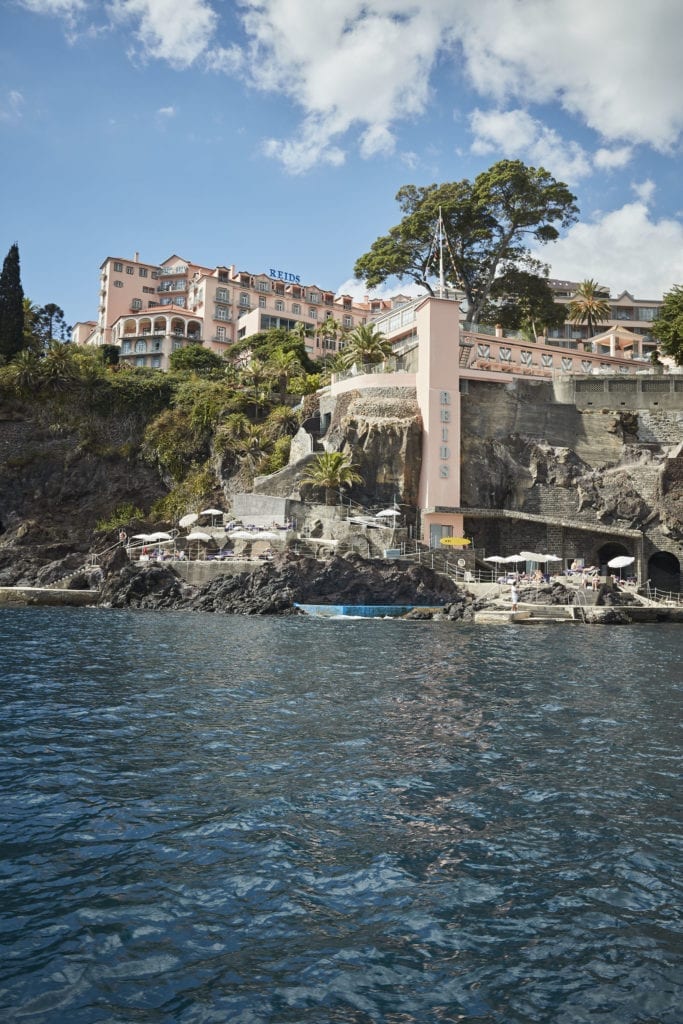 9.9 Pestana Carlton Madeira
Big outdoor saltwater swimming pool with direct access to the Atlantic ocean:
9.10 Pestana Casino Hotel

 
Another beautiful infinity pool in a perfectly located hotel in the center or Funchal:
9.11 Hotel Panoramico
When it comes to more affordable hotels, meaning: with prices below 100 euros in high season; The Madeira Panoramico Hotel is worth mentioning.
It offers a beautiful view on the Funchal hills, especially at night. Choosing such a view, however, means we need to sacrifice a more central location and a direct access to the ocean.
9.12 New hotel:  Savoy Palace Madeira
Last but not least: the youngest resort on Madeira Island. Savoy Palace opened in June 2019 and is the first Leading Hotels of the World member on the island. 
It has several swimming pools: a large outdoor pool, heated indoor pool, children's pool, a separate adult-only roof-top swimming pool (with a wonderful view on the Funchal harbour) and a private infinity pool for Premium guests.
ACTUAL PICTURES OF THE ROOFTOP INFINITY POOL TAKEN IN MAY 2019: 
10 Airbnb pools in Madeira
At the time of writing this post, there are over 300 registered properties with a pool in Madeira!
The average price for a room / flat / villa with a pool is around 100 euro per night, but there is also an option below 25 euro. Airbnb is a great alternative to hotels, especially if you travel with a large group. Renting a multi-bedroom villa with a beautiful pool for the entire group will certainly cost less than renting a couple of seperate rooms. Airbnb also gives you more freedom, and having access to the washing machine and kitchen helps save a lot of money.
If you have never used the AirBnb service,  I encourage you to register using my referral link:
If you use this link to sign up, you will get €25 in travel credit.  Full terms & conditions can be found [HERE]
 And what is your private ranking of hotel pools in Madeira? Which hotel would you recommend to all pool lovers?
NOT CONVINCED BY MY SUGGESTIONS? FIND YOUR DREAM PLACE TO STAY ON MADEIRA: