Lagoa do Vento is one of my favorite hikes in Madeira. It requires good condition, so if you think you can do it – I highly recommend it.
Lagoa do Vento – Video
Lagoa do Vento – Route
You can usually reach the Lagoa do Vento either from Casa do Rabaçal (Rabaçal Nature Spot café) or by going down the Levada do Alecrim. The WalkMe app therefore encourages hikers to take a circular route.
Please note – this video, shot in autumn 2020, does not perfectly represent the entire trail. As you can see at 02:00 – during our trip, the route was partially closed. More precisely: the part between the waterfall and Casa do Rabaçal.
We started off our day with the easy Levada do Alecrim hike, described here:
And as most hikers do, on the way back, we decided to give it a try and take the stairs down towards Lagoa do Vento.
The information in the app was not up to date – it was still showing a circular route (6.7 km), but already during the descent, we noticed that this part of the route was closed. What did that mean? That our only way was to climb 150 m back to the Levada do Alecrim.
Lagoa do Vento – Difficulty
The thought of hiking all the stairs back up seemed a bit intimidating but it was not that bad. Everyone with at least average condition should be able to do it. Therefore, if you do not have health problems, I encourage you to give it a try. As for people with poor health, poor condition and young children – unfortunately I would not recommend this trail.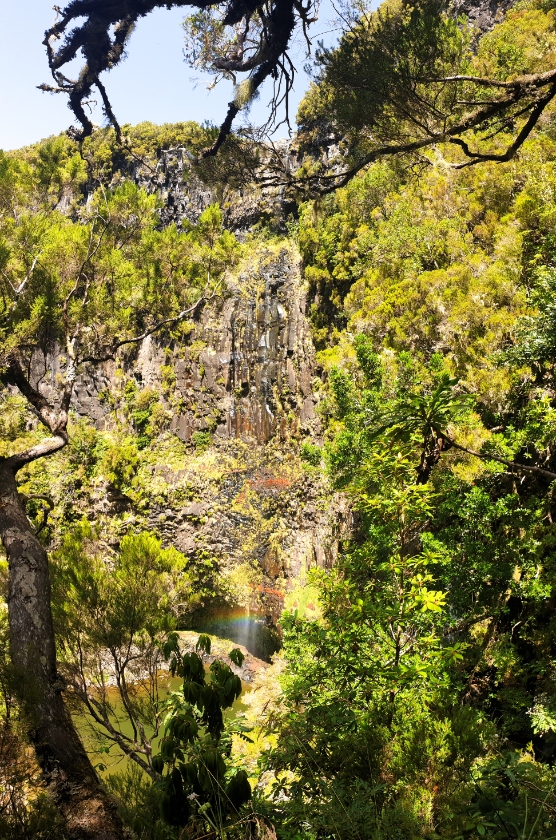 But it is simply worth it… We had no doubts that the waterfall would be beautiful. As it the waterfall was not beautiful enough, already from a distance you could see a beautiful, large rainbow…
Compared to the pretty crowded that day Levada do Alecrim hike, Lagoa do Vento was rather quiet. Apart from us and two other couples, there was no one there, which allowed us to enjoy its beauty in peace. It is one of those places in Madeira that you really don't want to leave.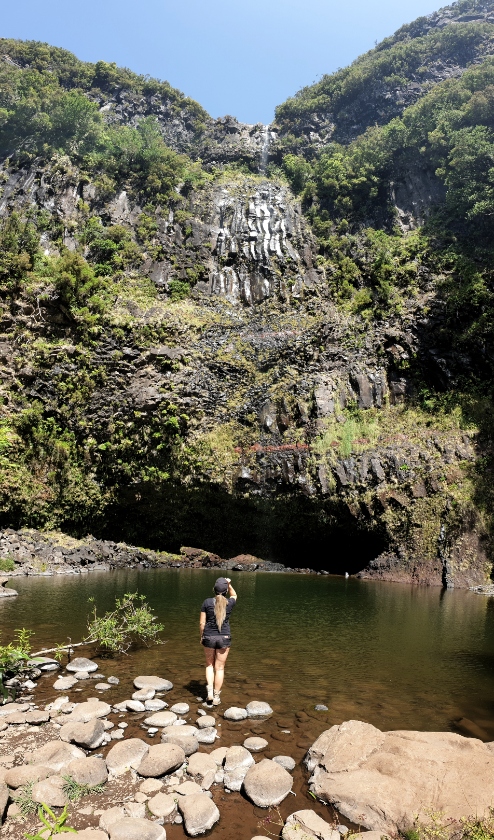 Just like around the Levada do Alecrim spring, you can see the edge from which this waterfall turns into another waterfall – the famous Risco waterfall. When you hike the Levada to Risco, you'll see this waterfall from below, while here, on Lagoa do Vento, you can see it from above.
! Safety above all !
It absolutely does not mean that I promote approaching the edge. Please keep a safe distance and do not do anything risky- accidents do happen.
Lagoa do Vento – How to get there?
You won't get to the Lagoa do Vento trail by bus. You can either rent a car, book one of the available guided tours or a private transfer.
The good news is that this trail starts in Rabaçal, where at least four popular trails share the same parking lot. So if you are experienced hikers, you can walk the Levada to Alecrim + Lagoa do Vento on the same day as the popular 25 Fontes + Risco.
The parking is free of charge. Reaching Rabaçal from Funchal takes approximately 50 minutes.
Lagoa do Vento – Our review
🅢🅗🅐🅡🅔 🅘🅣
Did you like this post? Help others find it & share the beauty of Madeira:
Weddings or photo shoots on Madeira? Contact
Do not miss our new posts – follow us: