Wow, it is so spaaaaaaciouuuuuus – will probably be your first thought after entering this top floor apartment and seeing its enormous roof terrace. The Sotavento Guest House is a perfect option for families with active children and groups visiting Porto Santo together.
Visiting Porto Santo and looking for private accommodation? Here is our review of the Sotavento Guest House.
We stayed at Sotavento Guest House in September 2019. We were a group of three and together with the wedding planner, our goal was to visit some Porto Santo wedding venues before the upcoming weddings.
Porto Santo Island, Portugal
For those who know nothing about Madeira Archipelago: Porto Santo is one of the two islands of Madeira Archipelago which are inhabited. It is much smaller than Madeira and completely different. It attracts tourists with its natural, stunning white-sand beaches, as these are impossible to find on Madeira. The Porto Santo beach belongs to one of the most beautiful beaches in Europe and probably the world.
SEE ALSO:
TRAVELLING FROM MADEIRA TO PORTO SANTO BY FERRY
Sotavento Guest House – Location
Sotavento Guest House invited us to stay at their place, which seemed like a perfect option for a group of three beach lovers. The apartment is conveniently located, just a 5 minute walk from the beach.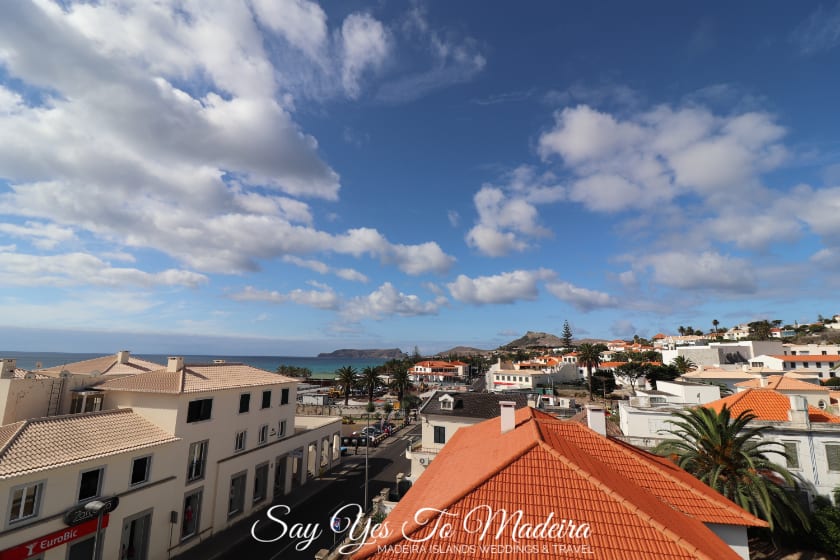 You also have a couple of bakeries and one of the most popular Poncha places just around the corner. Not only that. You are also just next to the biggest supermarket on the island, where you can not only buy groceries, drink a coffee, but also eat on a budget.
SEE ALSO:
CHEAP EATS ON MADEIRA – PINGO DOCE SUPERMARKET BUFFETS
PONCHA AND OTHER LOCAL MADEIRA DRINKS
The building is also facing the medical centre and the pharmacy is nearby as well. This is truly what a convenient location means.
Sotavento Guest House – Views & balconies
One of the things that impressed me at Sotavento is probably the biggest rental apartment terrace I have ever seen. If you travel with kids, they will be free to play and run around on the deck, while you are sipping coffee on a big, 6 person terrace table or drinks on one of the two lounge chairs.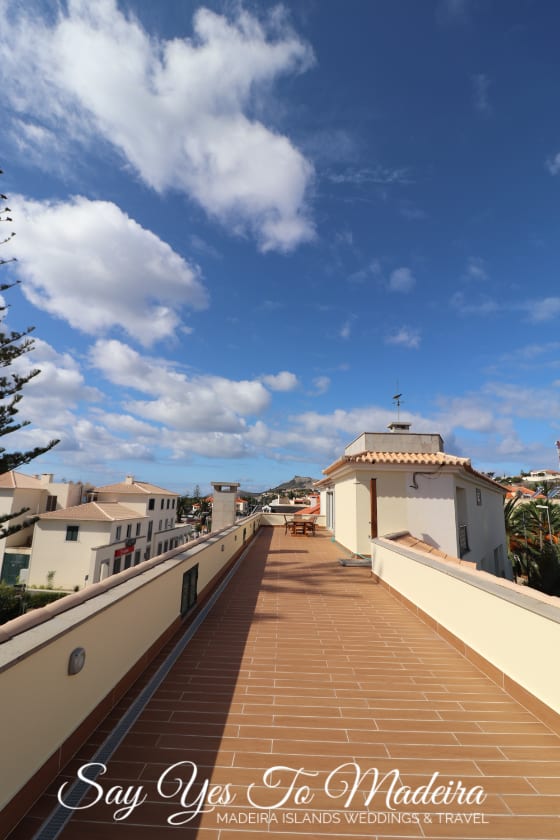 There is also an outdoor shower on the balcony, which is pretty cool.
This is surprisingly not the only terrace in the apartment. If you want to have an even better view of the ocean or see the sunset, follow the staircase in the living room and you will reach the top floor deck. There is also a small balcony next to the kitchen.
What I noticed during my stay was that the living room balcony doors are actually tinted.
I found it a great solution, letting you control how much sunlight enters the apartment. 
Sotavento Guest House – Rooms 
The apartment can perfectly accommodate 4 people, ideally a family. However, there are also an additional sofa and a sofabed in the living room. 
The first room has a private bathroom and a king-size bed. The second room has two single, comfortable beds and its bathroom is across the living room.
Sotavento Guest House – Interior 
It is not a place furnished in a modern way. The owner's idea was to make it a warm and cosy beach house, and you can see it in the décor. There are many charming details reminding you that you are just 5 minutes from the ocean.
The kitchen, however, is pretty modern and very comfortable. You will find there all you need for a comfortable stay. What I appreciated the most was the fridge with a water filter and ice dispenser, which allows you to save a lot of money (and unnecessary plastic!) on bottled water each day. As I said, the biggest supermarket on the island is next door, so you can easily fill out the kitchen with goodies for your stay.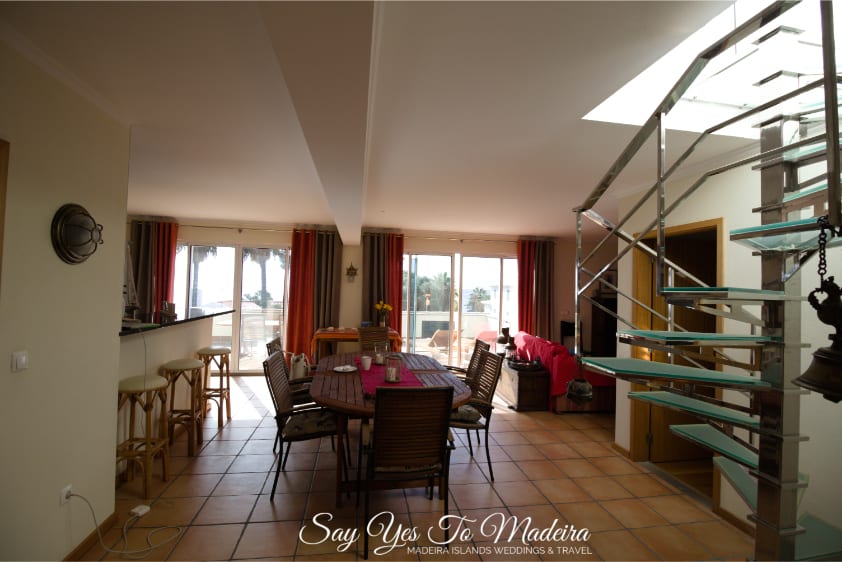 Sotavento Guest House – Final thoughts
So to sum up, Sotavento Guest House in Porto Santo will be a great place to stay for a group of friends and definitely a perfect option for families. It will be recommended to everyone who loves spending time on the beach, but also enjoys some terrace life. I can not think of any other group that would not be a target group of this accommodation as the place is suitable for different kinds of travellers.
Sotavento Guest House – Contact
Would you like to contact the Sotavento Guest House owner Martim? You can always contact him via their Facebook account or send them an E-MAIL. See also the official Tripadvisor site. 
Next to holiday rentals on Porto Santo they offer sailboat tours as well! Check their sailing Facebook page: Tanto Faz Sailing Yacht
Sotavento Guest House – Gallery
These weren't, of course, all of our pictures of the Sotavento Guest House. If you are curious to see more, you can check our FACEBOOK GALLERY. 
We would like to thank Sotavento Guest House for the complimentary stay which made this review possible. 
Thinking about holidays in Madeira or Porto Santo?
Do not miss our new travel and wedding posts – follow us!
Would you like to get married in Madeira or Porto Santo? Do you have any wedding-related questions? Feel free to contact us!