Madeira is so much more than just Madeira Wine, when it comes to local drinks. Today a short intro to all the drinks you will, for sure, be offered during your Madeira trip… 
Alcoholic drinks
Madeira Wine
Madeira wine was the drink of choice of Thomas Jefferson, George Washington, Benjamin Franklin and… many tourists coming to Madeira to among others, stuff their suitcases with the best bottles. 
Madeiras are a rich and exotic, fortified wines ranging from dry to sweet. Madeira wine ranges 18-20 percent alcohol by volume. There are four types of Madeira wine:
Malmsey (Malvasia)
A dark amber wine with notes of caramel&coffee. Flagrant and rich with a long and elegant after taste. It is considered a dessert wine and ideal to drink with coffee. 
Bual (Boal)
It has a dark brown color and notes of vanilla and cinnamon. It is a fruity wine and it is less sweet than Malmsey (medium rich sweetness). Also considered a dessert wine.
Verdelho
A medium dry, well-balanced Madeira Wine. Faint honey and smoke. Best served chilled, both before or after meals.
Sercial
The driest of Madeiras. Smoky citrus, light and sharp, with notes of walnut & peach. Best as an aperitif.Madeira Wina was actually not invented on Madeira Island, but at sea, during transportation of regular wine in barrels on a vessel. It quickly became Madeira Island's biggest export product.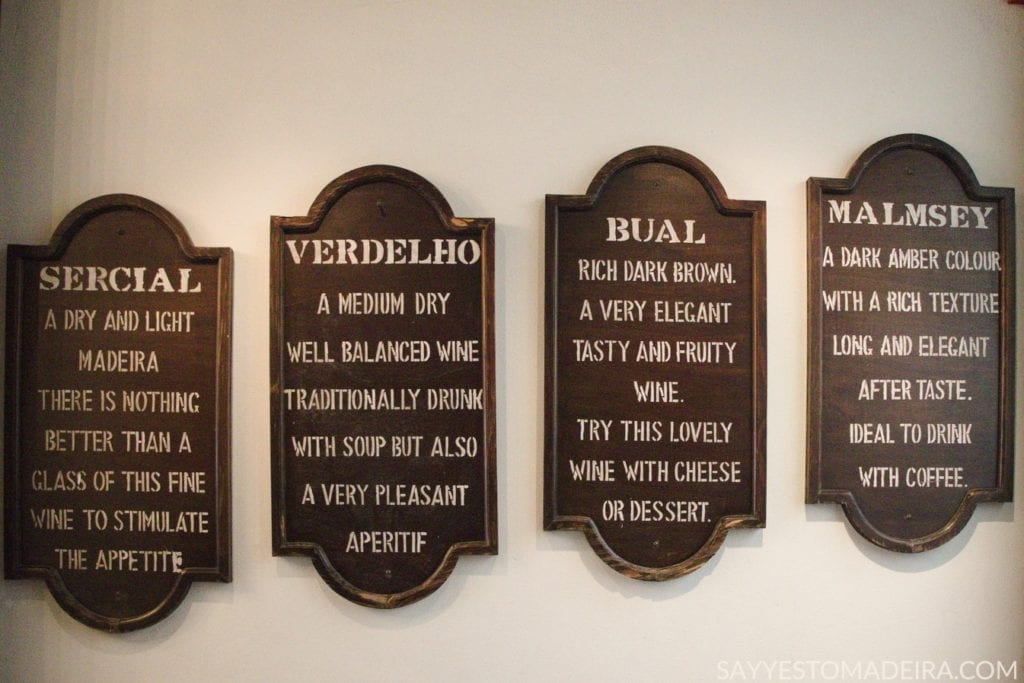 One of the most well known Madeira Wine brands and the most popular destination for learning the history of Madeira Wine and wine tastings is Blandy's Wine Lodge. 
Conveniently located in the center of Funchal, just next to the Municipal Park and very close to the Cruise Terminal, it is a great place to learn the history of Madeira Wine, take one of the guided tours (in Portuguese, English, German, French or Spanish) and enjoy a nice wine tasting. You will have a chance to learn about the way Madeira is produced. Two production styles are: 1) Canteiro: wine aged in barrels in warm wine lodges or in sunlight. 2) Estufagem: wine heated quickly for three months in order to caramelize sugars.
Individual tastings are available for all the wines, blends and dated wines, but they also offer a variety of tasting experiences for different prices. There is also a store with a wide selection of their award-winning wines and the bottles can be shipped directly to your home or place of residence.
Even if you do not buy any of the tours, Blandy's Wine Lodge is a nice place to visit. Some of the areas are open to the public, there are beautiful bars with walls fully covered in Madeira Wine bottles and murals. There is also an open patio with some Madeira Wine barrels and machines which you can take pictures of. I do recommend, however, taking the tour. It is a perfect idea for a rainy day.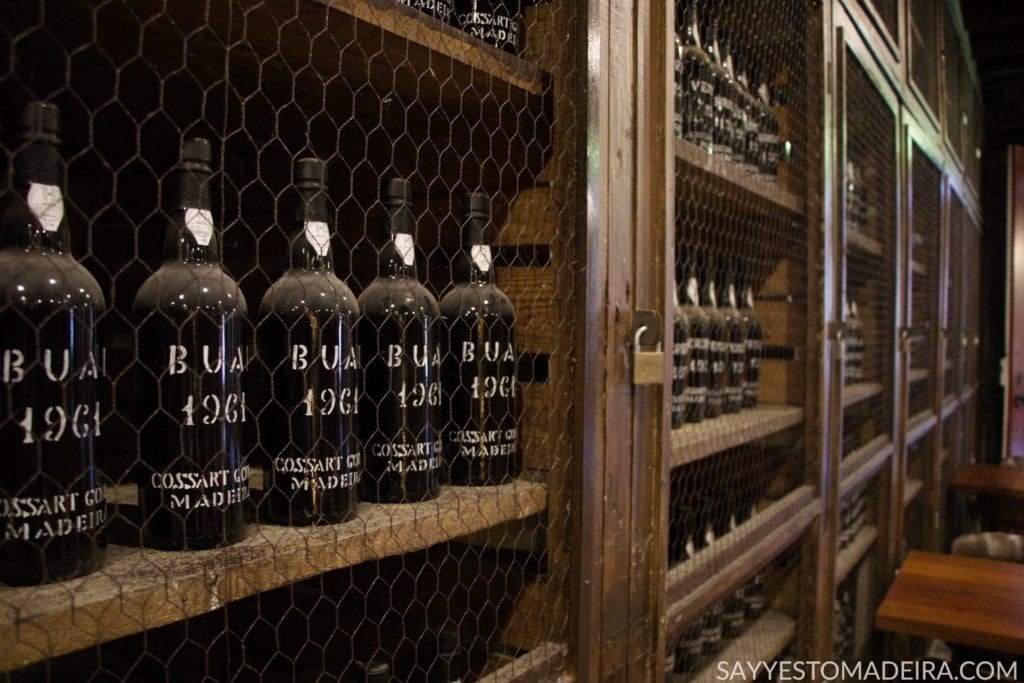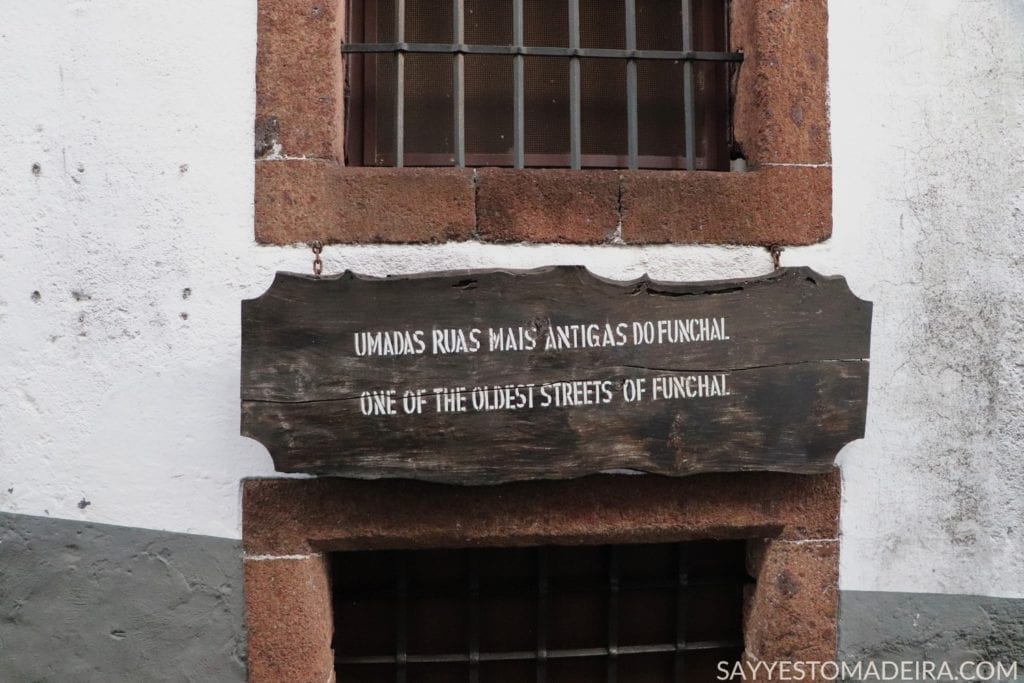 Poncha
Poncha, oh Poncha. It looks so innocent… doesn't it? 
Traditional Poncha is a strong alcoholic drink made with aguardente de cana (distilled alcohol made from sugar cane, produced on Madeira Island) honey, sugar, orange/lemon juice. Nowadays, different types of Poncha are being served, even a strawberry and kiwi Poncha, but the traditional Poncha is made with lemons.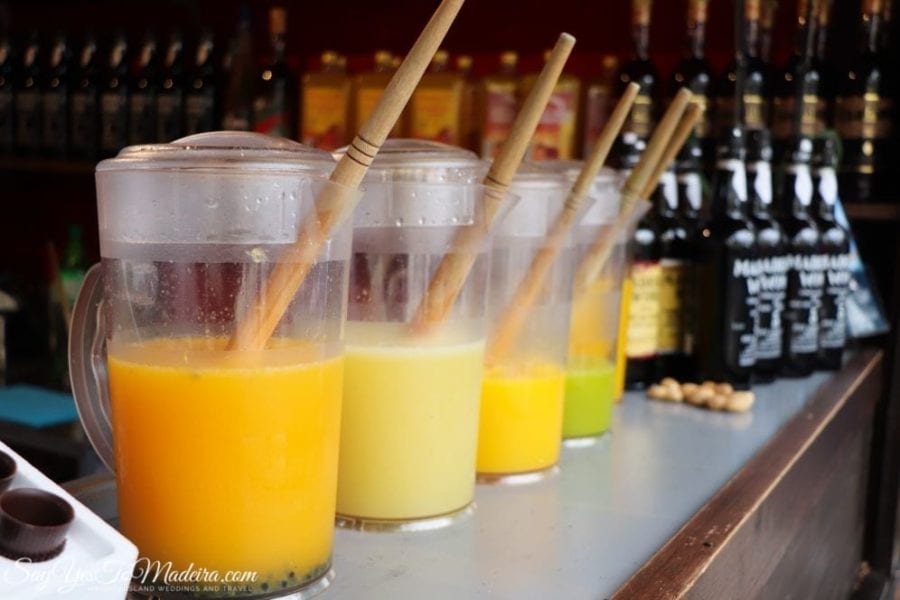 Poncha is served in small glasses, with or without ice. In most of the places, together with Poncha, you will also get a small snack. It will either be a cup of peanuts, or a portion of.. tremoço – lupin beans. 
Everyone is sure how to "operate" peanuts, but tremoço is a different story. Many tourists seem perplexed trying to figure out this snack. 
Luckily you are all readers of my blog, so you will know that the shell of lupin beans shouldn't be eaten. You should bite the lupin beans like a sunflower seeds- open it and eat the inside while disposing of the shell.
You will see famous yellow Poncha bottles in all stores and supermarkets, but the best Poncha is a freshly made one. To make Poncha at home, be sure to buy a wooden tool, called Caralinho, and this will probably be the best and most useful souvenir from Madeira.
It is said in Madeira that Poncha cures cold and people are encouraged to drink it if they have cold-like symptoms. My husband and I are also strong believers of this theory…
Recommended places to drink Poncha in Madeira
I really adore the Poncha drinking culture of Madeira. Just like in most places in the world friends get together to drink a beer, in Madeira, they go out to drink Poncha,
There are a lot of nice Poncha places in Madeira, some of our favourite ones are:
Outside of Funchal:
[ Sitio da Lage, Serra d'Agua, 9350-309 Ribeira Brava ]
If you are ever taking the road ER104, from Ribeira Brava to Sao Vincente (For example if you are driving to Porto Moniz lava pools or Seixal beach from Funchal) be sure to stop by at Taberna da Poncha.
This Poncha place is frequently visited by both locals as well as tourists travelling to the northern part of Madeira.
This place has a great atmosphere, not only serves great Poncha, but also offers magnifient views.
It has a indoor  and and outdoor area under a roof. It is located in a valley, so it lets you enjoy your Poncha in a beautiful setting, with a view on the mountain range.
The indoor area is very basic, but interesting. The walls of Taberna da Poncha are decorated with stickers and business cards left by visitors from all over the world. There aren't many places to sit, most guests enjoy their Poncha standing. 
When you order a Poncha, you also get a cup of peanuts, and do not worry, it is fine to throw the shells on the ground. In Taberna da Poncha everything is about Poncha.
Please remember – No drinking and driving, so if you are the designated driver, let your passengers enjoy a Poncha, while you try out the Brisa or Nikita without alcohol!
In Funchal:
[Rua de Santa Maria 170, 9060-291 Funchal]
[ Rampa do Cidrão 147, 9000-059 Funchal ]
[ R. Da Praia 49A, 9000-643 Funchal, Portugal ] 
Ginja / Ginjinha
Ginjinha or simply Ginja, is a delicious Portuguese liqueur made by infusing ginja berries, (sour cherry) in aguardente adding sugar together with other ingredients. It is also known in the rest of Portugal. In Madeira it is especially common in Curral das Freiras (Nun's Valley) and drunk mostly around Christmas. Ginjinha is served in small shots, and if you are lucky enough, you might find one served in a chocolate cup. 
Where to try Ginja in Madeira
Madeira Liqueurs 
Ginja is not the only liqueur popular in Madeira.  Especially if you visit the
Curral das Freiras (Nun's Valley)
 you will have a chance to try such specialties as Chestnut Liqueur (Licor de Castanha); Walnut Liqueur (Noz Licor) or Eucalyptus Liqueur (Licor de Eucalipto). Their alcohol content is approx 20% and taste great. Small 0,5l bottles of these local drinks are a perfect souvenir.
Nikita
Nikita is a creamy drink made with vanilla ice mixed with pineapple juice, sugar and beer. It tastes surprisingly well, can be compared with a smoothie. There is a non-alcoholic version, made without beer.
Pé de Cabra
This interesting and unusual Madeira drink was invented in Câmara de Lobos, popular among tourists fishing village located nearby Funchal. The name of the drink means in Portuguese a "crowbar", or literally translated "goat's foot".
It takes some courage to try it as it is a particular mix of dark beer, dry Madeira Wine, sugar, ice, lemon zest with… powder chocolate!
One of the places to try it is a bar with the same name: Bar Pé de Cabra (Caminho da Ribeira dos Socorridos, 5. Funchal). 
We recently tried Pé de Cabra at the Filhos D 'Mar bar in Câmara de Lobos. How did it taste? 
Spoiler Alert: It tastes similar to the famous coffee candy- Kopiko.
Madeira beer
The most popular beer produced on Madeira Island is Coral. There are a couple of Coral types available, including the non-alcoholic. 
Non-alcoholic drinks 
Bica, garoto, chino, chinesa and the rest.. – Portuguese Coffee 
There are many options on the coffee menu in Portugal and ordering coffee can be quite a task. I have already explained all the coffee names in Madeira in my previous post: Coffee in Madeira – for dummies, be sure to check it!
Brisa
Brisa is a local brand of soda sold in small bottles. It comes in different tastes: Brisa Laranja (orange), Brisa Maçã (apple), Brisa Manga Mix, Brisa Maracujá (passion fruit).
The same maker also offers local versions of: Brisa Cola, Brisa Cola Light, Brisa Cola Zero and Brisa Água Tónica (tonic water).
I am not a fan of soft drinks, but I do recommend to try at least the "Brisa Maracujá" (passion fruit).
Laranjada
Laranjada comes from the Portuguese word laranja ("orange"). It is a carbonated soft drink with an orange flavour.
Do not forget, you also have an option of:
Nikita, without alcohol
Which is a perfect option for the designated drivers.
So, if you are going to Madeira, are you ready to play the Madeira Local Drinks Bingo?
What is your favourite Madeira Island drink?
Do not miss our new posts – follow us!