Thinking about visiting the beautiful Porto Santo Island by ferry? 
Whether you are planning to stay on Porto Santo for a couple of days, or you are just looking for a day at the beach, this post is for you.
Timetable
On most days, the ferry leaves Funchal at 08:00 in the morning and it departs Porto Santo back to Funchal at 19:00. There are, however, exceptions. In the summer months, there are two ferries around the weekends and the departure hours are different. Please consult the official schedule [HERE]
Prices
If you are reading this, you are probably a tourist, and a discounted rate for local residents does not apply to you.
A tourist class, adult, round trip ticket costs EUR 59,44 in the high season (April to September) and EUR 48,60 in the remaining months. Child ticket (5-11 years) costs EUR 29,72 and EUR 24,30 respectively. Children younger than 4 travel free of charge. 
One-day cruise packages with transfer to/from the port and additional services are also possible (an excursion around Porto Santo, bike rental, golf, etc.), and its prices are listed [HERE]. However, we strongly advise you to spend more than one day on Porto Santo. 
Bikes can be taken onboard free of charge, but sports equipment such as windsurf/kitesurf/surfboards for an additional charge.
If you are thinking about taking your car, you will need to pay a bit. There are different packages and the price differs per month and the number of passengers.  
The ferry company sells also ticket+hotel packages to these three hotels:
[PRAIA DOURADA]       [TORRE PRAIA]      [APARTHOTEL LUAMAR]
During our first (ever) trip with the ferry in 2019, we learned a valuable lesson – sometimes you are better off buying a first-class ticket. Keep reading if you would like to know why.
Pets
Yes, pets are allowed on the Porto Santo Line, but they must be transported in a specific area reserved for this purpose or, in case you travel by car, inside the vehicle. They can not be taken with you to the main passengers' desks.
How to book?
You can purchase tickets at one of the local agent offices in Funchal, or simply online, paying with your credit card. There is no need to print tickets – showing digital scans of your QR code during boarding is sufficient. 
Can you spot dolphins on the Porto Santo Line?
Yes, we were looking out for them, I haven't spotted any, but my friends who travelled two days after us, during better weather, were accompanied for a couple of minutes by a big group of dolphins. They say it felt almost like a paid [dolphin watching tour] they had done a day before. 
Check out the IG account of the Porto Santo Line – where they post interesting graphics of the species of animals spotted each week. If you browse through these graphics you will see that dolphins (spotted dolphins, bottlenose dolphins, common dolphins) can be spotted on a Porto Santo cruise almost every week. Occasionally, you can also spot whales (dwarf sperm whales, sperm whales, tropical pilot whales) or sea turtles.
Check also this map available [HERE] presenting the exact locations of species spotted on particular parts of the cruise. 
Lobo Marinho – Ferry & facilities
The ferry is called Lobo Marinho (Sea Wolf) and has a capacity of over 1150 passengers. As it serves as a short route (approx. 2 hours 15 minutes) there are no private cabins to be rented.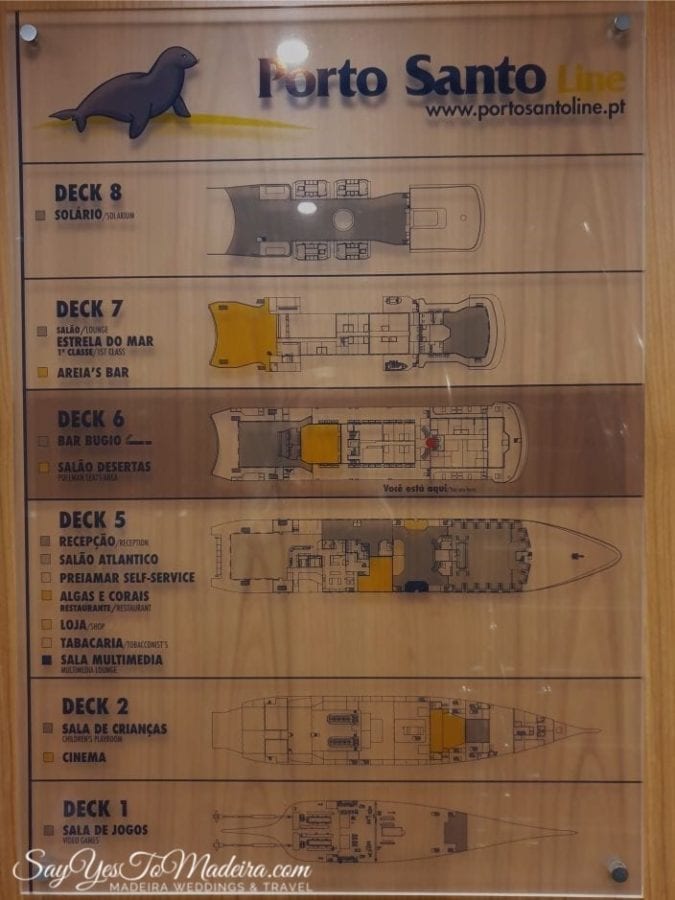 On deck 1 you will find a video games room. On deck 2 children's playroom and a cinema.
The main deck is deck 5 and you will find there the reception, restaurant, shops and main lounges. On the top deck (8) you have access to the solarium.
Deck 7 is the 1st class area – the Estrela do Mar Lounge and bar as well as the 1st class panoramic terrace. [HERE] you can find an easy-to-read plan of the entire ferry and photos of each room.
Travelling to Porto Santo by ferry – Our experience and tips
We used the Porto Santo Line many times, and we had a good experience. The ferry is comfortable and has all that's needed for a short journey like this one. The ferry always left on time. 
Our main tip for all of you: Consider buying a first-class ticket, especially if you are hungry and are planning to use the internet.
The very first time we travelled, we booked economy class tickets. Somehow we did not consider or even checked the prices of first-class tickets. After entering, we saw the below poster: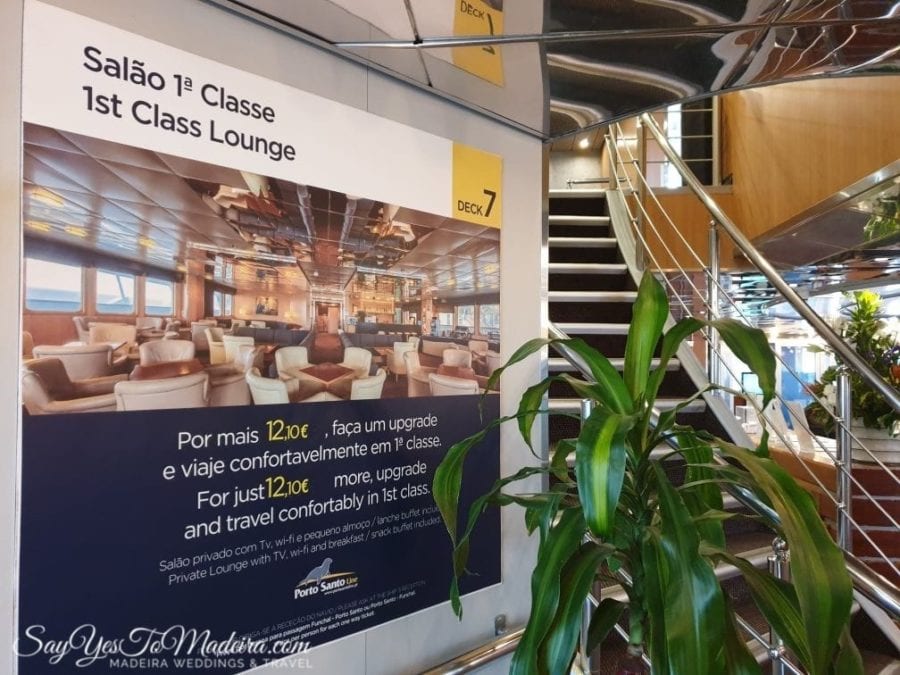 After a quick calculation, we realized, that in our case, we would be better off upgrading our ticket.
There is no free internet in the economy class on the Porto Santo Line. The price is 3.50 EUR to get access for two devices. Internet is free of charge for the 1st class passengers. Additionally, they can also enjoy free coffee and a nice, though simple buffet.
So for example, If you did not have a chance to grab a breakfast and have to spend 8 euro on a full breakfast in the ferry restaurant, then buy one more coffee in the ferry café and above that, purchase internet access for 3.50 – you already paid as much as the 1st class ticket that has it all included.
On the way back, as soon as we boarded, we went upstairs to upgrade our tickets. The room was indeed much more comfortable than the economy room. I had a chance to work on my blog and answer some wedding inquiries.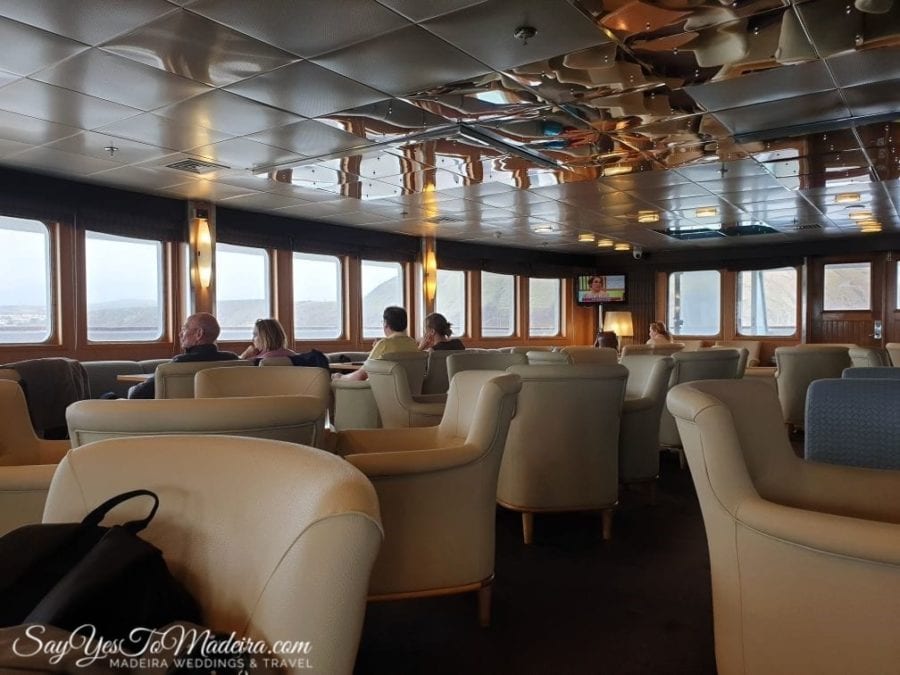 I especially liked the panoramic views from the 1st class lounge.
The buffet was rather basic but tasty and sufficient to serve as supper. Most of all, they had my beloved "Pastel de bacalhau", so you did not hear me complaining.
Another tip is regarding…
Porto Santo ferry – wheelchair/stroller accessibility and reduced mobility passengers
The boarding and especially off boarding process once we arrive in Porto Santo wasn't the best. The gangway in Porto Santo was rather steep and I can not imagine walking it with reduced mobility.
If you have reduced mobility, if you are travelling with a stroller or an older person, please ask the crew as they will guide you to another exit with a lift.
The operator's website states that the ferry is fully adapted to people with reduced mobility and that:
"Passengers with special needs (mobility, blind and oxygen-dependent) should contact the Carrier and the crew members before purchasing the ticket in order to be given all the support, with regard to access, escorts, guide dogs or assistance, with a minimum of 48 hours."
SEE: [SOURCE] Article 12ª
After arrival in Porto Santo
If you haven't organized a transfer, there should be sufficient taxis waiting by the exit of the ferry. 
As we are a couple of eager walkers and didn't have any baggage we simply decided to walk to Vila Baleira along the beautiful beach. The distance is approx. 3 km, and we arrived at the main square within 45 minutes, including some "photo shoots" on the beach. 
Other ways to get to Porto Santo
Flights from Porto Santo

 to 

Madeira
There are daily, direct flights between Funchal and Porto Santo – usually one in the morning and one in the afternoon. They are operated by Binter Canarias Airlines. The duration of the flight is only 25 minutes.
Flights to Porto Santo from other destinations
You can also get to Porto Santo via Lisbon or Porto, or using one of the charter flights.
Would you like to organize a wedding on Madeira Island or Porto Santo?
Do not miss our latest posts, follow us: