Today we will tell you a story that is slightly different from others on our blog. It will not be about a wedding, but … who knows – this one may also take place in Madeira. Today it is all about another unforgettable event filled with love & smiles. Recently, we had the opportunity to help organize a very romantic surprise proposal for a very nice Polish couple …
But before he could put on her hand this beautiful ring …
… an intricate plan has been prepared backstage. Thanks to the charming couple – Sandra and Maciej – who agreed to share their story, we can tell you more about it. We hope that their engagement story will be a beautiful inspiration for others thinking about popping the question during their holidays in Madeira or Porto Santo.
Yes.. and Yes!
This is the answer to the two most important questions – "Did she say yes?" and "Did the surprise work out?" The new fiancée did not expect at all what her beloved had planned for her …
The setting we chose was a private afternoon cruise. Our friend, Rodolfo, a Madeira-based photographer, helped Maciej in the execution of the intricate plan. In order not to arouse any suspicions, he pretended to be a crew member for the first part of the cruise…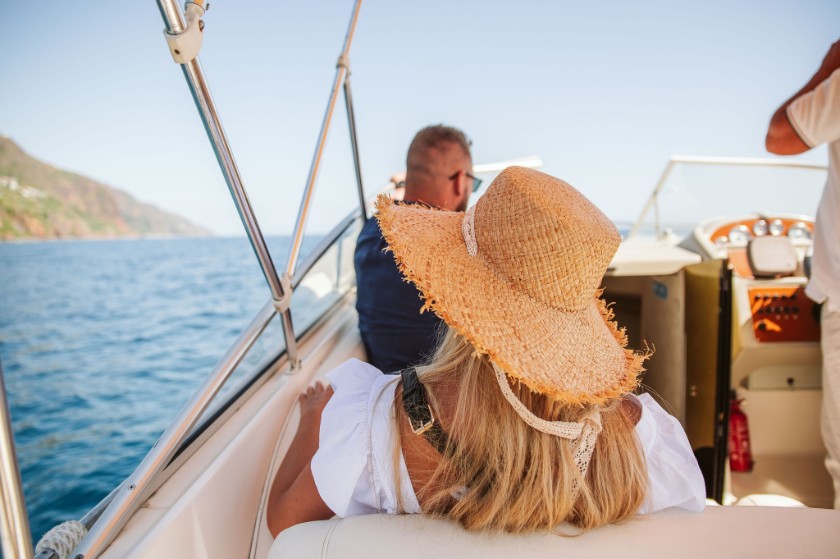 That moment!
When it was finally time, Rodolfo reached for his camera, and shortly after that, Maciej reached for the engagement ring. The moment of the most important question in their lives has been captured forever on a video…
In addition to the hidden photographer, there was yet another thing hidden on board – a bouquet of red roses. The moment was celebrated with champagne.
After the cruise, the newly engaged couple stopped at the Port of Calheta for a quick afternoon photo session …
After which, they went to their hotel in Funchal, where they had a private dinner in a gazebo overlooking the ocean …
The hotel where the engaged couple stayed was Porto Mare, one of the wedding hotels often chosen by foreign couples eloping on Madeira. If this gazebo looks likea place you would like to get married at, check out our post:
Unforgettable proposals in Madeira or Porto Santo
Do dreams come true? No… YOU are the one who make your dreams come true.
If you are sure you met the one, it is always worth taking the initiative and making the proposal special and unforgettable … Sometimes all you need is a hidden photographer and a beautiful place at a beautiful time, and as you know – there are plenty of those in Madeira.
Surprise engagements are beautiful moments, and helping to create such moments is a very grateful task that we will gladly undertake. If you have a specific plan in mind, we would be happy to see if it is possible to execute it in Madeira and we can suggest you other ideas.
Credit ♡ The Memory Shop
Rodolfo from The Memory Shop is a lovely person, willing to take on different photo-challenges on Madeira, Porto Santo and not only. Would you like him to capture your special moments? Check out his portfolio:
A kind reminder – all photos in this article belong to © The Memory Shop and, like all photos on our website, may not be reproduced, copied, edited or published elsewhere without the consent of the couple and the author.
We would like to thank Maciej and Sandra for sharing their photos.
That was their engagement story. Would you also like to organize your proposal, wedding or other celebration in Madeira?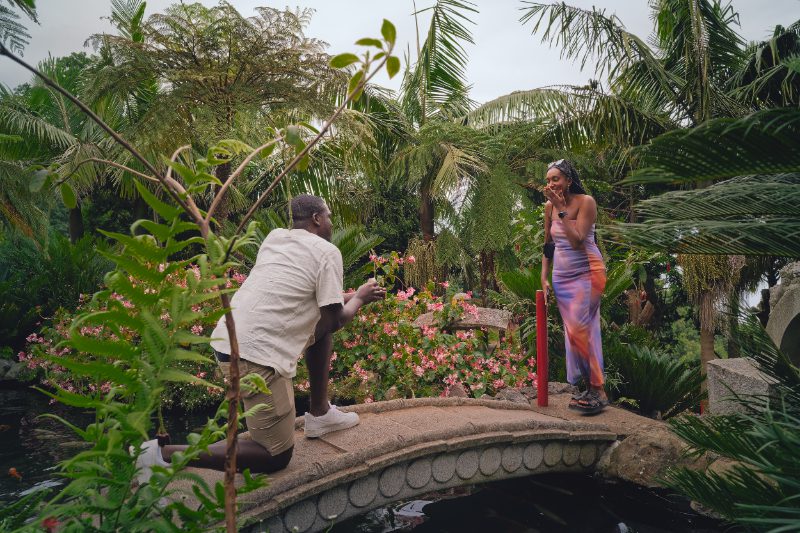 "He wasn't even supposed to be in Portugal!" – a beautiful story of a surprise engagement captured at Monte Palace…