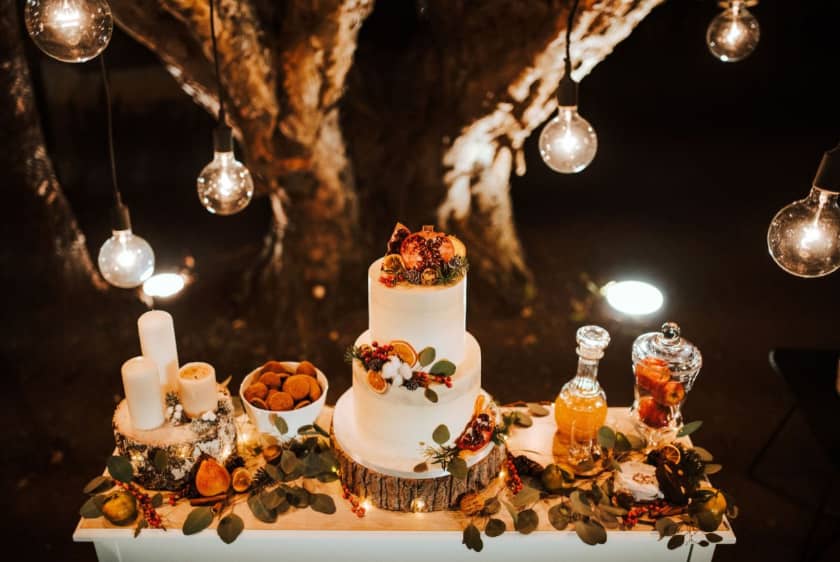 Estalagem da Ponta do Sol in Madeira is an amazing wedding venue, that's for sure. This uniquely located hotel in one of the sunniest areas on the island offers at least two interesting settings with a view, welcoming events of different types and sizes.
First of all, check out our other post; Presentation and review of the Estalagem da Ponta do Sol Hotel.
That's where we described and showed you the hotel's location, views, pool, map, and outdoor areas. Today, we will focus on Estalagem da Ponta do Sol as an event & wedding venue.
Estalagem da Ponta do Sol: Main event areas
The hotel is uniquely located, offering two ceremony/dinner locations with slightly different, but equally amazing views: the Dragon Tree Garden and an almost-panoramic ocean view deck:
Weddings at the Estalagem da Ponta do Sol: Garden Setting
The garden is a beautiful setting for all sorts of ceremonies and events. From intimate weddings and elopements:
…to mid-size events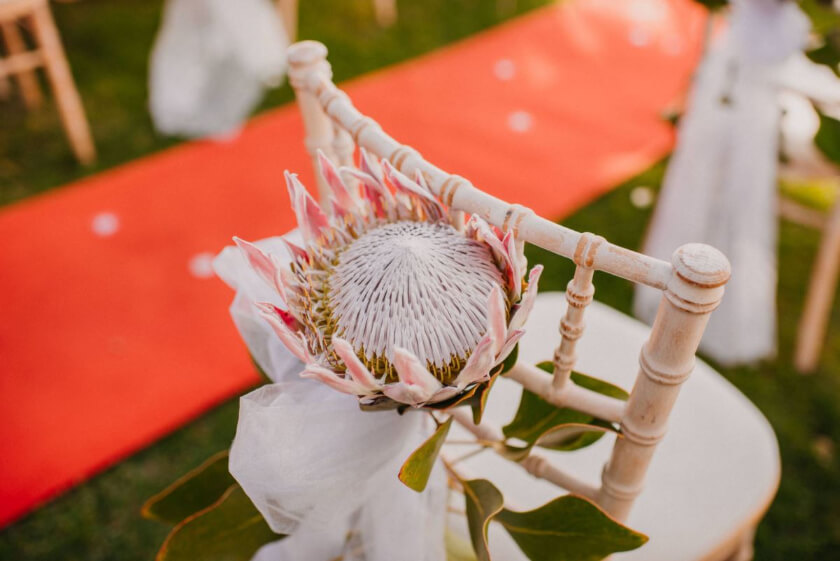 Apart from the view, there is one more thing guaranteeing a wow-effect: the old Dragon Tree, estimated to be centuries old. When decorated, it will definitely amaze your guests.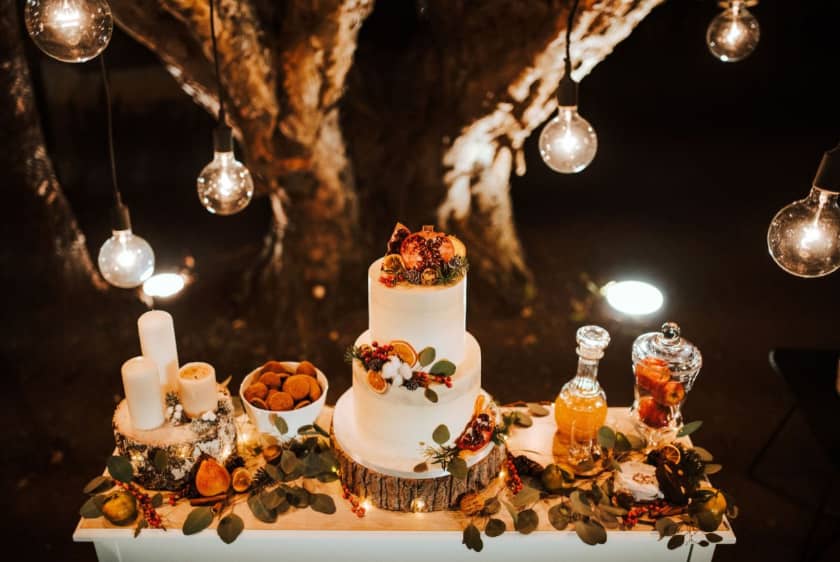 Garden setting – Video
Get an impression of the Estalagem's main garden and the amazing and varied views it offers:
Garden setting – Views
As you could see in the video, from the garden, you will have an amazing view on the beach & blue ocean on the south, Ponta do Sol town & green hills covered in banana fields on the west, while if you look north, you will see the mountains and the valley.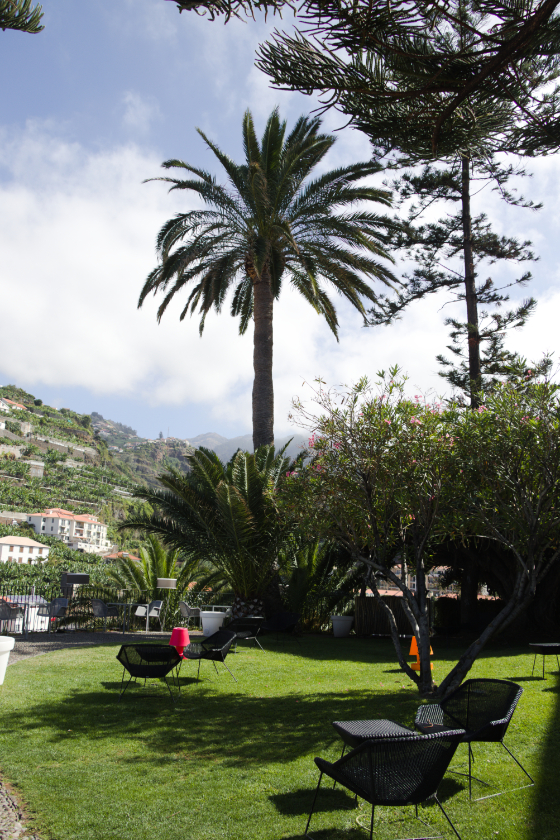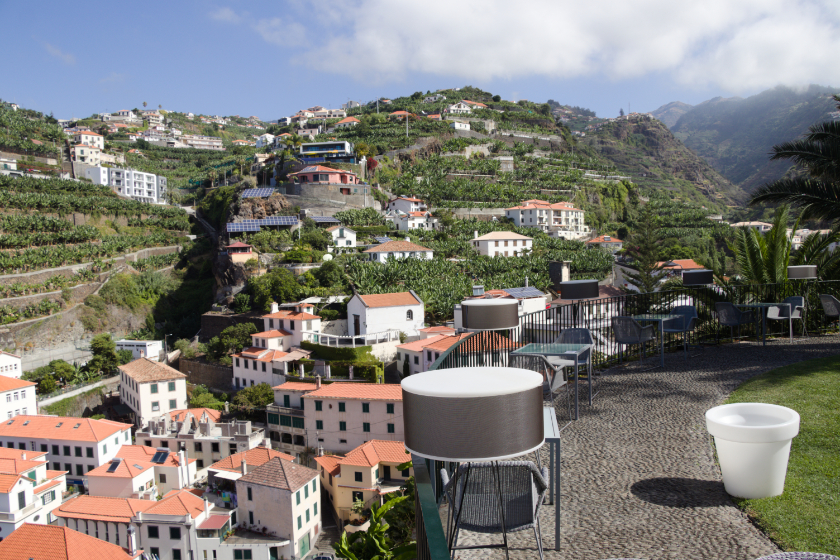 The main garden can accommodate all kinds of events up to approx. 120 seated / 200 standing guests.
Here are a couple of panoramic pictures:

The garden is a multifunctional and convenient area located just next to the main restaurant. The restaurant comprises an indoor area with a couple of outdoor spaces on terraces on both sides. See more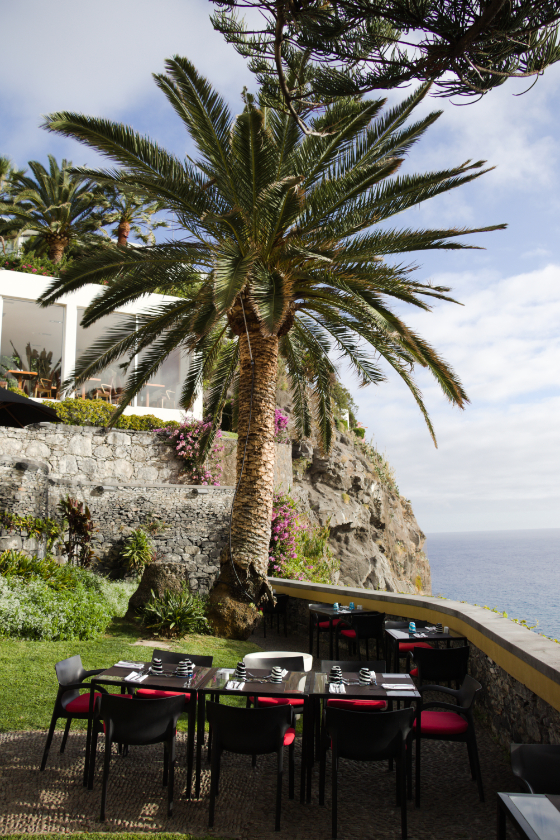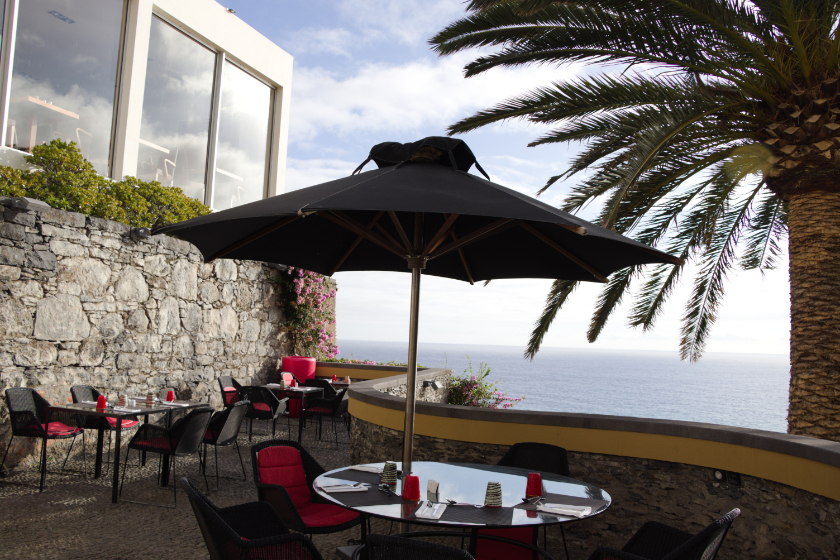 The second option is:
Weddings at the Estalagem da Ponta do Sol: Ocean View Terrace Setting
If you walk down past the hotel's infinity pool, you will find another gem – the round oceanview terrace. On your left, you will have a great view of the cliffs up to Cabo Girao. There you will be able to observe sunrises. If you look to your right, you will see the town and beach of Ponta do Sol, and it is THE place to be during sunset. Look down on the ocean and you will see the famous Ponta do Sol Pier.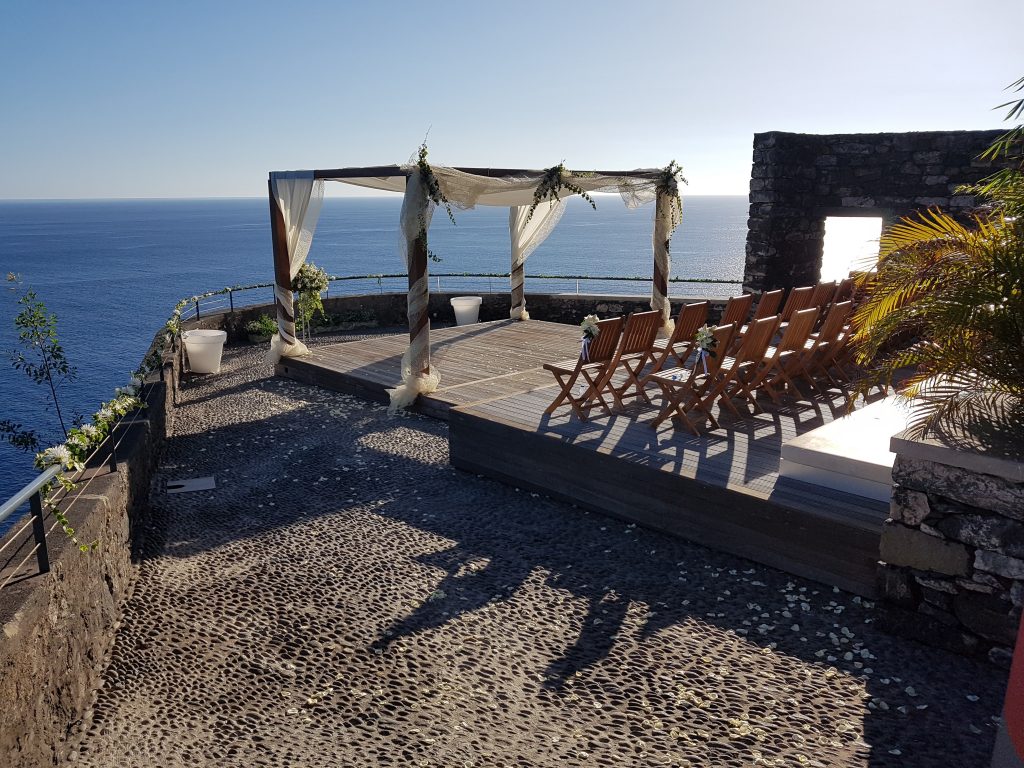 Many couples fall in love with this setting. The hotel crew has organized a lot of weddings there, from small, intimate ceremonies, to events that transformed the place entirely. The space is very flexible to decorate and allows for different kinds of arrangements including tents and the railings entirely covered in flowers.
White flower decorations are something that always contrasts beautifully with the blue of the ocean. If you wish so, the terrace can be privatized for you and your guests.
As if this was not enough, there is one more thing worth mentioning – the terrace is extremely photogenic. The small café balcony above the deck allows for wonderful, wide-angle pictures of the ceremony and group family pictures from above, which will give a nice perspective.
Ocean View Terrace/Deck – Video
Ocean View Terrace/Deck – Capacity
The hotel estimates the guest capacity of the ocean view terrace to be approx 40 seated guests / 120 standing.
Ocean View Terrace/Deck – The way to the ceremony location
This is the beautiful way you will walk between the hotel and the ceremony location on the deck:

Weddings at the Estalagem da Ponta do Sol: Restaurant
If you prefer the comfort of an indoor location, the hotel's restaurant can accommodate approx seated 60 guests, and there is also another patio behind the restaurant.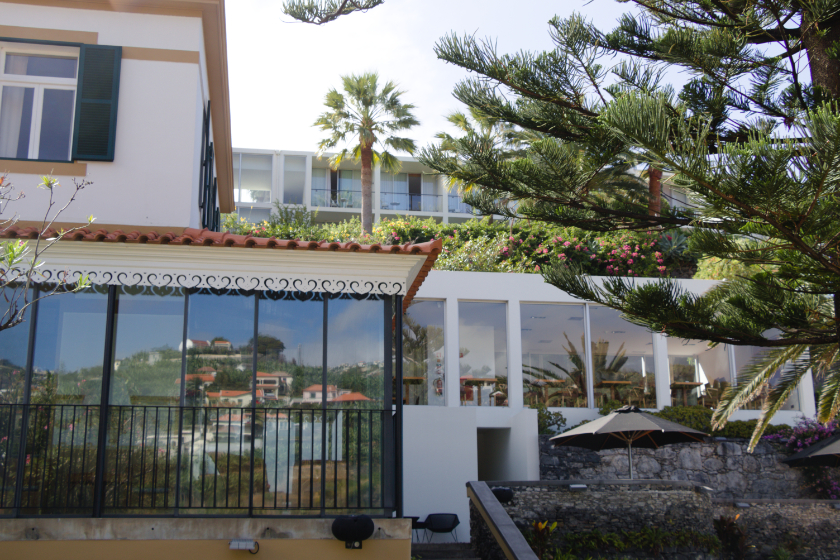 The restaurant is also a good PLAN B option in case of bad weather, however, thanks to its location in the town which actually has "sun" in its name, Estalagem da Ponta do Sol is a rather safe location, when it comes to weather.
From springtime until November the weather in Ponta do Sol tends to very good, with mostly sunny days.
Weddings at the Estalagem da Ponta do Sol: Prices
The cost of renting out a ceremony area depends on a couple of factors (number of guests & date being the most important), but in general, Estalagem da Ponta do Sol tends to be one of the most affordable wedding hotels on Madeira. Or rather – an event venue that is great value for your money, taking into consideration the uniqueness of the location and its beautiful views. Contact the wedding planner if you would like to estimate the costs of your event.
When it comes to wedding dinners and parties, in "normal" non-pandemic times, the couples can choose between à la carte dinners or buffet options (in case of events with more than 35 guests). Right not, which is autumn 2020, due to safety restrictions only à la carte option is possible.
The price of a menu can vary depending on the couple's choices, but it does not depend on the area of the hotel chosen for dinner. Menu prices start from approx 32 EUR/p.p. including basic drinks: wines, beers, soft-drinks & coffee.
Weddings at the Estalagem da Ponta do Sol: Vegan/vegetarian options
Estalagem da Ponta do Sol is a vegan-friendly hotel and their chef has a lot of experience preparing meatless dishes. They also pay a lot of attention to offering biological, locally grown products.
The delicious vegetarian wedding menu was one of the things which Marika, an ex-bride, complimented, during our interview about her wedding at the Estalagem da Ponta do Sol. And when it comes to satisfied couples, here are some stories of previous weddings at the hotel.
Weddings at the Estalagem da Ponta do Sol: Real weddings
What makes Estalagem da Ponta do Sol is an awesome venue on Madeira Island, popular both among locals as well as foreign couples. It hosted a lot of weddings of different sizes and themes, from informal to luxurious.
It hosted, for example, a beautiful hippie/boho wedding. The couple and their guests enjoyed the laid back and informal atmosphere of their special day:
More about this wedding in our posts:
BEAUTIFUL BOHO/HIPPIE WEDDING – GALLERY
BEAUTIFUL BOHO/HIPPIE WEDDING – INTERVIEW WITH THE BRIDE
If you are looking forward to organizing a similar style event, we have great news – the special low tables are still available and the hotel crew will be happy to help you with the set-up.
Another gallery worth taking a look at is this elegant photoshoot by The Memory Shop:
WEDDING SHOOT AT THE HOTEL GARDEN & PREMISES
You can see well what a beautiful picture setting the hotel can be.
Another interesting wedding gallery is:
Weddings at the Estalagem da Ponta do Sol: Rooms for your guests
There are in total 55 rooms at the Estalagem da Ponta do Sol, with up to 35 rooms (+-60 guests), remaining available to be booked by the wedding couple (The availability highly depending on the season).
Additionally, there are 15 more rooms in another hotel belonging to the group – Hotel da Vila. Hotel da Vila is located below the cliff, in the center of the charming town and right by the beach (with approx 5 min walking distance between two hotels).
Estalagem da Ponta do Sol – Your destination wedding hotel in Portugal?
Estalgem da Ponta do Sol seems to have it all if you are looking for a relaxed atmosphere, but great service and very impressive scenery. Amazing location on top of a cliff, but with easy access to the ocean. Ceremony view on the mountains, valley, banana fields, charming little town, and of course – the ocean.
The hotel welcomes and is able to accommodate different types of events, so if Estalgem da Ponta do Sol seems like a perfect place for your destination wedding, do not hesitate to contact us or send an official request.
Have you exchanged your vows or organized a different event at the Estalagem da Ponta do Sol? Leave a comment below or contact us if you would like to be featured on our blog ♥
Weddings or photo shoots on Madeira? Contact
Do not miss our new posts – follow us: