Do you enjoy staying at small, yet cosy & beautiful hotels with great design, views and an interesting history? 1905 Zino's Palace on Madeira Island will not let you down.
We stayed at the 1905 Zino's Palace hotel for three nights in the spring of 2021. At that time, due to the Covid-19 restrictions, we were expected to return to the hotel before 6-7 p.m. Luckily, spending long lockdown evenings at a charming place with great sunset views like this one… was no problem at all.
Here's our stay review at the Palace of Zinos.
You can book the hotel on their official website:
and in order to organize your special event or a destination wedding at Zino's Palace – do not hesitate to get in touch with our English-speaking Madeira wedding planner.
1905 Zino's Palace – Video impression
Here is our short video impression of the hotel, its premises, views and… a surprise at 01:20 :
1905 Zino's Palace – Service
We arrived at 1905 Zino's Palace impressed with its architecture and design, and we left 1905 Zino's Palace impressed with its service. That's why I will start this review with something that we appreciated the most – the level of service.
I have always adored staying at small hotels like this one, where you are not just a number in the system, but where you really can make friends with the staff. Especially during the lockdown, where we were forced to spend more time than normal indoors or at the hotel's premises, we valued the friendly atmosphere a lot. The staff of Zino's Palace really made us feel at home – always friendly, always one step ahead, and always willing to help.
1905 Zino's Palace – Location / Views
Zino's Palace Hotel is located around 20 km from Funchal and half an hour from the Madeira Airport, in Lugar de Baixo (a village close to Ponta do Sol, which is known to be the heart of Madeira's Digital Nomads Village).
When passing by Lugar de Baixo look up the lush green hills. Among green banana plantation you will see a hard to miss pink gem – prominent and unique 1905 Zino's Palace hotel.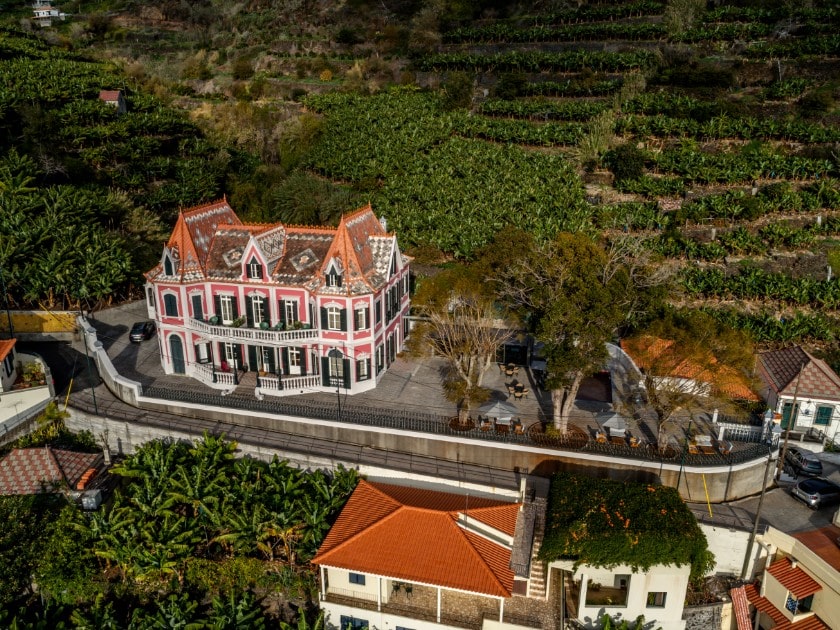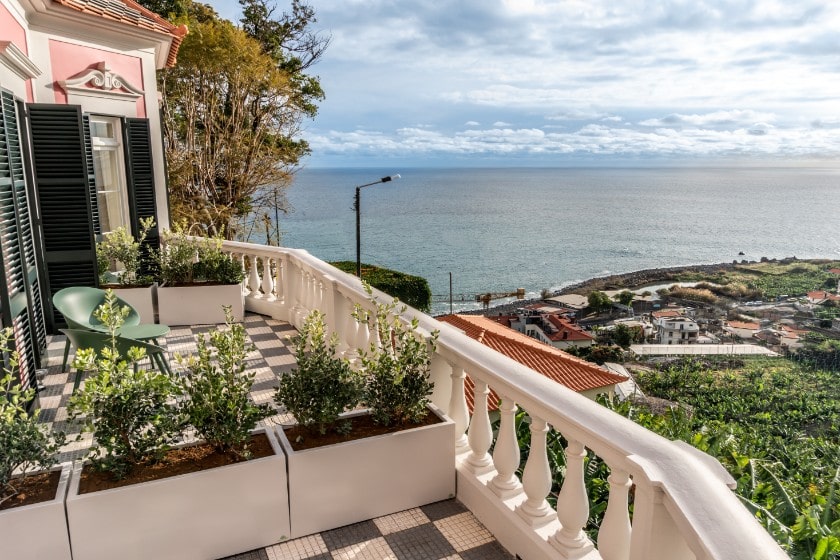 1905 Zino's Palace – Where Design Meets History
The building of Zino's Palace is of a significant historical importance. It has served different purposes in the past, including a summer residence of the noble family Zino, an Elementary Practical School of Agriculture and a primary school. It was entirely refurbished in 2002, changed into a small hotel and became a true sight for sore eyes.
We love seeing old Madeira's architectural gems restored and put into good use, so we hope that the same with happen to a similar gem we found in Funchal – See: The Old Seminary.
1905 Zino's Palace – Restaurant
We dined at the Zino's Palace Restaurant each evening, and we were never disappointed. During the lockdown period, the menu had only a couple of options (different each day), but they were so varied, that we could always find something we liked. There was always an interesting vegetarian option included.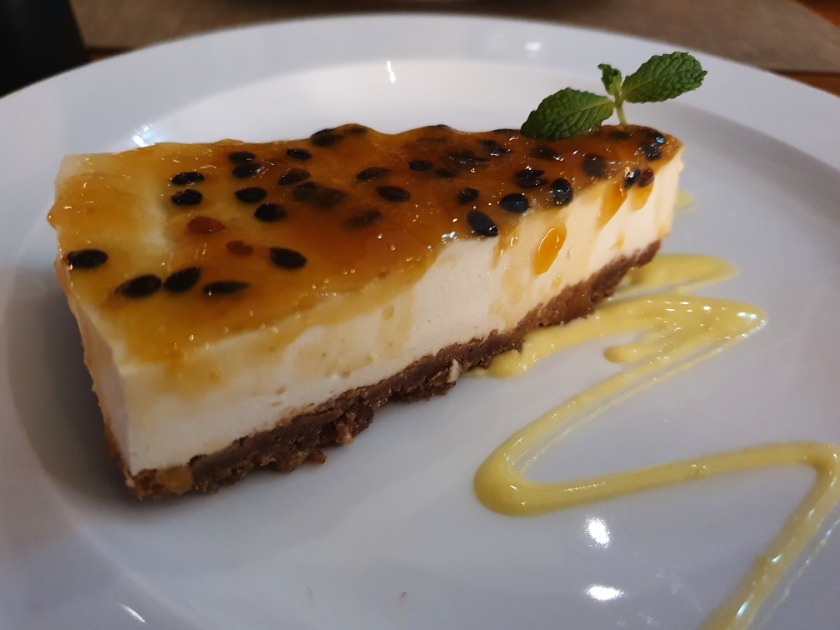 The restaurant is located in a separate, modern building, where you can also dine outdoors, on the hotel's square.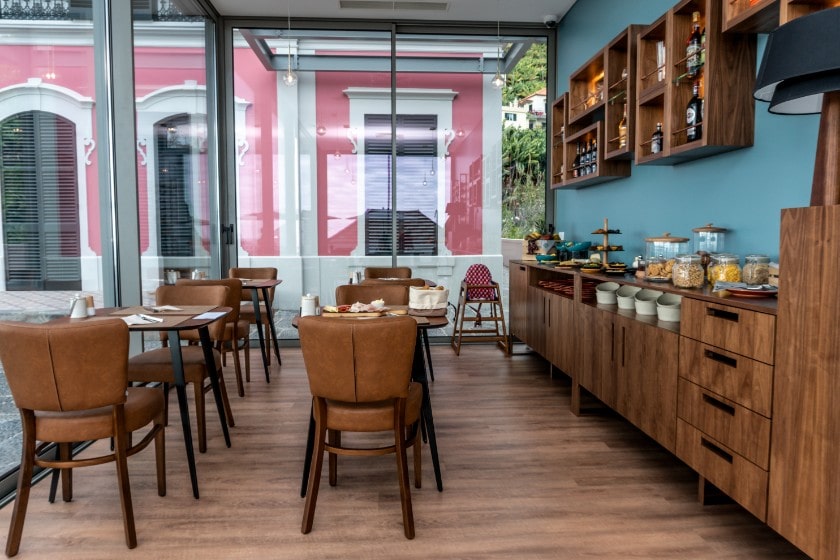 We could not complain about breakfasts either. Lovely selection of fresh fruit, yogurts, and breads as well as warm dishes. Breakfasts are served every day from 8:00 am to 12:00 am, in the main restaurant.
Would you like to try out Zino's dishes without being a guest? That's also possible. It is, however, necessary to book 24 hours in advance (+351 291600123).
1905 Zino's Palace – Rooms
Zino's Palace has 9 rooms, all beautifully decorated with pastel colours, perfectly combining modern comfort with glamour and retaining the old characteristics of the rooms. Rooms range from the most basic Cozy Rooms, to Sea View Suites with a Balcony.
We stayed at the Sea View Suite located on the first floor.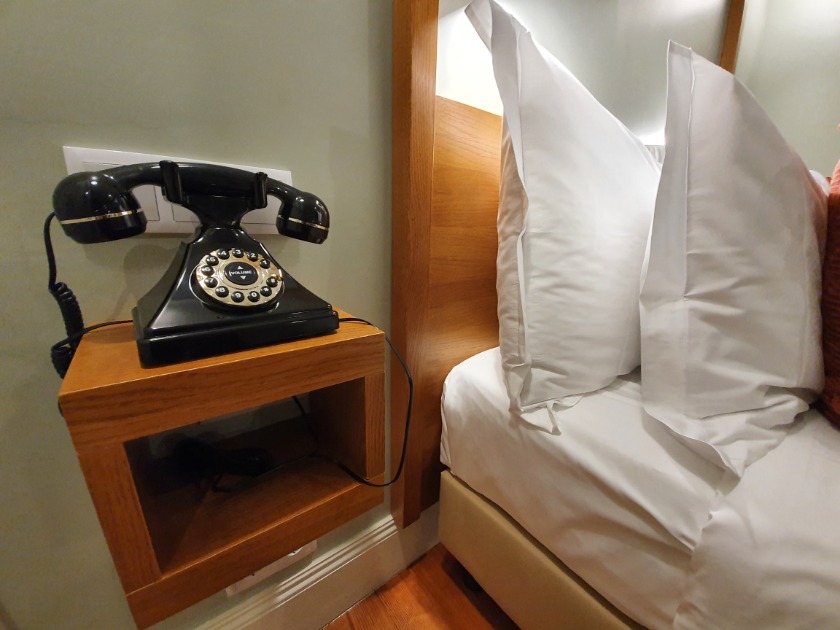 It is the room with the biggest balcony, which was my favourite spot. If a photogenic balcony with a view is what you are looking for – ask for the Sea View Suite room.
There are two other rooms on the first floor which have a balcony, on both side of ours, but they are considerably smaller. Rooms on the second floor have no balconies.
We also took a look at other rooms, all of which are nicely & comfortably furnished: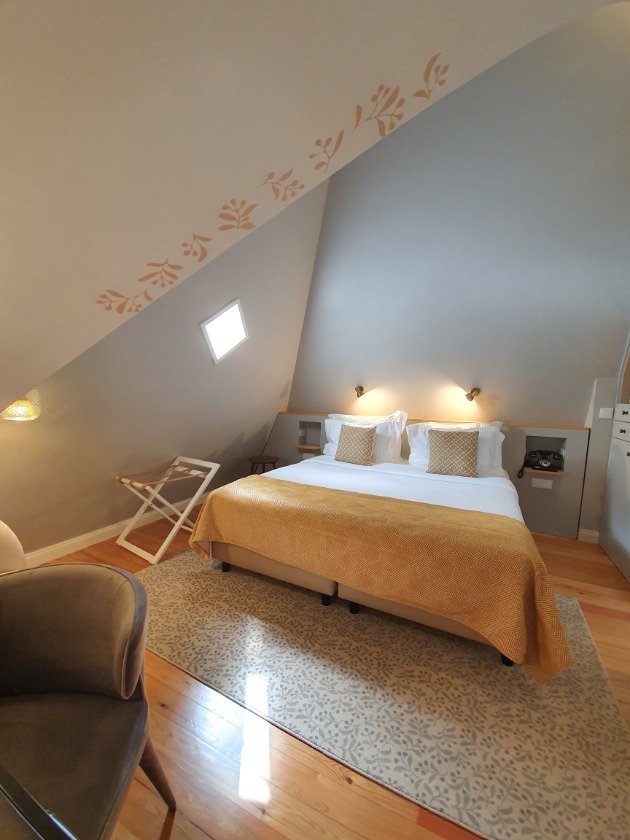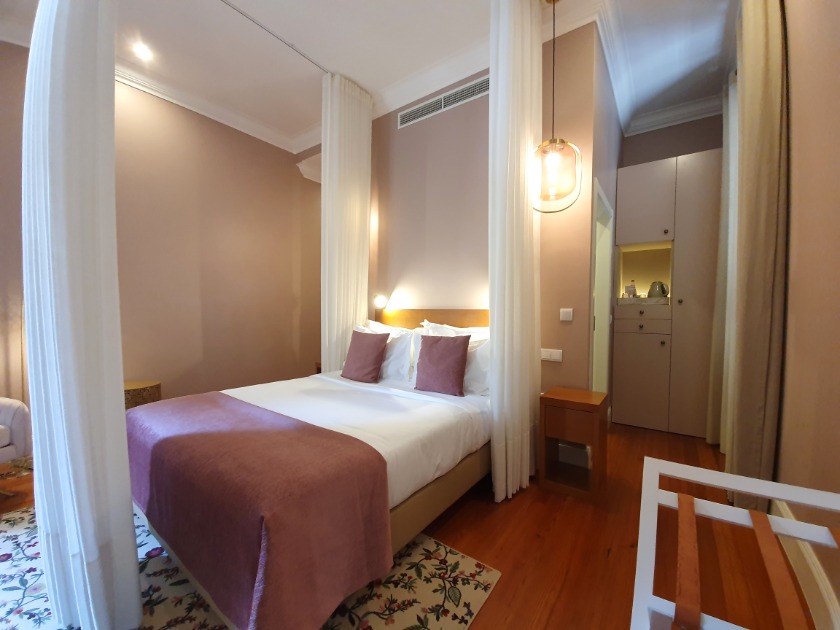 1905 Zino's Palace – Outdoor areas
The hotel does not have a garden, but it does have a big historic patio, paved with traditional "calçada". There is a small pool, lounge chairs and a couple of comfortable chairs where you can enjoy a cup of coffee throughout the day.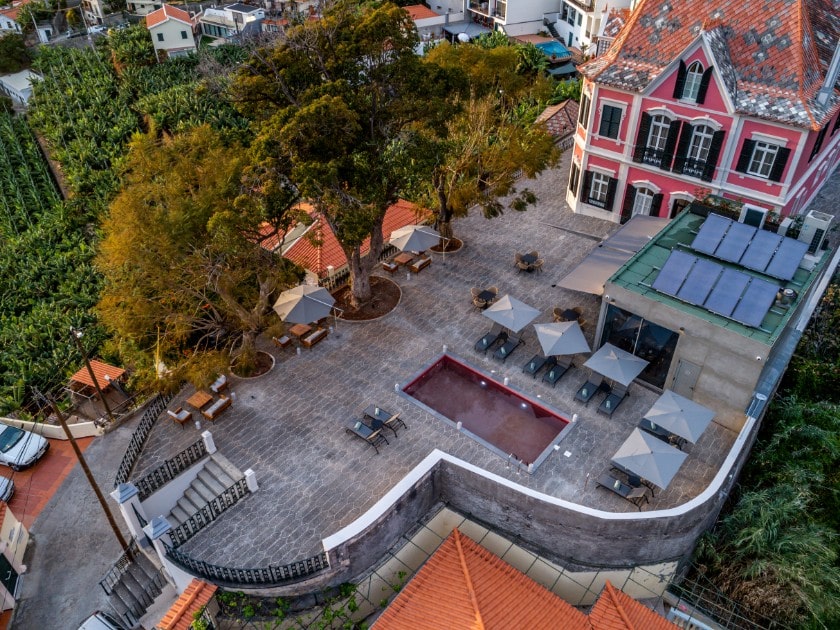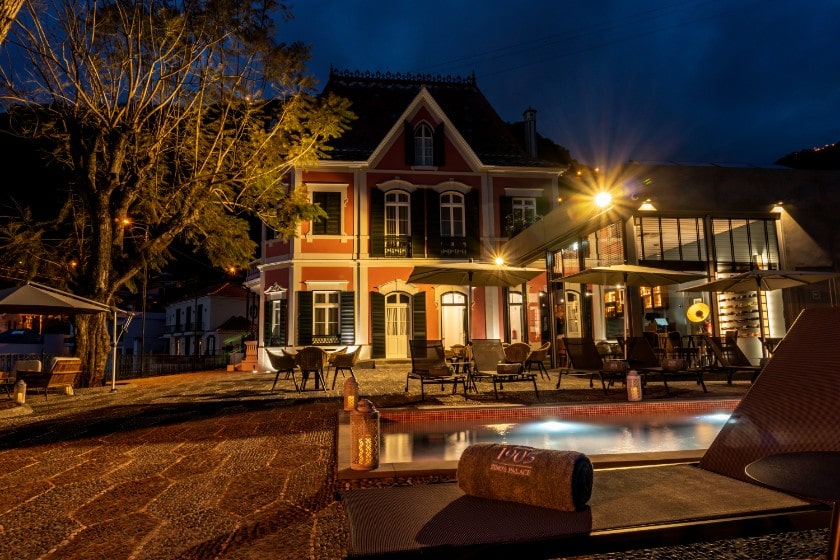 1905 Zino's Palace – Wedding & events
A very interesting fact abut the Palace of Zinos is that it also has… a chapel. A beautiful, medium-size chapel which is still holding Sunday mass services each week. That's what makes it a great option for different kind of private religious events, including catholic weddings.
The weddings potential of Zino's Palace is something that deserves a separate, detailed post. We will tell you more about the weddings, baptism & other events at the Zino's Palace in one of our future posts. If you are interested in organizing your (entirely private) event there, do not hesitate to contact us.
1905 Zino's Palace – Attractions nearby
The Palace of Zinos is located in Lugar de Baixo, close to Ponta dos Sol. We have listed interesting spots, attractions, observation points and hiking trails in this area in THIS POST. See also our bucket list: 20 X BEST THINGS TO DO ON MADEIRA.
1905 Zino's Palace – Our Review
Zino's Palace Hotel is very uniquely located on a hill among banana plantations. This unique location comes with some drawbacks, such as limited parking spots. As there is no elevator, accessibility can be an issue for some guests. The hotel won't be the best choice for wheelchair users and guests with mobility issues.
However, everyone else who enjoys beautiful views on green hills, blue ocean, setting sun and staying in characteristic, beautifully designed hotels with history, away from hotels districts, should enjoy their stay at the Palace of Zinos. The great food and attentive hotel staff also deserves a mention, as it is what made our stay very pleasant and exceeded our expectations. Our most sincere guest rating is therefore:
Weddings or photo shoots on Madeira? Contact
Do not miss our new posts – follow us:
RELATED POSTS: HOTEL REVIEWS MADEIRA – MADEIRA'S ARCHITECTURE – INSTAGRAMMABLE PLACES MADEIRA