The ferry service between Madeira and the continental Europe has been resumed in 2018 after a long period of suspension. I have published the first post mentioning the resumed ferry in June 2018.
Hereby some quick 2019 and 2020 updates: 
2020 Updates
01-12-2020: Passengers on board of the cargo ship Funchalense 5
Obviously, due to the pandemic, 2020 was not a good year to restore any official passenger ferry connections between Madeira and Portugal. 
Some people have been mentioning a possibility to travel on board of a GSLINES container ship "Funchalense 5" ( SEE ARTICLE ), however, currently, this isn't an option either. We have contacted GSLINES for more information, but as advised by the Commercial Assistant: "Unfortunately due to COVID19 the voyages aboard our cargo ships are suspended indefinitely". 
Previously, up to 7 passengers were accepted on board of this cargo vessel and could travel in one of its cabins. The price was 140 euro per person.
This post will be updated as soon as there are any developments or news regarding new ferry connections between any place in Europe & Madeira. Please subscribe to our newsletter or follow us on our social media to stay up to date:
13-01-2020: Most probably… no ferry in 2020
I have received a lot of questions from readers regarding the 2020 ferries to Madeira, which I am unfortunately not able to answer.
The company operating the Portimao – Funchal ferry service in 2019 advised me that "the operation is not scheduled to take place this year." There are talks about another year-round ferry which would operate between (probably) Lisbon or another city in Portugal, but is not sure whether or when that plan will actually be implemented.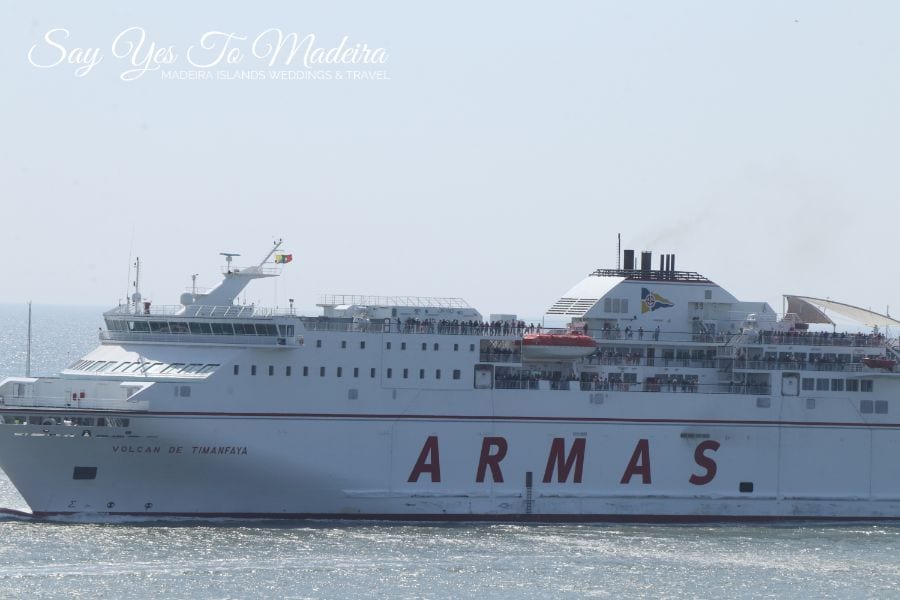 2019 Updates
09-09-2019: I have travelled to Madeira by ferry!
Last week I arrived in Funchal with the Madeira Island ferry. I have shared my pictures and first-hand experience in this detailed post:
[Madeira Island by ferry – our September 2019 trip review]
In the meantime, only two trips remained planned for the summer 2019 season. The ferry service to Madeira will not operate off-season. The last trip to Madeira will depart on September 24, 2019. Would you like to stay up to date with any developments regarding the summer 2020 ferry? Follow us!
10-08-2019: Volcán de Timanfaya ferry – impression
We are almost halfway through the ferry operation period (July-September). Some travellers who took the ferry this season have already shared their pictures and videos. One of such useful videos, showing the facilities on Volcán de Timanfaya ferry can be found [HERE].
07-05-2019: Ferry to Madeira summer 2019 tickets available for sale!
The sale of Portugal <-> Madeira Island ferry tickets has started today. A different ferry – Volcán de Timanfaya – is going to operate from July 7 to September 26. Just like last year, there will also be a connection between Madeira and the Canary Islands.
The price list is available [HERE], timetable [HERE] and the tickets can be purchased online [HERE].
03 -04 -2019: The ferry connection has been confirmed for summer 2019!
A message received today from the Sales Dept. of Madeira Ferry:
"Following your e-mail, we inform you that the operation ENM Ferries, with the ship Volcan de Tijarafe, which connects Madeira Island-Mainland Portugal, is confirmed for this year, starting on July 7 and ending on September 25, 2019.
 Other information, such as timetables and prices, are not yet available, as soon as we have them, we will send you an email." 
Great news – We are waiting for further developments. 
Original post – as published 12/06/2018 
The ferry service between Madeira and continental Europe has been resumed!
Great news for those scared of flying or those dreaming about exploring Madeira in their beloved car or motorcycle:  The ferry service to Madeira from Portugal (mainland) is back. The famous route:  FUNCHAL – PORTIMÃO – FUNCHAL has been resumed after a long period of being suspended.  
The sale of ferry tickets began this week, on June 12, 2018. The first ferry is scheduled to depart Portimão in the south of Portugal on July 3rd this year. It will reach Funchal the next day. The last scheduled cruise will take place 12 weeks later, in September.
Click [here] to see the timetables.
Tenerife -> Madeira <-> Portimao -> Gran Canaria
There will also be a connection between Madeira and Tenerife & the Canary Islands, however, only in one direction! 
Each of the twelve scheduled weekly trips starts on a Sunday with the departure from Tenerife (20:00) to Funchal in Madeira. It arrives in Madeira on a Monday at 08:15, and after a short break, departs towards Portimao in Portugal. It returns back to Madeira on a Wednesday at 13:30, after which it makes the final trip to Las Palmas de Gran Canaria. 
This year's last trip is scheduled for September 2018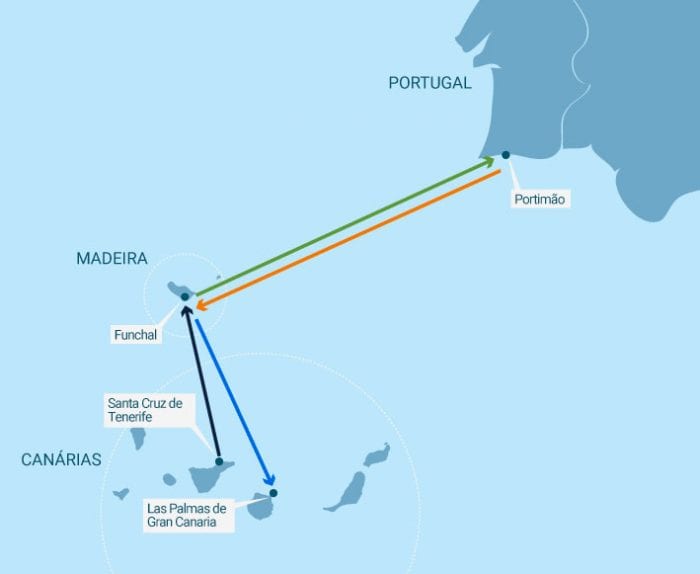 Ferry to Madeira – ticket prices
Good news for the residents of the Autonomous Region of Madeira – they are entitled to special subsidised tickets at lower prices: 29.10 euro/person for residents and 25.50 euro/person for students.
Prices of tickets for tourists and non-residents are unfortunately not as attractive: 85 euro per adult, 42.50 per child between 4 and 11 years- old. Children under 4 travel free of charge. 
A two-person cabin costs 187.05 euro/person, and a four-person cabin 124.80 euro/person.
Additional prices for vehicles (one way) are:
Car: 125 euro 
Motorcycle: 40 euro 
Bike: 10 euro 
Electric vehicles: 62.50 euro 
Volcan de Tijarafe Ferry
The ferry used on this service is going to be the "Volcan de Tijarafe". This 154-meter long ferry, sailing under the flag of Spain, can accommodate around 1000 passengers and 300 vehicles.
Check more information on 'Volcan de Tijarafe' ferry and its current location   [here]
The operator of the Funchal – Portimão service is: "Empresa de Navegação Madeirense" – the oldest transport company in Portugal, operating since 1907, providing regular transport of goods between Madeira and Portugal, connecting the ports of Caniçal, Porto Santo, Lisbon and Leixões.
For more information and to purchase your tickets, please check the official website of the carrier: http://madeira-ferry.pt/ 
Would you like to organize a wedding on Madeira Island or Porto Santo?
Do not miss our latest posts, follow us: