How much does a beach wedding cost?
Can a couple with an average budget afford a wedding on the beach? Does a beach wedding always need to be an expensive dream? As it turns out – not at all.
Today's post will be useful to everyone looking for beautiful beach wedding destinations in Europe, including couples planning to elope on a budget. 
We got married in Funchal in 2017. While we were looking for wedding venues on Madeira, it surprised us greatly how affordable a wedding in Portugal can be. 
One of our favourite and very affordable ocean-view venues on Madeira is this one. Madeira is a beautiful island with spectacular landscapes, it is great for outdoor weddings and photo sessions on the top of a mountain surrounded by clouds, but it has one big flaw, which is… lack of beautiful, sandy, snow-white beaches. 
SEE POST: Beaches in Madeira 
As beaches are not the strongest suit of Madeira, when it comes to beach weddings, we recommend the smaller island of the Madeira Archipelago – Porto Santo. 
Check out this beautiful gallery of one of our most recent Porto Santo elopement weddings to get a great impression of the island's landscape: 
Porto Santo beach wedding – basic costs
Option 1 – Beach + nearby hotel reception
One of the hotels in Porto Santo specializes in organizing weddings and wedding ceremonies on the beach. A wedding dinner can take place in the hotel building or outside – next to swimming pools or in a beautiful garden.
There are no additional costs associated with a wedding dinner in the hotel restaurant, except the price of the dinner itself. However, if you want a private celebration, for an additional fee, the hotel can provide you with a space reserved only for your event. 
Hiring a private place for dinner on a charming wooden veranda on a sandy beach costs around €1'500 (approx. £1'350). Privatizing an area in the hotel garden or next to the swimming pools (see pictures below) will cost €3'000 (approx. £2'700).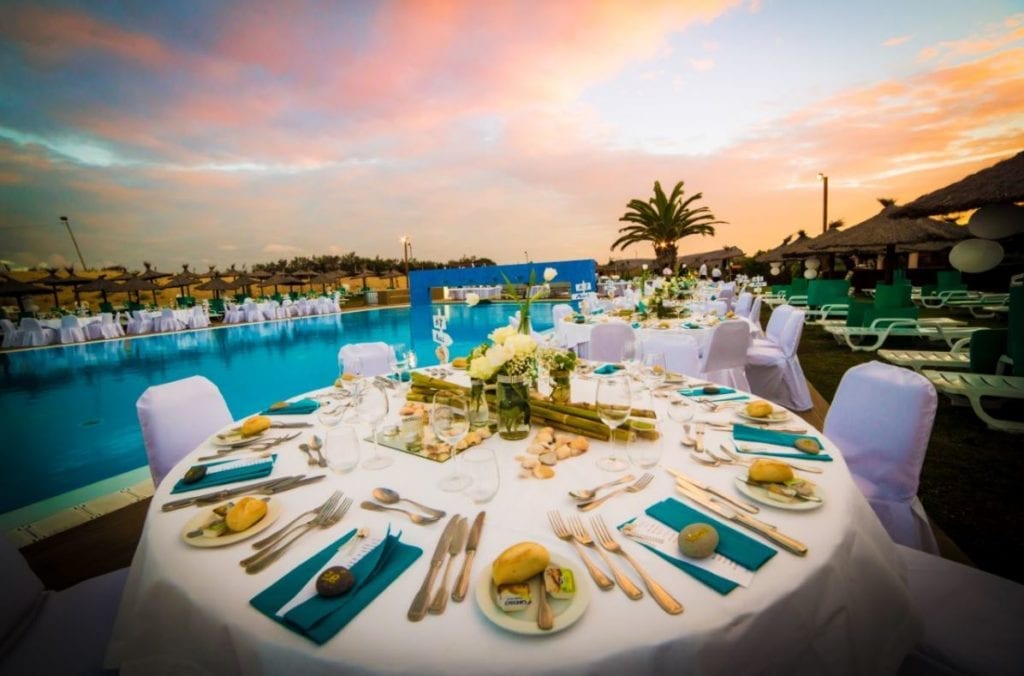 As for the ceremony, also for an additional fee of €800 (approx. £720), the hotel can build a romantic little altar on the beach. This price includes the set-up, chairs and a special permit for organizing weddings on a public beach.
If you compare these prices with prices of sea view terraces in the popular Greek Santorini, they are twice and sometimes even three times lower.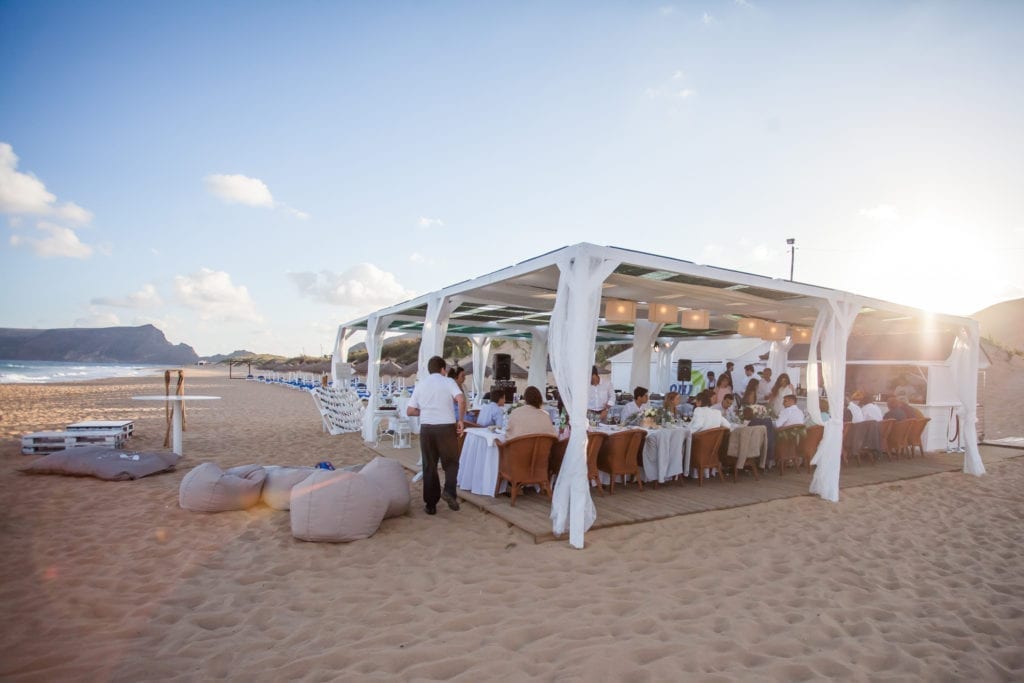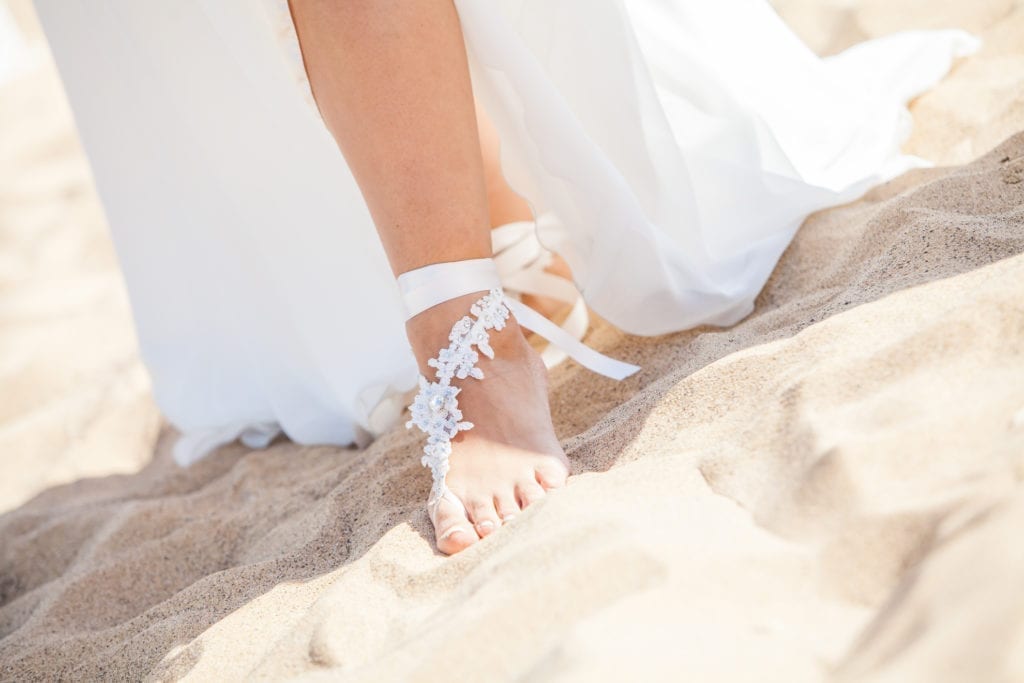 The hotel's wedding dinner prices are also surprisingly attractive. Buffet prices, start at approx. 28 euros per person and a six-course dinner is possible from about 30 euros. The price includes basic drinks, i.e. wines, beer, juices, water and coffee. 
Here is an example of the most affordable options for both the buffet and the set menu: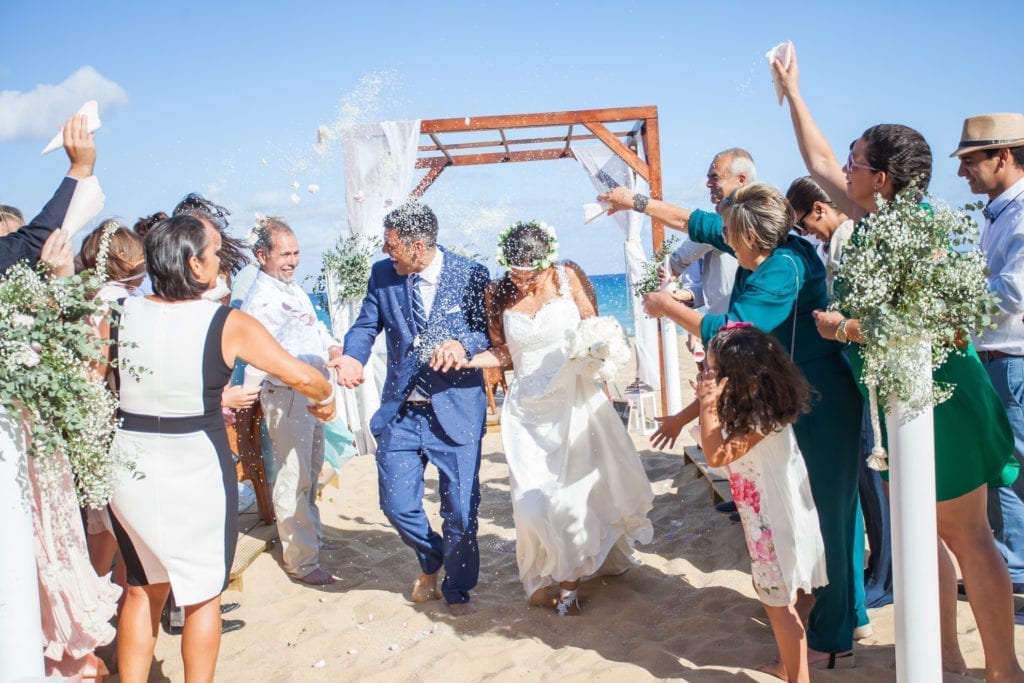 BUFFET MENU 1 – 28,00 €
Cream of carrot soup with almonds
Simple and composed salads
Salmon terrine
Prawn tower
Roast beef
Creamy salt cod
Veal Stroganoff with mushrooms
Fusilli pasta with cream and broccoli
sauce
Dessert buffet
Cheeseboard and petit fours
SET MENU 1 – 30,00 €
Tomatoes and goat's cheese with
aromatic herbs
Cream of leek soup with coriander
emulsion
Salt cod with cornbread on a bed of spinach
Lemon sorbet with sparkling wine
Tournedos on a bed of sweetcorn with
mushroom sauce
Forest fruit cheesecake
Coffee and petit fours
Would you like to receive a detailed menu in English or discuss a custom-made menu? Do not hesitate to contact us!
Option 2 – Intimate beach wedding ceremony only
Of course, you do not need to rent out any hotel spaces for your event. If you are eloping, and dreaming only about a small, intimate or even informal ceremony, that is also an option. 
The wedding planner can choose a more secluded spot for your ceremony and arrange all the necessary formalities and a permit to get married on a public beach. In that case, your beach wedding will become even more affordable. 
This recent 2020 gallery is a great example of such a wedding, where the couple eloped without any guests:
No matter which type and size of Porto Santo wedding you would like to organize, contacting our wedding planner will be the best first step. She will guide you through the entire process, lead your ceremony and find the suppliers you need. Ask for an offer:
Porto Santo beach wedding – additional costs
When organizing a civil ceremony on the Porto Santo beach, you will probably incur also these costs:
Wedding planner (translation, formalities)
Of course, you will also incur administrative wedding fees from the local registry office, a public-place wedding permit fee, along with an additional fee for marrying outside the office, and if necessary, the costs of an interpreter. 
If you decide to use the services of a local wedding planner (/translator), she will arrange all formalities on your behalf, so you can be sure that everything is done well. She will co-lead and translate your ceremony and assist you and translate during one compulsory meeting at a local registry prior to the wedding. 
The help of a local planner is rather priceless, especially if you do not know the place well, or do not speak Portuguese. Do not worry, the cost of hiring our English-speaking wedding planner are not extremely high, while she can save you a lot of time and money. Simply ask her for a non-binding offer, and she will love to chat with you or give you a call. 
Photographer
Fortunately, you can, but you do not have to fly a photographer over from far away. There are at least two local Porto Santo photographers, who can capture your special moments. A simple, short shoot of the ceremony starts at +-120 euro. A drone wedding photographer is also available on the island. 
If you are looking for strong wedding portfolios and award-winning photographers, you might want to consider also one of the  Madeira-based photographers. There are a few professional wedding photographers living on Madeira, and we would love to share with you their portfolios. 
In case the photographer's previous shoot was in Madeira, and he must travel to Porto Santo for your event, you might also be charged for the cost of the ferry ticket (and if required – accommodation).
Florist / make-up / hairdresser
The wedding planner can help you book all local suppliers, such as make-up artists,  hairdressers, and especially – an amazing florist (the same one, who provided this entire boho set-up).
Those costs can be as high or as low as you choose. If you send the planner your inspirational pictures or boards, she will be able to make an offer.
Travel to Porto Santo
There is an airport on Porto Santo (Aeroporto de Porto Santo- PXO) with connections to Funchal, Lisbon and a couple of UK- airports. Seasonal charter flights with a package from one of the travel agencies may also be an option. 
As Madeira's Airport (Cristiano Ronaldo International Airport) has many more low-costs connections, many travellers get to Porto Santo via Madeira. After arriving in Madeira, they may opt for another flight (+-25 minutes duration) or the local ferry:
Accommodation
If you choose Option 1 – hotel wedding – the hotel will offer you the following gift:
– Free stay (subject to availability) on your wedding night
– Two-night stay for 2 people in low season on bed & breakfast
as well as one Vitapool Circuit (a complimentary spa treatment) for 2 people at the Thalassotherapy Centre and a menu tasting for 2 (buffet hot dishes only).
Of course, you do not have to stay in that same hotel your entire vacation. Porto Santo hotel accommodation prices vary greatly per season. 
Explore all Porto Santo hotels: 
Porto Santo – Attractions for your guests
Here are two of my favourite activities on Porto Santo, which your guests might enjoy a lot:
Both are organized by our friends from the Porto Santo Destination Tours, so do not hesitate to contact them for group tickets.
We hope that our post was useful in your decision-making.
Whether you decide to organize your beach destination wedding on Porto Santo, on Madeira, or in any other location worldwide, we would like to congratulate you on your engagement and wish you a wonderful, special day.
Would you like to organize a wedding on Madeira Island or Porto Santo?
Do not miss our latest posts, follow us: