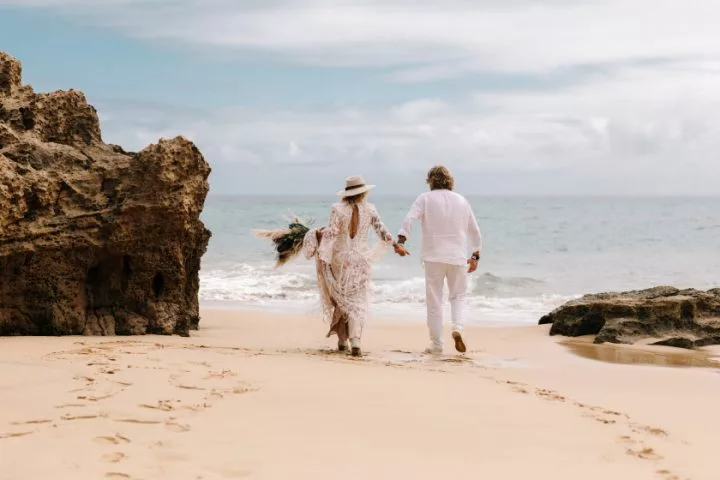 Their original plan was a destination wedding in Greece, but they ended up exchanging vows on a beautiful, quiet beach on Porto Santo, Madeira Archipelago…
Today, we would love to share with you the beautiful love story of Trui & Andre, captured by Fotostudio Zandvoort, a couple of Dutch photo- and videographers, who accompanied the newly-weds on their great elopement adventure.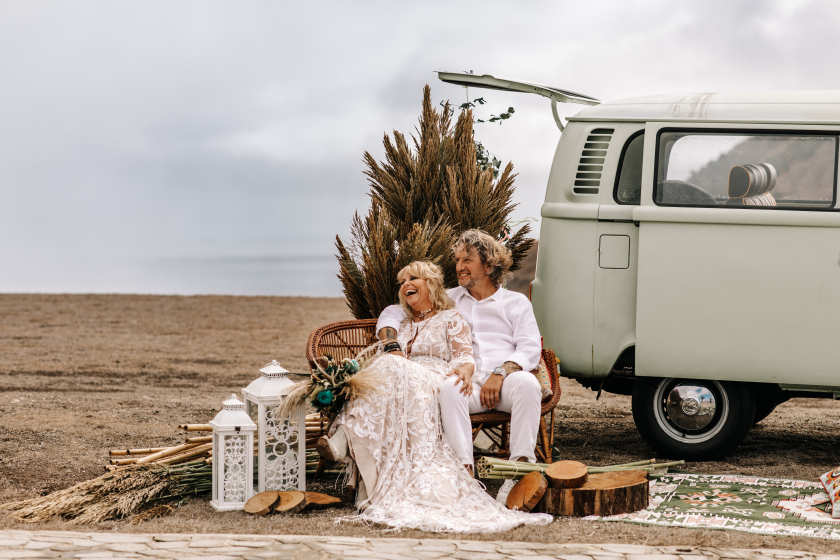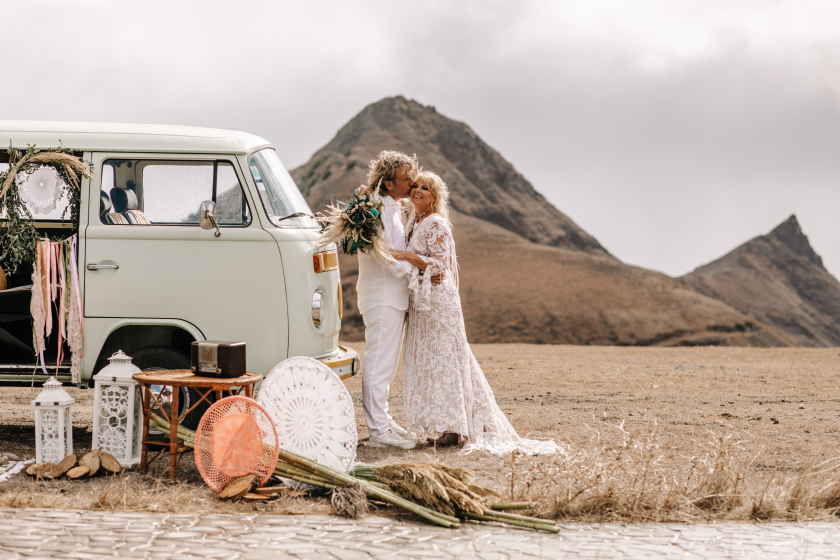 The "Greek wedding" which turned into a beautiful Portuguese adventure…
They planned a wedding in Greece, but their plans were affected by the pandemic. Instead of postponing for yet another time, they decided to change the destination entirely. Madeira Island did not have any corona-related entry restrictions (except for the compulsory tests), so it seemed to be a great option. And that's in short how they ended up on this beautiful, tiny island somewhere in the Atlantic…
Trui contacted us in the second week of September, looking for an English-speaking wedding planner to help them organize a wedding in Madeira on very short notice. She probably did not expect, that the wedding planner she will have a chance to work with, speaks also some Dutch…
Such short term elopements are not a problem for our hands-on wedding planner. She eagerly took on the task of making Trui & Andre's beach boho wedding come true. Around 3 weeks later, the couple and their photo&video team were already on the plane from the Netherlands to Madeira.
Then, together with the planner, they boarded a local ferry from Funchal to Porto Santo.
And then they said "JA!"
Their beautiful, intimate boho-themed beach ceremony took place on a quiet, sandy beach. Their pictures will tell you the rest: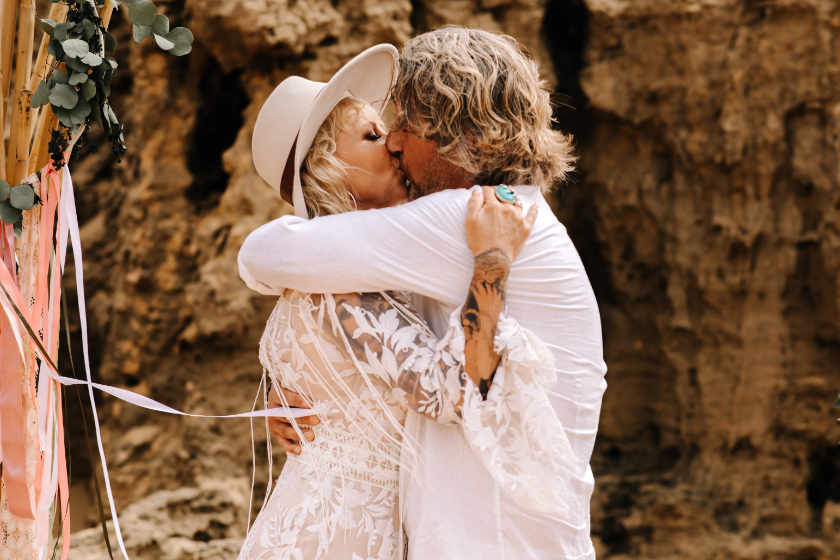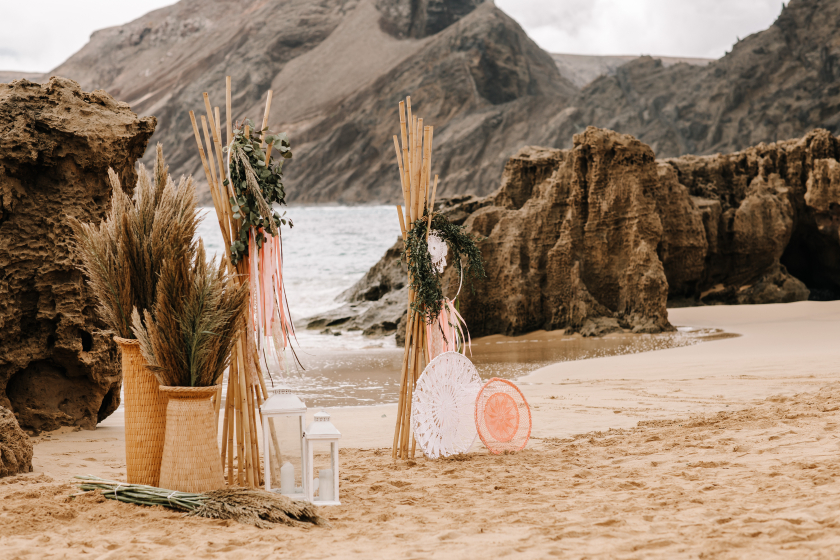 The ceremony was followed by a photo shoot on the Porto Santo Beaches and in some of the Porto Santo's most beautiful spots, such as Pico de Ana Ferreira: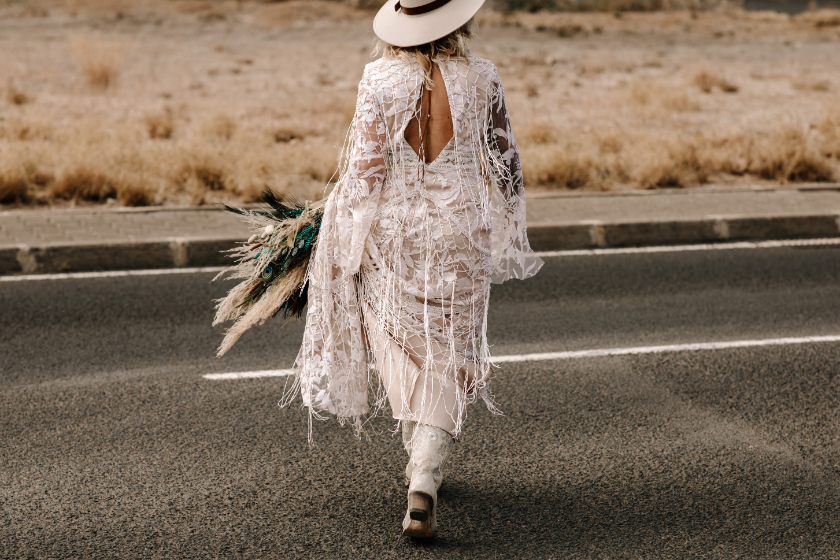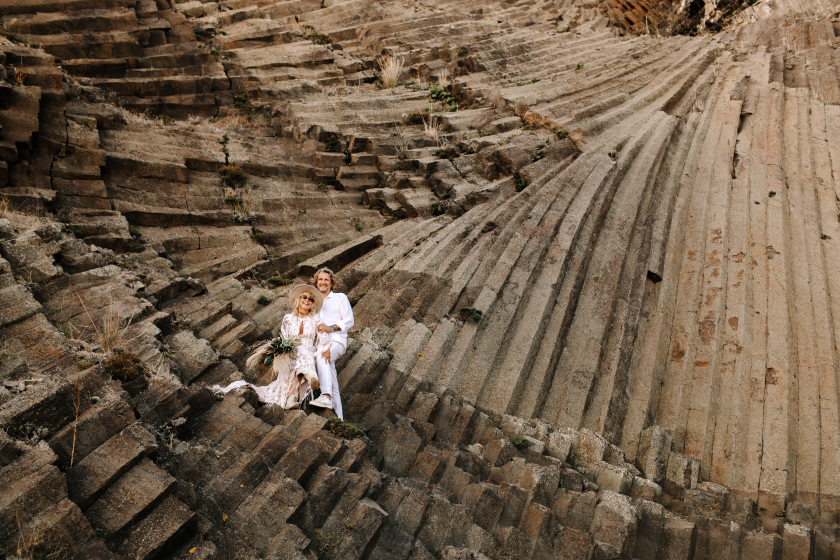 Trui & Andre looked really lovely on their wedding day, and their authentic and beautiful ceremony created a lovely elopement story that will be an inspiration for many couples.
Do you love informal & boho weddings? Check out another beautiful boho wedding which took place on Madeira Island at a lovely wedding venue in Ponta do Sol.
Picture credits – Fotostudio Zandvoort
Compliments also to the amazing ladies – Josi (Photographer) & Sharon (Videographer) from Fotostudio Zandvoort, who easily found out the best spots and perfectly caught the beauty, not only of the lovely couple's special day but also the surroundings. We hope it is not the last time they shot on Madeira Islands and that I will be able to display their work many more times to come!
See the entire gallery on their official website:
They are English-speaking Dutch wedding photo & videographers, ready to follow the couples to their dream wedding destinations. They loved visiting the Madeira Archipelago, so if you would like them to capture your event, do not hesitate to contact them:
If you would like to get in touch with the couple, please visit their WEBSITE or INSTAGRAM account.
A friendly reminder: All pictures in this article are © Fotostudio Zandvoort and just like all pictures on our site, shall not be reproduced, copied, published elsewhere or edited without the author's permission.
We would like to thank Trui & Andre as well as Josi & Sharon for letting us share their charming Porto Santo wedding story & wish them all the best.
Would you also like to organize a destination wedding with the help of local, English (German, Dutch…) speaking wedding planner? Send your wedding inquiry to get an offer.