Câmara de Lobos is a frequently visited by tourists, fishing village located on the west of Funchal. It is a picturesque and colorful place, which will look great on your pictures, especially on a sunny day.
Today I would like to share with you my pictures taken in Câmara de Lobos and give you some tips on great photo spots in this charming fishing village.
Câmara de Lobos (Portuguese: Chamber of the sea lions) is a municipality, parish and town in the southern coast of Madeira. Located actually on a walking distance from Funchal it is considered its suburb.
Most tourists who visit the town of Câmara de Lobos, pass by just for a while. They drink the famous Poncha, Nikita or Pe de Cabra, take a couple of pictures of the beautiful colorful bay and leave. I would like to recommend you to spend here some more time, and at least, take the same short walk as I did.
Câmara de Lobos Bay
The bay is definitely unique; it even inspired Sir Winston Churchill to paint it. It is very charming and photogenic. Tourist love photographing the green cliffs and colourful fishing boats.
You can park your car on the big parking lot next to the port. 
If you continue walking towards the lighthouse on a rock by the entry to the bay, and they keep walking right towards along the water, you will see some beautiful views. 
Jardim do Ilheu Viewpoint on Cabo Girao
Just 5 min away from the bay you will find the park called Jardim do Ilheu. The best part of the park is the viewpoint on a small cliff, overviewing not only the town and Vigario Beach from above but also the beautiful cliffs in the north and the magnificent Cabo Girao Cliff on the east.

Have you brought your binoculars? You will be able to see clearly the spectacular Skywalk – the famous glass deck on top of the cliff. The Teleférico do Rancho restaurant and viewpoint will be visible with your bare eye.
Take the stairs down to the village to now be able to see the cliff from below. Return to the bay walking down the Rua São João de Deus or Rua Padre Clemente Nunes Pereira.
Once you are back in the centre, you may pass by the tiny and beautiful Chapel of Nossa Senhora dos Pescadores (Our Lady of Fishermen). 
This chapel located in the port was built in 1420, by order of João Gonçalves Zarco or visit the (much more affordable than Mercado dos Lavradores in Funchal) fruit and vegetable market in Mercado Municipal De Câmara De Lobos. 
We visited Câmara De Lobos during the Christmas season, so we found a beautiful nativity scene and a small Christmas fair on the main square. 
On our way back to the bay I noticed a beautiful Monstera deliciosa plant growing in a private garden. Of course I stopped to take a picture, as this is one of my favourite plants. 
The long, green fruits of Monstera Deliciosa, looking like a funny, big green pine cone, are one of the most popular fruits bought by tourists in Madeira. They are called fruto delicioso, fruta maravilha, philodendron or banan-pineapple. They are very tasty, but only if eaten  ripe. 
Street art – painted doors in Câmara de Lobos
The Old Town of Funchal isn't the only place in Madeira where you will find street art and colourful doors.
You will find it in the small streets around the Camara de Lobos Bay:
These doors were decorated with recycled aluminium cans collected by volunteers – an amazing and time-consuming initiative. 
Cristiano Ronaldo in Câmara de Lobos
Visiting Câmara de Lobos, we did not expect such a nice collection of original CR7 souvenirs in one of the bars…
SEE POST: [13 places on Madeira related to Cristiano Ronaldo]
Visiting this bar, you want to try one of the most unusual drinks on the island, called Pe de Cabra, which was actually invented in Camara de Lobos. 
Back in the bay, you will see the local fishermen drying their fish.
It is worth mentioning that Câmara de Lobos is reachable with some of the Funchal "Hop-on-hop-off" tours. 
Câmara de Lobos from the east
Climb up the stairs to either João Gonçalves Zarco Street or Caminho da Trincheira. From this side, you will have a view on the bay and the Cabo Girao Cliff. This is also where the Promenade between Funchal and Câmara de Lobos has its begin.
Funchal – Câmara de Lobos Promenade
The promenade between Funchal to Câmara de Lobos is a topic that tourists often look for, but there is a reason why it isn't one of the island's biggest attractions 🙂
This promenade is not what you would expect from a typical promenade in a touristic place. During this walk from Camara de Lobos to Funchal you will see some interesting places: industrial areas, dry dock, where boats are serviced, the whole Praia Fromosa beach and the tunnel at Doca de Cavacas Lava Pools Complex. However, it is not really a beautiful walk with magical views which most tourists would probably expect.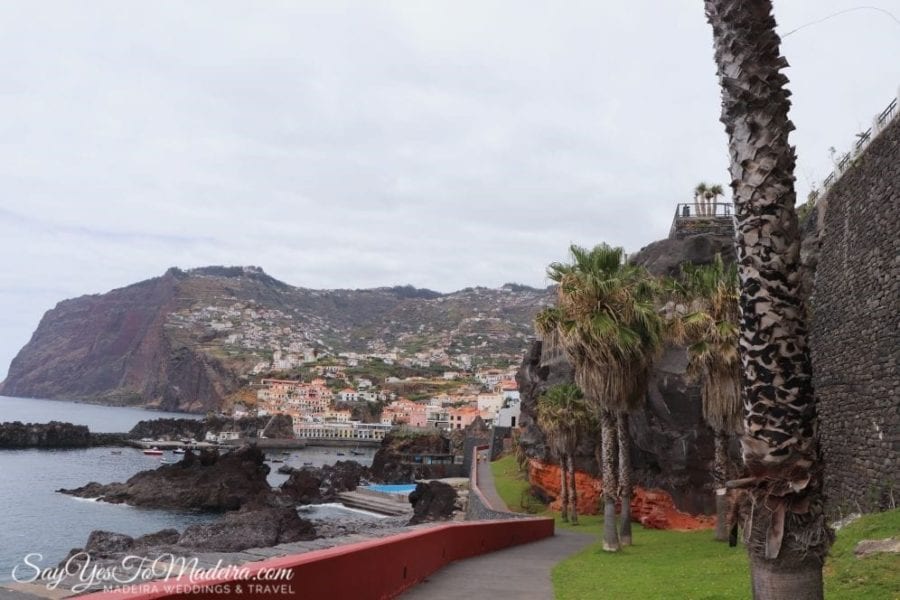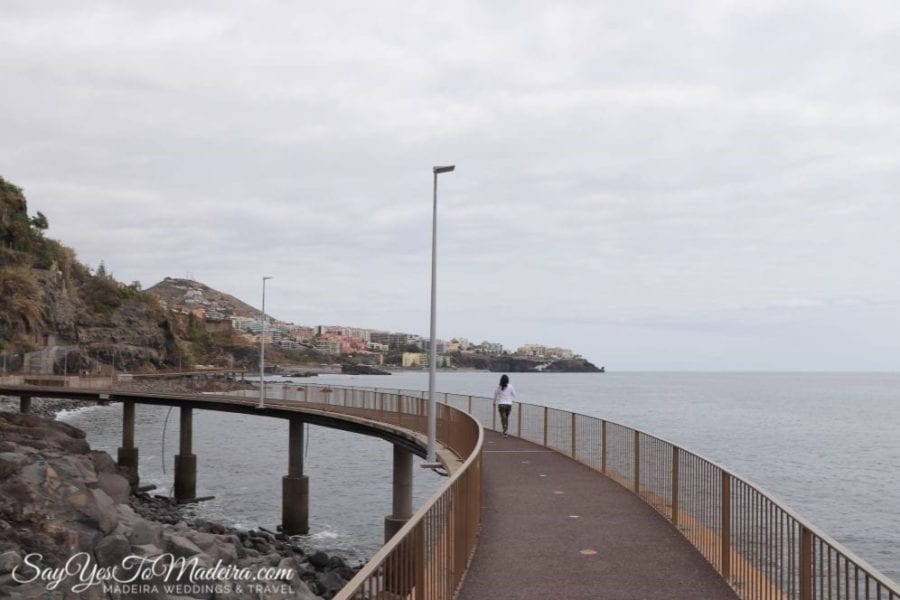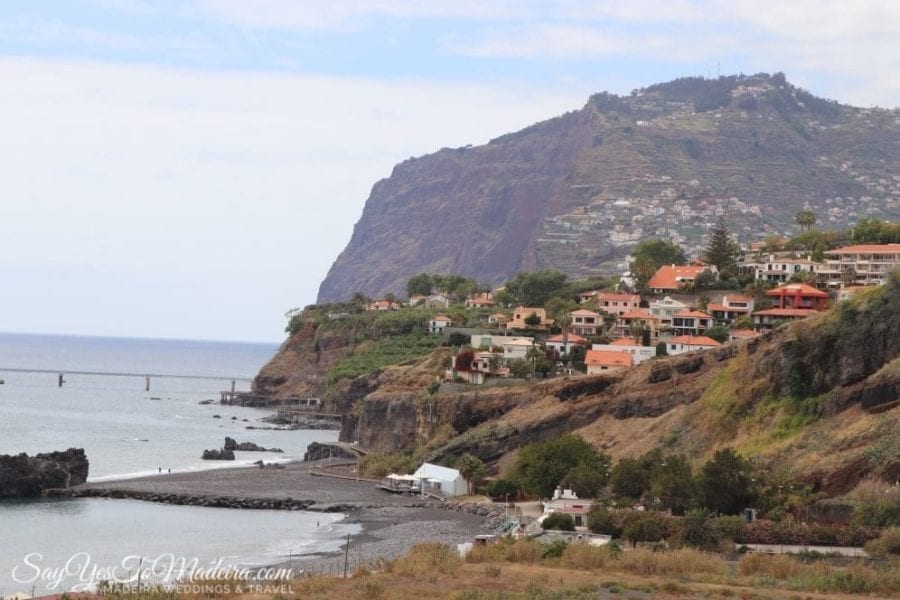 Off-season, some parts of the route are frequently destroyed by bad weather, and the tunnel connecting the promenade with Funchal closed. At the moment of updating this post (July 2019) the tunnel is open again, however, during our last visit, we had to make a big and rather boring detour around Praia Fromosa.
See information about [Promenade Câmara de Lobos – Funchal]
Câmara de Lobos from above: Pico da Torre & drone pictures
Câmara de Lobos looks amazing from above, especially with the little painted boats in the bay. If you do not have a drone, be sure to visit the Pico da Torre viewpoint. Pico da Torre allows you to see the entire Câmara de Lobos town and bay from above.
The region of Câmara de Lobos has much more to offer than the main town. Other stunning spots in the region (Estreito de Câmara de Lobos) are Curral das Freiras, Boca dos Namorados, Boca da Corrida and Cabo Girão Skywalk. 
Faja dos Padres does not officially belong to Estreito de Câmara de Lobos, but it is located nearby, so it is worth adding to your itinerary. 
I hope you enjoyed my tips about photographing the town of Câmara de Lobos. Have you also discovered an interesting photo spot? Share it with us!
Would you like to organize a wedding on Madeira Island or Porto Santo?
Do not miss our latest posts, follow us: