Is a tropical themed wedding something you have always dreamed of? Tropical wedding ceremonies and wedding receptions full of sun, exotic flowers and natural dark green elements can make your event truly memorable.
Tropical-themed weddings are a great option, no matter the location of your special day and your budget. If you are also into tropical weddings, then look no further as we have some amazing tropical ideas from Madeira Island, as well as a completely non-tropical location– Poland.
Edyta (Say Yes To Madeira):  Both the colourful tropical weddings, as well as more tonal versions with a predominance of dark green, are possible to organize in any location, at any time of the year.  I am especially fascinated with this style, because on the green Portuguese Madeira, also known as the "Island of Eternal Spring", you can organize your special day in tropical style without a huge effort, on a limited budget and with a beautiful impact.
Today's post was written together with Paulina, author of the Polish blog Bioręślub.pl .
We both share a passion for beautiful weddings and we both fell in love with the tropical theme you will read about here. Paulina will inspire you with ideas for a tropical wedding – especially a brightly-coloured version, while I was most charmed by the tropical style typified with dark green, large leaves, palm trees and white flowers. However, I do not say 'no' to colours, and I think that well-integrated exotic flowers such as strelitzia, protea and plumeria will also make your decor spectacular.
Above all – dark green
Paulina: Wedding trends have been dominated by botanical themes. The nuptials of many couples have been surrounded by a wide range of greenery and exotic plants; palm trees an graceful monstera leaves.
Monstera plant won us over – it fits perfectly with a tropical wedding theme. It's large, tattered, heart-shaped leaves, have great decorating potential and are definitely worth using in your tropical decorations. They work brilliantly in all kinds of flower arrangements, chair and table decorations or as garlands combined with flowers of a distinctive colour. It is extremely on-trend to use monstera leaves as a plate placemat or in a bouquet.
Monstera – The queen of tropical style weddings
Edyta: Monstera deliciosa is the undisputed queen of the popular urban jungle style and tropical weddings. Regardless of whether you choose the option " white & green" or "bright colours", you should consider monstera plant leaves in your decorations.
While it is commonly known elsewhere as a small pot plant, in Madeira, monstera is a very common outdoor plant…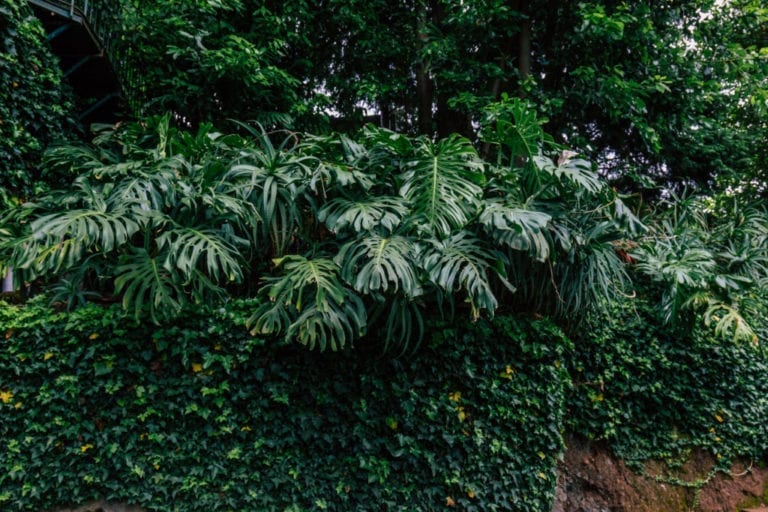 PHOTOS 1-4:  Bożka Piotrowska – Zielona bombonierka – zielonabombonierka.pl | PHOTO 5: sayyestomadeira.com
Its strange, long fruit looks like a green pine cone, and surprises tourists at the fruit markets.. The monstera plant fruit is very tasty, if eaten while ripe. It is called fruto delicioso, fruta maravilha, philodendron or simply banan-pineapple.
Originally a tropical forests plant, it grows well in Madeira's climate. It can be spotted in many gardens and parks, but is also found in the wild. In places like Madeira therefore, it is very easy to organize a tropical-themed wedding. Monstera leaves and tropical flowers such as strelitzia are widely available and can be easily incorporated into our bouquets or decorations.
If you choose a venue with a beautiful tropical garden, you will get a stunning, natural and entirely free background for your wedding pictures. 
PHOTOS: maritdelavera.com
Many other beautiful leaves and branches of palms and ferns are also easily accessible on the island. They are perfect for decorating altars and wedding gazebos.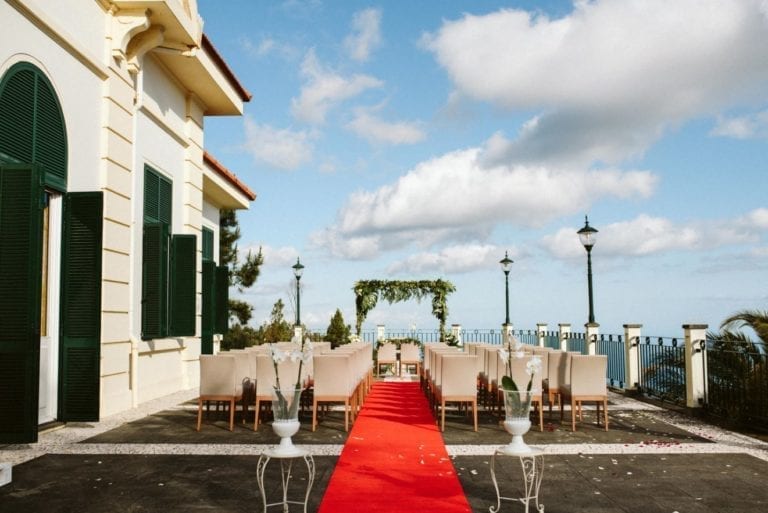 Strelitzia reginae – equally royal Strelitzia
If you prefer a tropical wedding style full of bright colours, next to the monstera plant you will probably find the second queen – beautiful, tall and proud – Strelitzia reginae. Also known as the graceful "Bird of Paradise" flower, it is so popular in Madeira, that it is even considered one of its symbols:
PLUMERIA: @milsA06  |  PROTEA: SAYYESTOMADEIRA.COM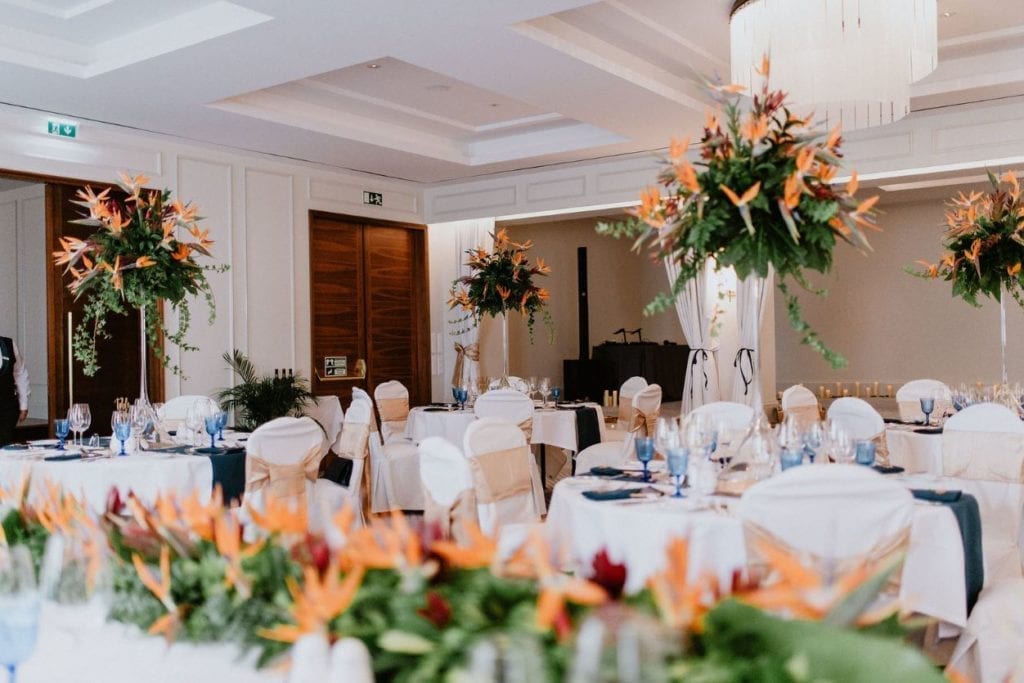 Tropical style wedding.. in a non-tropical location?
Something else to consider is that a tropical wedding is possible in other locations, including those with much colder climates which are not usually considered "tropical". Here, for example, a tropical flower arrangement prepared by a Polish company Decorio:
According to Decorio, it is easy to create tropical-style decorations in countries such as Poland. The cost of tropical style arrangements is also comparable, to classic floral decorations, so do not hesitate to ask your florist about it. 
Light dresses
Paulina: Particularly ifyou choose a tropical-themed beach wedding, the ideal dress for the bride will be a light, airy and lace boho-style that will emphasize the casual and warm climate of the occasion. The best choice would be a light, natural makeup emphasizing the bride's natural beauty and loose hair.


To decorate the bride's hair, an arrangement of tropical leaves and flowers can be used as a floral crown, head wreath or simply loose. The groom needn't dress formally, with no tuxedos required for this type of wedding. We suggest a loose, white shirt combined with light trousers, a matching tie or a bow tie and a boutonnière made of the same tropical flowers, matching perfectly the bride's bouquet.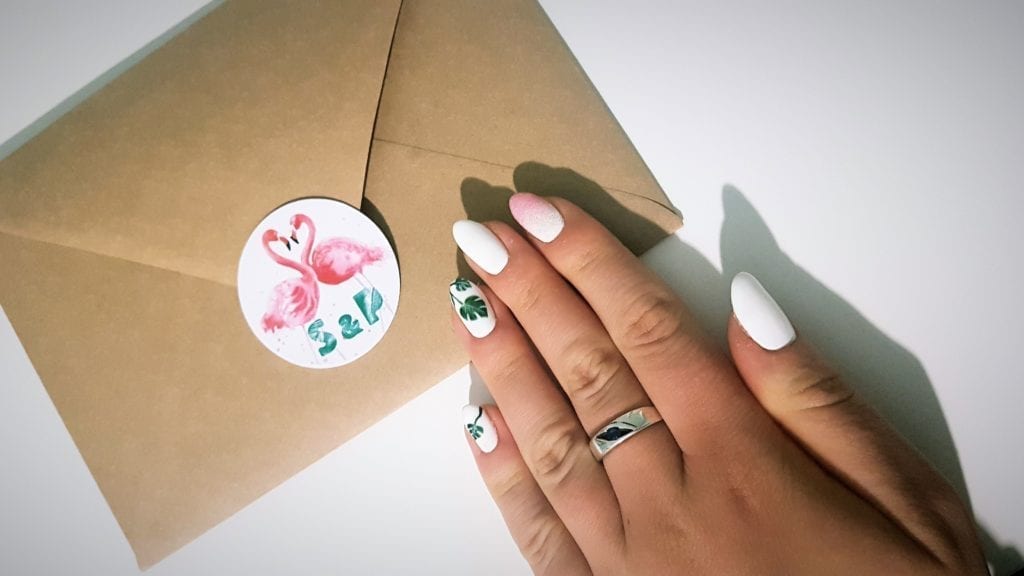 If you are choosing a tropical theme then it vital to prepare your guests and let them know about the Hawaiian, loose dress code during your wedding. This allows them to experience the informal, relaxed, warm and summery atmosphere as well. 
Incorporate tropical elements in your wedding invitations
Edyta: Wedding invitations are no longer simply used to provide guests with important information about the time and place of the event. Personalized invitations and save-the-dates are a great way to prepare guests for what kind of wedding they can expect.
Luckily, there are many tropical-themed invitations available online, here just a couple of examples:
Colourful, exotic food and drinks 
Paulina:  Intense yellows, distinctive pinks and oranges combined with sea blue and deep greens are the colours that make the perfect base for creating tropical decorations that emphasise the exotic atmosphere of the wedding ceremony and reception. Combined with exotic flowers decorating tables and chairs, different exotic fruits such as coconuts, bananas and pineapples placed in wooden bowls can be used to give your reception a tropical touch. You could hire a skilled bartender to create spectacular cocktails and colourful drinks. Your guests will appreciate a refreshing break with a delicious drink in their hand. When it comes to food, beautifully decorated fish and seafood dishes will be the most suitable options.
Colourful accessories such as tablecloths, candles and centrepieces can include tropical elements as well as your menus, table signs and wedding cakes. These little touches will give your wedding reception a relaxed, tropical summer vibe, where you and your guests are able to have fun all night long.
Edyta: You will be able to effortlessly plan your perfect tropical wedding menu in Portugal. In Madeira, fish and seafood dominate the local cuisine. Typical local dishes such as lapas (limpets baked with garlic) and espetada (meat cubes baked on a laurel skewer) are not usually elegant enough to be served as a wedding dish, but hotels and restaurants are ready to serve us with more sophisticated wonders.
During our wedding dinner in Funchal, Madeira, our guests had a chance to enjoy dishes such as: seared scallops, wild fruit sorbet with beirão liqueur and roasted grouper fish with chorizo on an asparagus risotto. Prawn towers, shrimp cocktails, seafood salads, and all kinds of meat and fish dishes, such as fried fillets of black scabbard fish with maracuja sauce, dorada and swordfish are also very popular.
Black scabbardfish (Port: espada) is a particularly unique fish that should not be missed, as it can be found almost exclusively in the waters around Madeira, the Azores and Japan.
PHOTOS: Restaurante do Forte, Funchal
Madeira is also a paradise for fruit lovers. In Madeira there is a large selection of delicious exotic fruits such as mini bananas, passion fruit, papaya, anona, and hybrid fruit such as banana-passion fruit, passion fruit-pineapple, passion fruit-orange, banana-pineapple and others. Local mango or avocado also do not taste the same as in other countries.
As if that were not enough, Madeira is also famous for its delicious alcoholic beverages: sweet or dry Madeira wine, Poncha (a traditional local drink prepared with a base of aguardente, honey and lemon juice, oranges or passion fruit) and liqueurs with different flavours (for example, passion fruit , eucalyptus, chestnut or cherry, also called Ginja).
Our tropical wedding dishes in Madeira will look beautiful and taste equally delicious.
Beautiful wedding & unforgettable memories 
Paulina: A wedding amongst the picturesque scenery of Madeira can provide a unique backdrop for your special day. Both the green-white as well as the colourful version of our wedding theme can highlight the tropical feel of your wedding. This theme is extremely vivid and there are many creative ways of incorporating it into your special day.
You do not have to spend a fortune and spend a lot of time organising it. The great advantage of outdoor destination weddings is that you do not need a lot of decorations or expensive flower arrangements to make it breathtaking. The landscape will be the best decoration. A few simple decorative elements that you can order or prepare yourself are enough and do not overshadow the beauty of the ceremony and wedding venue.

Biorę ślub.pl 
(PL: "Getting married") IS A BLOG CREATED FOR all brides-to-be looking for wedding ideas for their special day. It is a place inspiring to create something spectacular and one of a kind. It is an inspiring blog created with passion, full of ideas, which can become part of your wedding day.
Looking for a perfect place for your destination wedding?
Would you like to elope or get married in Madeira Island?
[Get an offer] or contact us: