"An escape hotel" is how the hotel introduces itself to guests on the official website. Its location is spectacular – located on the top of a peninsula shaped cliff offers amazing views; on the blue Atlantic Ocean, the nearby rich green hills covered in banana trees, the beach, both sunrises and sunsets, and a charming, historic village lying at its feet.
If you are looking for an amazing venue for your destination wedding on Madeira, Estalalagem da Ponta do Sol should definitely be on your list. For more information about the event potential of this place, please visit our other post:
Weddings at the Estalagem da Ponta do Sol ►
Today, we will tell you more about the Estalagem hotel as a place to stay.
Estalagem da Ponta do Sol – A Unique Hotel
It will pleasantly surprise you from the moment you arrive. Your taxi will leave you at the parking lot down at the village center. You will need to take the first lift up, which will bring you to the reception. On that same level, the main garden and the restaurant are located. This is the old part of the hotel, built in a renovated quinta-style house.
Then, you will need to take the second, outdoor lift and walk through an emblematic bridge, to reach the rooms. This is the new part of the hotel.
The hotel's gym and the outdoor pool are just nearby. Passing by the beautiful infinity pool, you will reach my very favourite area of the hotel – the almost-panoramic ocean view bar and terrace.
You can get a glimpse of this truly unique and impressive location by watching the videos below…
Estalagem da Ponta do Sol – Videos
A nice look on the hotel and its surrounding area from a drone:
And here is our detailed tour of the hotel's premises and its pool:
In our Weddings at Estalagem da Ponta do Sol post, you will find two more detailed videos presenting two of the hotel's wedding and event areas – be sure to check these out as well.
Estalagem da Ponta do Sol – Location
Ponta do Sol is a small, 500 years old village located in one of the sunniest areas of Madeira – approx 25 minutes from Funchal and 40 minutes from the airport.
The address:
Quinta da Rochinha
9360-121 Ponta do Sol
Phone: +351 291 970200
Fax: +351 291 970209
Estalagem da Ponta do Sol – Design Hotels Group Member
Estalagem da Ponta do Sol is not a chain hotel, but instead, it belongs to the prestigious Design Hotels Group. The hotel was opened in 2001.
The architect – Tiago Oliveira – was well aware that being located so high on the cliff, the hotel will become a landmark of the entire village. His goal is to create a beautiful hotel, which would be incorporated smartly, without obstructing and changing the landscape. He succeeded.
The hotel building is elegantly incorporated into different levels of the cliff. The restaurant is what used to be an old quinta-style villa, retaining its characteristic elements. In the garden next to the restaurant you will find a considerable size and centuries-old Dragon Tree. The modern and comfortable interiors of the hotels were designed by Carvalho Araújo.
Estalagem is not and never meant to become a big, massive-tourism hotel. It is a relaxed, escape hotel that will not disappoint you.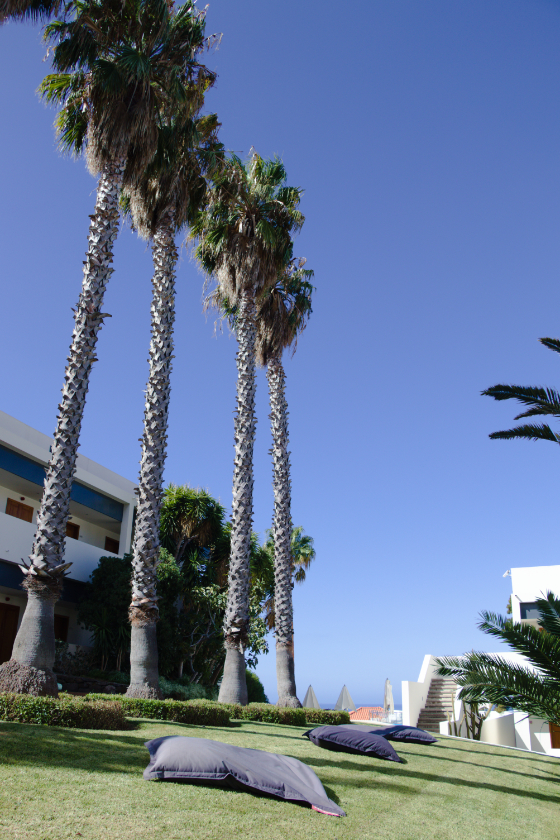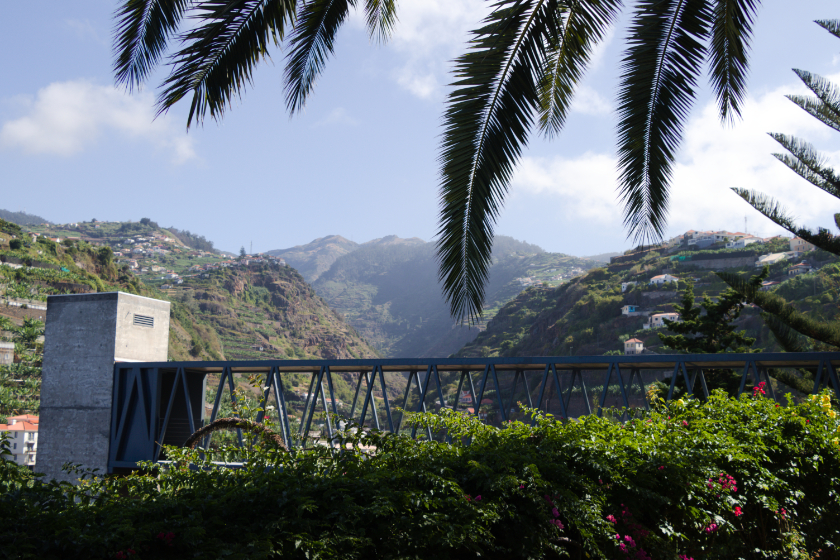 Estalagem da Ponta do Sol – Gardens
The hotel puts much attention on all the plants at its premises. You will find beautiful flowers and old trees in all the corners of the hotel, but especially in the restaurant garden:
Estalagem da Ponta do Sol – Pools
It is impossible not to notice the hotel's beautiful and inviting infinity pool.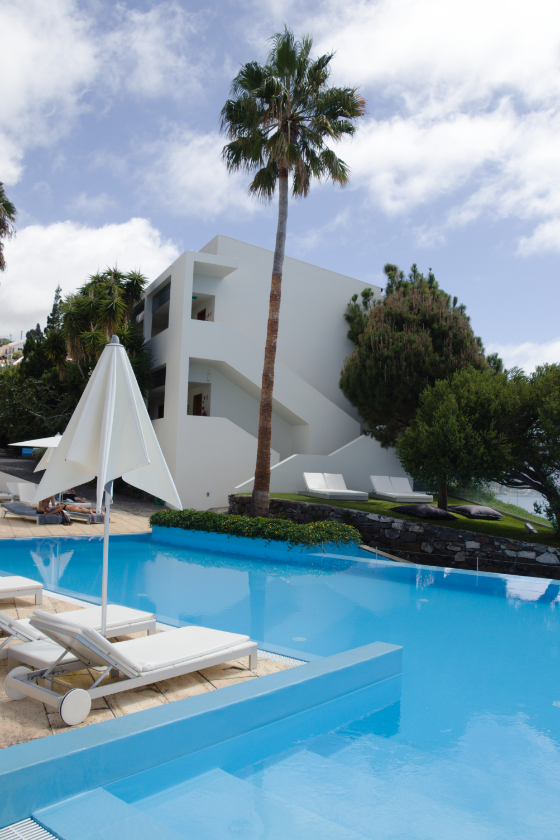 What stroke me is the silence and a relaxed atmosphere around the outdoor pool, something that is not guaranteed at all hotels.
It is of no surprise that the Estalagem's pool was included in our ranking of the 13 BEST HOTEL POOLS ON MADEIRA.
Besides the outdoor infinity pool, the hotel has at its premises also a heated indoor pool (~32 cº, an amazing jacuzzi with a view, a steam bath, a sauna, a panoramic hydro-massage bath, and two massage rooms. There is a small gym with a view as well.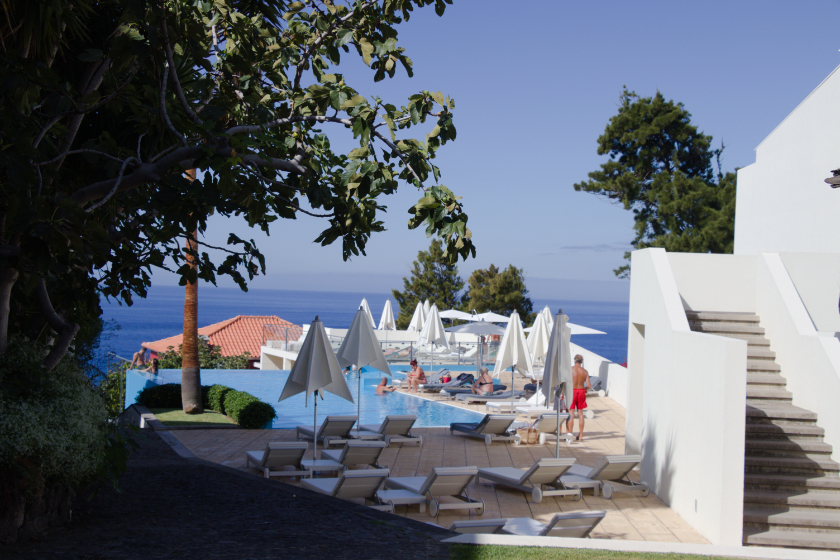 Estalagem da Ponta do Sol – Rooms
There are 54 rooms in total. You may choose between "Seaview" and "Garden view" rooms. All rooms are furnished in a modern, cozy, but minimalistic way – in a white, gray, and black palette. Big floor-to-ceiling windows allow you to enjoy the great views & garden from your room.
All rooms include a bath/shower, hairdryer, minibar, tea and coffee facilities, TV, telephone, air conditioning, and a safe.
I was staying in a "Garden View" room, and this was the view from my hotel room's garden/balcony.
Estalagem da Ponta do Sol – Restaurant
The restaurant serves international dishes with a choice of Mediterranean, vegetarian, and local specialties.
The restaurant has an indoor room offering great views, but most guests prefer to be served on one of the small terraces or in the hotel's garden. As the garden is facing west, it is a lovely place, especially during the sunset.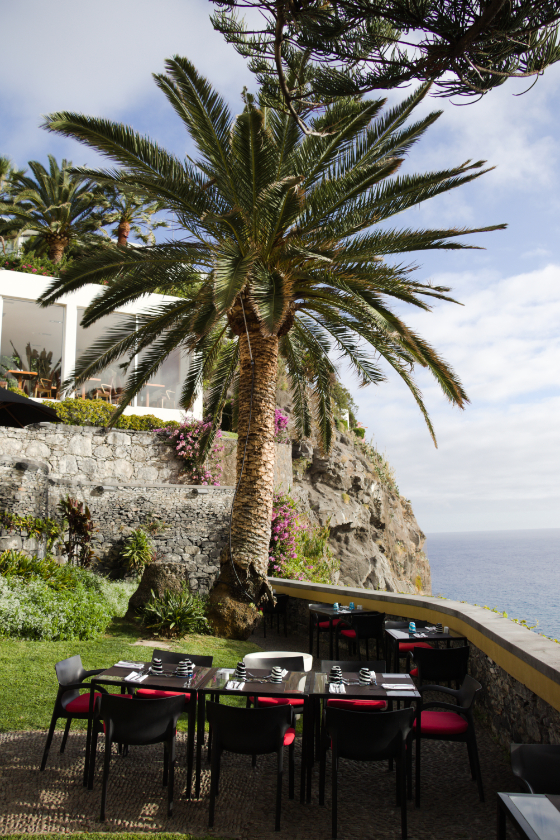 It is not the only place serving food at the Estalagem. You can also grab lunch in the hotel's ocean-view bar…
Estalagem da Ponta do Sol – Poolside Kabo bar
I spent most of my time in the bar above the round ocean view deck, called Poolside Kabo bar: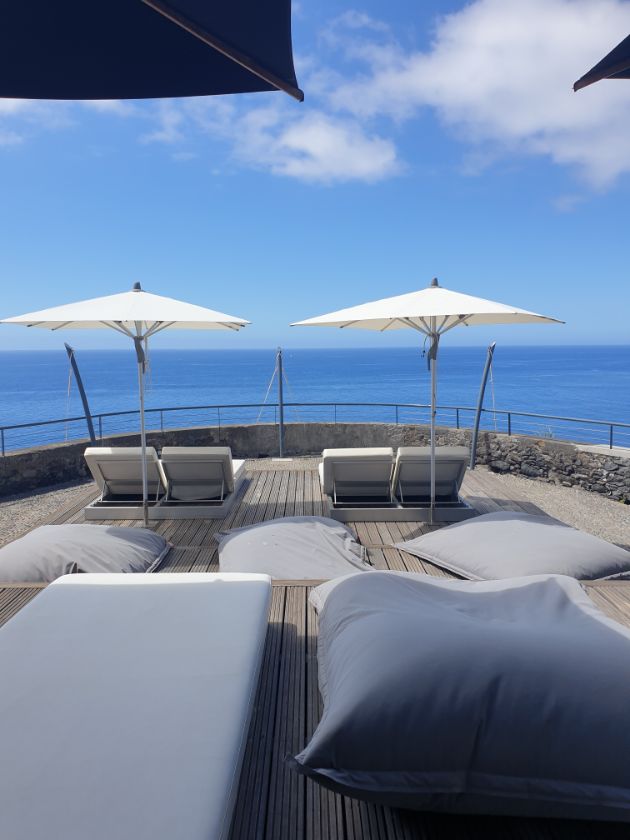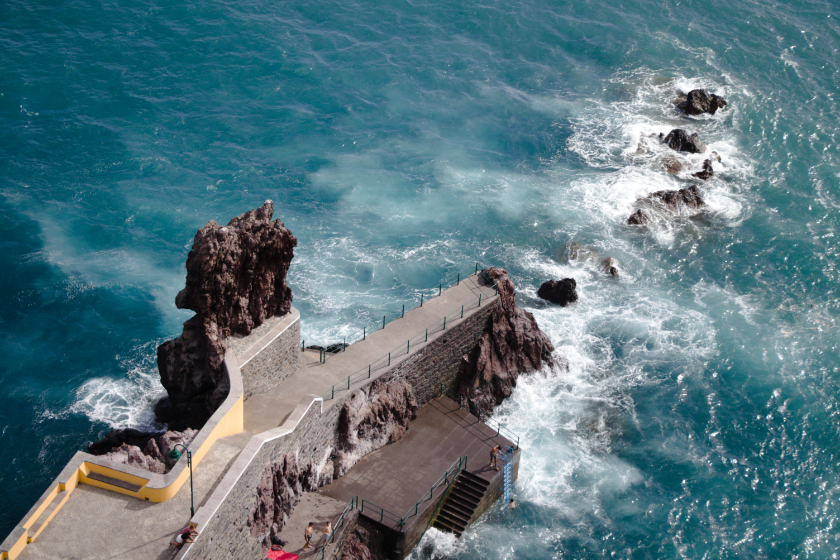 More about the deck itself in our weddings post.
Estalagem da Ponta do Sol and Hotel da Vila
Hotel da Vila, designed by Duarte Caldeira is another hotel, located on a 3 minutes walking distance from Estalagem.
If you choose this hotel, instead of a magnificent cliff location and a beautiful pool, you will stay at a modern hotel located in a historic centre, next to different cafés and restaurants, and just a couple of steps away from the beach. It has 15 rooms, all of which have an ocean view.
Hotel da Vila is a more affordable "smaller brother" or Estalagem da Ponta do Sol, with rates ranging between 75-90 EUR per night. Whenever you are staying, you are free, however, to use the facilities of both buildings.
Estalagem da Ponta do Sol – Complimentary shuttle service
No matter which hotel are you staying at, you are free to use also the hotel's courtesy bus service to/from Funchal, nearby towns (Ribeira Brava, Calheta), and some popular hikes in the area. Guests are requested to book the free bus service one day in advance. This is a great wonderful solution for those who did not rent a car.
SEE POST: PUBLIC TRANSPORT ON MADEIRA
Ponta do Sol Area – Attractions
Ponta do Sol is a nice charming village that's worth a visit. Tourists usually visit the beach and walk towards the famous yellow pier (Cais da Ponta do Sol), from where they have a beautiful view of the colorful promenade and the emblematic tower of the Church of Nossa Senhora da Luz.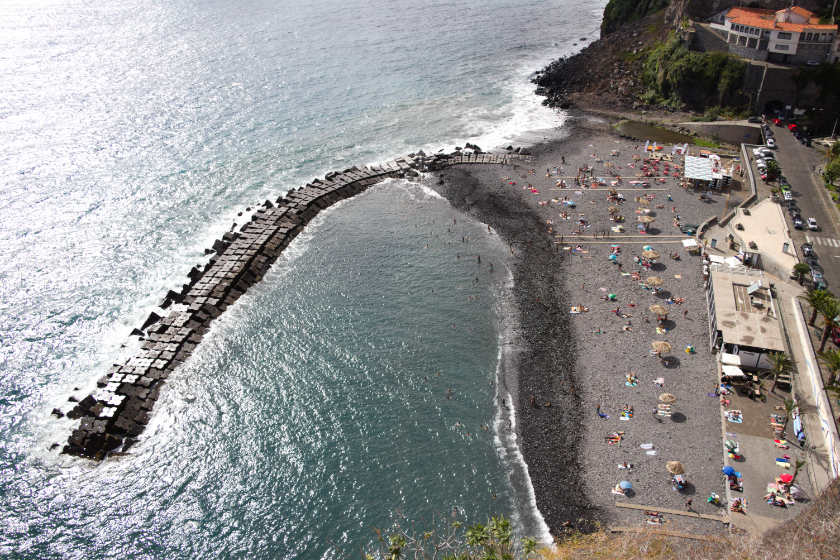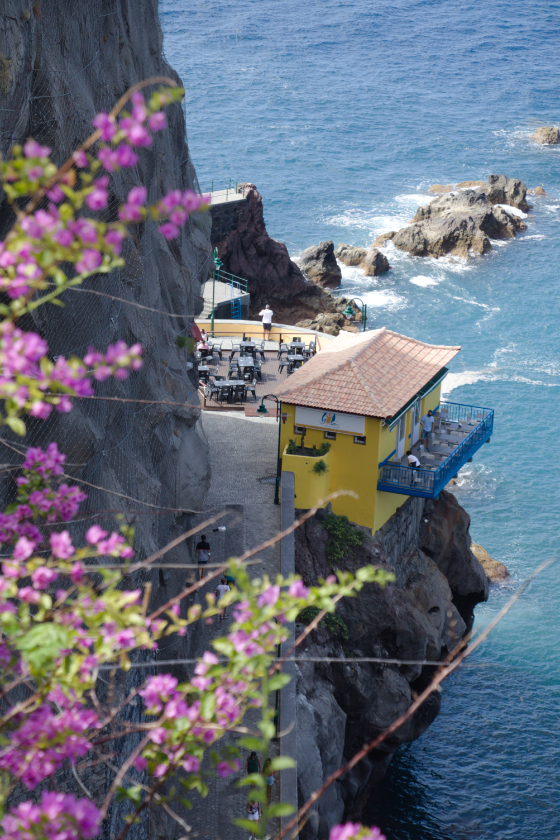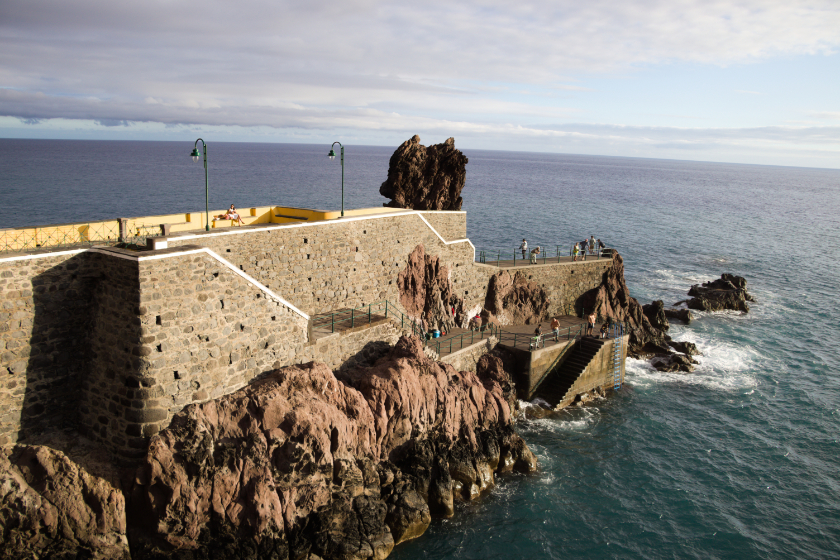 There are also a couple of nice bars and restaurants, for example, the well-rated café called The Old Pharmacy.
If you have ever seen one of the famous pictures presenting people and cars under a waterfall and wondered where on Madeira can you find this spot – it is also located nearby. See Cascata dos Anjos.
One of the popular hikes with a famous waterfall carved in a rock is also located in the area. See our post:
Levada do Moinho – Levada Nova
The most popular picture from Levada do Moinho – Levada Nova is a picture of a characteristic waterfall carved in the rock. This part of the hike is definitely…
Estalagem da Ponta do Sol – Our Review
Great TripAdvisor ratings do not surprise me at all. Other guests, also appreciate the hotel's unique location, comfort, design, but at the same time a relaxed, laid-back atmosphere.
When it comes to weddings, it is one of the best options eloping couples could choose from. It will be a perfect option for couples, and definitely great for a honeymoon. It is a beautiful hotel with great views, a nice pool & spa facilities… and an amazing vibe. Away from crowds, away from busy tourist district – it is a nice hotel where you can relax.

Estalagem da Ponta do Sol is a popular hotel, so if you really like it, do not wait too long with booking your stay:
And if you would like to organize your wedding, vow renewal, or any other kind of event at this hotel, read our post Weddings at the Estalagem da Ponta do Sol, or directly contact our English (German, Portuguese, Polish, Spanish…) speaking wedding planners [HERE].
Have you also stayed at the Estalagem da Ponta do Sol? Leave your comment below.
Weddings or photo shoots on Madeira? We can definitely help: Contact
Do not miss our new posts – follow us:
If there is one hotel on Madeira Island that has a truly overseas destination wedding vibe, that would be in my opinion Porto Mare. Green banana & palm trees, azure blue pools, and most of all: a beautiful sea view altar – if this is what your dream wedding location looks like, you might want to consider Porto Mare Hotel.
Continue Reading… Wedding venues in Madeira: Oceanview Altar at the Porto Mare