It's difficult to explain in one sentence, what the Universo de Memorias Joao Carlos Abreu in Funchal really is. 
Officially categorized as a "speciality museum", in my eyes, it is much more than that. It is truly, an entire "Universe of Memories" of a passionate and talented person. It is a beautiful collection of his accomplishments and memories, which definitely deserved to be shared with others…
Where is Universo de Memorias located?
Universo de Memorias is located in Funchal, Madeira Island on Calçada do Pico street, approx 5-10 minutes walking from the city centre. It is located in the Centro Cívico e Cultural de Santa Clara; next to the Museu da Quinta das Cruzes.
The building itself is a charming and elegant 19th-century villa with a beautiful view of the Bay of Funchal. There is also a tea house with a beautiful garden, which is open to the public. 
Five Reasons why you should visit Universo de Memorias 
1. A beautiful and unique collection 
Universo de Memorias Joao Carlos Abreu is truly something else. It is hard to believe, even for the owner himself, that all the presented art was collected by just one person…
João Carlos Abreu acquired all the art pieces during his trips around the world mostly as a Regional Secretary of Tourism and Culture in Madeira. This Universe of Memories reflects his life as an artist, traveller, journalist and public person. More about this unique exposition below.
2. Beautiful view on Funchal
You can enjoy a nice view from the garden/cafe (free access) on the ground floor, but the best view is from the balcony on the top floor of the museum. 
3. One of Funchal's most charming cafe gardens
The cafe has a small indoor area connected with the museum, but most tables are placed outside. 
4. Amália Rodrigues
If you are a fado fan, you will find here a couple of traces of the Queen of Fado – Amália Rodrigues. Amalia used to be a dear friend of Joao Carlos Abreu. In the museum, you will find among others: her picture with the collector, the letter dedicated to him, a monument of Amalia and even her famous black dresses.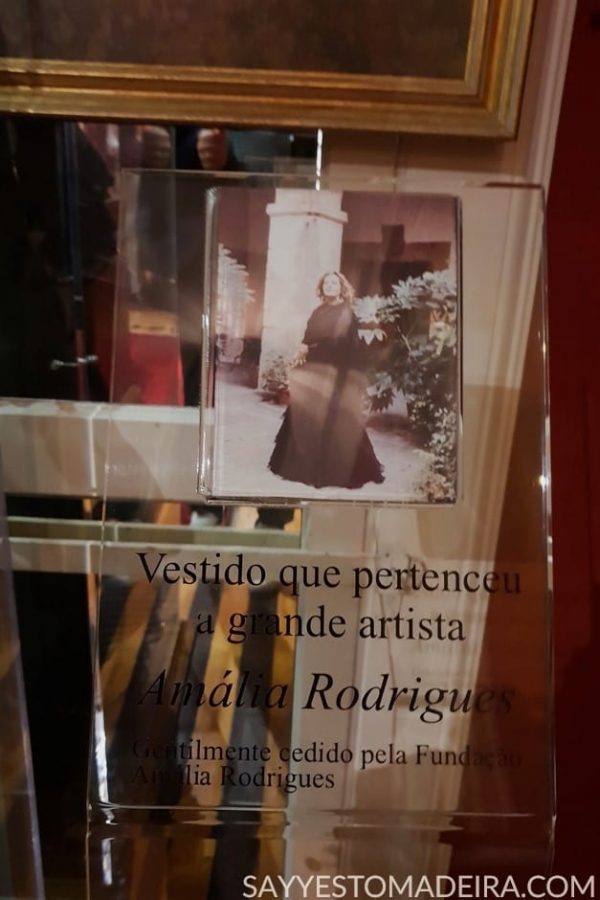 5. A perfect option for a rainy day
Time flies when you start exploring the collection. You can easily spend there a couple of hours… It is a perfect option for bad weather in Madeira. The exhibits aren't unfortunately described in English, but you can always ask the employees for a small tour.
SEE ALSO: 20 X BEST OF MADEIRA 
Who is Joao Carlos Abreu?
Visiting Universo de Memórias is always a pleasure, but it will be a totally different experience, once you learn who Joao Carlos Abreu is.
João Carlos Nunes Abreu is a very distinguished person, especially for Madeira people. His accomplishments are impossible to list. A businessman, journalist, writer, poet, painter, politician… He got many awards, medals, published a couple of books; including two tourist guides about Madeira in English.
He is most recognized for his great service as a Regional Director of Tourism and 23 years-long (1984-2007) service as a Regional Secretary of Tourism and Culture in Madeira. After successfully finishing his 5th mandate, he has dedicated himself to the writing, theatre, travelling and humanitarian causes. Currently, he is the president of the association called CRIAMAR.
I recently wrote about  João Carlos Nunes Abreu in my article about the Old Town of Funchal. Be sure to take a look.
What is his relation to the Old Town? It was him who helped revive the Old Town (Zona Velha). That's why, if you are visiting this neighbourhood, you will see at least 4 memorial boards carrying his name.
During his years-long service, Madeira Flower Festival, Madeira Wine Festival, The Atlantic Festival, Carnaval, the NYE Fireworks show, as well as many other events were introduced. 
GO TO:
FLOWER FESTIVAL 2019 – PHOTO REPORT
FLOWER PARADE FUNCHAL – VIDEOS & PICTURES
WALL OF HOPE PARADE & CEREMONY
He was one of the people who literally put Madeira on the travel map of the world. His goal was not only to bring visitors to Madeira, but also to bring tourists and local people of Madeira together. Madeira wouldn't be the Madeira we know if it wasn't for João Carlos Abreu…
Although he used to live abroad during his youth (he used to work for example in the press services of the Vatican) love to Madeira brought him back home. João Carlos Nunes Abreu still lives in his beloved Funchal, still keeps devoting his time to others- he is presiding The Association of Solidarity for the Development and Support of the Children and Young – CRIAMAR.
Joao Carlos Abreu's collection 
The villa is divided into rooms/areas. On the first floor, you will find a Kitchen, Dining Room, Travel room, the Green Room and the Purple Room. These rooms are beautifully decorated, but just an appetizer for what is coming next…
On the second floor, you will be amazed by the Horses Room (Sala de Cavalos) and on the third floor, you can enjoy among others the famous room full of collected ties. Masks, horses and ties were the biggest passions of Joao Carlos Abreu. 
Horses. Horses everywhere..
Almost 2000 ties from all over the world…
The heritage covers approximately ten thousand pieces, books, ceramic works, paintings and handmade art.  
Back on the ground floor, you will find yourself in a room full of pictures, newspaper articles and private letters. 
Universo de Memorias Joao Carlos Abreu – Practical info
Opening hours: 10- 4pm; Monday to Friday
The address: Calçada do Pico 2, 9000-206 Funchal. Tel: +351 291 225 122
Tickets: EUR 3.50 – regular ticket; EUR 2 seniors, people under 25, students, and groups. Free admission for children under 14. (see picture below) 
How to get there?  If you have no problems with walking up the stairs, the trip to Universo de Memorias will take you approx 10 min from the city centre (Jardim Municipal area) or approx 15 min from the Funchal Marina Area / Avenida do Mar.
There is a sidewalk which looks more like stairs. If you have health issues, I would recommend a short taxi ride. 
Universo de Memorias Joao Carlos Abreu – Reviews
I am not the only one totally overwhelmed by the beauty of the place, and deeply impressed with the collection available at the Universo de Memorias. The place has been well rated by most of the visitors, whether they entered the museum or just stayed there for a drink. 
This is one of my favourite gems of Funchal, and it is also perfect for a rainy day. 
And you? Have you already visited Universo de Memórias João Carlos Abreu?
Would you like to organize a wedding on Madeira Island or Porto Santo?
Do not miss our latest posts, follow us: