If your plan for Madeira is to explore, but also to relax in comfortable indoor and outdoor pools and enjoy easy access to the ocean – the Cliff Bay Hotel in Funchal is an option you should consider.
Cliff Bay – Our video impression
[HERE] you will find another time-lapse video recorded at the Cliff Bay Hotel, showing the amazing city views.
Cliff Bay – General info
The Cliff Bay is a 5-star hotel belonging to PortoBay Hotels & Resorts, located on Estrada Monumental in Funchal, the main hotel area of Madeira Island. What makes its location unique is that it is built on the corner of a small peninsula-shaped piece of land, which guarantees great ocean views both from the east and south. It is conveniently located, close to many good restaurants & not too far from the city center. It is adapted for guests with reduced mobility and it is known especially for its 2 Michelin stars restaurant, great ocean access facilities, and 5-star service.
SEE: MAP OF THE RESORT I OFFICIAL WEBSITE
This 5-star hotel has a full 5-star rating according to other travellers (based on almost 4000 reviews):
SEE: THE CLIFF BAY RATES & RATINGS ON TRIPADVISOR
Cliff Bay – Pools and sun decks
Easy ocean access is not the strongest point of Madeira Island. Many hotels have amazing ocean views, but very few offer comfortable ocean-access facilities and the Cliff Bay is one of the best ones in this regard. That is why I have decided to start off my post with that aspect of the hotel, as this was one of the things that I was positively surprised with, and enjoyed the most.
I had a chance to enjoy a short stay at the Cliff Bay in Funchal in September 2019, when the weather was simply great. I was absolutely positively surprised by their pools and all the hidden chill-out areas on their premises.
READ ALSO: WEATHER IN MADEIRA IN SEPTEMBER
The chill-out and pool solarium areas are very spacious. There is even a diving centre on their premises. There are two jacuzzis, one indoor and one outdoor, hidden among lave rock formations.
At the hotel premises, you will find multiple decks with comfortable and free of charge chairs and umbrellas. Some areas are located on the top of the cliff, some on the ocean level, but there are many in-between floors, beautifully incorporated into volcanic rocks. This allows people to choose many ways and places to sunbathe and swim the way they prefer. There is no competing for limited pool chairs and their smartly arranged areas allow for a lot of privacy.
Adults can choose between two pools, one seawater (bottom pool) and one heated indoor/outdoor pool with fresh water on top of the cliff. There is naturally another smaller pool area for the youngest guests.
You can easily move between these two pools using an outdoor lift.
Next to the pools, you will, of course, find there a sauna, steam bath and an indoor relaxing area and there are also a hairdresser and beautician studio.
If you want to stay active, you have at your disposal a tennis court, table tennis tables, a fitness room and a snooker room.
Cliff Bay – Great location & views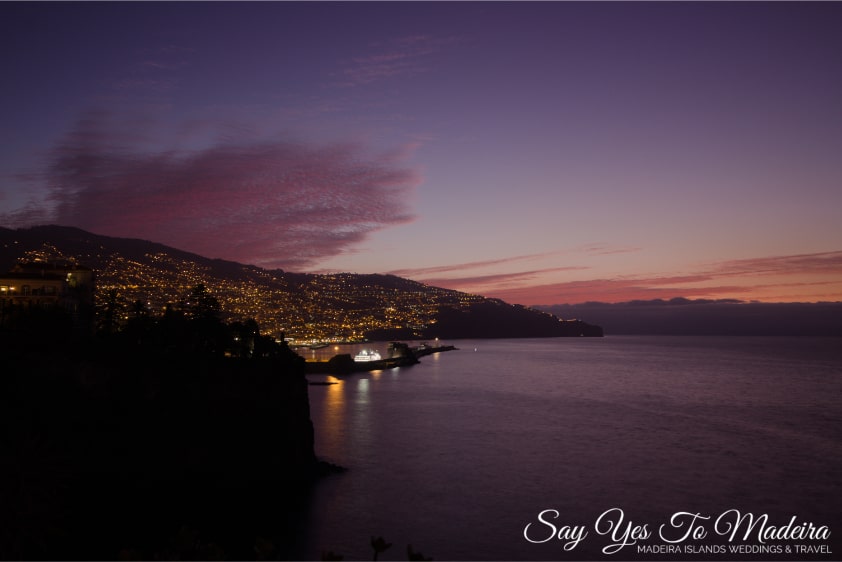 My room was facing the Bay of Funchal, and I was able to enjoy a beautiful, uninterrupted sunset every single day, from the comfort of my own balcony.
I am not usually a person who wakes up early, but in this case, I did. I woke up very early to record some lovely time-lapses of the sun rising. My room was equipped with a quality coffee machine, so there was nothing I needed more. You could find me on my own balcony, enjoying my coffee and observing the sunset every single day.
You could also enjoy the port & city views from one of the quiet garden areas facing east, where you can also find gazebos for outdoor massages.
These are the hotel views on the West:
If instead of city views, you prefer a clear ocean view, your favourite sport will be the main hotel garden.
Cliff Bay – Beautiful garden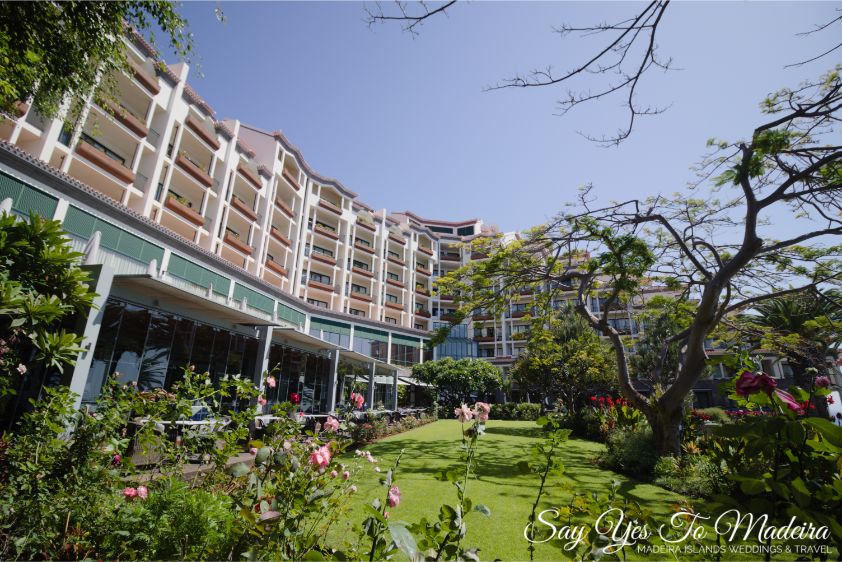 I was also amazed by this beautiful & slightly hidden spot – perfect for all book lovers:
The garden is located by the restaurant called The Rose Garden, where also breakfasts are being served: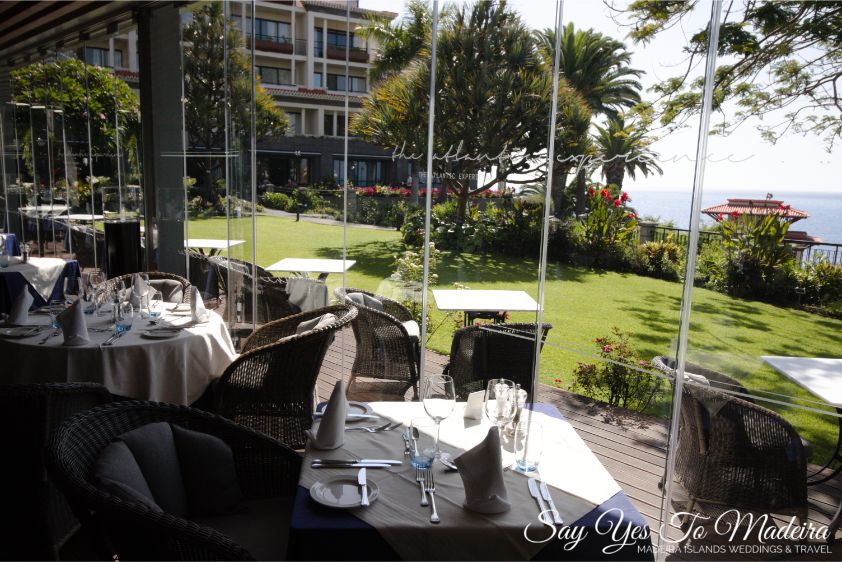 Talking about restaurants…
Cliff Bay – Michelin restaurant Il Gallo d'Oro
In total, there are three restaurants and two bars at the Cliff Bay Hotel. One of them is a 2 Michelin stars restaurant – Il Gallo d'Oro. See:
OFFICIAL WEBSITE (PT, EN, DE, FR)
Il Gallo d'Oro serves Iberian and Mediterranean cuisine and has been under the guidance of French Chef Benoît Sinthon since 2004. In 2009, Il Gallo d'Oro was awarded the first Michelin star on Madeira Island and kept this title until the year 2018 when it was distinguished with its second Michelin stars.
If you are looking for romantic dinner arrangement for special occasions, the restaurant can organize a private candlelight dinner for two, which will take place at a private dining area with the view Bay of Funchal and the Atlantic.
Cliff Bay – Rooms & bathrooms
All rooms are equipped with heating, air conditioning and a Smart TV with over a hundred channels.
I was staying in a Junior Suite, which was very comfortable and conveniently divided into living and sleeping area. The Cliff Bay offers a wide range of rooms, from budget family rooms to exclusive suites, such as the Peninsula Suite or the Executive Suite.
Hotel bathrooms are equipped with a 2100w hairdryer. My bathroom was very spacious, I at both a shower and a bath for my disposal.
Cliff Bay – Services and amenities
Other amenities we have not covered in our article are:
children's facilities, playroom, games room
library, 3 meeting rooms, business centre
free parking
free hotel bus between the hotel and the city centre
free WiFi in all hotel areas
daily live music & themed buffets
24-hr room service
laundry, babysitting
Cliff Bay – Final review
The great hotel ratings do not surprise me. Although it is not the most modern hotel on the island, I enjoyed every second of my stay. Apart from its beautiful gardens, great service, and magnificent views, one of the strongest points of the hotel, in my eyes, is the entire outdoor solarium/swimming pools area. Although it is a considerably big hotel, it offers guests enough privacy and space to have a pleasant stay.
According to some traveller reviews, the Cliff Bay is favoured especially by senior guests, and I can not disagree with it. The Cliff Bay has many returning customers and I would not wait too long with making the reservation.
PortoBay Hotels & Resorts
The Cliff Bay is not the only hotel on Madeira belonging to the Porto Bay group. The other hotels are:
Les Suites at The Cliff Bay *****
SEE WEBSITE I TRIPADVISOR RATES & RATINGS
Porto Santa Maria ****
SEE WEBSITE I TRIPADVISOR RATES & RATINGS
PortoBay Serra Golf ****
SEE WEBSITE I TRIPADVISOR RATES & RATINGS
Porto Mare ****
SEE WEBSITE I TRIPADVISOR RATES & RATINGS
Suite Hotel Eden Mar ****
SEE WEBSITE I TRIPADVISOR RATES & RATINGS
Their hotels can also be found in Brazil and continental Portugal: In Lisbon (PortoBay Liberdade & PortoBay Marquês) , Algarve (PortoBay Falésia) and Porto (PortoBay Flores & PortoBay Hotel Teatro) .
Weddings at the CliffBay?
Are you thinking about the CliffBay Hotel in Funchal as a venue for your wedding? Usually, no weddings are organized at the CliffBay, as the group has another hotel perfectly suitable for such events. The Porto Bay's dedicated wedding hotel on Madeira is the Porto Mare Hotel. At this hotel, you will find a couple of private wedding reception spaces and a beautiful ocean view altar:
If you are looking for a local wedding planner to assist you with organizing your elopement, destination wedding, vow renewal, or another special event at Porto Mare? Contact us or directly send your inquiry.
Have you stayed at the Cliff Bay? Share your review in the comments below.
Weddings or photo shoots on Madeira? Contact
Do not miss our new posts – follow us: