A hidden gem among hotels with beautiful terraces in Funchal – Hotel Golden Residence – where you can organize your dream ocean-view wedding overlooking the ocean and the highest cliff of Madeira – without breaking the budget. A big plus for many couples having guest with disabilities – this destination wedding hotel is also adapted to the needs of wheelchair users.
Hotel Golden Residence – Intro & Location
The Golden Residence hotel, situated in Funchal, Madeira, is a modern 4-star hotel that stands out for its unique location, views, wheelchair friendly facilities, and excellent service.
After staying there for two nights at the turn of 2022/2023 we could not disagree with the good ratings. The goal of our stay was discovering the wedding potential of the Golden Residence, and we still believe that this hotel definitely has a lot to offer.
Here's our video impression of the hotel, focusing on the wedding & event aspects of the hotel:
We recorded this video at four different times of the day: morning, afternoon (around 3-4 p.m.), during the golden hour (around 6 p.m.) and right after sunset.
As you can see, the hotel's unique location offers uninterrupted ocean sunset views, which makes it perfect for late afternoon wedding ceremonies followed by golden hour cocktails.
Our favorite spot: Titanic Corner Wedding Terrace
The hotel's beautiful terrace called the Titanic Corner (due to its characteristic shape) is a great place to hold your small elopement ceremony with a beautiful view. It can be fully privatized for your event and the hotel will prepare seats for your guest at very affordable rates (see below). Any other decorations such as arches can be prepared by an external florist company.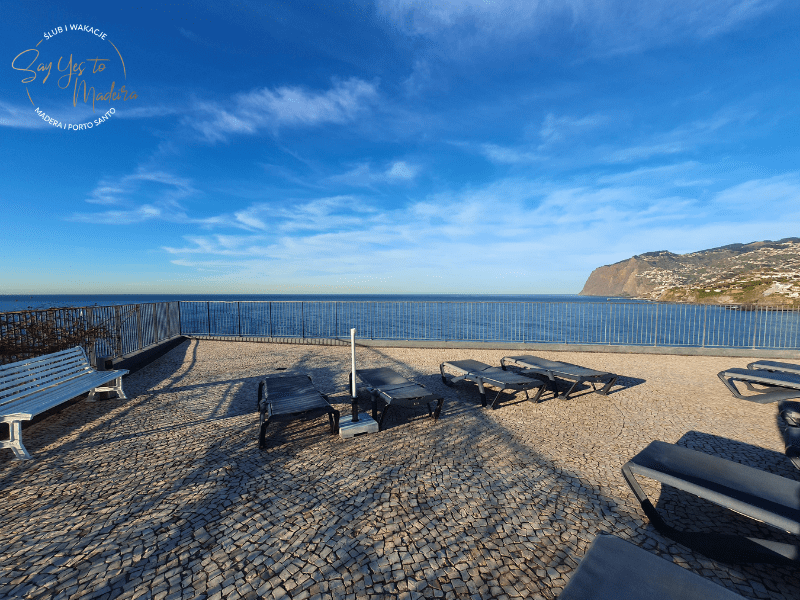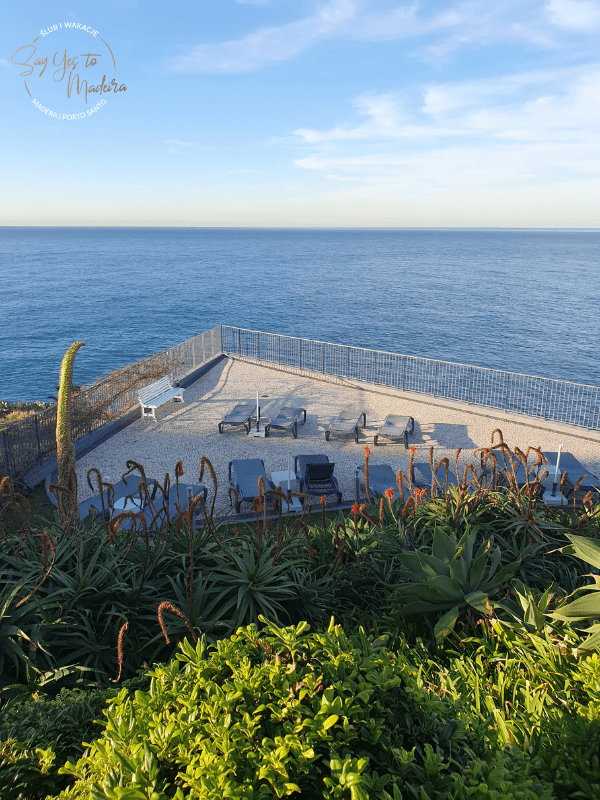 In our video you can see not only the beauty & potential of the terrace itself, but also the way "down the aisle" which in this case, is a way along the ocean.
Hotel Golden Residence – Wheelchair-friendly wedding terrace?
The Titanic Corner is definitely an eye-catcher and the hotel's main wedding area, but it is not wheelchair accessible. If you or any of your guests are wheelchair users, the ceremony can be held on the Upper Poolside Terrace. It has a lovely wave-shaped bench and the same view on Madeira's highest cliff & the ocean. The only difference is that as this is a common area, it offers less privacy and it is not possible to fully privatize it for your event.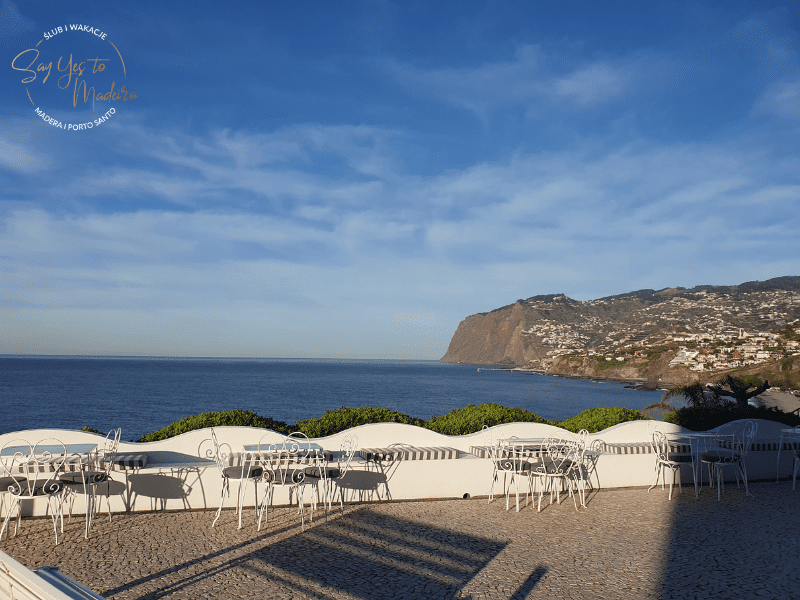 Hotel Golden Residence – Wedding Dinner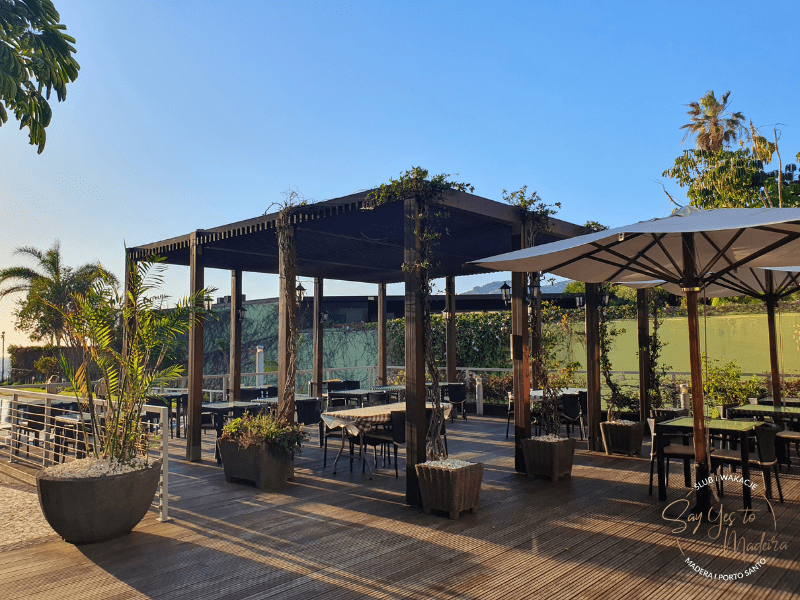 The Golden Residence's hotel restaurant serves international and local cuisine with a focus on fresh, locally sourced ingredients. The restaurant has two parts: indoor & outdoor. Weather permitting, guests can enjoy their meals while taking in the gorgeous views of the ocean and the sunset.
At this moment, there are no separate restaurant rooms you could privatize for your event, but it might change in the future. For now, your dinner or reception will be organized in the main dining area, with part of the room separated from other guests (depending on the size of your event).
Hotel Golden Residence – Other Ceremony & Reception areas
Apart from the Titanic Corner and the Upper (Poolside) Terrace, the Golden Residence also offers a couple of bigger roof terraces able to accommodate big ceremonies. Those decks also have a view on the highest cliff of Madeira.
No matter which spot you choose, Golden Residence offers fantastic, uninterrupted views of the sunset & looks great during the golden hour, which is important if you are looking forward to taking a lot of pictures during your reception.
Hotel Golden Residence – Privacy & prices
If you are looking for privacy, choose either the Titanic Corner Terrace or one of the rooftop terraces. All of these areas can be privatized for your ceremony.
2024 rental fees start at only 350 euro, including table & chairs for your guests. Planning a bigger event, a reception, including rooms for your quests? Ask the hotel for a custom offer.
If you are planning to get married at the Golden Residence Hotel, you do not need to be a guest, but we would recommend it. Why?
Hotel Golden Residence – A place for a holiday stay
Apart from the hotel's views, here are a couple of other things that make the hotel stand out:
Pool & Spa
The large outdoor pool, surrounded by sun loungers and umbrellas, provides the perfect setting for relaxing under the sun. You can sunbathe on both terraces overlooking the ocean & the cliff. Ocean view rooms are also definitely worth it.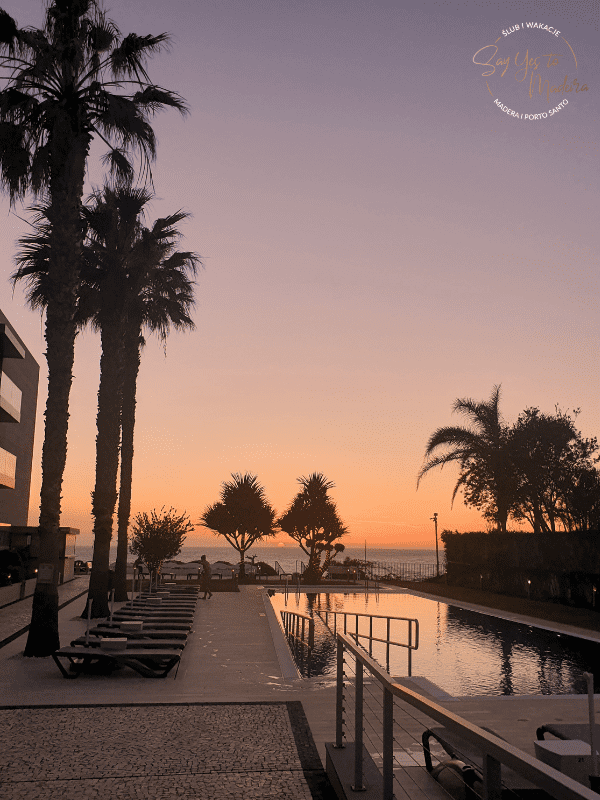 There is also a lovely spa with a heated indoor pool, sauna, jacuzzi, Turkish bath, fitness center, meditation rooms and massage rooms. The spa is a great place to rejuvenate and unwind during your stay. We found the massage prices very fair, gave it a try and obviously – what better way to start your holidays?
Wheelchair accessibility
When you take a look at the beautiful pool, you can't the wheelchair ramp.
The hotel's outdoor and indoor pools also have lifts to provide wheelchair users with access to the water. The hotel's staff is well-trained and happy to assist guests with disabilities, and they are always available to provide any necessary help.
The outdoor poor area is not the only area suitable for wheelchairs – comfortable lifts/elevators and ramps, are installed throughout the entire building, providing easy access guests with mobility challenges & parents with strollers. The same goes for rooms – the hotel offers rooms and suites with wider doors, grab bars in the bathroom, and a roll-in showers with a seat.
In addition to these facilities, the hotel offers a range of services and amenities to make guests with disabilities feel more comfortable, such as wheelchair rental, special transportation arrangements, and a 24-hour front desk service that can help with any special requests.
Great access
What makes Golden Residence stand out is its interesting location. Although it can not be easily seen on the Google Maps, if you switch to the satellite view, you will see that the hotel actually consists of a couple of buildings connected with tunnels and elevators:
That means that you can enter the hotel from two main streets.
Between building B & C – Rua de Cabrestante – is where the main reception is and where the taxi will drop you. The restaurant is located in building C.
Right in front, you will catch buses line 2 and line 9 – so called Aerobus – to and from Madeira Airport.
There is also the second (upper) entrance, very conveniently connecting the hotel with Estrada Monumental – one of the main streets in Funchal.
This entrance/exit will help you reach the nearby shopping mall – Forum Madeira – without having to climb up. Adding this extra exit connecting the entire hotel with the main road is another great thing designed to improve the mobility of wheelchair users.
Here you will find bus stops of line 1 (Linha Verde), line 2, line 48 and line 61 Horarios do Funchal.
For more information on using public transport in Madeira, please visit:
Madeira on a budget – Part III – public transport in Madeira
Madeira on a budget – transport For all those visiting Madeira on a budget, I have prepared a series of three posts about cheap, cheaper or free options for…
Staying at the Golden Residence gives you great access not only to public transport, but also some great attractions nearby.
The hotel is located 5 minutes walk from the Doca do Cavacas – one of the few natural lava swimming pools of Madeira. Through the newly renovated tunnel called Túnel das Poças do Gomes, you will be able to reach Praia Formosa – Funchal's biggest dark sand/pebble beach. See also:
Doca do Cavacas Pools
The famous Porto Moniz pools aren't the only lava pools on the island. Funchal also has its own lava pools complex called Doca do Cavacas (Poças do Gomes).
Madeira's Lava pools & bathing complexes
The best natural (volcanic) pools, bathing complexes (public pools) and a water park in Madeira.
Madeira's Beaches
You won't find beautiful, snow-white, natural sandy beaches in Madeira Island. So, where to swim and what are the beaches like in Madeira?
Comfy suites
The hotel has as many as 172 elegantly decorated rooms and suites to offer. Some rooms come equipped with a kitchenette and living room, making them ideal for extended stays or families.
Book hotel Golden Residence for your stay
Organize your wedding at the Golden Residence
Would you like to organize your elopement at the Golden Residence or in any other place in Madeira? Contact us for free tips & supplier recommendations.
RELATED POSTS: