Art Center Caravel – Funchal's gem for all creative souls
Art Center Caravel is a true gem of the Old Town of Funchal. Rated one of the best things to do in Funchal, this bursting with colors place isn't only a place where we can get inspired, view or purchase art pieces. It is a buzzing place that brings locals, tourists, expat nomad workers, art lovers & coffee lovers and all creative souls together… Let's explore it together!
Explore Art Center Caravel on video:
The video has been recorded in January 2023. Remember that their expositions change regularly, so do not forget to check their official website or social media.
As you see, Art Center Caravel is the right place to purchase beautiful souvenirs from Madeira – from small postcards, hand-made tiles, magnets, cups & more, to big paintings & art pieces (with shipment to your home address). Art Center Caravel is a place that also welcomes people working as digital nomads, letting them work in a designated office space with good coffee and healthy food served just downstairs.
Where is Art Center Caravel located?
The Art Center Caravel is a unique cultural space located in the heart of Funchal, the capital of the Portuguese island of Madeira.
You can enter the building from two different streets. The main entrance address is: Rua D. Carlos I, 19A, Funchal.
You can also enter from the Gift Shop side, which is located on Rua de Santa Maria 60. Rua de Santa Maria is a popular touristic street in the heart of Funchal's Old Town.
The center is housed in a beautiful historic building, which has been restored and renovated to house a range of art exhibitions, and other cultural events.
Art Center Caravel is located right by the bus & cable car station, big parking garage and a taxi stand, making it reachable with any sort of local transport.
Art Center Caravel – What will you find there?
Don't let the seemingly small size of the building fool you; Caravel is the biggest International Art Center, Gallery and Art shop based on Madeira Island! The art center is spread over several floors and comprises a range of exhibition spaces, galleries, a digital working space, a meeting room, a souvenir shop and a lovely café.
The exhibitions in the Art Center Caravel showcase a diverse range of contemporary art, including paintings, sculptures, installations, from both local and international artists: Marcos Milewski, Samuel Santos, Pedro Alves, Anna Fedrova, Marta Horodniczy, Heidrun Edsperger and many more. The art is really inspiring and thought-provoking. The Art Center Caravel also hosts a range of cultural events.
On the first floor, you will find a great souvenir store selling quality, handmade, Portuguese souvenirs made by local artists. If we were to purchase souvenirs from Madeira, it would be definitely in a place like this.
In addition to its cultural offerings, the Art Center Caravel also has a lovely, colorful café called Art Food Corner that serves light meals (including healthy and vegan options) and refreshments, providing a pleasant space for visitors to relax and unwind. Art Food Corner coffee "Chinesa" is one of the best coffees we had a chance to enjoy.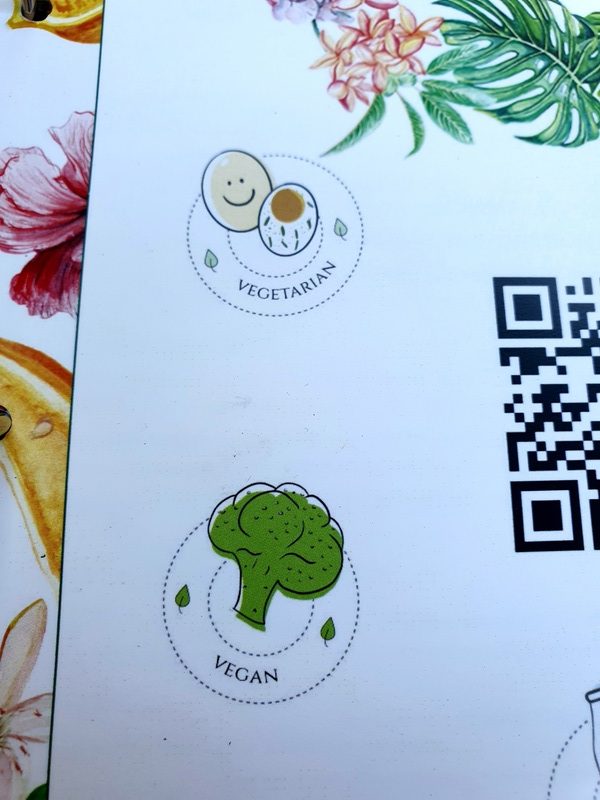 Art Food Corner is also a place where we love to eat our breakfasts. As traditional Portuguese breakfasts are either sweet or heavy, we love to stop at the Art Food Corner for something much healthier.
Art Center Caravel – The most beautiful place to work remotely in Madeira?
For all our digital nomads in Madeira and Madeira (Erasmus) students – don't miss the amazing working area on the second floor. It is completely free of charge and lets you work in an inspiring environment with really delicious coffee.
The nomad working space is located just above the café, and it is one of our favorite spots to work on a computer in Funchal. There is also a separate meeting room with comfortable chairs, which might be the most beautiful and inspiring meeting room we have ever seen.
Caravel Art Center – A beautiful view of the Old Town
If you visit the galleries at the top floor, take a sneak peek from the tiny balcony. You will see from above the lively Santa Maria street, known for its street art project The Art of Open Doors. You will also see the cable cars passing by on their way up and down to the Monte hills.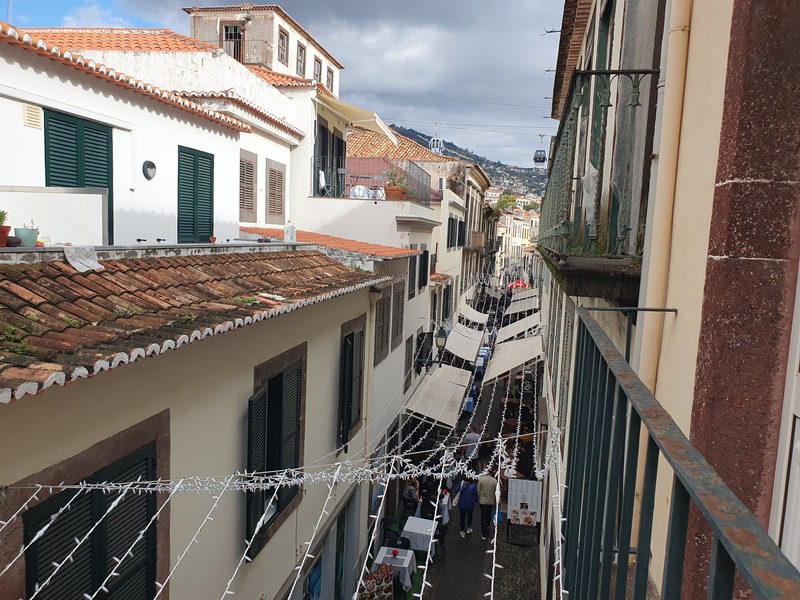 Caravel Art Center – Attractions in the area
You might find yourself stopping by the Caravel Art Center café more often than you think, all thanks to its convenient location. The location of the Art Center Caravel in the heart of Funchal makes it easily accessible for visitors to the city. There are many nearby landmarks and attractions within walking distance. You can combine your visit with the following attractions lying withing 5 minutes radius:
Zona Velha
The Old Town of Funchal with its restaurants and street art:
Funchal Gems: Old Town street art
The Old Town (Zona Velha) used to be a bad neighborhood avoided by tourists. It all started to change around…
Mercado dos Lavradores
Colorful Farmers' Market known for its exotic fruits: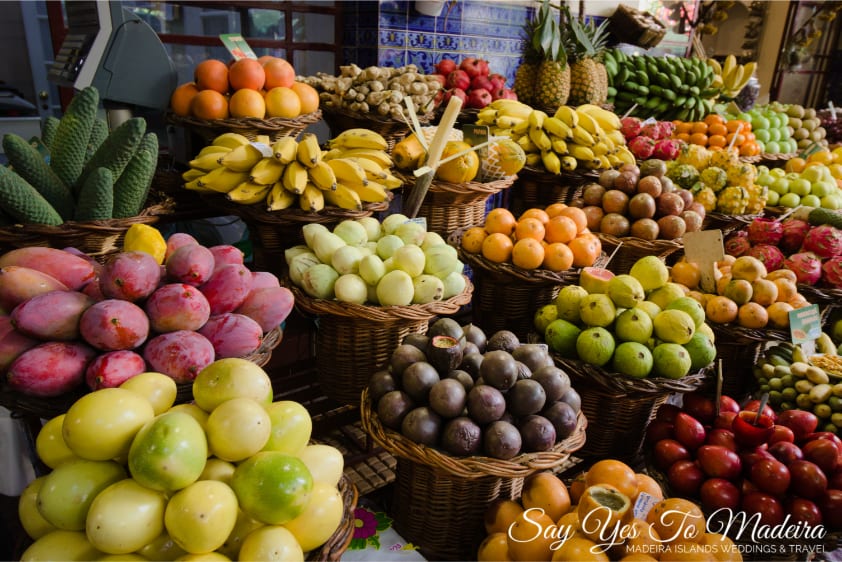 Mercado dos Lavradores
Be careful! Although colorful and beautiful, this place is known to be a tourist trap! Read more…
Right in front of Caravel Art Center you will also catch the cable car to Monte where you will be able to visit the Madeira Botanical Garden.
A bit further, you will also find:
Cristiano Ronaldo's Museum
13 x CR7 – 13 places on Madeira associated with Ronaldo
Are you a fan of CR7? Are you visiting Ronaldo's birthplace island and would you like to visit places associated with him? This post is for you!
The center's location is also convenient for those traveling by public transport, as there are several bus stops nearby that connect the center to other parts of Funchal and the island.
Caravel Art Center – Summary
Overall, the Art Center Caravel is a vibrant and dynamic cultural center that offers a unique art experience for visitors to Funchal. Its highly recommended for all art lovers.
Not a fan of art galleries? You might still like this one. The stunning setting, range of exhibitions, and unique vibe – it is definitely a place with character, where many might feel totally at home. Pass by, at least for a coffee!
Check their TripAdvisor rankings
RELATED POSTS:
Best street art districts Madeira Island
The most famous street art district in Madeira is probably Rua de Santa Maria (Santa Maria Street) in the Old Town of Funchal. Interesting paintings, installations, and murals can also be found in other Madeira towns. Which ones?
Madeira on a budget – Part III – public transport in Madeira
Madeira on a budget – transport For all those visiting Madeira on a budget, I have prepared a series of three posts about cheap, cheaper or free options for…