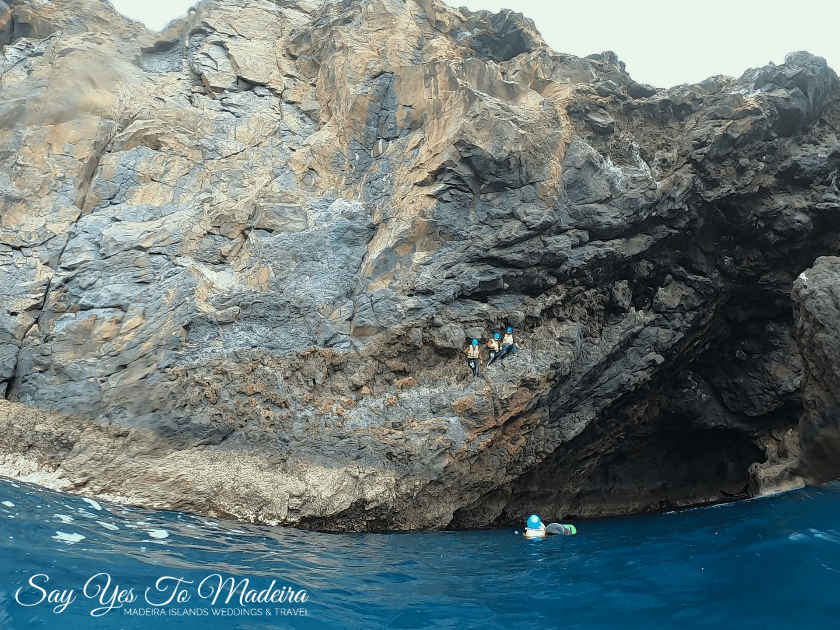 What is coasteering, and what is it like to try our this outdoor sport on Madeira Island, Portugal? What can you expect? Here is our coasteering for beginners story.
What is Coasteering?
An official definition of coasteering is a competitive sport that involves moving along the coastline; combining elements of swimming, running, and climbing. The "à la Madeira Island" version involved no jogging… But instead, its most popular element was jumping into the ocean from rocks located at different heights.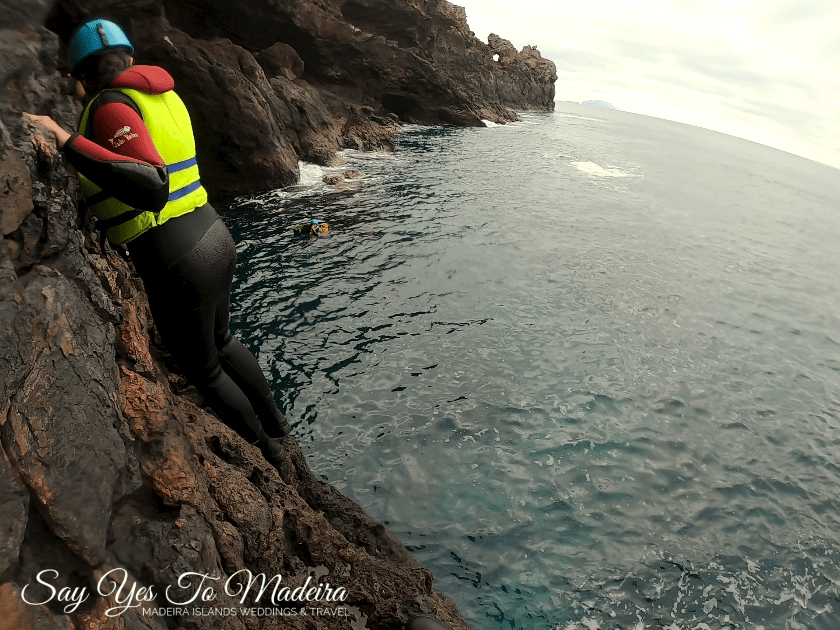 During such an expedition, you will wear a special suit, vest, helmet and boots, which are usually provided by the tour company. More about it in our story below…
Madeira Coasteering – Our GoPro Video
Here's how our coasteering trip looked like – from the very arrival to finish:
My favorite moment of this movie is 03:35, when one of the participants is concentrating & getting ready for what may be the highest jump in her life. The fear and concentration are most evident … in her hands.
Madeira Coasteering – Our story
Our coasteering story is a bit unusual and I already mentioned it in our previous post about the Madeira Nature Festival.
I describe there how completely by accident I was given a free ticket for an expedition that had been on my mind for a long time. When, after 5 weeks of attempting, I still haven't found the time or an opportunity and I almost put it on my "for another time" bucket list, I got this free ticket allowing me to try coasteering two days before my departure… #luckyme
If you love sports and excursions, but travel on a budget, be sure to read this post about how to get your free tickets during the annual Madeira Nature Festival.
But – back to our story…
A coasteering tour is assisted by not just one, but two qualified instructors. Our group was small, If I remember correctly, there were around 9 participants: locals, tourists and exchange students altogether.
After reaching the excursion location, that is, around the roundabout near the Ponta de São Lourenço, the instructors gave us protective clothing – coveralls, vest, helmet, and shoes. After changing, which was not a simple task at all, they gave us a short lecture on safety rules. Then, full of excitement, we were all finally ready and headed towards the shore.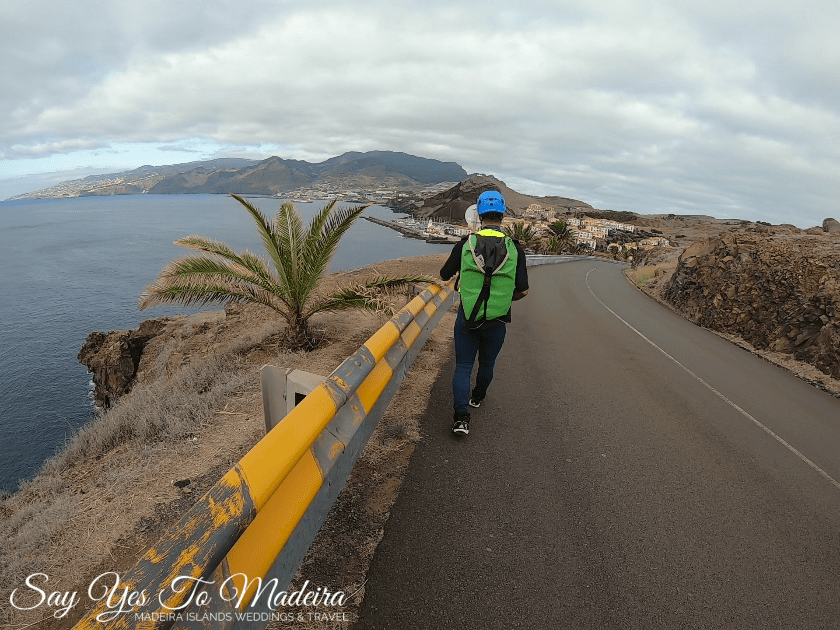 The first jump was just a warm-up, after which we swam east towards much higher rocks.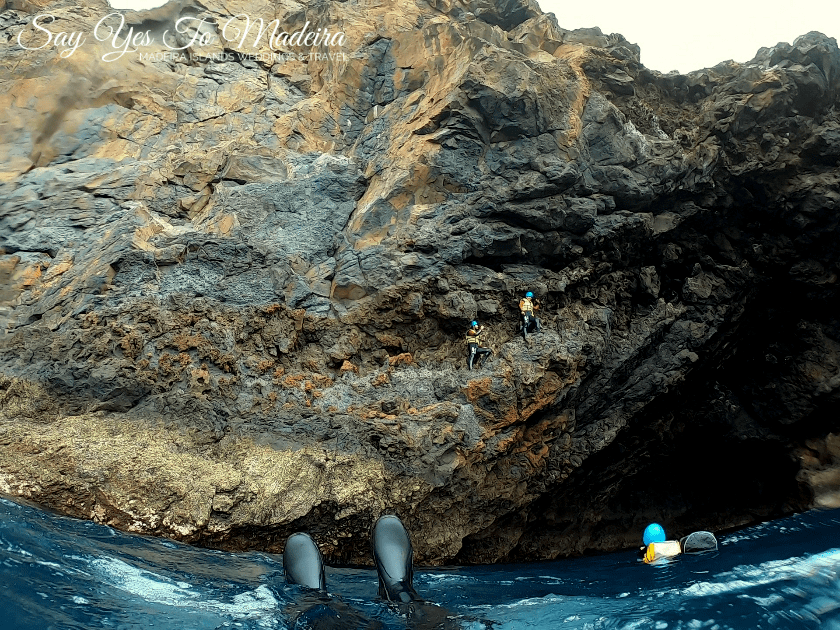 What surprised me is that the suit has the characteristics of a buoyancy suit, that is, it helps you stay afloat. I was not aware of that, and when after the first jump I was immediately pushed out on the surface, I was quite surprised. Swimming in buoyancy suits was a brand new experience for me, ale let me tell you, it is not easy at all 🙂
It turned out that it is not jumping from rocks into the ocean, but the most ordinary swimming will be the most difficult part of the whole trip … Moreover, the waves were quite big, so we had to really do our best.
Swimming in buoyancy suit was slightly easier on you back: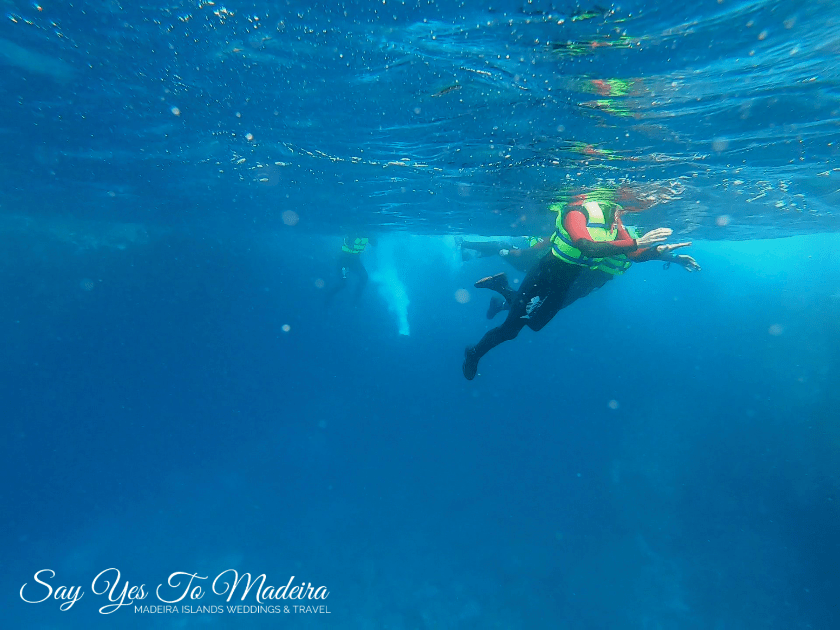 I did not regret this excursion for a moment. It was a great adventure. I saw Madeira from a side I would never have seen otherwise. I learned something new. I broke the fear of jumping into the water from a great height, which one day may even save my or someone else's life. Everything that extends the comfort zone is definitely a plus.
The entire trip took about three hours. During that time, we swam a lot, climbed rocks, and made about 5 jumps into the ocean, including one from a height, which was a dilemma for all participants, and not everyone dared to try… Which is totally fine by the way.
It was only while watching my GoPro videos months later that I noticed how many fish and other animals were swimming next to us in the water. During the expedition, struggling with fear, Archimedes' Law, and strong waves, I did not even notice them.
Madeira Coasteering – Recommended for..?
Is coasteering for everyone? Is it difficult? Maybe it is due to stronger waves and weather conditions, but I personally found coasteering much more demanding than canyoning.
SEE ALSO: CANYONING FOR BEGINNERS
I would especially recommend a canyoning trip to people who are fit and do not panic easily, but I don't want to discourage anyone. It is an amazing experience that will help you test our own abilities and get out of the comfort zone.
There is no obligation to jump from the highest rocks. During each jump, the instructors give you the option of an alternative spot. It is up to you where you decide to jump.
If you are unsure of your own strengths, I recommend that you give it a try, but be sure to let the instructors know about your concerns so that they can keep a watchful eye on you. Our safety was always a priority for the instructors, and they always helped out when someone had any difficulties.
Coasteering on Madeira – How to book?
How to book an adventure like this? Our free Nature Festival tour sponsored by VisitMadeira was organized by Harmony in Nature, and they are definitely Say Yes To Madeira – approved. You can book this and other trips directly:
RATES & RATINGS – BOOK VIA TRIPADVISOR
Their TripAdvisor rating is 5 full stars out of 5 (based on almost 400 reviews) which speaks for itself. They have also earned 5 consecutive Certificates of Excellence, which is quite an achievement. In addition to coasteering, they also offer other active tours in Madeira.
Whether you choose coasteering, canyoning, climbing, diving, or any other sports, we highly encourage you to discover your adventurous side while visiting Madeira Island.
Do not forget to check also our bucket list with 20 best Madeira Island experiences: