The beautiful, modern, panoramic terrace of Quinta Mirabela in Funchal, Portugal will be a great wedding ceremony setting, but it is not the only thing that makes this place unique… 
Quinta Mirabella – The terrace
The villa's panoramic roof terrace is a perfect spot for a wedding ceremony and cocktails, both small and intimate ceremonies as well as big-size events.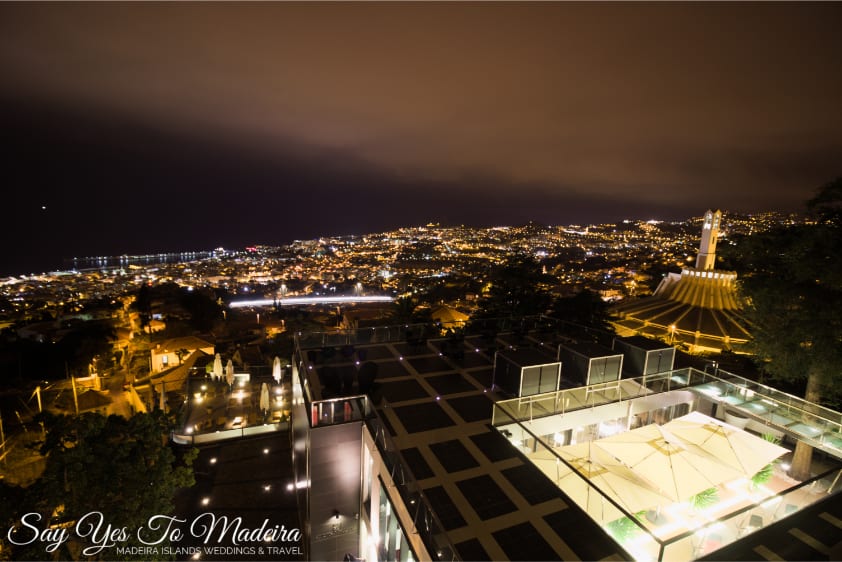 Are you getting married in Madeira during the Atlantic Festival, on one of the firework show nights? Quinta Mirabela should definitely be a venue on your list as it guarantees best panoramic hotel views on the entire bay. 
Staying at Quinta Mirabella
You and your guests are free to stay in the hotel overnight. I dedicated a separate post to staying at Quinta Mirabela.
It is a small-size, modern, and comfortably furnished "quinta" style hotel located outside the touristic district, which means more privacy compared to other wedding hotels in Funchal. 
Quinta Mirabela – what's their unique selling point as a wedding venue?
Would you like to make your entrance unique and unforgettable? Are you so in love with Madeira that you would love to arrive to your wedding venue by a… Monte Toboggan? 
There is one more fun fact about Quinta Mirabela and that is that it is located on the route of a famous Madeira Toboggan – wicket sledges / baskets taking tourists from the Monte hill down to Funchal using public roads. This popular tourist attraction can now be your wedding means of transport and can take you directly to your wedding venue, stopping right by the door of the hotel.
I have seen some wedding pictures of beautiful wedding couples in a Toboggan, and they are pretty unique and genuinely funny. Arriving to the venue in a wicker basket will be the ultimate Madeira Island wedding experience.
Whether you wish to arrive in a wicker basket or not, if Quinta Mirabela seems to be your venue of choice, please contact the wedding planner to receive an offer.
Would you like to organize a wedding on Madeira Island or Porto Santo?
Do not miss our latest posts, follow us: