If you are looking for destinations in Europe where you are able to swim with dolphins in open waters – Madeira Archipelago is the place for you.
There are many companies in Madeira and Porto Santo offering different dolphin watching tours, and some also help you fulfil the dream of swimming with dolphins in their natural environment. "In their natural environment" is crucial here, as I am a great opponent of keeping animals in captivity for cheap amusement of tourists. Please, do not visit attractions keeping these beautiful animals where they do not belong!
Dolphin Tours Madeira – Prices
Prices range between 25 euro for watching (although most companies usually offer tickets for the price of 35 euro per adult) to approx. 65 euro for swimming with them under the watchful eye of a specialist (65 euros – an adult, 43 euros – a child from 6 to 11 years, younger children for free).
Of course, the name of the trip is a slight simplification, because during the tour we also have a chance to see other animals, mainly whales and turtles.
I have tried out both options. During the August visit, I "swam with dolphins" with Rota dos Cetáceos (EUR 65), and during the next visits, I went on different catamaran dolphin watching, including the most memorable tour with my dearest wedding guests.
What's interesting to mention is that sometimes you can also see dolphins when taking the Porto Santo Line ferry from Madeira to Porto Santo Island. I have personally seen dolphins during our 2019 ferry trip from Algarve to Funchal. Being welcomed by a big group of curious dolphins while approaching Porto Santo was one of the best things after such a long and tiring trip…
SEE ALSO: FERRY FROM FUNCHAL TO PORTO SANTO – INFO & TIPS
Madeira dolphin tours can be booked online (look for special deals and discount codes), in one of the many tourist street kiosks and travel agencies, or directly with sellers often offering tickets at the entrance to the port and other popular touristic sports. The competition is high, so especially if we're in a group, I recommend negotiating a bit. In a group of 9 people, we were able to get one ticket for one child and one adult for free.
Dolphin Tours Madeira – Which one is best for you?
When someone asks me for recommendations I can only say: it depends on our situation. There are many ways to observe dolphins and whales on Madeira, catamarans, yachts or RIB boats being the most popular ones. When choosing a company/type of tour, you must decide:
FIRST: Do you just want to watch dolphins or swim with them? 
On this depends the type of a boat. If we want to swim with dolphins, as far as I know, we will probably end up on a hybrid boat (RIB, rigid-inflatable boat) – a watercraft combining the advantages of a pontoon and a boat, such as in this picture:
However, if none of you wants to swim with dolphins, I would choose a different company and a different type of tour. A catamaran or yacht is much more comfortable than a RIB. On a hybrid boat seats are not very comfortable, meaning, the passengers are sitting all in one row, so especially if we are one of the last, we will need to constantly lean out to see anything. 
On a catamaran, on the other hand, even if we are not lucky enough to spot any animals, we can enjoy the views and the sun lounging on a comfortable catamaran net. On the catamaran we also have more space and freedom- we can lie down, sit, stand, hide in the shade or go to the bar for a snack and a drink. As far as I am aware, on a catamaran, as opposed to the RIB boats, toilets are always available.
SECOND: Do we want to have the guarantee of seeing dolphins?
Is this our last day in Madeira or do we have another day for a possible second try? Many operators offer slightly higher prices than the competition, however with a guarantee; if during our cruise we do not see dolphins or whales, we can use the same ticket another day.
Swimming with dolphins has always been my dream, I have fulfilled it, and what I saw before my eyes under the beautifully clean water is worth all the efforts… However, I must warn that this is not an adventure for everyone. Of course, it can happen that you won't see any animals during the tour and we should respect that. 
What does swimming with dolphins on Madeira look like?
… based on the Rota dos Cetáceos tour. Rota dos Cetáceos means in Portuguese: "The route of the cetaceans". The tour begins with a short lecture at the office, where instructors present the course of the tour and divide people into "swimmers" and "observers".
Then we all head down to the port in groups, where we are separated between 16-18-seater RIB boats. There is a marine biologist on every boat. This specialist knows the species and behaviours of dolphins, and knows when it's possible and safe to swim with them.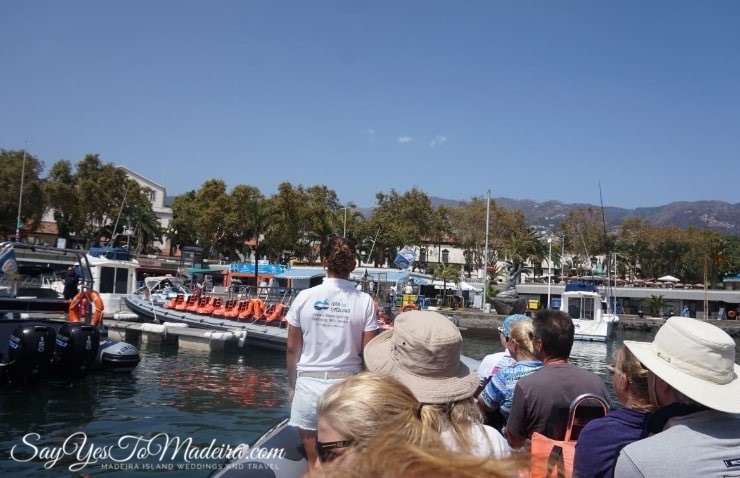 Once we are away from the shore, the crew/skipper remains in constant contact with observers located on land on the tops of the mountains, whose task is to observe each sign of animal activity and report it to the boat crew. 
SEE ALSO: THE VIEWPOINT WHERE YOU CAN MEET OBSERVERS
The crew follows observers' directions, hoping to reach one of the groups of dolphins.
When we are fortunate enough to enter a group of dolphins, and when there is permission from the marine biologist – four already ready people with diving masks can simultaneously slip out on two sides of the boat outboard, still holding a short rope attached to the boat. The boat does not stop, but to keep up with the dolphins, moves quite fast, which makes watching not easy for everyone. You need to have some strength to hold onto a moving boat and coordination to control the diving mask in fairly fast motion while trying to see as much as possible. Of course, the boat stops if any of the participants has any problems. At any time, we can return on board.
The participants rotate; after a couple of minutes of swimming, the first four people return and are replaced by the next four. How much time are we allowed to stay in the water depends on how long dolphins will tolerate our presence and how many swimmers are on board. If there are only a few, we will be able to swim longer. It is not forbidden to use GoPro type cameras, on the contrary – I am very jealous if you have one and I highly recommend it.
Seeing those magnificent animals underwater was one of the best travel experiences in my life… 
At times when nothing is happening, the marine biologist tells us about the different species of dolphins and other marine animals. 
My first tour in 2016 was a success, not only were we able to see large groups of dolphins several times and for a long time – a cherry on top of the cake – in the last moment we also had the opportunity to admire a beautiful whale: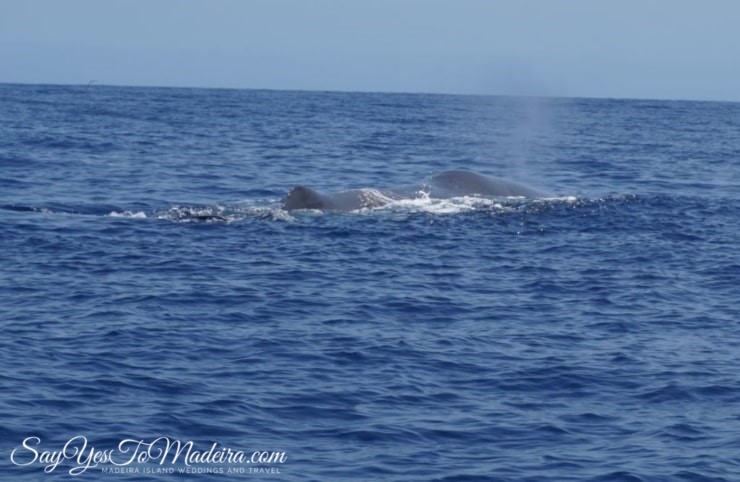 Here is a short impression from my "Swimming with Dolphins" trip with Rota dos Cetáceos:
And here another spectacular video from someone with a much better camera and much more luck!  
Or maybe a catamaran?
A catamaran, as I already mentioned, also has its advantages. It is not only much affordable but also a more convenient option. We booked our tours either with
VMT Madeira
or
Magic Dolphin
. Both were great, but the catamaran of Magic Dolphin was much smaller, which was much, much better. The downside of a big catamaran is more people on board, not as good contact with the person leading, and no possibility to swim with dolphins. However, we do have more freedom. There is a bar, toilet, and multiple places to lie down comfortably. It is also a better option for people who do not speak English, as they can "hide in the crowd". When swimming with dolphins at Rota dos Cetáceos, you need at least a minimum knowledge of English or Portuguese. If you want to swim, you need to understand the instructor's commands, as she or he is responsible for your safety.
During our
October wedding tour
, we also hit the dolphin lottery. We saw a very large group of curious dolphins, frequently jumping out of the water next to the catamaran. We sailed with them for a very long time, for as long as the law allowed us (read on about restrictions on animal protection). The weather was great and together with two children we rested well and sunbathed lying on the catamaran safety net. After watching the dolphins, as is often on the program, the catamaran moves to
Cabo Girao
– the largest cliff of Madeira – and stop there so that persons willing to can enjoy a short swim. The catamaran returns to the port of Funchal sailing very close to the shore, so you can also see the entire coast from Cabo Girao to Funchal. The catamaran tour was also a success. We all, that is kids from 2 to 60- years old enjoyed it a lot. Dolphin watching tours are one of the best activities for an entire family on Madeira.
Regardless of which type of a tour we choose, all companies must respect one thing: The law limits the time that the tourist boats remain among a group of marine animals up to 10 minutes at a time. After 10 minutes, the boat must move away.
Which dolphin watching tour do I recommend?
All our dolphin watching and swimming tours were a great success. Three times we were really blessed with the great weather and two times with the number of animals who decided to accompany our boats. 
Which tour will be best for you – that depends on your preferences and budgets. I hope that the tips I mentioned above gave you a better picture of available options. 
One must pay attention to one thing: I noticed that some of the companies are promoting on the Internet their "Dolphin Watching + Swimming" tours, which can be a bit confusing, especially for tourists who speak poor English. Companies offering swimming with dolphins specify clearly "Swimming WITH Dolphins". What this company meant by saying "Dolphin Watching + Swimming" is, as our cruise last time, that after watching the dolphins, the catamaran will stop for a while, giving passengers a chance to swim. This does not mean swimming directly with the dolphins.
So, if you are looking for a perfect place in Europe where you can swim with dolphins in an ethical way, Madeira Island is definitely such a place. In my opinion, dolphin watching tours are one of the must-do activities while in Madeira, especially for families with small kids.
Which tour would you choose? If you have already done it, what are your impressions? Were you lucky enough to spot any animals? Share your tips!
Are you interested in Madeira & Porto Santo?
Do not miss our new posts – follow us!