If you are looking for beautiful destinations in Europe where you are able to swim with dolphins in open waters – Madeira Archipelago is the place for you.
There are many companies in Madeira offering different dolphin watching tours, and some also help you fulfil the dream of swimming with dolphins in their natural environment. "In their natural environment" is crucial here, as I am a great opponent of keeping animals in captivity for cheap amusement of tourists. Please, do not visit attractions that are keeping these beautiful animals where they do not belong!
Today, we will tell you about all the different types of tours offered on Madeira. We also have a small gift – a special 10% off promo code for dolphin watching tours. It is very easy to get it, so please read below.
Dolphin Tours on Madeira – Video
Let me start with giving you an impression of who actually lives in the waters around Madeira Islands… 
This was our most recent 2020 tour, provided by the company Magic Dolphin, but as dolphin & whale watching cruises are one of my favourite water activities, I go on one of those tours almost every time I visit Madeira. I have already "swum with dolphins" & took different speedboat and catamaran tours and I would love to tell you all about them.
Dolphin Tours on Madeira – Prices & Promo Code
When it comes to prices of dolphin and whale watching cruises from Funchal or other towns on Madeira, there are different options to choose from. 
Catamaran tours tend to be the most affordable option.
Prices for dolphin and wildlife observation tours range between 25 euro for bigger catamarans to 75 euro for smaller-size luxury catamarans. Sea safaris on speedboats cost around 40 euro. You also have the choice of private, personalized tours and those start at approx 300 euro.
Swimming with dolphins under the watchful eye of a specialist will cost around 60-65 euros per adult. 
See all options and find the best tour for you:
Promo code 10% off
If you are looking for discount codes for dolphin watching cruises, we have great news. Our affiliate partner Magic Dolphin offered a special promo code to all readers of Say Yes To Madeira. 
When booking tours on their official website, simply use the code:  SAYYES10 to have a discount of 10% applied to your total order. It's very easy and applies on all tours:
It should not be difficult to recognize the crew either 🙂 
Dolphin Tours on Madeira – The best tours?
When someone asks me for recommendations I can only say: it depends on our situation, preferences and budget. There are many ways to observe dolphins and whales on Madeira, catamarans, yachts or RIB speedboats being the most popular ones. When choosing a company/type of tour, you must not only look at the prices, but also decide, what exactly would you like to do.
If you want to swim with dolphins, as far as I know, you will probably end up on a hybrid boat (RIB, rigid-inflatable boat) – a watercraft combining the advantages of a pontoon and a boat, such as in this picture:
If you are not wishing to swim with dolphins and just want to observe them, you can consider different types of tours. When purchasing tickets, check well which type of boat is used. 
An RIB boat, frequently used during "Swimming with dolphins" and "Sea Safari" cruises is smaller and more flexible. It can move faster towards the places where dolphins are spotted, giving passengers higher chances of spotting them. 
On a catamaran, on the other hand, even if you are not lucky enough to spot any animals, you can enjoy the views and the sun lounging on a comfortable catamaran net. On the catamaran you also have more space and freedom- we can lie down, sit, stand, hide in the shade or go to the bar for a snack and a drink. As far as I am aware, on a catamaran, as opposed to the RIB boats, toilets are always available. There are also different sorts of catamarans, from basic ones to smaller and more luxury models.
Check also whether the tour you are buying guarantees you one additional free ticket in case of not seeing any animals during the tour.
Swimming with Dolphins Tours
What does an open ocean Swimming with Dolphins tour look like and what to expect? This review will be based on the tour provided by the Funchal-based operator Rota dos Cetáceos. Other operators might approach it slightly differently, but I have not tried out all of them (yet). 
The tour begins with a short lecture at their office in Funchal, where instructors present the course of the tour and divide people into "swimmers" and "observers". Then we all head down to the port in groups, where we are separated between 16-18-seater RIB boats. There is a marine biologist on every boat. This specialist knows the species and behaviours of dolphins and knows when it's possible and safe to swim with them.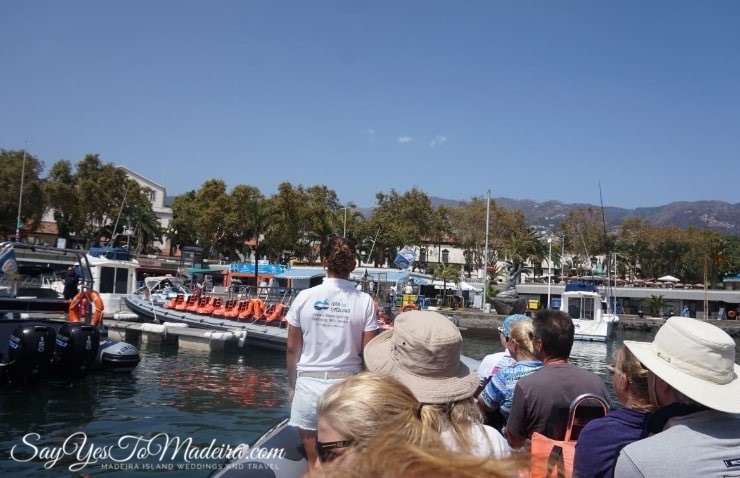 Once we are away from the shore, the crew/skipper remains in constant contact with observers located on land on the tops of the mountains, whose task is to observe each sign of animal activity and report it to the boat crew. 
SEE ALSO: THE VIEWPOINT WHERE YOU CAN MEET OBSERVERS
The crew follows the observers' directions, hoping to reach one of the groups of dolphins.
When we are fortunate enough to enter a group of dolphins, and when there is permission from the marine biologist – four already ready people with diving masks can simultaneously slip out on two sides of the boat outboard, still holding a short rope attached to the boat. The boat does not stop, but moves to keep up with the dolphins, which makes watching not suitable for everyone. You need to have some strength to hold onto a moving boat and coordination to control the diving mask in fairly fast motion while trying to see as much as possible. Of course, the boat stops if any of the participants has any problems.
The participants rotate; after a couple of minutes of swimming, the first four people return and are replaced by the next four. How much time are we allowed to stay in the water depends on how long dolphins will tolerate our presence and how many swimmers are on board. If there are only a few, we will be able to swim longer. It is not forbidden to use action cameras, on the contrary.
Seeing those magnificent animals underwater was one of the best travel experiences in my life… 

At times when not much is happening, the marine biologist tells us about the different species of dolphins and other marine animals. 
My first ever dolphin tour was a success, not only were we able to see large groups of dolphins several times and for a long time – a cherry on top of the cake – in the last moment we also had the opportunity to admire a beautiful whale:
Here is a short impression of my "Swimming with Dolphins" trip with Rota dos Cetáceos:
Please do not mind the quality, it was recorded back in 2016!
Here is another spectacular video from someone with a much better camera and much more luck!  
Of course, you do not need to enter the water or snorkel with dolphins, you can also choose regular dolphin and whale watching tours: on catamarans, speedboats and yachts.  
Catamaran Dolphin Watching Tours and Sea Safaris
Catamaran Dolphin Watching Tours
Catamaran tours, as I already mentioned, are not only affordable but also a convenient option. The downside of a big catamaran is more people on board, not as good contact with the person leading, and no possibility to swim with dolphins. However, we do have more freedom. 
There is frequently a bar, toilet, and multiple places to lie down comfortably. It is also a better option for people who do not speak English, as they can "hide in the crowd". When swimming with dolphins at Rota dos Cetáceos, you need at least a minimum knowledge of English or Portuguese. If you want to swim, you need to understand the instructor's commands, as she or he is responsible for your safety.
During our October wedding tour, we took our entire family with us on a catamaran cruise, and we also hit the dolphin lottery. We saw a very large group of curious dolphins, frequently jumping out of the water next to the catamaran. We sailed with them for a very long time, for as long as the law allowed us (read on about restrictions on animal protection).
The weather was great and together with two children we rested well and sunbathed lying on the catamaran safety net. After watching the dolphins, as is often on the program, the catamaran moves to Cabo Girao – the largest cliff of Madeira – and stops there so that persons willing to can enjoy a short swim. The catamaran returns to the port of Funchal sailing very close to the shore, so you can also see the entire coast from Cabo Girao to Funchal.
This catamaran tour was also a big success – my guests loved it. 
We all, that is kids from 2 to 60- years old enjoyed it a lot. Dolphin watching tours are one of the best activities for an entire family on Madeira.
As proud affiliates of Magic Dolphin, we usually book our tours with them. Magic Dolphin does not only offer catamaran tours, but also Sea Safaris on smaller size RIB speedboats. 
Sea Safaris (Fast boats)
Sea safari tours are cheaper than Swimming with Dolphins tours, but thanks to the fact you are on a speedboat, you have a really high chance of spotting animals. It was a Sea Safari in 2020 where we recorded the video from the beginning of this post. 
RIB speedboats allow for more personalized experience. If you would like to record underwater videos with your action cam, you will be easily able to do if from board of an RIB-boat.
Madeira sea life photos – Gallery
Dolphins underwater
Curious dolphins above the water
Pilot whales above the water
Spotting dolphins from the Madeira Ferries?
What's interesting to mention is that sometimes you can also see dolphins when taking the Porto Santo Line ferry from Madeira to Porto Santo Island. I have personally seen dolphins during our 2019 ferry trip from Algarve to Funchal. Being welcomed by a big group of curious dolphins while approaching Porto Santo was one of the best things after such a long and tiring trip…
SEE ALSO: FERRY FROM FUNCHAL TO PORTO SANTO – INFO & TIPS
Dolphin & Sea Life Observation Tours on Madeira – Regulations
Regardless of which type of tour/boat we choose, all companies must respect one thing: The law limits the time that the tourist boats remain among a group of marine animals up to 10 minutes at a time. After 10 minutes, the boat must move away.
It can also happen, that during a tour you won't spot any animals at all or animals will move away, which also must be respected. So, if you are looking for a perfect place in Europe where you can observe whales or swim with dolphins in an ethical way, Madeira Island is definitely such a place. 
In my opinion, dolphin & whale watching tours are one of the must-do activities while in Madeira, especially for families with small kids.
Which tour would you choose? If you have already done it, what are your impressions? Were you lucky enough to spot any animals? Share your tips!
Would you like to organize a wedding on Madeira Island or Porto Santo?
Do not miss our latest posts, follow us: