The levada route PR16: Fajã do Rodrigues remains in the shadows of other Madeira levada hikes. I wonder why since it is a beautiful, green levada, famous primarily for its loooong tunnels, which definitely deserves to be discovered.
I liked this hike a lot and it quickly became one of my favourite levadas on Madeira. It probably won't be as crowded as other routes, for example, the famous 25 Fontes, but it does not mean it is less beautiful.
SEE ALSO: LEVADA 25 FONTES & RISCO
I did this hike with a group of friends from Madeira. It was them who chose this route and, what's funny is that one of them is also called Rodrigues 🙂 We do not know whether his ancestors had anything to do with the construction of this levada, but if so, he can certainly be proud of it.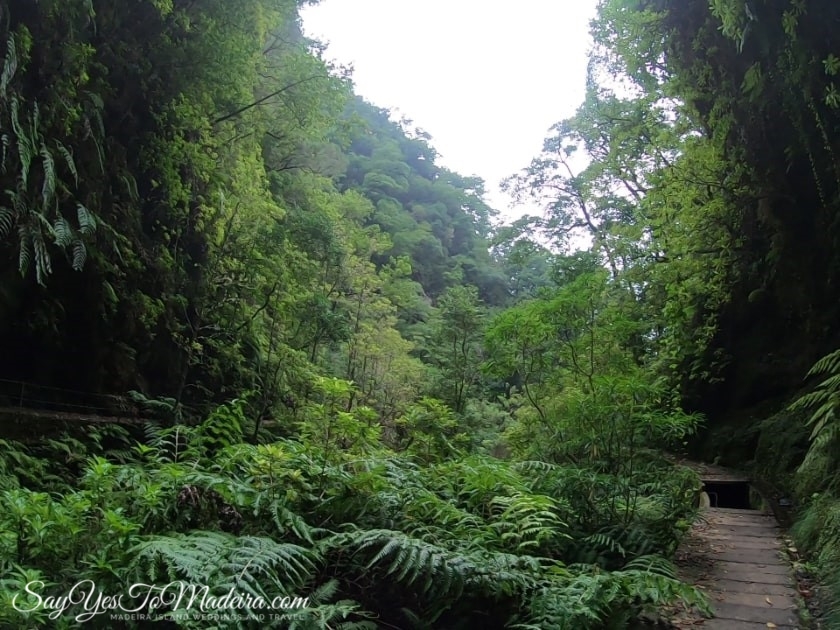 Levada Fajã do Rodrigues – Map & Brochure
Download the official brochure of PR16 in English.
See also: The official website of PR16 on Visit Madeira
as well as: Tips & ratings from others on TripAdvisor
Levada Fajã do Rodrigues – Route & difficulty
The hike starts in Ginjas, São Vicente, and ends at the Ribeira do Inferno stream. It is a round-trip trail, officially classified as "moderately difficult".
The distance is 2 x 3,9 km and you should be able to finish it within 3-4 hours. As you can see on the brochure, there are barely any altitude differences, and the altitude is not what makes this trail moderately difficult…
The most difficult part of Levada Fajã do Rodrigues are its… tunnels. The first two are short, but the last one takes approximately 20-25 minutes to cross. A flashlight is a must for the last tunnel. Even taking a quick look at the map, you can see that the tunnels constitute almost half of the trail.
Not only for people with claustrophobia, but also for very tall people, this levada might be a challenge. Inside the tunnel you frequently need to walk on the side of the levada right next to the sharply hatched wall of the tunnel. Even myself, being only 168 cm ( 5′ 6 ″) tall, had to go with my head bowed and additionally tilted 45 degrees to the side, in order to protect my head from sharp rocks. Luckily, none of us ended up falling into the levada, but we did have one unlucky head bump case.
But – it's worth it. Long tunnels like this are a real adventure, and you will be rewarded for the neck pain with amazing jungle-like scenery. This hike offers also great views of the nearby villages.
The beginning of the hike is easy, and similar to other levadas. The further you walk, the greener and prettier it gets.
That's why I strongly encourage you – if you are going to hike the Fajã do Rodrigues levada, do it right. Get ready for the last long tunnel and get to the end, because the most beautiful part of this hike is the very end – between the last tunnel and the Ribeira do Inferno stream. This is where we find a lush, green forest, and we can see several small waterfalls dripping down many beautifully mossy rocks.
Levada Fajã do Rodrigues – Our GoPro video
Anyway, let me simply show you… The film is edited chronologically, so you can also see what this levada looks like before and after the tunnels:
Around 03:28 you will see us entering the longest tunnel.
Levada Fajã do Rodrigues – Getting there
We drove to PR16 from Funchal, so we took one of my favorite roads – ER104 connecting the south with the northern coast of the island. The address of the levada is: Caminho Velho das Ginjas, São Vicente.
On the way you can stop "for a Poncha" in one of the famous Poncha bars in Serra de Água. Of course, Poncha is only for the passengers, and the driver can enjoy a glass of, for example, a nice Nikita without alcohol. More about Madeira's local drinks in our post: MADEIRA DRINKS FOR DUMMIES.
No public bus will take you directly to the beginning of the levada. Your best option will be getting by bus to São Vicente, and then catching a taxi (+- 10 EUR). Getting there by foot might be a challenge for those who are not fit enough.
SEE ALSO: PUBLIC TRANSPORT ON MADEIRA
Levada Fajã do Rodrigues – Hotels in the area
If you would like to stay in the area of this levada, here are some accommodation options available:
There are a couple of hotels in the area, for example:
The one located really nearby (2 km / 1,2 miles away) is Estalagem do Vale.
Levada Fajã do Rodrigues – Fauna & flora
PR16 Levada Fajã do Rodrigues feels like a lush, green jungle. According to the official website, along the route, we will see trees and vegetation such as maritime pine (Pinus pinaster), eucalyptus (Eucalyptus globulus), canary willow (Salix canariensis) and tilo (Foetens ocotea), as well as lilies of the valley, chrysanthemums, orchids, and other flowers.
We might also be lucky and see popular bird species such as Madeiran chaffinch (Fringilla coelebs maderensis) and Madeiran Firecrest (Rugulus ignicapillus maderensis).
Levada Fajã do Rodrigues – My review
As I mentioned, the Levada Fajã do Rodrigues is in my opinion one of the most beautiful levada walks in Madeira. I love such "jungle-like" routes, and this is definitely one of them. This levada is beautiful, lush, green, quiet, does not seem not crowded, and offers great views. It is worth going there, especially if you are staying in the area of São Vicente.
SEE ALSO: ALL MADEIRA LEVADAS & LEVADA TOURS ON TRIPADVISOR
Weddings or photo shoots on Madeira? Contact
Do not miss our new posts – follow us:
Sunrise we were blessed with on our way from Achadas do Teixeira to Pico Ruivo…
Levada do Rei is a beautiful levada with wonderful vegetation, beautiful views and suitable for…
The Levada do Alecrim is a flat, easy, family-friendly levada. Are you looking for something…