a.k.a Eucalyptus Scented King's Levada
Madeira's Levada do Rei – PR18 – is a very beautiful levada walk, which I will remember as a very flowery and lush levada smelling of eucalyptus. Even though I prefer circular routes, the PR18 is definitely worth the trip.
I hiked the Levada do Rei near Santana, Madeira in September 2019 and it was one of the free trips offered by Visit Madeira during the 2019 Madeira Nature Festival.
SEE ALSO: FREE NATURE FESTIVAL TOURS – HOW TO GET YOUR TICEKTS
Levada do Rei, or King's Levada, is called so because it was built by order or King D. Manuel II (the last king of Portugal). The construction of the levada was arduous and took over 20 years.
The end of the Levada do Rei reminds me a bit of the final destination/spring of another levada near São Vicente – an equally beautiful, but much shorter Levada Fajã do Rodrigues. Both are very lush and green, and the source surroundings seem like a lush green jungle full of huge ferns.
If you liked Levada Fajã do Rodrigues, you'd probably like Lewada do Rei as well. See more:
The King's Levada (PR18) can also be compared with the Caldeirão Verde (PR9), which is actually located in the same area. The routes are of similar length, both are return routes and offer similar views from a different perspective. Check out our post:
Levada do Rei – Our GoPro Video
Check if this is a hike you might like:
Do not forget to explore our entire MADEIRA HIKES playlist, where we are gradually adding new videos from different Madeira Island trails.
Levada do Rei – Route & difficulty
Levada do Rei starts nearby a nice bar of the same name: Quinta Levada do Rei and leads all the way to the Ribeiro Bonito stream. After reaching it, you will have to go back the same route, which means in total a 2 x 5.3 km hike. The entire walk takes approximately five hours.
The difficulty level is of Levada do Rei is EASY, and it is very accurate. This levada is not too difficult and basically flat. The small stairs at the very beginning of the levada are the only relatively hard part of the route. Its lowest point is 538 m and the highest – 578 m.
The path is mostly wide and comfortable, but there also are some very narrow parts (as you can see for example at 02:07 in the above video). There is only one, short tunnel, which does not require taking a flashlight with you.
Encouraged by our guide, after reaching the Ribeiro Bonito stream, we climbed the stones and explored the area a bit more. I was really impressed by the lushness of those surroundings. The area of the Ribeiro Bonito stream really felt like we were in the middle of a jungle.
There are several waterfalls on the route, and you might get slightly wet. During our September hike, one of the waterfalls disappeared due to a lack of rain in those weeks.
SEE: WEATHER IN MADEIRA IN SEPTEMBER
Levada do Rei – Views
The weather was great and we could enjoy some really beautiful views of the São Jorge Village and the entire valley:
Levada do Rei – Flora
Eucalyptus trees, different flowers, various types of ferns, and even mushrooms – we saw all that during our hike. The farther into the forest, the more lush the vegetation, with the predominance of endemic vegetation.
At times, especially around the Ribeiro Bonito stream, you can feel like in a real, primeval jungle. This is the part of the hike I probably enjoyed the most.
Levada do Rei – Location & how to get there
The nearest bus stop is approximately 15-20 minutes walking away from the start of the trail. Horarios de Funchal #103 bus passes there, but from what I can see there is only one morning trip from Funchal, at 07:30 … In addition, the journey takes over 2 hours. You can also take a bus to the slightly better-connected town of Santana, and then catch a taxi to the beginning of the levada. It is much, much easier to get to the levada by car, or with an organized tour.
Levada do Rei – With an organized tour
If you do not have a car, we would advise you to book a guided tour. Our trip, sponsored by Visit Madeira, was organized by Pearl of the Atlantic.
Levada do Rei walk is one of their most popular tours, but they offer a wide range of excursions, including private tours.
Levada do Rei – Stays in the area
One of my favorite hotels in this area of the island is the Quinta do Furão hotel in Santana. It is a lovely vineyard-style property with a wonderful view of the north coast. I described this hotel in our post:
Check also other hotels in this area:
The offer of private b&b's in this area is even better than hotels:
When staying on the northern coast, we have to take into account that the weather in this area is not always as good as, for example, in Funchal.
The northern coast of Madeira offers you, however, beautiful, beautiful nature, stunning views… and lower prices. It is a bit "more authentic" and less touristy side of Madeira.
Levada do Rei – Interesting places in the area
A trip to the Levada do Rei trail including a drive from Funchal will take you most of the day. If you still have time and strength, after you are done with the walk, you can visit the famous São Jorge Ruins, the Miradouro da Beira da Quinta viewpoint, and the town of Santana, famous for its colourful houses.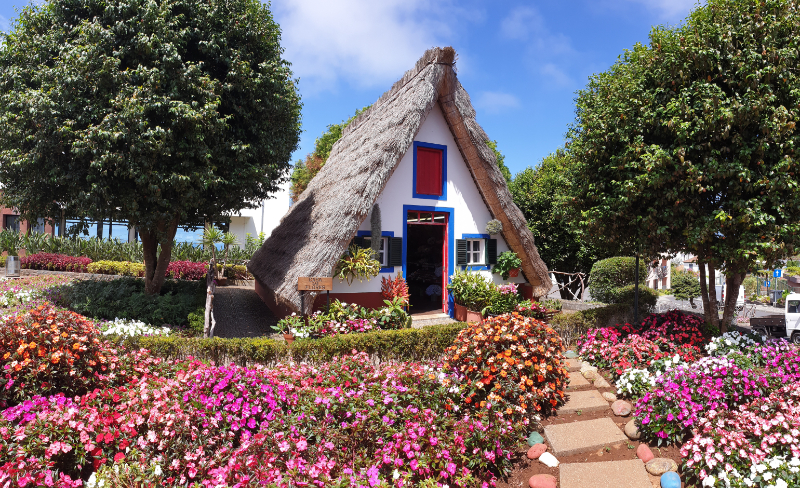 However, the place I would recommend the most is a hidden gem – a beautiful and secluded place reachable by cable car – Fajã da Rocha do Navio. See for yourself:
Levada do Rei – My review
Levada do Rei is a beautiful Madeira hiking trail that is worth exploring at least once in your life.
And you? How did you like it?
Did you enjoy this review? Help others find it and share it! ⮋
SEE ALSO THE MOST POPULAR ROUTES IN MADEIRA ON TRIPADVISOR:
LEVADA WALKS:
LEVADA DO FURADO: RIBEIRO FRIO-PORTELA (PR10)
LEVADA FAJÃ DO RODRIGUES (PR16)
HIKES:
VEREDA DO ARIEIRO – PICO RUIVO (PR1)
VEREDA DA PONTA DE SAO LOURENCO (PR8)
VEREDA DO LARANO: MACHICO-PORTO DA CRUZ
Weddings or photo shoots on Madeira? Contact
Do not miss our new posts – follow us: