I have already written about the availability of the ferry service between Portugal and Madeira/the Canary Islands [HERE]. 
In this post, I would like to share my first-hand impressions of our September 3 trip between Portimão and Funchal. 
I traveled by ferry to Madeira for the first time on a Portimão – Funchal trip of the 3rd of September 2019. I have been following the subject of the ferry for a long time, but I still didn't know what to expect. The Madeira Ferry Facebook group was full of complaints about lack of available seats, bad organization and poor conditions.
It is actually a bit difficult for me to give an opinion on traveling by ferry to Madeira; I usually don't travel by long-distance ferries in Europe, and I'm not sure what level of service I should expect. I have the feeling that this ferry is not one of the best and many things must improve, but I will leave the final opinion up to you…
Views
The views were great, both when we were leaving Portimão (beautiful beaches, caves and amazing Algarve shore) as well as during the approach to the Madeira Archipelago, where we were welcomed by dolphins. 
Boarding
The ferry service to Madeira leaves from beautiful city in Algarve- Portimão. The port building is very small, which is why the process of boarding was one of the least pleasant moments of the trip. 
We arrived 70 minutes before departure. We knew since the moment we arrived that it would not be easy. The building was crowded, it was hot, the queue was very long, and the available space was very small. Passengers were getting irritated, which did not improve the situation. After 15 minutes, however, the gates were opened and the check-in began, so it was a huge relief. People who arrived about 40 minutes before departure probably didn't notice any queues and crowds.
After scanning our tickets, we gave the hold luggage to the crew. You don't enter the ferry in Portimão by a sleeve or a gangway. We had to walk around the ferry and board through the back door used by cars.
Available seats
It wasn't as bad as other travelers reported- I think that during my trip there were enough seats for everyone. However, I cannot understand the behavior of people who occupy restaurant chairs throughout the entire cruise or reserve multiple seats in different areas. I also do not understand the operator/crew for the lack of allocated seating and not intervening in the case of e.g. people sleeping on café lounges intended to accommodate 4 people. I do not know if this is the norm during such cruises, but during ours, it was impossible to drink coffee in the ferry restaurant, because most café tables and seats were occupied by the same families throughout the entire cruise.
At night, the ferry resembled a refugee camp. My guess is that the situation is similar on other long trips, but people slept on the ground in every possible corner, you had to be very careful not to trip over them.
The ferry café was not used even for a moment as a ferry café should be used and I do not know whether to blame the crew, the operator, or people and their selfish behavior.
Comfort of the ferry seats 
Here, however, a thumbs-up. The seats in passenger rooms were very large, comfortable and could recline. I had a window seat where there was enough space on the windowsill to throw all my treasures and have a very comfortable journey.
As a first thing after boarding, I would recommend doing just that: Do not take pictures or waste time exploring the ferry. Go directly to passenger areas and reserve such a comfortable window seat. I got a really good night's sleep.
Volcán de Timanfaya – pictures of the ferry
The ferry which operates this year – Volcán de Timanfaya – is definitely not a modern ferry. The decor is outdated. The condition of the ferry is also questionable, but one thing for sure, it was clean. 
To the delight of children (but not the adult passengers forced to use the seats next to it) there is a playroom on the passenger's deck. In my opinion, definitely too close to the areas where passengers should rest – it was very, very loud. I recommend reserving seats as far as possible from the playroom.
The pool visible in the pictures is also something difficult to explain… During our cruise, it was rather a rainwater tank that nobody was interested in. It's a shame because the weather was great. Around the pool there were many comfortable chairs, including several lounge chairs, which allowed you to relax in the open air, sunbathing and watching the ocean. Of course, if you were one of the first people on board, and you occupied them for the whole day 🙂
Wi-Fi on board
Tam tam tam [horror music] There was no internet or mobile connection during the cruise. You will have coverage for a whole after leaving the port in Portimão, after which you will not see it until the next day, when the ferry will be approaching the coast of Porto Santo.
Don't forget to send messages to your loved ones in time!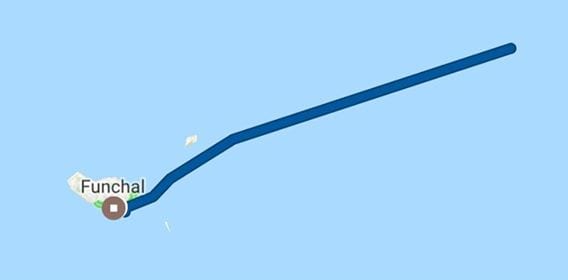 Many passengers traveled in big and really big groups, so the internet detox was a good occasion for them to spend some time together playing cards, relaxing on the deck and so on. You could also enjoy the "on board entertainment system" – which in the case of this ferry were old DVD movies projected on all the screens of the ferry at the same time…
I was surprised, however, how painless this 24 hours lack of internet was for me. People talked to each other more, or just like me, fell into a philosophical mood while watching the ship's cruise on the outdoor decks for long, long hours.
Food on the ferry
On this ferry, there is a cafe/bar and a self-service restaurant/buffet. The opening and closing hours of the restaurant were announced through the speakers. If I remember correctly, it was opened for dinner around 18:00 and closed around 21:45.
It was opened for breakfast a little after 8:00. The options were very basic, the most healthy of which were:
Breakfast was served until about 10 am.
In the Montana de Fuego cafe/bar at level 6, Nespresso coffee cost 1.20 eur. You could also buy something to eat, mainly cookies and sandwiches. The café is open from 5 am to 1 am. When this bar was closed, coffee could be purchased at the Nespresso machine next to the self-service buffet.
Pets
I saw a couple of dogs on the ferry. Dogs may be picked up by their owners from time to time from the garage cages sand taken for a walk on the deck. When picking up animals, passengers must be accompanied by a member of the staff.
Languages / crew
I barely heard English on the ferry. Almost all the passengers were Portuguese. The ferry service, however, spoke Spanish (Naviera Armas is a Spanish shipowner serving mainly the Canary Islands). 
The service crew was very nice and helpful. Although you could see they were tired, they never stopped being polite to passengers. 
How much does a ferry ticket to Madeira cost?
As a tourist, I had to pay 85 € for a regular seat (I was not traveling with any vehicles). There are double and quadruple cabins starting from 99,80 €, but they sell out very fast. 
Seasickness
The first question from all my relatives was about seasickness.  And no, I did not become seasick. Paper bags were available all over the ferry, but I didn't see anyone even reaching for them. Walking on the deck was a bit wobbly, but the journey was pleasurable. 
Final thoughts
To sum up – I didn't expect any miracles and I did not experience any. There were problems and many, many things could have been better and the ferry bigger and more modern, but the journey went quite well, even better than I expected. Comfortable armchairs, views, cleanliness, and crew is something I need to compliment on, but I did not like the seating issues, boarding process & lack of internet.
If I compare the ferry trip to Madeira from Portimão with the Lobo Marinho ferry trip between Madeira and Porto Santo, the ferry to Porto Santo is definitely better.
All the pains passed on the second day of the cruise around noon. As we began to approach Porto Santo, the telephone signal began to wake up, and with it the energy of the people on board. Passengers began to gather by the railings, and suddenly – a surprise! Between Porto Santo and Madeira, a charming group of dolphins appeared next to us. As soon as I saw them, I felt like we were approaching home… It was beautiful.
I really like the idea of this (so much needed!) ferry connection and the beauty of the cruise to Madeira, but I really hope that next year the route will be operated by a better and newer ferry than Volcán de Timanfaya. However, this is a political issue and a difficult topic for another occasion.
The ferry from Portugal to Madeira is a great solution for all tourists who would like to take their own car or a motorbike to Madeira, large groups, families, and everyone scared of flying. 2 or 4-person cabins are a great option, but these are sold out very quickly. However, 24 hours is a lot and will be exhausting, especially on such a basic ferry as Volcán de Timanfaya.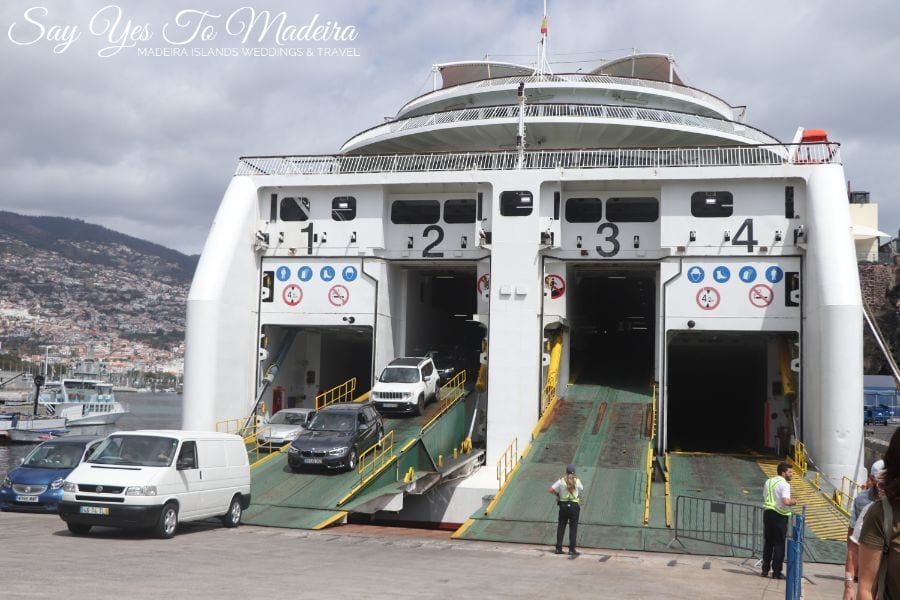 In my case, despite all the drawbacks, it was still a great adventure. Traveling by ferry was convenient, it gave me an excuse to pass by beautiful Algarve and visit my cousin living around Portimao. Watching the ocean horizon from board of a vessel is always something I enjoy, it is an opportunity for reflection…
A one-way trip in such conditions as I described is however sufficient, and I am planning to leave Madeira… by plane.
If you would also like to use the ferry service to Madeira and the Canary Islands, remember that September 2019 is the last month of the year when the service operated! The last cruise to Madeira will depart on September 24, 2019.