I love buildings with a soul. Buildings, which have a clear theme, preserving the history of the place where they are located, without compromising on the design and comfort of its visitors.
Hotel Saccharum is exactly such a place…
Why Saccharum?
The word "Saccharum" comes from Latin and means a genus of tall plants within the grass family, which includes the sugar cane (Saccharum officinarum). The name is not a coincidence.
The sugar cane has been grown in Madeira since the second half of the 15th century. It was introduced to Madeira by Prince Henry the Navigator. Fertile soil, good climate and availability of water helped in cultivation, and most of the sugar was produced for export. At that time, sugar from Madeira was known and valued all over Europe. The cultivation and sugar export has contributed to the development of Madeira; it was mainly thanks to sugar that Funchal gained its city rights in 1508. If we look at the Funchal coat of arms on old buildings, we will see five sugar loaves on it. They were used to underline the importance of sugar in the economic development of the island.
To this day, in Calheta, you are able to visit the Calheta Sugar Cane Mill & Museum (Sociedade dos Engenhos da  Calheta).  
Saccharum's decor

 
You immediately feel that it is a truly unique hotel. At every step, you are able to see decorations referring to the sugar cane or elements of old mills blended in with modern decor.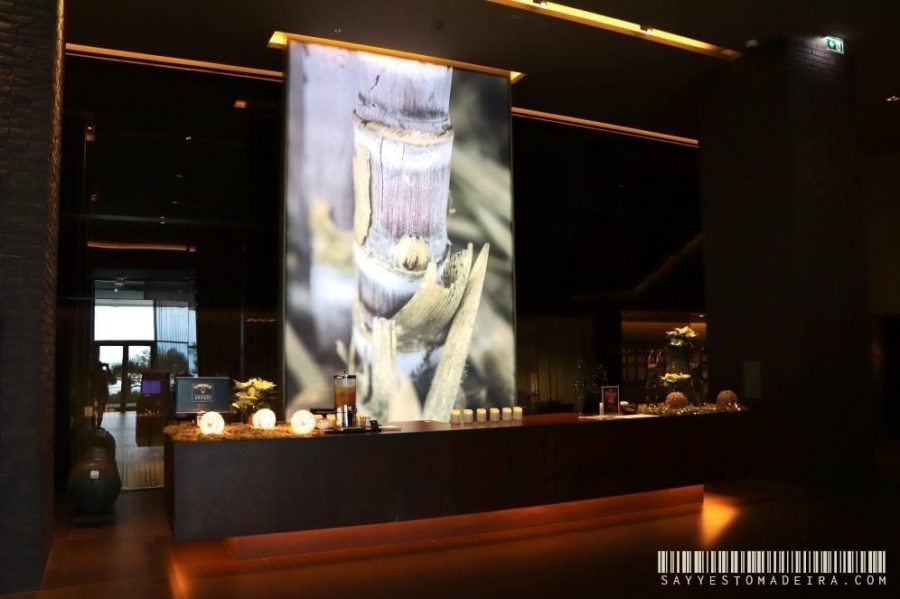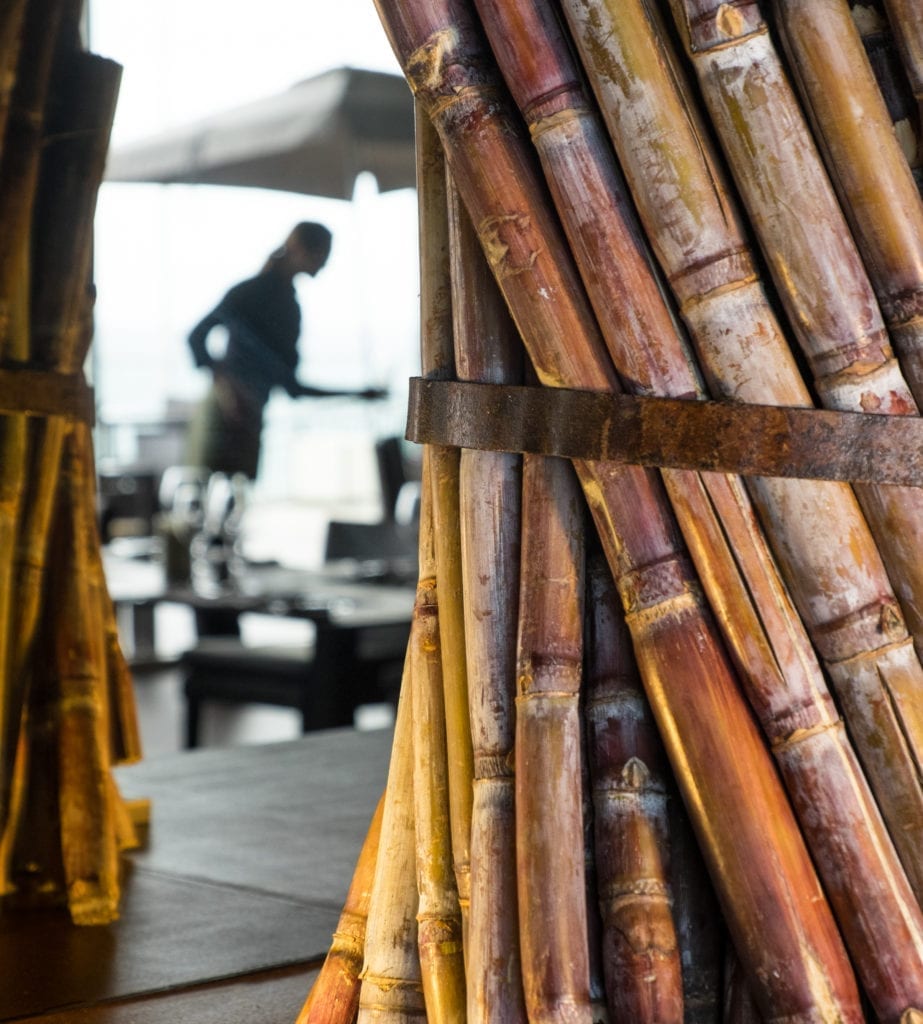 The names of different rooms and areas are words related to sugar cane and sugar production, for example Banquet hall Melaço (syrup/molasses), Bar Trapiche (a small sugar mill), Sala Canavial (cane plantation) or Restaurant Engenho (a mill). On the ground floor, there is also Galeria 1425- a museum hall that can be rented for private conferences or celebrations, and a small shop where you can buy rum and honey cakes.
The hotel was designed by none other than Nini Andrade Silva, born in Madeira, but known and appreciated around the world painter and architect. Her name might sound familiar because of the Design Centre Nini Andrade Silva  – a beautiful centre of art and restaurant in the Port of Funchal, proudly located at the top of the fort de Nossa Senhora da Conceição.
It was Nini who designed, among many others, The Vine Hotel in Funchal and the new Savoy Palace Hotel. Personally, I am a big fan of her style.
Saccharum is a new hotel, it opened only 3 years ago and will be a great place for your stay in Madeira. I would recommend it especially for couples who like modern interiors, contemporary designs, who are looking for space, privacy and beautiful views. It is a luxurious, five-star hotel where you can truly relax.
The location of the Saccharum Hotel
The location of the Saccharum Hotel is simply fantastic. The hotel is located on a cliff and is integrated into cane and banana gardens. Some rooms have an ocean view and some a view of the beautiful green terraces. From the main hotel decks, you are able to see both at the same time.
From the top decks of the hotel, you can go directly to the hotel gardens on the cliff, where also a private observation deck is located. From this point, you will have a magnificent view of the ocean, the beach and the port of Calheta.
This region of Madeira is also famous for stunning sunsets. You can observe the sun setting for example on the top floor lounge, lying comfortably on the beds facing the golden ocean, or from your outdoor Jacuzzi.
The hotel has 9 floors. The main entrance is located on level 0. There is also a bar, the largest banquet hall, and Gallery 1425. Gallery 1425 is a museum, a room commemorating the old honey machine from Calheta. In this room, you can watch a film about the production of sugar cane and its derivatives.
Swimming pools at the Saccharum hotel
The hotel has 4 swimming pools: The most beautiful is the infinity pool on level 8. There is also a swimming pool for adults located by the ocean, a pool for children on level 8, and an indoor pool on level 9. A total of 3 outside pools with platforms for sunbathing and one indoor pool. There is also one beautiful pool inside the spa. 
The hotel has direct access to the ocean with a sunbathing platform and a bar (Bar Calhau).
Rooms in the Saccharum Hotel
The hotel has 243 rooms. All rooms have contemporary décor and unique furnishings. Each room a spacious balcony with an amazing view of the blue Atlantic Ocean or the green cliff. All rooms in hotel Saccharum are equipped with first-class amenities, including individually controlled air conditioning, TV, tea and coffee making facilities, a well-stocked mini-bar, safe and luxurious marble bathroom with a very large shower and a separate double washbasin, a toilet, a hairdryer, and toiletries. Free Wi-Fi is available in all rooms and public areas.
There is also a squash court in the hotel, a gym (open from 7 am until 21 o'clock), games room for children, laundry room, and a room for guests with reduced mobility.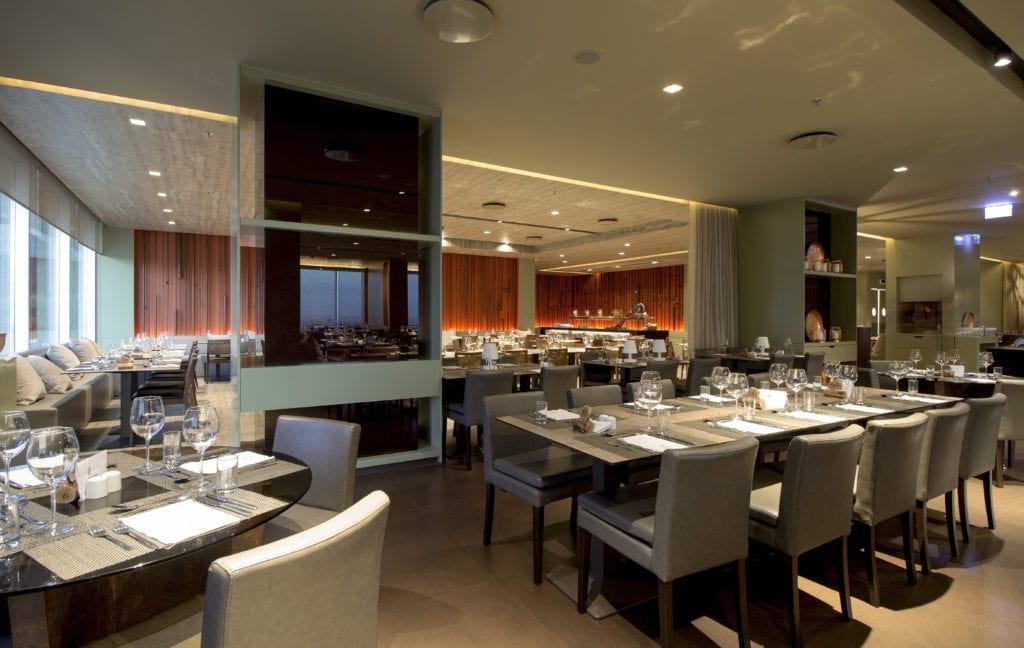 Premium option
Several places in the hotel are not available to all guests.
Those who value exclusivity and purchase the additional Premium Package, above all, have unlimited access to the SPA, the squash court, access to a private bar with free drinks and the Premium Sundeck terrace right under the banana-vegetable garden with comfortable four-poster beds and outdoor Jacuzzi, as well as Yoga and Tai Chi classes, courtesy bus service to and from Funchal and in-room premium amenities.
During our stay, there were only two other couples on the Premium Sundeck, we had the impression that the entire area was just for us. A perfect option a honeymoon in Madeira.
Saccharum Hotel SPA
As you would expect from an award-winning "Resort and SPA", it's not without a reason that the hotel prides itself on its SPA, where you can truly relax and forget about the world. At the guests' disposal, there are 4 treatment and massage rooms, sauna, Turkish bath, jacuzzi, ice fountain, sensorial showers, halotherapy room, relaxation room, water beds, and a heated indoor pool.
The spa offers a whole range of special facial and body treatments: Tibetan, Indian massages, hot stone massages, and a wide range of other scrubs, massages, treatments, and rituals. A signature treatment at the SPA is a… sugar cane massage.
When purchasing one of the treatments, we will also get free access to the SPA (as well as the gym and the outdoor swimming pools).
The SPA in the Saccharum Hotel is open daily from 10 am to 8 pm. Admission for people with the Premium package is free. All non-resident guests are free to visit and the admission fee is 40 euro.
Guests of the Saccharum without the Premium Package and guests of the Savoy Calheta Beach Hotel can enjoy the spa for a discounted price of 20 euro per person.
A perfect hotel for couples
Thanks to its location, the hotel is a beautiful spot for romantic sunsets, especially if you observe it from the outdoor beds on the Premium deck. The Saccharum's infinity pool looks magical during the golden hour. It wouldn't be a bad spot even for a wedding proposal (Just saying…)
Weddings and events at the Saccharum Hotel
The Saccharum Resort & Spa is a modern and elegant place, perfect for an outdoor wedding ceremony, cocktails, and wedding dinner parties abroad. The hotel can also host hen parties, stag parties, anniversaries, and other events.
Here I would like to refer you to a separate, full of beautiful photos, post [Weddings at the Saccharum Hotel]
Calheta attractions and things to do in Calheta
Attractions in Calheta and the area around the hotel were also supposed to be included in this post, but I decided to expand this part and move it to a separate post. Go to: Attractions in Calheta.
Saccharum's Awards & Titles
If I have not convinced you, perhaps you will be convinced by the number of awards and titles given to the Saccharum Hotel so far. 
In my opinion, the Hotel Saccharum Resort & Spa is a great hotel for a successful stay in Madeira, especially for those who are trying to avoid the crowded Funchal hotel districts without compromising on high standards, comfort, design, and great service.
We will definitely be staying at the Saccharum Hotel during our future visits.
Would you like to organize a wedding on Madeira Island or Porto Santo?
Do not miss our latest posts, follow us: