There are hotels which make you feel at home from the moment you enter. Hotel Quinta do Furão has now become one of my favourite hotels in Madeira, especially those located outside of Funchal.
I have seen many pictures of the place, but what I saw with my own eyes exceeded my expectations. It is a much more unique place than I expected and the views from the hotel are just stunning…
My main purpose of the visit was to check the wedding potential of this place, which is by the way amazing. More about it in our post: Weddings at Quinta do Furão. In the meantime, I discovered that it is also a great place to stay, which I honestly recommend. It is not just a regular hotel, and over 700 other guests staying there had a similar experience as me:
CHECK RATINGS OF HOTEL QUINTA DO FURAO ON TRIPADVISOR
Portuguese Quinta?
I love the vibe of quinta's. The word "Quinta" describes in Portuguese an out-of-town property, farm, villa with the adjacent gardens/fields. In this case, it is a quinta – vineyard.
A vineyard with some truly magnificent views on the green, northern coast of Madeira…
There are several buildings on the property, the largest of which is a hotel. It is located on a cliff and surrounded by gardens and vineyards.
A few minutes walk down the garden or through the vineyards we gets you to the second charming building, in which you will find the restaurant, where the service is great, the views are priceless, but prices rather affordable. It is, in my opinion, one of the restaurants with the most amazing view on Madeira. Just take a look: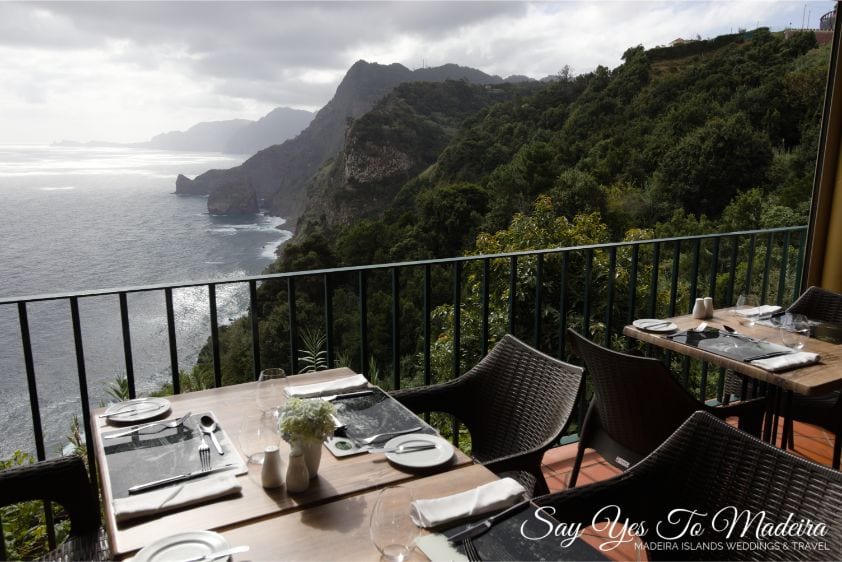 As if that was not enough, there is another garden behind the restaurant, and that garden is rather unique. It even has its name – Jardim do Lagar – a garden with a giant grape press.
We visited the Quinta do Furão Hotel just after the Madeira Wine Festival, so we also found there a giant tent with tables and benches. It is this garden where both local and destination weddings are most often organized.
Hotel Quinta do Furão – Location
When staying in Santana is also worth to visit the neighbouring Faja da Rocha do Navio, which is a beautiful and secluded place under a high cliff. It is one of my favourite attractions in Santana area and what makes it even more special is that you can get there using a cable car. Check out my post about Faja da Rocha do Navio and get inspired. 
Hotel Quinta do Furão – Rooms and balcony view
The view from my balcony was magical. I recorded several timelapse videos at different times of the day:
Hotel Quinta do Furão – Bathroom
The bathroom was a standard bathroom I often see in Madeira. Guests receive a welcome kit: a bottle of soap, shampoo/gel, shower cap, cotton pads, balsam and slippers. My bathroom was equipped with a bath-shower, but as the hotel revealed, in the near future the hotel will be renovated to replace the bathtubs with showers.
Thumbs up for something I don't often see in Madeira, namely: heated towel rails in the bathroom. I believe that every respected hotel with a pool or spa should have these because it solves the problem of wet swimsuits that are needed the next day.
Hotel Quinta do Furão – Pool & Spa
I enjoyed the pool area and most of all- its jacuzzi. The model available in the hotel is better than other standard jacuzzies. It is more comfortable and perfectly designed, has many options, including full leg and neck massage. Of course, you can use it enjoying the amazing views through the glass windows along the entire width.
Hotel Quinta do Furão – Gym
The gym is small and basic, but again – the view…
Hotel Quinta do Furão – Breakfasts
Breakfasts also did not disappoint me. They serve a variety of healthy options, all deliciously prepared. Plus gluten-free options and a lot of exotic fruits …
Hotel Quinta do Furão – Service
The hotel staff was professional in every respect. Whenever I had a problem or a question, a smiling service employee literally appeared out of nowhere, ready to help.
Hotel Quinta do Furão – Recommended for…
Quinta do Furão will be a perfect choice for anyone who likes the atmosphere of a country estate, wineries or manor houses. For everyone who has a car, is planning to discover the north of Madeira, loves hiking but also comfortable stays and relaxing in the hotel spa after a day of hiking. For anyone who likes peace and wants to stay away from Funchal.
Due to its location and poor public transport system in this part of the island, I do not recommend staying there for the whole holiday if you do not intend to rent a car. The bus stop is quite far away. A taxi ride to the centre of Santana will cost less than 10 euros, but getting around will be quite difficult. A shorter stay for a few nights while touring the island would be fine.
My stay in Quinta was very successful and I will definitely return there with my husband. I absolutely loved the hotel which feels like a cozy inn with an amazing, home-like but professional atmosphere.
Quinta do Furão Hotel does not suffer from a lack of guests- it is beloved especially by the French and Dutch tourists, so I recommend booking well in advance:
Do not miss our new travel and wedding posts – follow us!
Would you like to organize a destination wedding on Madeira or Porto Santo? Get in touch: