When I stepped into the hotel's garden, once again I realized that I should listen to my husband more often… It was him who suggested the Quinta do Furão Hotel in Santana as one of the options for our own wedding in Madeira. As I always thought we would get married in Funchal, I did not give this option a chance. But now I know that Quinta do Furão would have probably been one of the strongest contenders.
Quinta do Furão – Garden wedding ceremony with a priceless view
The north coast of Madeira is different from the densely populated south. The coast is more dramatic, green, wild and simply breathtaking. Thanks to its location above one of the high cliffs Quinta do Furão is one of the most uniquely located hotels with an amazing view of the north coast of Madeira.
Wedding at the viewpoint between grapevines
Quinta do Furão consists of two buildings – the hotel and the restaurant. They are divided by a small garden/grapevines field with an adjacent viewpoint.
A small wedding ceremony can take place on the viewpoint in front of the hotel. The bride can enter walking down the actual isle between the grapevines. And with such a view, who needs expensive floral arrangements and altars..? 
Wedding at the Jardim do Lagar Garden
The second option, equally beautiful, greener and suitable for ceremonies of all sizes is the Jardim do Lagar garden.
Jardim do Lagar means Grape Press Garden and it's called like that for a reason. In the middle of the garden, you will find a large, old grape press, which is a real attraction.
The wedding dinner can also take place in the garden, and it is definitely possible to set up a tent. In case of bad weather, Quinta do Furão offers many other indoor or partly roofed options in the hotel, restaurant or bar under the restaurant.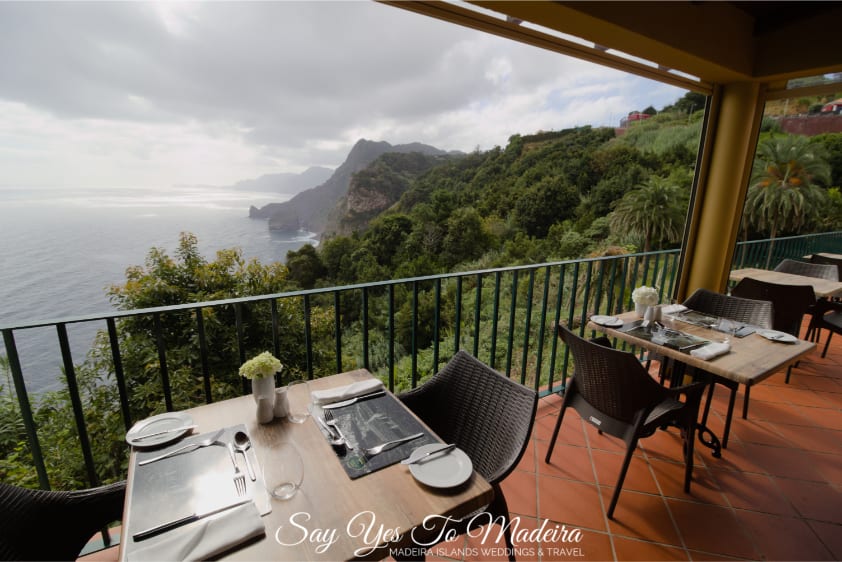 Cocktail hour in the hotel garden/patio
Drinks between the ceremony and the wedding dinner can take place, for example, on the patio or the lawn in front of the hotel.
Hotel Quinta do Furão specializes in events. Is a popular wedding hotel among locals, but also foreign guests.
Altars for smaller wedding ceremonies can be prepared by the hotel and unlike some other hotels abroad, Quinta do Furão does not charge additional fees for renting a ceremony venue if a party or wedding dinner is held at the hotel.
Wedding Hotel Quinta do Furão – photo and video album
Pictures used in this post are not the only ones we took during our last visit at the hotel. If you would like to see more videos and photos, please  contact us.
Wedding Hotel Quinta do Furão – recommended for…
Most of the wedding venues in Madeira are located, in the area of Funchal. The weather in Madeira is often better just off the south coast, which gives the Quinta do Furão Hotel a slightly weaker position in low season. That is why Hotel Quinta do Furão is especially recommended for weddings planned for the summer season.
On the other hand, the location, the views, and charming atmosphere give Quinta a strong advantage. The views are magical, both from the gardens, restaurants and hotel rooms. The service is professional and helpful. The atmosphere at Quinta do Furão is truly something else. It reminds me of American wineries, resorts where everyone feels at home, away from the hustle of a big city, surrounded by nature. It will be hard to find such a place in the main city of the island – Funchal.
Getting to Santana from Funchal or from the airport will offer guests an amazing opportunity to see northern Madeira, so dramatically stunning and beautiful… I believe that this great venue will a dream venue for many eloping couples. 
If you love what you just saw, do not forget to check as well:
Staying at the Quinta do Furão Hotel – Our Review
Check Ratings and Reviews of Quinta do Furão on TripAdvisor
Check the Ratings and Reviews Of the Quinta do Furão Restaurant on TripAdvisor
Is Quinta do Furão your dream wedding venue on Madeira?
No matter if you would like to get married at Quinta do Furão or explore other wedding venue options on Madeira or Porto Santo, don't hesitate to get in touch.
Are you interested in Madeira or Porto Santo as a place for your next vacation, destination wedding, event or a photo shoot?
Don't miss our new posts – subscribe!