Madeira Story Centre in the Old Town of Funchal – To visit or not to visit? 
We passed by the Madeira Story Centre hundreds of times during our trips to Madeira, not really interested in what it is and what it can offer. We assumed it wasn't more than just a big souvenir store, but we were wrong. Last time, bad Christmas weather made us look into indoor attractions in Funchal and Madeira Story Centre was one of them. We visited the museum, the store and the restaurant, and we are glad we did. 
Today, lots of practical information, pictures, and 4 reasons why you should visit the Madeira Story Centre in Funchal.
What is Madeira Story Centre?
Madeira Story Centre is very similar to the Madeira Film Experience which is: introducing the history of Madeira to tourists, in an interesting way. On the ground floor, there is a big souvenir store and a café. On the second floor, the museum is located. There is also a nice indoor/outdoor restaurant, with a nice extra surprise on the top floor… 
Madeira Story Centre is a small but very informative museum. I will tell you about Madeira Film Experience another time, today I would like to tell you about the Madeira Story Centre and list 4 good reasons why you should visit it.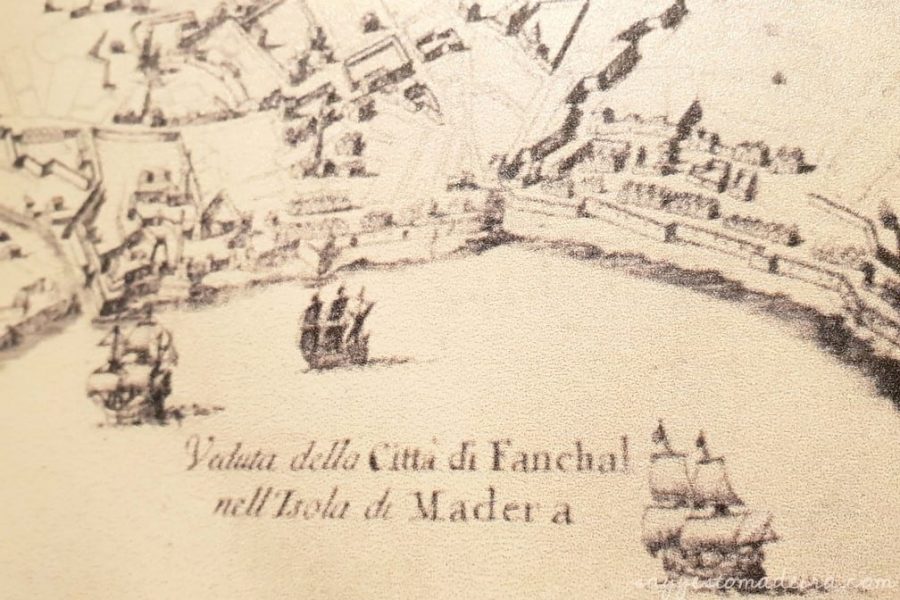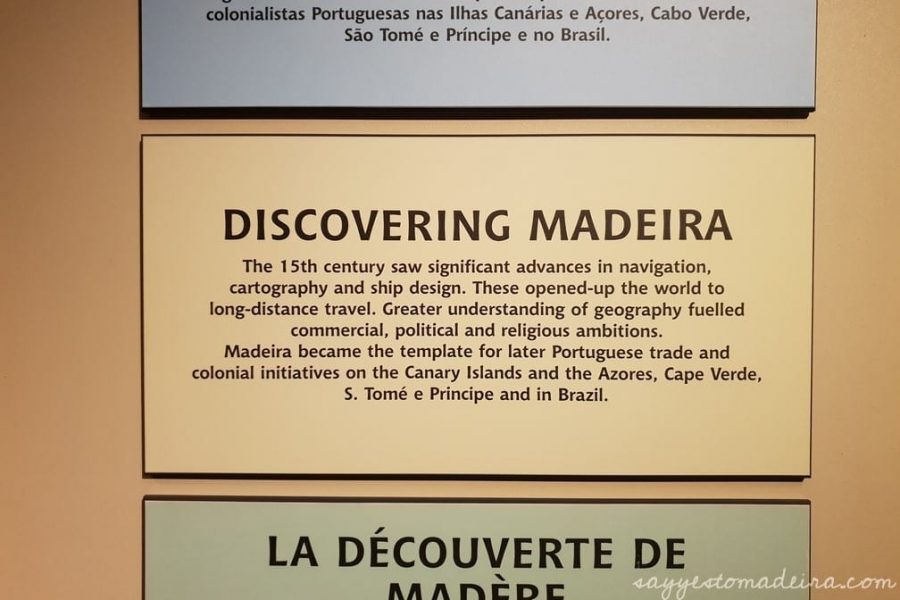 1. Madeira Story Centre Museum – for kids and adults alike
It isn't as spectacular as the Universo de Memorias Joao Carlos Abreu, but it is also extremely interesting and informative. If you are genuinely interested in learning more about Madeira's past, you will like it. 
Madeira Story Centre is an attraction suitable for kids. There are a lot of interesting exhibits, screens with interactive games which they can play, while parents focus on reading the provided information. One of the games is, for example, building your own virtual ship.
The exhibition is organised chronologically. If you stop and read all the signs, it should take you approximately 1 hour.  There are multiple information boards and all are available in four languages: Portuguese, English, French, and German.
They take you through the entire history of Madeira; from the island's volcanic origins, through its discovery, their sugar cane trade, the start of tourism, to Cristiano Ronaldo.
SEE POST: 13 PLACES ASSOCIATED WITH RONALDO
Yes, you will find a trace of Ronaldo here; his signed T-shirt.
Opening hours of the Madeira Story Centre Museum are: 9 a.m. to 7 p.m. (Monday to Sunday)
Ticket prices Madeira Story Centre Museum: Normal Ticket: 5€; Children: 3€
If you visit the museum, you will receive a 10% discount to the roof restaurant or the souvenir store (at least we did, in December 2018)
2. Madeira Story Centre Restaurant
We enjoyed the Madeira Story Centre Restaurant. We went there multiple time – come rain come shine! This restaurant accepts the MadeiraNow discount card, which helps you save a lot during your trip. 
SEE ALSO:  MADEIRA ISLAND DISCOUNT CARDS
Important for all tourists not speaking foreign languages too well – the menu is translated into many languages, including rare languages such as Polish. To some, such a menu can be a great help.
The food was good, as I would expect, but what I liked the most was the view and the service. The restaurant is spacious and most of the tables are located outside, just next to the Teleferico (Cable Car) station, overlooking a busy square. If you love observing street life, you will have a great time.
You can also see the cable cars passing by nearby. All in all, a relaxed place for a sunny, but also for a rainy day, as there are many umbrellas allowing you to sit outside even when it is raining. 
The service was also great, very friendly. Absent-minded as I was, I lost my phone in the restaurant… I realized it at the moment of paying, but I could relax when I noticed a waiter running towards me with my phone in his hand… I was extremely grateful.
As I mentioned – If you visit the museum, you should receive a 10% discount to the restaurant (at least we did, in December 2018).
3. Madeira Story Centre Viewpoint
Its panoramic viewpoint on the roof of the building is what I would recommend everyone to visit. It allows you to enjoy a view on the Old Town, the famous Rua da Santa Maria Street with its painted doors, the Teleferico and Funchal. 
The viewpoint is, of course, free of charge and you access it via the restaurant.
During our May 2019 lunch in the Madeira Story Centre restaurant, we were very pleasantly surprised. On that day, the tables were set up outside, on the observation deck on the roof of the building.
SEE ALSO: MAY WEATHER ON MADEIRA 
4. Madeira Story Centre Shop
It is a big-size souvenir store, offering both mass-produced souvenirs and local and handmade products. 
Opening Hours Madeira Story Centre Shop: 9 a.m. – 7 p.m. (daily) 
Location of the Madeira Story Centre
The address is: Rua D. Carlos I Nº27-29, 9060-051 Funchal, second floor (next to Teleferico station and the bus station).
What did you think of the Madeira Story Centre Museum and its restaurant? Leave a comment below!
Would you like to organize a wedding on Madeira Island or Porto Santo?
Do not miss our latest posts, follow us: