I came across Iva's post on social media and it immediately caught my attention. During my studies, I also participated in two international study exchanges programmes and both were amazing, truly life-changing experiences…
Iva chose Madeira as one of her Erasmus exchange destinations. Today I would like to ask her a couple of questions regarding being an Erasmus exchange student in Madeira.
SYTM: Tell us a bit about yourself. Where and what did you study before you came to Madeira?
Iva: Hello! I am Iva and am from the Czech Republic, where I study Primary School Teaching. I will graduate this September!
Madeira wasn't my first international experience. Before Madeira, I participated in the Erasmus experience in Granada and Valencia, Spain. Then I came to Madeira for 4 months, but I decided to extend my stay and do an internship also related to teaching.
SYTM: Why have you decided to come to Madeira? Did you consider other destinations?
Well, I always wanted to learn Spanish, so I was focusing on the partnering schools in Spain. That's how I ended up in Granada. At the same time, one of my friends got accepted to the Erasmus programme in Madeira. Once we got home we were both so excited about our choices, that we encouraged each to "swap" and visit the same destinations. And so, as our next destinations, she went to Spain, and I applied for another exchange programme, in Madeira. 
SYTM: Is Madeira a popular Erasmus destination? Was is difficult to get accepted?
Iva: Honestly, and surprisingly, it was not at all difficult. Probably, being a small island, Madeira isn't so well known among Erasmus students. That's probably why there are not many applicants and the competition isn't fierce. This is good news to those students who already know how beautiful Madeira is.
SYTM: You stayed at the Sasuma – university dormitory. Was it difficult to find student accommodation in Funchal?
Iva:  I was arriving in Madeira in September, but as I was busy travelling the entire summer, so I decided to choose the easiest option and apply for a dorm room. Erasmus students usually get accepted, but the process can sometimes take a long time. Sometimes you might even be rejected due to no rooms available, but once some students change their plans, rooms become available again. 
I know that some students prefer to rent rooms and apartments outside of the campus, but whether it is difficult or not, it depends on a lot of factors, especially the time of the year and their budget.
SYTM: What's the cost of the university dormitory? Are the living conditions good?
Iva: The cost is 155 euro per month (shared room), payable within the first 8 days of the month. Upon arrival, you need to pay one month in advance.
The facilities are fine, there is a canteen and the food was delicious, but, do not forget that it is still a dorm, so there is a reception and there is a curfew.
I stayed on the second floor because I wanted to live together with Portuguese students, but a big number of Erasmus students stays in the rooms located in the basement. This is also where the reception can be found. There is also a rule that it is not allowed to visit others after 10 pm. Visitors are also not allowed after 10 pm, which is restricting and can be complicated.
One time, we organized a dinner in our room. Among our guests, there were students and locals, but unfortunately, we were not able to finish cooking by 10 pm. Normally, they would have to leave before the curfew.. but we have discussed it with the security and they understood our situation. If you do not make too much noise or cause any problems, the security can be a bit flexible, but in other cases, non-residents will be requested to leave.
The dormitory is perfectly located, in the historic Old Town of Funchal, just 5 min from the ocean, which is great, but it is also a bit far from the university. You can catch a bus or walk 40-50 min. The supermarket is 10 min walking away.
SYTM: Do exchange students get enough assistance from the host university in case they have problems e.g. finding accommodation?
Iva:  I am not sure whether the university helps students, but for sure there are student organizations who do. For example the ESN – Erasmus Student Network in Madeira. They are volunteers and they are super lovely, they help Erasmus students a lot, also e.g. with finding accommodation.
SYTM: I assume that as a student you had a limited budget. Are there enough attractions on Madeira to do on a budget or for free?
Iva:  Madeira is full of events and activities you can enjoy for free!
For example, in October, they hold a lovely event called Madeira Nature Festival, where you are able to participate for free in various activities, such as paragliding, hiking, jeep tours, diving and canyoning. On other times of the year, these activities cost a lot of money. To get your free ticket, you need to stand in line for a while in order to register, but it is still worth it.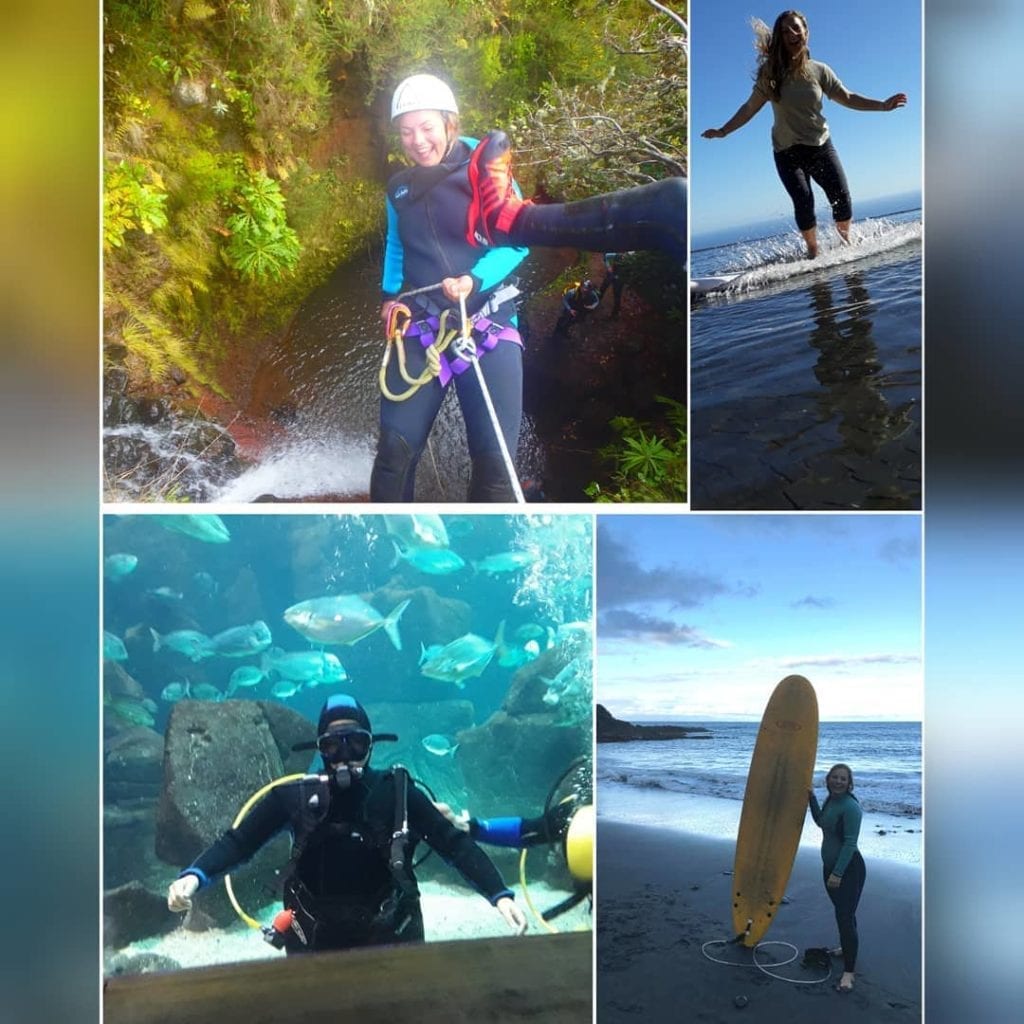 Except for the Nature Festival in October, there are many other events which you can experience for free such as the Madeira Carnival, Flower Festival and the Flower Parade. These are really amazing –beautiful costumes, people dancing… There are definitely many things you can do for free.
Or, as an Erasmus student, you can participate in other events organized by the ESN Student Organization. These are not for free, but with your card, you get a good discount.
Moreover, with so many stunning hiking routes on Madeira, you have something to do each weekend.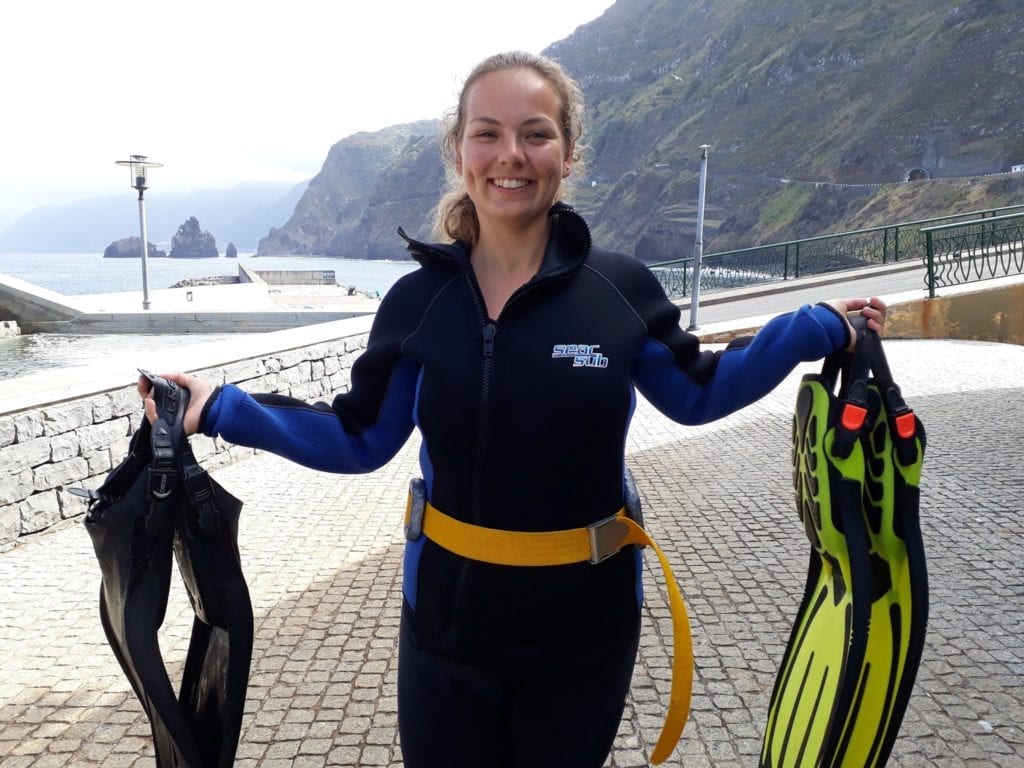 SYTM: Are you seen as a resident? E.g. Would the discounted rate for the Porto Santo ferry apply to you or would you have to pay the tourist price?
Iva:  Within the ESN Student Organization, yes. I have not noticed any other discounts.
Since my stay was originally supposed to be only 4 months, I did not apply for a resident card. Later, my stay got extended to 8 months, and afterwards, I regretted not having done that.
When I was in Granada I registered as a resident and I had some discounts… But In Madeira, without the resident status, I always had to pay the full tourist rate, also for the Porto Santo ferry.
SYTM: Does the University offer Erasmus students in Madeira free Portuguese classes?
Iva:  Yes, it is offered as one of the classes. The Portuguese teacher was a lovely person. The classes itself were a bit disorganized in my opinion (sometimes we switched topics too much).
What helped me the most in learning Portuguese on Madeira was the online learning course provided by Erasmus. I also met many locals and although my vocabulary was sooo limited I tried using Portuguese since the very begin. I was constantly listening to Portuguese speakers and repeating the words I learnt.
My local friends were impressed by how much I progressed. The first time they met me I knew maybe 5 words, and towards the end of my exchange, I could have a conversation with them!
SYTM: In your opinion – is living in Madeira much different than visiting it for holidays..? 
Iva: Hard to say, as I have no comparison. I never came to Madeira as a tourist.
I think tourists have no other responsibilities, so can enjoy it a bit more. But on the other hand, even after living here for 8 months I still left with a feeling that I did not have enough time to visit all the places I wanted.
I know that some Erasmus students felt a bit isolated being on Madeira. The only ways to get to the continent was by plane and the tickets were very expensive. It was not easy to e.g. visit their family for a weekend.
The funny thing is, coming to Madeira I was not as excited about it as I was about my previous experiences abroad. I always used to compare it to Granada or Majorca, which I visited many times ONLY as a tourist. I loved Majorca, and I used to say "Madeira is nice, but not as nice as Majorca". However, after spending months on Madeira, I found it really hard to leave the island. I could not stop crying while waiting for my flight back…  
This amazing experience changed me. A couple of weeks after leaving Madeira I visited Majorca again, as a tourist, but I looked around and I remember saying "All in all, Majorca is nice, but it is not Madeira…"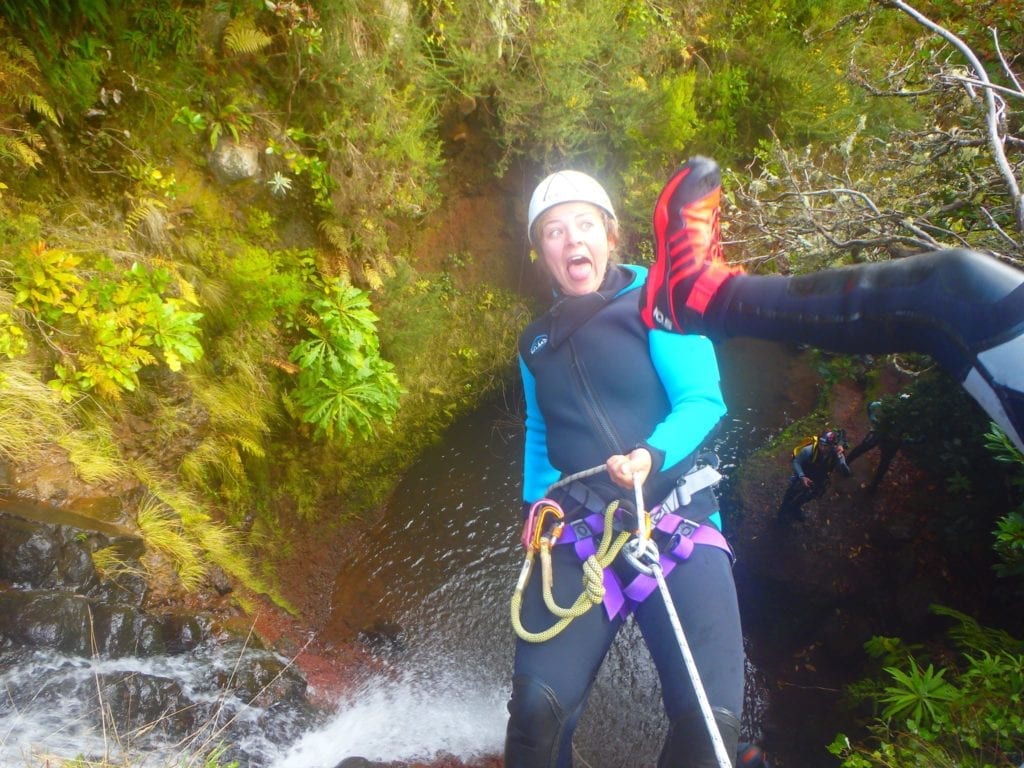 SYTM: What's your best memory of your Erasmus exchange on Madeira?
Iva: Impossible to pick just one… There are so many… Some of my favourite experiences were: diving in the aquarium in Porto Moniz, trail running in the mountains… I also remember climbing Pico Grande. It was so difficult, I was exhausted, but once we reached the peak, it was blissful… Same as hiking between Pico do Arieiro and Pico Ruivo and the feeling of being above the clouds… There are no words to describe it.
I also remember all events organized by the ESN Network, experiencing the local culture… One of the local families invited me to spend Christmas with them, which was incredible.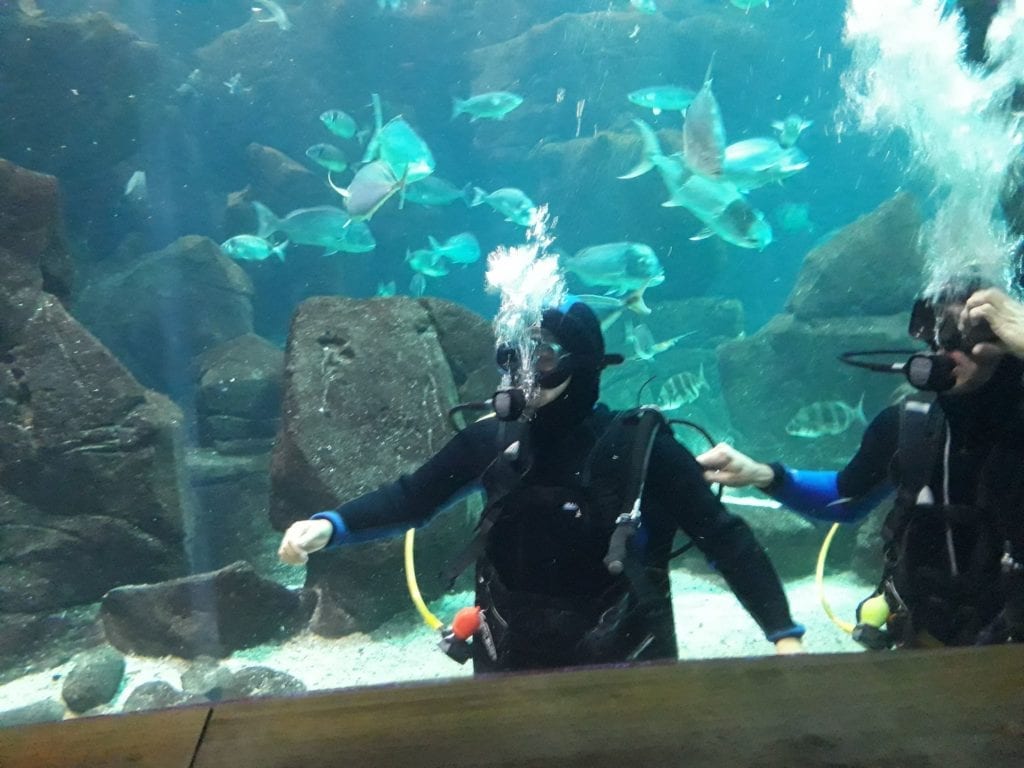 SYTM: What are your favorite places on Madeira?
Iva: So many… In Funchal: Park Santa Catarina, Pico dos Barcelos, Lido Bathing Complex, the Funchal Promenade, Praia Formosa beach. I love these places.
Outside of Funchal I enjoyed being in the mountains: Pico do Arieiro, Pico Ruivo… My favourite levadas were: Levada Nova and Levada Ribeiro Frio. I also enjoyed Paul de Mar, Prazeres, Ponta de Sol, Ponta de Sao Lourenço… So many places, I can keep listing for hours!
SYTM: Any tips for students thinking about doing their Erasmus exchange in Madeira?
Iva: To all Erasmus students – just enjoy the Erasmus experience. It is the best language course you can imagine – immerse in the culture, meet locals and learn the language of your environment. Party, but it would be a waste of time to do just that…
For those who chose Madeira – join the ESN activities, enjoy nature, and do not forget to visit Porto Santo.  
For those visiting in the first semester (October): put the Nature Festival in your agendas! For those visiting in the second/spring semester: Enjoy the Carnival and the Flower Festival.
SYTM: Anything else you would like to share?
Iva: I would like to thank you, Edyta, for giving me the chance to share my story, thank you for supporting me. Many thanks to everyone who was a part of my Erasmus experience, no matter where I was.
Many thanks to everyone who supports me by reading my Erasmus articles. Once again many thanks!
Many thanks to Iva for sharing all her great tips, pictures and first-hand experiences. Be sure to check out her blog posts about her Erasmus exchanges and take a look at her oozing great energy IG account!
And if you are interested in visiting Madeira and Porto Santo- follow us!
Visiting Madeira island? find accommodation: