Learning (European) Portuguese  online with Practice Portuguese
Today's post begins a new category on my blog. In this category, I would like to recommend and review language courses; online courses and in-class courses (in Madeira and in other parts of Portugal) and various websites and apps. We will focus, of course, only on European Portuguese.
I would like to start off this series, reviewing one of the best, in my opinion, website with study materials- Practice Portuguese.
On Practice Portuguese, you learn Portuguese through English. Are you not a native English speaker and you find it difficult to study other languages using English? We have good news!
The team of Practice Portuguese is considering adding other languages versions to their website. Would you like them to consider adding your native language? Let them know in the comments below, they will be reading your comments! 
European Portuguese vs. Brazilian Portuguese
How different are Portuguese from Portugal and Portuguese from Brazil? There is a very noticeable difference, especially in pronunciation. See also post: 
That's why, especially when using video and podcast study materials, it's important to learn Portuguese in the exact version you need. So if you would like to learn Portuguese, because it is required for your work, study exchange in Portugal or just a trip to Portugal – this review is for you…
Practice Portuguese lessons – our review
I am a person who rarely buys full memberships and prefers to first make sure that my money will be well spent. Practice Portuguese membership is one of those programs that are definitely worth the price. All we need to do is quit inventing excuses and dedicate ourselves to studying the language.
Authors
Practice Portuguese was created by two great guys- Joel and Rui. Rui is Portuguese and Joel is a Canadian, who is in love with Portugal. They are based in Lisbon, but they often collaborate and invite to their podcasts guests from other parts of the country and Brazil. Rui's family, his mother and his adorable grandmother are also frequent guests. 
Free access vs. Premium membership
Creating such an efficient website with audio and video recordings requires a lot of work and there are no ads on the site. The website is funded by membership fees, which are 12 euro/month.
In the free version, we have access to some of the materials, especially suitable for those who already know the basics. We can listen to podcasts, but we do not have access to the transcripts, word lists, phrases and tests. The most important difference is no access to the interactive Learning Studio with basic Portuguese lessons.
What do you get after buying the paid membership?
First of all access to Learning Studio. How does it look like?
Learning Studio consists of two parts – UNITS and VERBS.
UNITS is more than 60 sets of lessons starting with real basics ("Os fundamentos"):
ending up at more advanced courses: 
Lessons are absolutely not boring, they are interactive, and next to each sentence there are buttons allowing you to directly listen to the correct pronunciation:
In these lessons, we will learn basic phrases, words and grammar. The program will remember your progress and show the percentage of material covered. After logging in to the site, you are automatically taken to the place where you finished last time.
The second part of the Learning Studio is VERBS – verbs and their conjugation.
Correct conjugation of Portuguese verbs is very important, but for some, it might be of the most monotonous parts of learning a language… With Portuguese Practice, learning conjugation of Portuguese verbs will be a bit less troublesome…
Apart from the access to the Learning Studio, paid membership will also give you access to all the podcast/video transcripts. 
We can adjust the settings ourselves – e.g. by enabling or disabling automatic scrolling or automatic English translations.
You can choose from a lot of podcasts on different levels: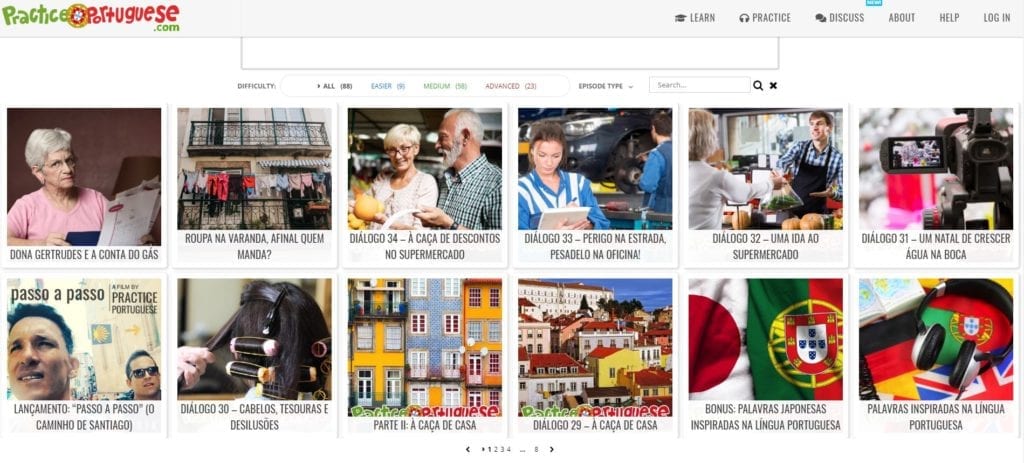 In addition to audio materials, there are also videos.
Choosing "Premium feature – Unlocked to Public" we can try out the unlocked demo materials available to everyone.
The latest addition to the Practice Portuguese are mini-lessons, so-called "Shorties" – similar to podcasts, but very short (1-2 minutes).
This is something for those whose excuse was a lack of time:
Shorties are really helpful and they are personally one of my favourite parts.
Levels 
Practice Portuguese has something for every level. Podcasts and videos can be filtered by difficulty.
For beginners who want to learn some basic words, the Learning Studio lessons will be the most appropriate. Those, who are only looking for some basic phrases for their holidays in Portugal, can find them for example here:
Practice Portuguese Community Forum
A very interesting option is also a forum where people from around the world learning Portuguese can get to know each other, share their tips, interesting links, ask questions.
Pros and cons of Practice Portuguese
What do I like the most about Practice Portuguese?
Transparency, functionality, ease of use
On the Practice Portuguese website, you can find icons with pronunciation almost at every step.  You can not only see the new words and phrases but also listen to them.
Some of the materials are funny, a bit comic, which is why they are not boring and it's easier to listen to them multiple times. Practice Portuguese podcasts can also be listened to on podcast applications such as for example CastBox.
It is also very cool that the Practice Portuguese team listens and enjoys contact with users. If you miss a function or topic, let them know!
Practice Portuguese Instagram account
Do you have Instagram and you like following language learning accounts? Even if we do not know English well, you will learn a lot from following their account, for example, thanks to [such short videos].
Simple, clear and straight to the point – quick vocabulary lessons: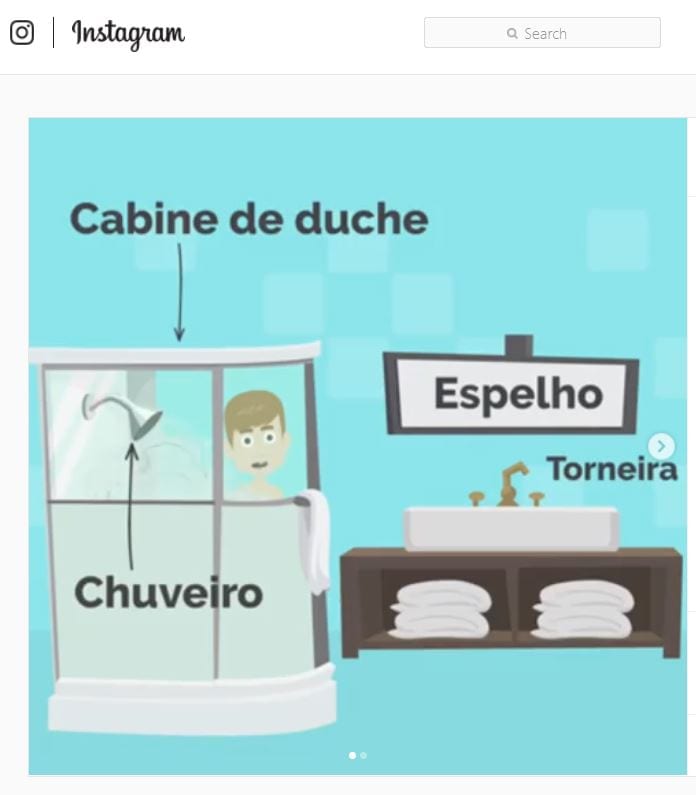 This is not a sponsored post. I sincerely think that Practice Portuguese is a good website and that the paid membership is worth the price. Rui and Joel work hard on new materials and improvements, listening to the suggestions from users. There are a lot of materials on the site, suitable for students on different levels.
And before I add the final thoughts in my review I would first like to share with you some of my favourite episodes:
As you might have noticed, both of my favourite episodes are about the differences between European & Brazilian Portuguese, and about what funny misunderstandings these differences can lead to… Being a fan of languages, I have always been fascinated by conversations between people raised in these two countries.
So my last thought in this review is that what I really like and appreciate about Practice Portuguese are lessons like this. It is hard to even call them "lessons", but that is what it is all about- learning languages should be fun, and not a boring task. 
I am glad that thanks to such interesting and funny materials Practice Portuguese "smuggles" the knowledge and help people all over the world study Portuguese in an interesting and easy way.
In my opinion, Practice Portuguese is one of the best options available at this moment online for studying European Portuguese. 
Would you like Practice Portuguese to be available in other languages? Which ones? Let the authors know in the comments below. 
Do not miss our new posts – subscribe!
GOING TO MADEIRA ISLAND? FIND YOUR DREAM STAY: