"What will the weather be like in Madeira in …" is probably the most frequently asked question on Madeira Facebook groups… I realize that describing the weather in Madeira in September and October 2019 does not mean that it will be the same in the following years, but to give tourists some image here's another photo weather report about the weather in Portugal after summer.
I will focus on both Madeira Islands in September and October, but I will also quickly show you our beautiful weather shots of Algarve and Lisbon.
Weather in Madeira – beginning of September
We usually come to Madeira in the off-season. It is the third visit in Madeira in September/October, and just like the previous two times, the weather was amazing… For me personally, the weeks after school holidays are the best time to visit Madeira and Porto Santo.
This year's visit was probably the most successful one so far. Some days were cloudy, but it was mostly hot in Funchal. We wore short, very short sleeves all days long, up to late evening hours. Long sleeve clothes and jeans lied all month long on the bottom of my suitcase, unused, and the rain jacket came in handy only once – during a levada walk involving a couple of long tunnels. During my entire stay I saw rain twice; once in the north of the island and once in Funchal. Water temperatures were high and swimming complexes still open. For tourists coming to Madeira to swim and sunbathe – ideal weather conditions.
This time, I came to Madeira by ferry from Algarve, where the weather was also great. It was hotter and not as humid as in Madeira: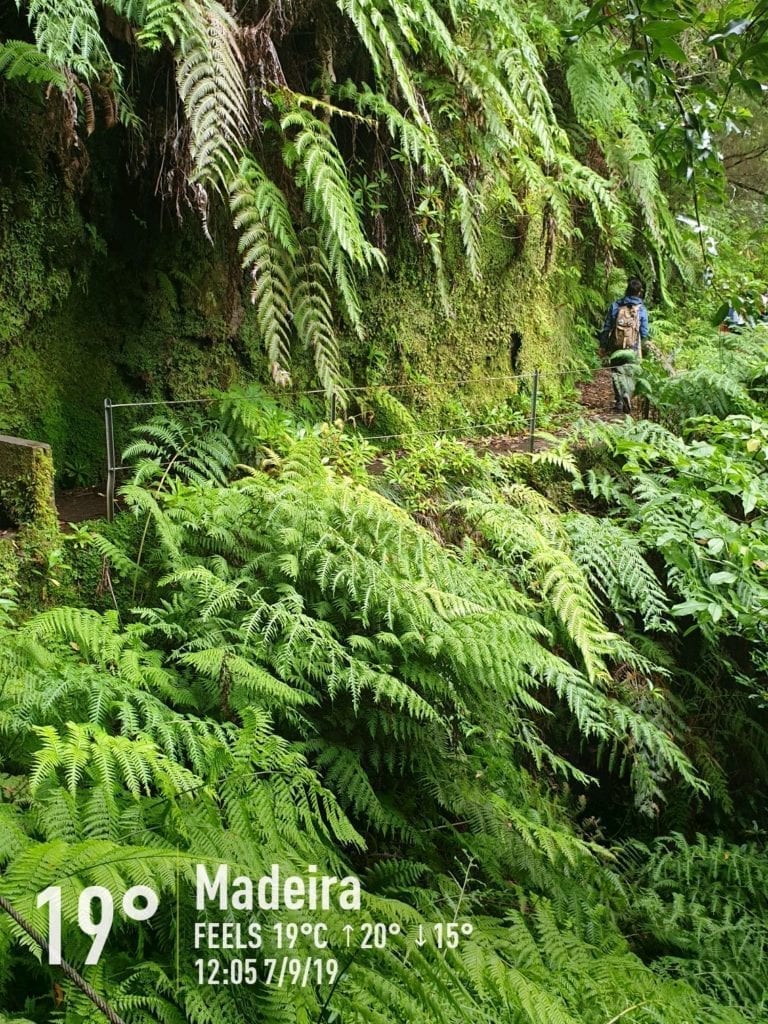 Sometimes, depending on the location, the sky was overcast. It happened a couple of times that the day began with clear skies and in the early afternoon heavy clouds appeared. However, it was still very warm and pleasant. I was tanned after the first days.
I found sunny skies even on the north coast of Madeira, which I have usually seen overcast, gloomy or rainy.
Weather in Madeira – the second week of September
On Monday, September 9, we were attending a wedding near Caniçal and Ponta de São Lourenço. On our way there, we were looking at the grey sky, and we felt truly sorry for the couple because the ceremony was to take place in the open air. During the ceremony, however, the sky cleared up in a blink of an eye. Their after-ceremony pictures were sunny and beautiful – all in all the couple was lucky!
After the ceremony, we went with the couple for a photo shoot at Ponta de São Lourenço, where the clouds were slowly and gradually disappearing. We took the first photos in cloudy conditions, and over time the hot sun came out. At the end of the photo session, we were all sweaty and sunburnt!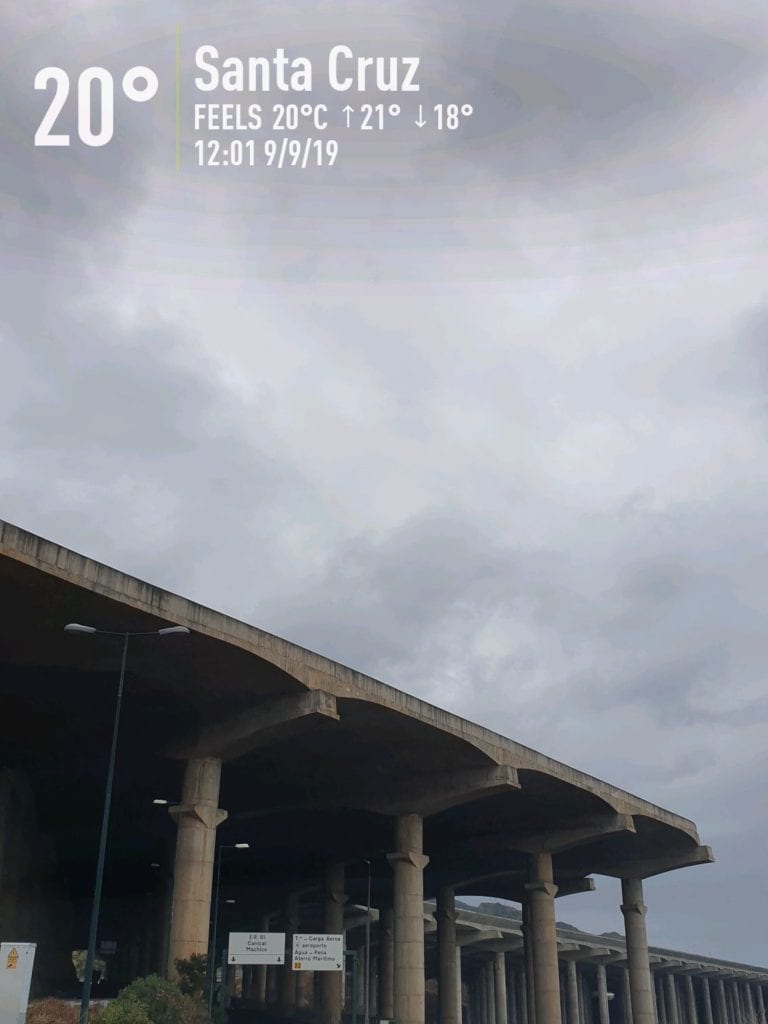 Very frequently a return to the southern coast of Madeira means a return to better weather, and so it was also in this case. It was hot, I spent my days swimming in the ocean and bathing complexes.
On the hottest day (29 degrees!) We went to the beautiful little beach in eastern Madeira – Prainha beach near Canical.
Weather in Madeira – the third week of September
Mid-September weather was a bit more unstable, but most of the time in Funchal it was still very warm. In Funchal, we only had one really rainy day – Saturday 21 September. 
Here I would like to show you an almost 10-degree difference between the coastal areas of Funchal and higher parts of the city (only 3 hours later):
Weather in Madeira and Porto Santo – end of September
The last days of September in Funchal were warm, but at times cloudy. It was much colder in the northern coast of Madeira.
We spent the last September weekend on Porto Santo, but just like during my May trip, the weather was unstable. Both days started sunny, allowed us to sunbathe, after which the sky got cloudy, and we had to leave the beach.
Porto Santo beaches were almost empty at the end of September. We did swim in the ocean many times and the water temperature was simply perfect… For those looking for beautiful beaches which are not too crowded, September will be a great month.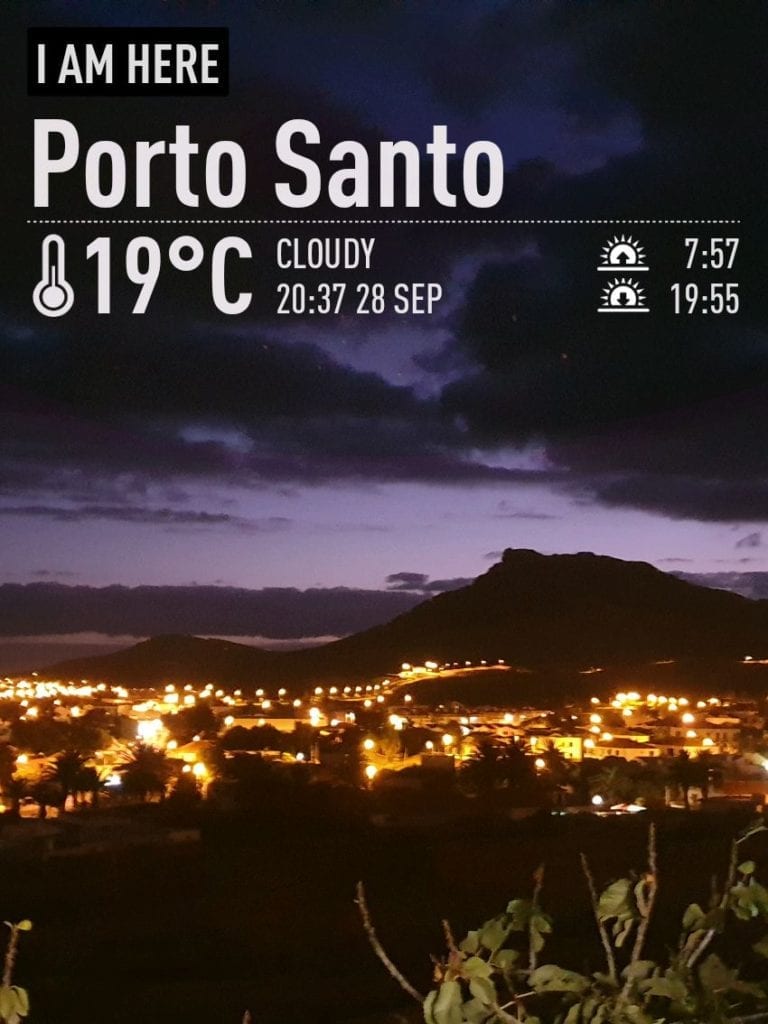 RELATED POST:  STAYING AT SOTAVENTO GUEST HOUSE IN PORTO SANTO
Meanwhile, On Sunday night we went back to Funchal, where the weather was again simply perfect.
October weather in Madeira
October started sunny. Ideal weather for sunbathing and swimming. On October 3 and 4 I did two levada walks: 25 Fontes-Risco and Levada do Rei. Most of the levada walks I did in the past were done in low temperatures and cloudy, foggy conditions. Doing a levada walk in the burning sun was a new experience for me. Both in Rabacal and Santana area the weather was great and sunny. Again, ideal weather for tourists, not so much for the locals complaining about the dry weather. One of the Levada do Rei waterfalls completely disappeared due to low rainfall in the last weeks.
RELATED POSTS: LEVADA 25 FONTES – REVIEW & INFO
We left Madeira on October the 5th. It was our third Madeira visit in this period (September/October) and again, we simply adored the weather. In my opinion, this is probably the best time to visit Madeira. Directly after the school holidays, it is not as busy and plane/hotel prices are lower, while the weather is usually still good.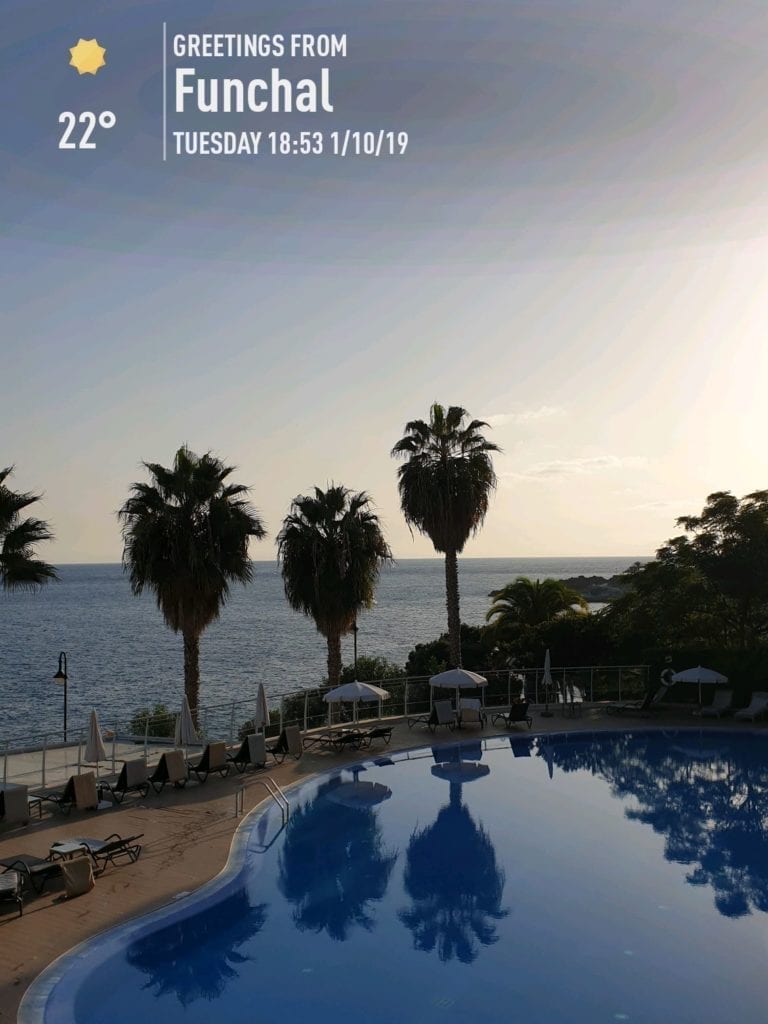 Another great reason for visiting Madeira in October is the Madeira Nature Festival, during which tourists are offered entirely free-of-charge activities, such as hiking jeep tours, canyoning, surfing, paragliding and others. For more info see post:
Weather in Portugal (Algarve and Lisbon) in August / September
Before I reached Madeira by ferry, I spent a few days in the Algarve region and one day in Lisbon.
Usually, I focus on Madeira, but in mainland Portugal, probably out of habit, I also registered the weather. I think it's worth showing these beautiful photos to those interested in the end-of-summer-holidays weather in Portugal:
How do I create my weather graphics? Weathershot!
As always, many thanks to Weathershot app for making this report possible. 
Maybe you also have a travel blog or simply are planning to travel to a beautiful destination and you would like to be able to save the weather pictures in the same way…? 
If so, today a couple of words on the tool I am using – the Weathershot app.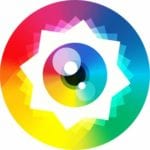 Creating weather graphics with Weathershot
Everyone can download the free demo version of Weathershot, which already gives enough free options.
The weather conditions reports can be added by taking a photo using the application, or afterwards- by adding weather data overlays on already existing photos. We must allow the app to be able to read the locations, otherwise, the application will not be able to load the correct weather data.
Graphics can be edited, their format adjusted to the size suitable for Instagram or Stories. We can choose horizontal or vertical orientation as needed.
Travel bloggers should be interested in the Premium version, in which, apart from other extra functions and a larger selection of graphics, we also have the option of removing the Weathershot logo and adding our own.
New function – The Journal
I have missed this function so far. In addition to new skins, the Weathershot team has recently added a function called Journal. After clicking on the Journal tab we will get a beautiful chronological summary of weather by date. Useful especially during intensive travels.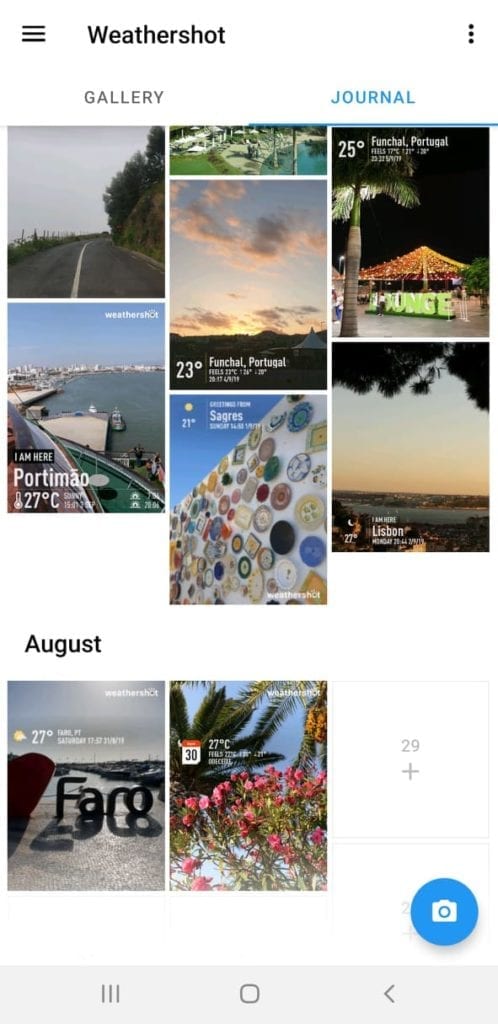 I hope that our weather report was useful. No matter which time of the year are you visiting Madeira, start your planning with our handy Madeira bucket list:

Would you like to organize a wedding on Madeira Island or Porto Santo?
Do not miss our latest posts, follow us: