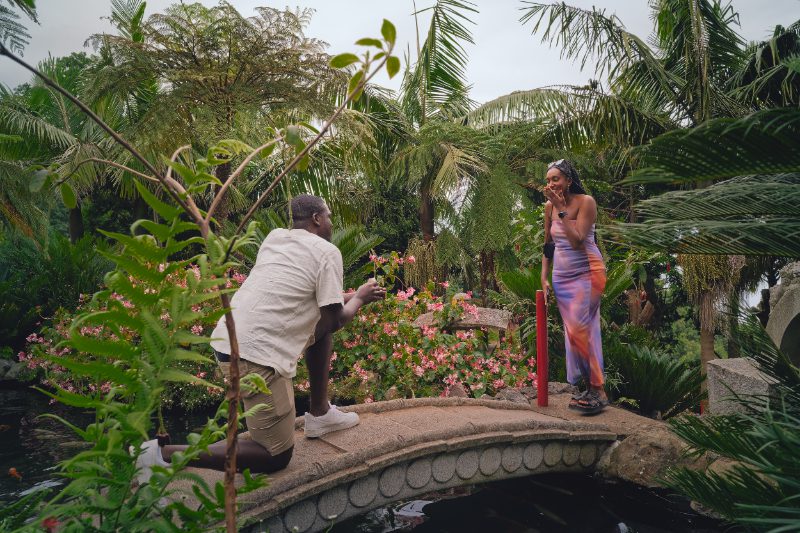 A surprise engagement is always a magical & emotional moment – not only for the couple, but for every person involved in the planning. Today we will show you the story of an extraordinary engagement shoot organized by a team of helpers and led by a local Madeira photographer…
♡ We would like to thank M&D for allowing us to publish photos of their magical moment.
July 27th, 2023 ♡ Zero hour
Unaware of anything, the future fiancée is visiting the beautiful Monte Palace Tropical Garden in Funchal, Madeira. In the company of her girlfriends and without her beloved boyfriend, who stayed back home in the UK.
Suddenly, on one of the park's little bridges, a familiar figure shows up… But how? Surprise, disbelief and a thousand questions, which are answered soon enough, when he kneels in front of her with an engagement ring in his hand…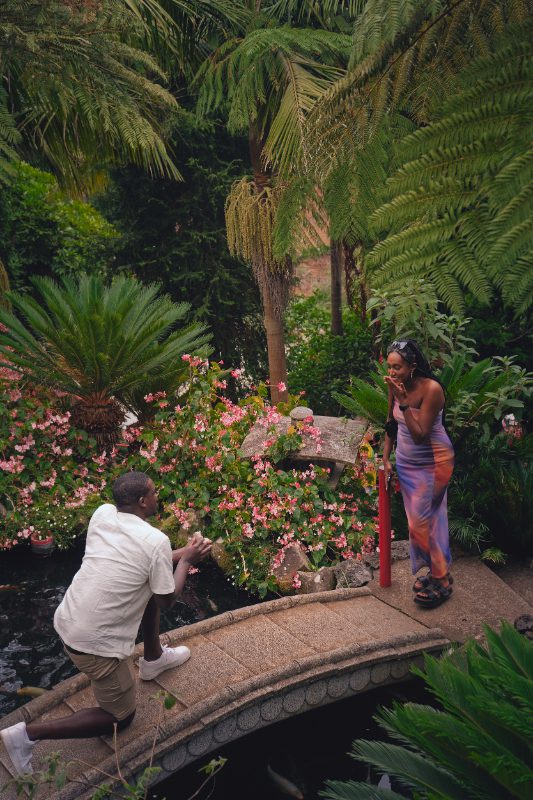 "Yes! I will!"
Tears of joy and still very much in shock, while the moment is being captured by a hired photographer. The result? Genuine pictures of a moment that will stay with them forever…
A surprise engagement is one thing, but what about when you don't even expect that your partner is in the same country as you? A visit to the Monte Palace gardens was supposed to be just a sightseeing tour with the closest girlfriends. But as it turns out, in the entire group of 6 people, the engagement was a surprise only for the future fiancée.
Let's go back in time for a moment…
July 27th, 2023 ♡ 1 hour to zero hour
The photographer parks his car in front of the park. Hidden in his backpack – cameras. In his hand – a phone with messages about the agreed locations & status updates. At the entrance to the park, a slightly nervous future fiancé is already waiting for him…
It's time to put the previously agreed plan into action. Exciting!
♡ 3 weeks before the big day
English-speaking photographer Andrzej Gniado (Photographer Madeira) receives an inquiry about a surprise session from… girlfriends and the future fiancé.
It is definitely not his first surprise outdoor engagement shoot in Madeira, but the first one when the partner is not even supposed to be on the island. The future fiancé must reveal himself at the right place and at the right time for the plan to work as it should…
The plan sounds so intriguing that it's a pleasure to work on it.
So, how to organize a surprise engagement well?
According to Photographer Madeira, the surprise was a success thanks to a clear & well-defined plan, good communication with the fiancée's friends and a good hiding place for the photographer. The help from the couple's friends was invaluable & it is thanks to them, that the fiancée found herself in the right place & time.
Photographer's experience with surprise photoshoots certainly helped too. Although in this case the photographer had quite a team of lovely helpers, this is not a requirement for a successful surprise engagement shoot. A surprise shoot can be organized even when the couple is coming to Madeira alone (& organized in secret by one of the partners).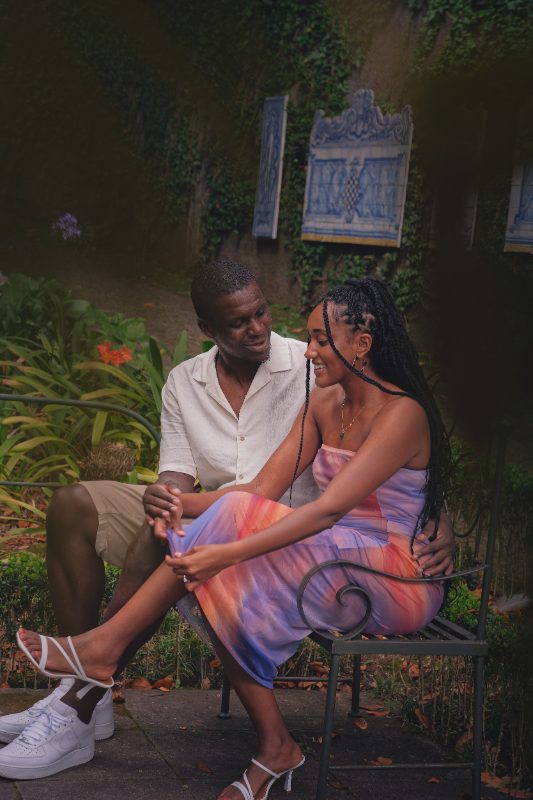 Organize YOUR surprise engagement
Magical moments happen… but you can also create them yourself!
Are you planning an original surprise engagement during your holidays abroad? Madeira is the perfect setting for a unique engagement shoot – surprise or not. From mountain peaks, black sand beaches, magical forests to botanical parks & more.
Contact a local photographer who can help you implement your plan: